Item Specification
Model / SKU
: XTR-540 Cordless
Product Description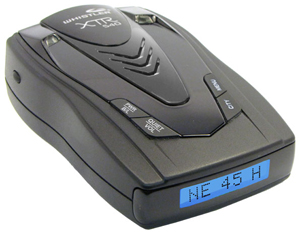 NEW 2009 MODEL!! JUST RELEASED!!
Whistler XTR-540 Cordless Radar Detector
Hurry !!! Do not miss this oportunity once in your life time !!!
Free delivery by POSLAJU anywhere in Malaysia !!!
No way to get at locals !!!

Brand: Whistler
Model: XTR-540 Cordless
Manufacture: US Whistler Group
Condition: New Product & 100% working

New item !!! Still in the box !!!
Whistler brand (Whistler Group since 1971) is the best low cost radar detector if you compare to others brand (Cobra, PNI).
Minimum false alarm and good detector for Ka/Laser gun.

The Whistler XTR-540 Cordless radar detector is a full featured radar detector that is also battery powered. This means you have all of the great Whistler features in a cordless model. The XTR-540 detects POP mode radar, and offers a blue backlit text display.

A key feature of the Whistler XTR-540 Cordless is the built in battery charger. The XTR-540 also features Whistler's new attention grabbing feature, the dual low profile alert periscope.

The Whistler XTR-540 Cordless also features 3 city modes and 2 filter modes which allows you to block out many false alerts. An Alert Priority feature makes sure the most important alert is displayed if multiple alerts are detected. Other features include Patented VG-2 Cloaking™ Technology and a 72 Point Digital Compass.

Whistler XTR-540 Cordless Features :

X, K, Ka, and Super Wideband Ka Detection
X, K, and Ka Superwide are the radar bands that are used by police radar guns. X band was the first band used for by radar guns, but is now the least used. All radar detectors that we carry detect all 3 of these bands.

360° Protection against all types of Laser
Unlike all of the other bands, which are wide bands, radar guns using laser technology shoot a narrow, focused beam of light to determine vehicle speed. There are several types of laser guns currently in use by police. A few of these are listed below:
- Pro Laser™ I, II and III
- LTI 20-20
- Ultra Lyte
- Stalker LZ-1
- Laser Atlanta L-1
All radar detectors that we carry will detect every type of laser.

Instant-On (Pulse) Detection
Most radar guns are constantly transmitting a signal that can be detected by a radar detector. Some radar guns have an "Instant-On" or "Pulse" feature. These radar guns will not transmit a signal that can be detected until the police officer releases the radar, which he usually will only do when his target is within range.

Detects POP Mode
POP mode is a feature of the Bee III radar gun produced by MPH Industries. POP mode will measure the speed of a vehicle in around a tenth of a second and is not detectable by many radar detectors.
The good news is that speed readings taken while in POP mode are not always accurate and should not hold up in court. MPH Industries is aware that tickets issued in POP mode would not hold up, and does not all speed measurements taken in this mode to be locked into the gun. The Bee III manual itself advises that tickets should not be issued based on readings taken in this mode.
Even with the problems with POP mode, there are thousands of these radar guns in use at this time. Because of this, it is advisable that you purchase a detector that can identify the POP mode of the Bee III.

Safety Warning System (SWS™) Alert
The Safety Warning System™ (SWS™) is an alert band that is emitted by many highway crews and emergency vehicles. Having a radar detector that monitors for this band could alert you to potential road or driving hazards. Some models with voice alerts or alpha-numeric displays have the ability to speak or display a description of the specific SWS™ warning for which you are being alerted. For example, if the alert was "Road work ahead" you would hear that message spoken if your unit supports voice alerts, and you would see that message if your unit has an alpha-numeric display.

VG-2 Stealth
VG-2 is a technology that police use to detect radar detectors. This is primarily used in states where radar detectors are illegal. Radar detectors that have the VG-2 Stealth feature can make themselves invisible to this detection.

VG-2 Alert
VG-2 is a technology that police use to detect radar detectors. Detectors with this feature will detect when VG-2 is in use, and alert you to its presence.

Cordless
Does not require a power cord to operate. Most cordless radar detectors operate on AA batteries.

Battery Charger
A batter charger is included with some battery operated, cordless radar detectors. An included charger makes using the cordless option much more convenient, plus rechargeable batteries will save you money over the long run. Some radar detectors offer a built-in charger. A built-in charger means that the radar detector itself will recharge the batteries, when it is plugged into a 12 volt (cigarette lighter) outlet. Other detectors may offer a seperate, home charger. Home chargers typically plug into a regular home outlet.

Detailed SWS™ Alerts
Provides a specific alert for each type of Safety Warning System™ (SWS™) alert. Some models provide a descriptive message on a text display, others models supporting voice alerts may provide a specific audio message for each type of SWS™ alert. Some models provide both an audio and visual message. There are over 60 possible SWS™ alerts.

Blue Backlit Text Display
An alpha-numeric text display is common on mid range and high end radar detectors. An alpha-numeric display is capable of displaying any combination of letters and numbers, and even some shapes. This type of display is typically very easy to read and understand.
With an alpha-numeric display it is common to see the band spelled out on the left side with the rest of the display turning into a graph indicating the strength of the signal. This is superior to detectors with an LED or Icon display, which use a different LED light or an icon to represent each band.
Some higher end models are capable of displaying 60 or more detailed text messages describing Safety Warning System (SWS) Alerts. For example, you would actually see "ROAD WORK AHEAD" or "EMERGENCY VEHICLE" printed on the display instead of having a generic SWS tone.

Dual Blue Alert Periscope LED's
The LED Alert Periscope feature is unique to some Whistler detectors. Detectors supporting this feature have a LED light on the top of the detector. During an alert, this light will flash. The idea is that this flashing LED will grab the drivers attention more quickly than a typical change in the radar detector's display.

Signal Strength Indicator
"Signal Strength" refers to how close the radar is to the radar detector. Most models have a way of indicating the signal strength. Basic units with only LED displays indicate the signal strength by how rapidly the LED flashes. Some models display a number between 1 and 9. Others have icons on the display to indicate the strength. On models with alpha-numeric displays, signal strength is generally represented by an on-screen bar graph.

Compass
Some radar detectors have a compass feature. This is most commonly found on higher end models with alpha numeric displays. While you are driving, the radar detector will indicate the direction in which you are traveling.

Selectable Bands
Some radar detectors have the ability to disable one or more bands. This is most commonly seen with the X band, which is rarely used by police and is the most common band for false alarms.

3 City Modes and Highway Mode
City mode will reduce the number of false alarms that you will receive. There are some differences in the ways that each manufacturer implements City mode. In some cases, city mode will filter out all X band signals detected. Other units will still beep when a signal is detected, but will automatically enter Quiet mode after one or two beeps if the signal is weak.
Highway mode does not filter out any band, or automatically silence weak signals.

Filter Modes
Radar detectors supporting filter modes have the ability to block out specific types of signals that are known to cause interference and false alerts. This "signal pollution" can come from various sources, including lower quality radar detectors. When filter modes are enabled, this "noise" will be filtered out and false alerts will be reduced.

Auto and Manual Muting
Auto muting allows you to tell the radar detector to automatically mute or lower the volume after the first few seconds of beeping. Manual muting usually means that there is a Mute or a Quiet button on the unit that will silence the current alert when pressed.

7 Dim/Dark Display Settings
This feature allows you to control the brightness of the display.

Auto Shut-Off
This feature will automatically turn off the radar detector after a set period of time. This prevents your radar detector from draining your battery if you forget to turn it off. In the case of cordless radar detectors, it prevents draining of it's own batteries.

Setting Saver
Memory retention is available on almost all models. This means that if the unit is turned off or if it loses power, it will remember any of your custom settings.

Volume Control
Adjusts the loudness of the audio alerts on the unit.

Self Test
During a self test, a unit will typically cycle through the beep for each band, and activate each light or icon on the display. For alpha numeric models, the most common messages are usually flashed on the display during the self test.

Teach/Tutorial Mode
Tutorial mode simulates the alerts for each type of signal. This allows you to get familiar with the every way that your radar detector can alert you.

One Year Manufacturer Warranty
This is the length of the warranty provided by the manufacturer.

Included with the Whistler XTR-540 Cordless :

- Windshield Mounting Bracket
- Power Cord
- (3) AA Ni-MH Batteries
- Owners Manual

--------------------------------------------------

International Whistler Sales

Whistler just issued a warning to customers outside of the US who are looking to buy a Whistler detector: BEWARE. Some internet searches apparently turn up products that claim to be Whistler radar detectors, but in fact are not.

International customers: always be sure that the Whistler products that you buy are authentic!

--------------------------------------------------

How To Use Your Radar Detector

A radar detector is a great tool, but it could hurt you more than help if you don't know how to use it properly. This post will attempt to explain how you can get the most benefit from your radar detector. It will teach you what you can expect from your radar detector, and what you cannot.

What Radar Detectors Do

Many people buy a radar detector and simply assume that they now have a license to speed. A few tickets later, these same people will discard the detector as "worthless". It is important to know what a radar detector is, and in what situations you can trust it, and when you must be cautious.

A radar detector will alert you when it senses certain frequencies of signals. The frequencies that they look for are frequencies that are commonly used by radar guns (the devices used by police to capture the speed of vehicles). These products do not detect police officers or police cars. They only detect the signals that are emitted by devices that police officers sometimes use.

When To Trust Your Radar Detector

The perfect situation for a radar detector is when you are driving in traffic, with other cars in front of and behind you. Fortunately, this is a very common scenario and is almost always the case when you are driving on an interstate or a highway during daylight hours. In this scenario, a police officer who is looking for speeders would set off your radar detector when his radar gun captured the speed of a driver in front of or behind you. This would usually give you plenty of time to slow down.

When To Be More Cautious

If you are driving in an area where there isn't much traffic, or if you are the only vehicle within sight, you should exercise more caution. In this scenario, a radar detector is not as valuable. A police officer using an instant-on radar gun could get your speed and your radar detector would have little time to warn you. When exceeding the speed limit in lite traffic, you should always keep an eye out for law enforcement officers and slow down around curves or hills. You also shouldn't speed excessively -- when you spot a police officer you will need to get your speed in check quickly.

The Laser Threat

While police radar is by far the biggest threat, laser usage by police is growing rapidly. Laser works differently than police radar, and laser detection is a weak point for radar detectors. Police laser is not used in all areas, so it is important that you find out if laser is used where you commonly drive. If laser is a threat in your area, you should arm yourself with a laser defense product, such as a laser jammer or Laser Veil, in addition to your radar detector.

Be Smart!

If you are expecting to plug in your radar detector and automatically be immune to tickets, then you are in for trouble. However, if you take the time to learn what you radar detector is actually doing, and combine that with smart, situational driving, you will be successful at avoiding speeding tickets.




---
At this time, HOBBY & HANDYCRAFT WEBSTORE accepts the following payment methods:
Bank Transfer, Money Order, Company Check & Personal Check


We regret that we cannot process orders requesting credit card or other payment methods not listed.
We
DO NOT
shipped the order until we receive the payment!
We charge a shipping fee based upon the shipment method that you select. We currently offer POSLAJU, CITYLINK & FEDEX as our shipping methods. We charge a handling fee on most orders to help cover our warehousing, order processing, systems and overhead costs. This fee is calculated based upon your order size.



The use of this site is governed by the policies, terms and conditions set forth below. Please read them carefully. Your use of this site indicates your acceptance of these terms and conditions. Your placement of an order indicates your acceptance of these terms and conditions. Your submittal of any purchase order to HOBBY & HANDYCRAFT WEBSTORE, indicates acceptance of these terms and conditions. These terms and conditions shall supercede any subsequent terms or conditions included with any purchase order, whether or not such terms or conditions are signed by HOBBY & HANDYCRAFT WEBSTORE. HOBBY & HANDYCRAFT WEBSTORE reserves the right to make changes to this site and these terms and conditions at any time.

Copyright and Trademark

This site is owned and operated by HOBBY & HANDYCRAFT WEBSTORE. Unless otherwise specified, all materials appearing on this site, including the text, site design, logos, graphics, icons, and images, as well as the selection, assembly and arrangement thereof, are the sole property of HOBBY & HANDYCRAFT WEBSTORE, Copyright � 2003, ALL RIGHTS RESERVED. You may use the content of this site only for the purpose of shopping on this site or placing an order on this site and for no other purpose. No materials from this site may be copied, reproduced, modified, republished, uploaded, posted, transmitted, or distributed in any form or by any means without HOBBY & HANDYCRAFT WEBSTORE's prior written permission. All rights not expressly granted herein are reserved. Any unauthorized use of the materials appearing on this site may violate copyright, trademark and other applicable laws and could result in criminal or civil penalties.

Disclaimer and Limitation of Liability as to Products Sold

All of HOBBY & HANDYCRAFT WEBSTORE's products are guaranteed against defects for 30 days from the date of the invoice. Except as expressly stated herein, HOBBY & HANDYCRAFT WEBSTORE makes no representations or warranties, either express or implied, of any kind with respect to products sold on the sites. Except as expressly stated herein, HOBBY & HANDYCRAFT WEBSTORE expressly disclaims all warranties, express or implied, of any kind with respect to products sold on this site, including but not limited to, merchantability and fitness for a particular purpose. You agree that the sole and exclusive maximum liability to HOBBY & HANDYCRAFT WEBSTORE arising from any product sold on the sites shall be the price of the product ordered.

Disclaimer and Limitation of Liability as to the Web Sites

The web sites and the materials therein are provided "as is". HOBBY & HANDYCRAFT WEBSTORE makes no representations or warranties, either express or implied, of any kind with respect to the sites, their operations, contents, information, materials or year 2000 compliance. HOBBY & HANDYCRAFT WEBSTORE expressly disclaims all warranties, express or implied, of any kind with respect to the sites or their use, including but not limited to merchantability and fitness for a particular purpose.

Typographical Errors

In the event a product is listed at an incorrect price or with incorrect information due to typographical error or error in pricing or product information received from our suppliers, HOBBY & HANDYCRAFT WEBSTORE shall have the right to refuse or cancel any orders placed for product listed at the incorrect price. HOBBY & HANDYCRAFT WEBSTORE shall have the right to refuse or cancel any such orders whether or not the order has been confirmed and your credit card charged. If your credit card has already been charged for the purchase and your order is canceled, HOBBY & HANDYCRAFT WEBSTORE shall immediately issue a credit to your credit card account in the amount of the charge.



Order Acceptance Policy

Your receipt of an electronic or other form of order confirmation does not signify our acceptance of your order, nor does it constitute confirmation of our offer to sell. HOBBY & HANDYCRAFT WEBSTORE reserves the right at any time after receipt of your order to accept or decline your order for any reason. HOBBY & HANDYCRAFT WEBSTORE reserves the right at any time after receipt of your order, without prior notice to you, to supply less than the quantity you ordered of any item. All orders placed must obtain pre-approval with an acceptable method of payment, as established by our credit and fraud avoidance department. We may require additional verifications or information before accepting any order. HOBBY & HANDYCRAFT WEBSTORE is a reseller to end user customers and does not accept orders from dealers, exporters, wholesalers, or other customers who intend to resell the products offered by HOBBY & HANDYCRAFT WEBSTORE.


IMPORTANT: READ THIS BEFORE BIDDING !!!

I'm a serious seller and I expect a serious bidder. Winner will be contacted by email after auction ended. I expect a response within 2 days to continue the transaction and payment due within 3 days. Failure to do so will have me cancel your winning bid, slap you with a negative feedback and ban you from all my future auctions.

Winner is expected to pay the bidded price. Bidded price is not negotiable. If you do not agree with these terms, then don't bid. Please read item description and clarify all doubts before bidding. If your bids been deleted, chances are you did not comply to my terms and conditions stated above.


Questions & Answers
Do you have any questions to ask merchant about this product
Ask Seller
| | | |
| --- | --- | --- |
| 5 star | | 0 |
| 4 star | | 0 |
| 3 star | | 0 |
| 2 star | | 0 |
| 1 star | | 0 |
Share your thoughts with others
Write a review
Only buyers who purchased the product may leave a review