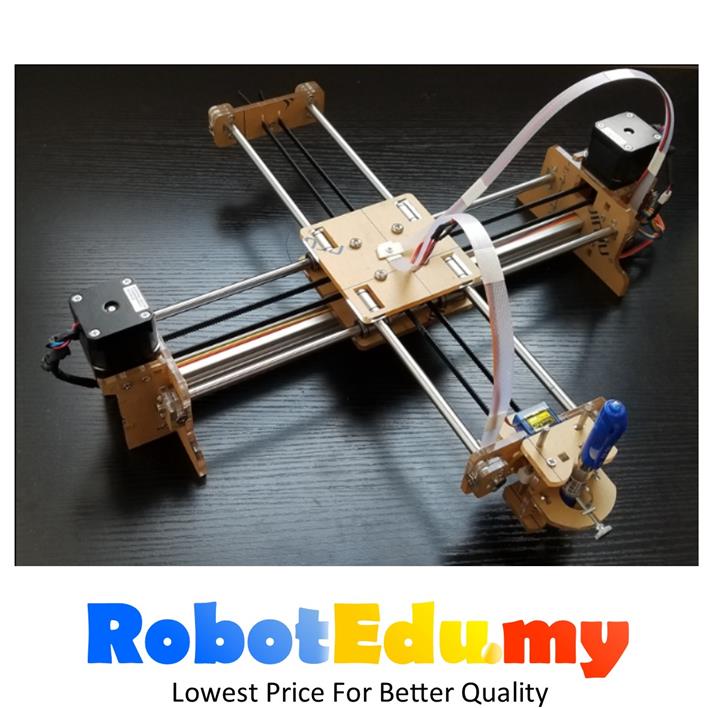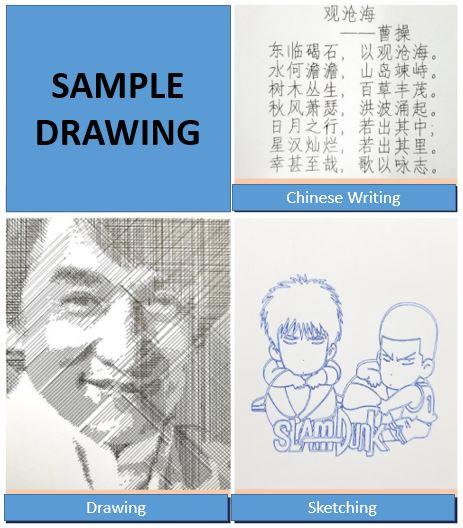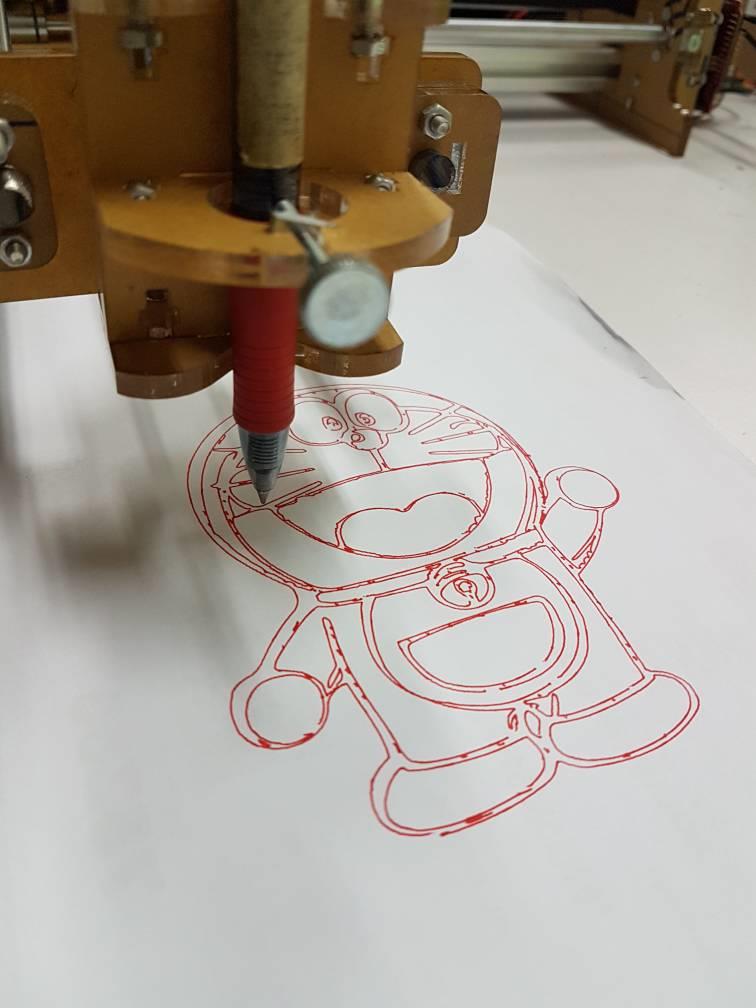 Product Description:
The AxiDraw Drawbot Writing Robot is a simple, modern, and precise pen plotter, capable of writing or drawing on almost any flat surface. It can write with fountain pens, permanent markers, and a variety of other writing implements to handle an endless number of applications.
The AxiDraw is an extremely versatile machine, designed to serve a wide variety of everyday and specialized drawing and writing needs. You can use it for almost almost any task that might normally be carried out with a handheld pen.
It allows you to use your computer to produce writing that appears to be handmade, complete with the unmistakable appearance of using a real pen (as opposed to an inkjet or laser printer) to address an envelope or sign your name. And it does so with precision approaching that of a skilled artist, and — just as importantly — using an arm that never gets tired.
The pen holder fits a wide variety of pens, including Sharpie fine and ultra-fine point markers, most rollerball and fountain pens, small-bodied whiteboard markers, and so forth. You can also use implements other than pens, such as pencils, chalk, charcoal, brushes, and many others.
AxiDraw is not a kit that you need to assemble; it ships assembled and thoroughly tested, ready to use just minutes after you open the box. Its sturdy, rigid construction features smooth rolling wheels on custom aluminum extrusions, specially designed for high stiffness and light weight. Careful design and solid construction give AxiDraw significantly higher precision and speed, as compared with competing and previous generation machines.
Getting Started
The AxiDraw comes fully assembled, tested, and ready to use, right out of the box. A 12V 2A power supply is included with the AxiDraw, and a B-type USB cable. Assuming that you've installed the software first, you can be up and plotting within minutes of opening the box.
To operate AxiDraw, you will need a reasonably modern computer with an available USB port (Mac, Windows or Linux), plus internet access to download necessary software. Pens and paper are not included. (You can use your own! AxiDraw does not require proprietary pens or paper.)
AxiDraw is normally controlled through a set of extensions to Inkscape, the excellent, popular and free vector graphics program. Basic operation is much like that of a printer driver: you import or make a drawing in Inkscape, and use the extensions to plot your text or artwork. It's all handled through a straightforward graphical user interface, and works cleanly on Mac, Windows and Linux.
Additional specifications:
Performance:
Usable pen travel (inches): 11.81 × 8.58 inches (Just over US letter size)

Usable pen travel (millimeters): 300 × 218 mm (Just over A4 size)

Vertical pen travel: 0.7 inch (17 mm)

Maximum XY travel speed, rapid: 11 inches (28 cm) per second.

Native XY resolution: 2032 steps per inch (80 steps per mm)

Reproducibility (XY): Typically better than 0.005 inches (0.1 mm) at low speeds.
Physical:
Major structural components are machined and/or folded aluminum.

Holds pens and other drawing instruments up to 5/8" (16 mm) diameter.

Overall dimensions: Approximately 21.5 × 16 × 4 inches (55 × 40.5 × 10 cm).

Maximum height with cable guides: Approximately 8.5 inches (22 cm).

Footprint: Approximately 17 × 3.5 inches (43 x 9) cm.

Physical weight: 4.75 Lb (2.2 kg).
Software:
Drive directly from within Inkscape, using the AxiDraw extension.

Alternative drive software: RoboPaint

Compatible with Mac, Windows, and Linux

All software free to download and open source

Internet access is required to download software.
Who uses AxiDraw?
AxiDraw is used by a genuinely diverse range of people, including (to name a few):
Digital artists, using AxiDraw to plot their artwork

Celebrities, politicians, and elected officials, using AxiDraw as a signature machine

University officials and other educators, to sign diplomas and certificates

Educators, introducing students to digital design and fabrication

Real estate and insurance agents, who would very much like you to open their "handwritten" envelopes

Online retailers, including a personalized thank you note with your order

Hotels that would like to leave a personalized welcome note for guests

Makerspaces and hackerspaces, providing a versatile low-cost fabrication tool

Tinkerers, extending AxiDraw beyond writing implements (etching tools, lasers, LEDs for light painting, vacuum pick-up tools, etc.)

Pen and ink manufacturers, using AxiDraw to test their pens and inks

Smartphone and tablet hardware makers, using a stylus to test their hardware

Mobile device software authors, using a stylus to test their software

People without use of their hands, who would like to send "handwritten" letters

Research scientists, as a low-cost XY motion platform

Galleries, for numbering of limited-edition artwork

Calligraphers, who could use a little wrist relief for certain types of busywork
What comes with the machine:
The AxiDraw v3 drawing machine, fully assembled, tested, and ready to use.

12V 2A power adapter

B-type USB cable

Tutorial to convert image to .ngc file using Inkscape.
Please WhatsApp
0166463783

for more info.

Last Updated @ 6/9/2018 1:29:51 PM

Last Updated @ 6/9/2018 1:32:05 PM
Why buy from us?



---
We accept Netpay, Credit Card, Online Banking and Cash Deposit.
Option 1: Netpay (Recommended, Safer and Easier Payment Method)
Follow the steps indicated.
Support Visa/Master Credit Card, Maybank2u, Hong Leong and CIMB Clicks.
Option 2: Online Bank Transfer/ ATM ( Not Recommended)
Account number will show up after order confirmation.
Please do not deposit extra amount.
We are using Pos Laju for all customer.
It usually takes 1-3 working days to deliver.
Free shipping for purchase of RM100 and above.
Delivery charges are RM8 for West Malaysia and RM12 for East Malaysia.
Self-Collect coupon only valid for customer who wish to collect at our office at South City Plaza, Seri Kembangan, Selangor.
Please mark down remark for Self-Collect service.
Self-Collect hours: Monday-Saturday (11.00am until 8.00pm)
Thanks for support.
Welcome to Robotedu.my @Lelong. Terms and conditions stated below applies to all visitors and users of Robotedu.my @Lelong.

General
The content of terms and conditions may be change, move or delete at any time. Please note that Robotedu.my @Lelong have the rights to change the contents of the terms and conditions without any notice. Any violation of rules and regulations of these terms and conditions, Robotedu.my will take immediate actions against the offender(s).


Site Contents and Copyrights
Unless otherwise noted, all materials, including images, illustrations, designs, icons, photographs, video clips, and written and other materials that appear as part of this Site, in other words "Contents of the Site" are copyrights, trademarks, trade dress and/or other intellectual properties owned, controlled or licensed by Robotedu.my @Lelong.

Comments and Feedbacks
All comments and feedbacks to Robotedu.my @Lelong will be remain Robotedu.my @Lelong's property.
User shall agree that there will be no comment(s) submitted to the Robotedu.my @Lelong will violate any rights of any third party, including copyrights, trademarks, privacy of other personal or proprietary right(s). Furthermore, the user shall agree there will not be content of unlawful, abusive, or obscene material(s) submitted to the site. User will be the only one responsible for any comment's content made.

Product Information
We cannot guarantee all actual products will be exactly the same shown on the monitor as that is depending on the user monitor.

Newsletter
User shall agree that Robotedu.my @Lelong may send newsletter regarding the latest news/products/promotions etc through email to the user.

Indemnification
The user shall agree to defend, indemnify and hold Robotedu.my @Lelong harmless from and against any and all claims, damages, costs and expenses, including attorneys' fees, arising from or related to your use of the Site.

Link to other sites
Any access link to third party sites is at your own risk. Robotedu.my @Lelong will not be related or involve to any such website if the user's content/product(s) got damaged or loss have any connection with third party site.

Inaccuracy Information
From time to time, there may be information on Robotedu.my @Lelong that contains typographical error, inaccuracies, omissions, that may relate to product description, pricing, availability and article contents. We reserve the rights to correct any errors, inaccuracies, change or edit information without prior notice to the customers. If you are not satisfy with your purchased product(s), please return it back to us with the invoice. Please check out "Return and Refund Policy".

Termination
This agreement is effective unless and until either by the customer or Robotedu.my @Lelong. Customer may terminate this agreement at any time. However, Robotedu.my @Lelong may also terminate the agreement with the customer without any prior notice and will be denying the access of the customer who is unable to comply the terms and conditions above.
Return and Refund Policy
· We do offer 7 Days Free Return Service for product which is defective upon delivery
· Please take note that warranty does not cover: If there is defect on the items you receive or we send you the wrong items, please kindly contact us within 3 days and deliver back to us within 7 days.If there is defect on the items you receive or we send you the wrong items, please kindly contact us within 3 days and deliver back to us within 7 days.
o Damages to item done deliberately or improper handling of it.
o Damages to products caused by either impact, liquid, sand or insect, natural disaster and act of God.
o Modifying, repairing the product without written consent.
· If there is defect on the items you receive or we send you the wrong items, please kindly contact us within 3 days and deliver back to us within 7 days.
· Please keep the packaging well and return the goods as a whole.
· We offer 7 days return period, with buyer paying the return postage unless item is proven defective upon receipt.
· Robotedu.my @Lelong will not be responsible if your shipment is lost or damaged during the return transit. However customer may claim the compensation for the relevant delivery company.
· Once we have checked and confirm the goods/products, customer will received their refund or replacement within 7 business days after the confirmation.
· Policy on Out-of-Stock Items. Please contact us for investigation before you return the item to us.
o Scenario 1:
§ All the products were in stock when your order was confirmed, but after your payment was confirmed, one of the products in your order went out of stock.
§ In this case we will contact you and we may ship all the in-stock products that you have ordered first and for products which are out of stock, we will ship it to you immediately once the next shipment of stock arrives or we will refund to you for those items out of stock.
o Scenario 2:
§ The product was already out of stock when you made the order.
§ In this case we will ship all products in the order only when the new stock for the out of stock product arrives. However, if customer is willing to pay for the extra delivery fee to get the available items first we can ship the products that are available first. And once the out of stock arrive we will ship it out and notify customer.
- Please contact us for investigation before you return the item to us.
- Email: robotedu.lelong@gmail.com
- SMS/WhatsApp/WeChat/LINE 016-6250129
Average Product Rating
0.0 stars out of 5
| | | |
| --- | --- | --- |
| 5 star | | 0 |
| 4 star | | 0 |
| 3 star | | 0 |
| 2 star | | 0 |
| 1 star | | 0 |
Share your thoughts with others
Write a review
Only buyers who purchased the product may leave a review