Item Specification
Product Description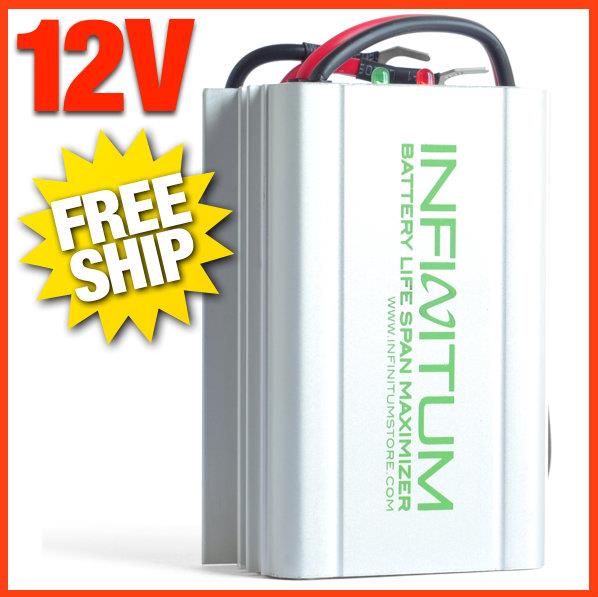 The 12V Infinitum Battery Desulfator

Model: 12V (Works on all Petrol/Diesel Cars & More)
OPTIMIZES BATTERY LIFE SPAN. REDUCES COST. SAVES THE ENVIRONMENT 

STOCK AVAILABLE ALL THE TIME
| | |
| --- | --- |
|   | |
---
 

"Up to 84% of batteries fail
prematurely from sulfation″
~ Battery Council International

Sulfation, or lead acid crystal buildup on battery lead plates is by far the most common cause of battery failure, accounting for 84% of batteries according to the Battery Council International. We therefore junk our batteries long before the end of their designed lifespan.

How you can benefit from the Infinitum Desulfator Battery Life Optimizer:

Prevents sulfation on your battery

Removes the existing insulating lead sulfate crystals on battery lead plates

Maximizes battery lifespan

Optimizes battery performance

Double or triple your battery life span

 

---

 

 

---

 

7 year-old Quad Motorcycle Battery Rejuvenated

"I ran this desulfator unit on the battery in my 7 year old booster pack that would never hold a charge over 20% and voltage read 4.2 volts. I didn't think it would work but it is now reading 12.5v and says 85% after 3 days trickle charging with the desulfator connected."

Jeremy Shaffer, Quad Motorcycle Enthusiast, 

NY, USA.

   

---

   

Dead Kawasaki ZX-6R Battery Revived

"I bought one of these after reading some research papers on the effects of desulfators on old batteries. I had left my lights on for 3 days and the battery was so dead it couldn't light up my dashboard, let alone turn the engine over.

It took a week, but that was probably me not realising that the electrolyte needed topping up. The day after I had topped it up and set it on charge overnight, it worked like new. Pity I had already bought a new battery, but its now a spare that is worth more than I paid for the Infinitum Desulfator."

James Price, North Rocks, NSW, Australia.

 

 

   

---

          

 

Battery Revived After An Overnight Charge

"This battery cranks fine, after charging it along with the Infinitum Desulfator from 5pm to 8am. It does what its designed to do. I'd recommend this to anyone."

Larry Dimasi, (Owner of YouTube Channel: Electronic & Tinkerer Nut), Merbein, Victoria, Australia.

 

 

---

   

4 to 5-Year-Old Battery Revived
& Holding Its Charge 

"I revived my 4 to 5 year old car battery with the Infinitum battery desulfator. I am so convinced that I am also using it on my deep cycle solar batteries" 

Wai Tam (Owner of YouTube Channel wtam69), Floral Park, New York, United States.

Note from Infinitum: Wai Tam managed to revive his 4 to 5 year old battery with the Infinitum Desulfator charged externally with the Century Jumper 850 Jump Starter Charger. After charging the battery for 5 to 6 hours over 2 to 3 times he left the battery for a week to discover then that the battery had successfully been revived being able to hold its charge. As a battery sulfates its capacity to hold a charge drops. You will note this from the quick drop in voltage despite of a full charge. The good news is, with the Infinitum Desulfator, Wai Tam successfully reversed the destructive process of sulfation and optimized the health of the battery.

 

 




---

More testimonials

"I bought a China-made desulfator which only lasted about 4 months and now it's useless. The three Infinitum desulfators I bought in December 2010, January 2011 and another one in May 2012 are still working fine today (October 2014)."  

George Bendikov, Grange, SA, Australia

---

"I use a 12V battery to power the trolling motor for my kayak. I decided to buy the Infinitum Desulfator to salvage a 3-year old sealed lead acid battery which was completely 'dead'. To my surprise, the battery came back to life!"

Gerald Khoo, Eco-Sports, Kuala Lumpur, Malaysia

---

"I did not actually test the Cold Cranking Amps before installation of the optimizer / desulphator, so I cannot say how much the battery improved... However, the results are obvious.

My three year old battery went from having a nearly dead battery, to cranking a 262 cu inch engine like a brand new battery.

It's amazing that the battery can perform so well given the damage that has occurred to it (accidental deep cycles). The optimizer took about 4 weeks to recondition the battery.  One thing I really like about your unit over some of the others which are made here in the USA is the voltage-sensitive shutoff feature you've included in the circuit design. Very neat"

Joel Grant, Auto enthusiast & Environmental Scientist, Garden Tower Co-Founder, Carmel, Indiana, United States

---

8 Year-old Battery Receives New Lease of Life

"When I put the old battery in my car, I also installed your desulfator, and that's where that one's been ever since. Just a couple weeks ago, I checked the standing voltage of this battery. It was cold outside, under 30°F (-1°C), car had sat over night, interior lights were on, and I turned the headlights on for 20-30 seconds. The battery voltage was 12.79V! No swelling on the case (I know my alternator isn't over charging). Your desulfator's green light will now stay on all night and throughout the day. Previously it would go out within hours after the car was turned off, which told me the voltage was falling. The age of this battery is unknown, however, it is at least 8 year-old and used everyday."

Clayton Simons, Dover,Tennessee, United States

---

Scooter Chair Battery Restored

"Thanks very much for a great product, I had two 12 volt batteries that are used in a product here in the US, called a Scooter Chair. It costs $69.00 each to replace these batteries.

Before knowing about your battery saver device, I had tried to charge my batteries with no results. I then tried using Epson salts as many stated on YouTube on 'how to save your dead battery', well that did not work as the batteries did not charge.

But I did some research and found your product. I am pleased to tell you after a week using the Infinitum desulfator, both batteries are charged to 100%. So I have been spreading the word, and ordered 5 units. That is how much I believe in your product. I will be using these on restoring UPS batteries that would not charge! Very satisfied with the results."

Dennis Sigala, Computer Design Technologies, LLC. Miramar Beach, Florida, United States.

---

"I found a junked battery that had not been charged for 2 years and I thought I'd give your Infinitum Desulfator a go and charged it for 24 hours with the Desulfator attached. Well I could not believe it, it actually worked!"

Roy Williams, Easington, United Kingdom

---

"I'm very pleased with the Infinitum Desulfator. So far it has renewed a full set of UPS batteries worth a total of £130 and a £80 110 amp deep cycle battery. That's a £210 saving and it's still ongoing!"

Rob Denton, Licensed Radio Amateur,  Nottinghamshire, England

---

"I bought four and works like a charm. Over the past 2 years, I can say that I've tested them on several dead batteries and the result is very satisfactory. Needless to say, it has saved me heaps. I highly recommend it!"

Raymond Abela, Fgura, Malta

 

---

Military Truck Batteries Get A New Lease Of Life

"I installed two 24v Infinitum Desulfaters in my military trucks, M-1028 and a M-109 both diesel engines and require good batterys to operate properly. It hase been 4 weeks since I installed them and I can notice a difference in power output. Thanks for a well made design and a good product."

Don Sturgis, Clarkston, Michigan, United States.

 

"I'm fascinated by the Infinitum desulfator I bought in July 2014 to revive my dead 3 year old car battery. I had tried to revive that same battery with the China desulfator but nothing happened. But when I tested your desulfator, my dead 3 year old battery was revived and is still functioning today, that's 2 whole years later! That's a total of 5 years!

Mohd Jaafar, Johor, Malaysia.

---

"I took a 12V 5AH lead acid battery which could not take a charge. After 10hrs charging paralleled with the Infinitum Desulfator, there was 0.2A current charging into the battery. And after 20hrs charging the current increase to 0.4A. This means that battery recovered."

Tan Joo Seng, Kota Bharu, Malaysia


---




"I am stoked, it has not only saved me A$4500 (USD4405) on a (fork lift) battery pack but it costs much less to recharge as well so I save on my power bill!"

Tony Castleman, Qualified mechanic of 25 years, North Shore, Victoria, Australia

UPDATE:

 
---
Double or triple the service life of batteries


Infinitum

Desulfators generates an electrical pulse that shatters and removes lead sulfate crystals maximizing its life-span and performance.

Optimize efficiency storage capacity
Prevents lead sulfate crystallization in new batteries. Prevents damage to lead plates due to lead sulfate crystal buildup.
Revives most 'dead' or junked batteries
Revives most dead batteries when used in parallel with a charger.
Lowers battery operating temperature
The degree of battery discharge increases with temperature whether in use or storage. With a lower operating temperature, less evaporation occurs.
Save your hard earned money
Lower the frequency of battery change. Payback within one battery change.
Save the earth
Reducing the rate of battery disposal means less disposal of hazardous lead and sulfuric acid.
 
---
Robust, rock-hard encapsulation


So hard in fact, it can take a dead weight of 500kgs without issue

.

Weather Resilient


Summer or winter, rain or shine. Be assured of maximum performance year after year.

 
 
 
 
Rust proof


Aluminum

encased for maximum protection which is especially helpful for the salty marine environment or

corrosive use of

s

alt

used on roads during winter

.

Water Resistant


Epoxy resin-encapsulated circuits for maximum water protection. Need to wash your engine compartment? No issue!

 
 
 
 
Vibration Proof


Built to withstand the vigours of daily use regardless of terain.

Battery diagnosis
The built in LEDs provide you with a basic status of your battery and even your alternator.
 
 
 
 
Versatility
Works on ALL lead acid automative batteries, including 'maintenance-free' or 'dry batteries', deep cycle batteries, regardless of the amperage (Ah).
Auto shutoff feature


D

esigned

to automatically shutoff when your battery voltage drops below 12.5V so as not to drain the battery when car is not in use.

 
 
 
 
No short circuits, no fuse, no fuss


T

otal built

-

in polarity protection. You will have no short circuits in the unlikely event that the cables are incorrectly installed.

Compact and light weight


Small enough to fit in your hand and a mere 6 Oz (170g)

.

 
 
 
 
Electromagnetic Campatibility


Infinitum

desulfators have gone through EMC (Electromagnetic Compatibility) inspection

.

Safety and Quality Certification
SIRIM certified complian

ce to

international standards and guides. Neither vehicle electronics nor the Desulfator unit will experience damage in specified usage.

 
 
 
 
Reusable


Unlike battery additives, Infinitums can be used repeatedly and maintenance-free, maximizing your time and return on investment

. 

Easy installation
The desulfator is very easily installed. The industrial grade double-sided tape is designed to withstand heat generated by the engine. 
 
 
 
 
Stretch your dollar
Lower the frequency of battery change. Payback within one battery change.
Super fast deliveries


Opt for express delivery and receive your order within 3 to 4 days

.

 
 
 
 
Ease of mind
We offer a one year warranty against any manufacturing defects. Return it to us and we'll have it replaced in no time.
Free lifetime tech support


Through rain or shine, technical support

will be provided by the manufacturer.
---

 


 
 

• Automotive batteries
• Motorbike batteries
• Marine, jetski batteries
• Truck, RV batteries
• Electric golf carts
• Electric cars and scooters
• Electric bicycles
• Electric wheelchairs

• Earthship / off-grid battery banks
• UPS battery banks
• DC systems of electrical substations
• Telecommunication hubs
• Wind farm storage systems
• Solar farm storage systems
• Back-up system battery banks
• DC starting systems of generators

 

• Lead acid batteries
• SLA batteries
• AGM (Absorbed Glass Mat) batteries
• Gel batteries
• Deep cycle batteries
• Maintenance-free batteries (dry batteries)
• Calcium-calcium
• Calcium-silver
• Lead-calcium, or lead-antimony batteries
Test results in reviving a 'dead' battery



Charging characteristics of a 'dead' 17Ah, 12V Sealed Lead Acid Battery



The initial battery voltage measured was 6.0V and attempts to recharge it failed as it will not take charging current. The maximum charging current achieved was 0.2 A – 0.3 A.
A randomly chosen sealed lead acid battery of 17 Ah, 12V that was abandoned for 6 months was selected for this test.
The same battery was fitted with the Infinitum Battery Desulfator and charged for 10 hours and results were recorded as above.
The results clearly showed a successful revival of the dead battery
 

Basic Battery Status Display




The unit can be installed either on the battery itself, the battery holder, or the chassis of the vehicle. It is strongly recommended that the surface area of the installation location is clean. Choose either one of these methods to install:

 

Method 1

 

Method 2

 

 


Green LED - Battery voltage is above 12.5V. The Green LED must be on when the engine is running.

Red LED - Battery voltage is below 12V. You should never see this when the engine is running!

If your engine is running and no LEDs are illuminated, either the unit has failed (which is unlikely) or your alternator has failed!

When you crank the car, you may notice the Red LED illuminated for a short while, then the Green LED lights up. This is normal. During cranking, current is drawn out of the battery, causing a drop in voltage. At this moment, the Red LED indicates the voltage drop. After the alternator kicks in, the Green LED will illuminate, confirming that the voltage is above 12.5V.

 

 
 

As automobiles are usually parked longer than they're being driven, the batteries are left discharging for longer periods of time than when they are being charged.

Charging:
2PbSO4 + 2H20 → Pb + PbO2 + 2H2SO4

Discharging:
Pb + PbO2 + 2H2SO4 → 2PbSO4 + 2H20

This causes water and lead sulfate (PbSO4) to form at a faster rate than it can be reconverted back to lead, lead dioxide and water. Lead sulfate that's left sitting, originally spongy, will eventually crystallize. Once in crystal form, the lead sulfated cannot be reconverted, even when the battery is being charged. This causes a reduction in active material (the lead and lead dioxide) and surface area where chemical reaction takes place. Eventually, the battery will no longer have the capability to supply enough cranking current to start a car. This process, also known as sulfation, is the main cause why batteries fail prematurely!

The Desulfator generates Amplitude Modulated Pulses (AMP) at the resonance frequency of the crystals to shatter the covalent bonds that hold it together. This allows the lead sulfate to be reconverted once the battery is charged. A battery free from lead sulfate crystals will have its lifespan stretched to its maximum! No more premature failure due to sulfation!

 

 
 

Model No

 

12VID

Input Voltage Range

 

11.5 V - 17 V

Output Current Range

 

1.6 A (pk)

Cut-In Voltage (Vd)

 

12.5V

Operation Indication

 

Green LED

Low Voltage Indication

 

Red LED

PCB Specification

 

CEM 1, UL 94V-0

Dimensions (mm)

 

25(H) x 78(D) x 60(W)

Weight

 

180g (6.35 ounces)

Flame Retardant Encapsulation

 

Yes

Polarity Protection

 

Yes

Short Circuit Protection

 

3A, Auto Reset

Connection Leads

 

UL 1015

Terminations

 

Fork or Ring Lugs

Safety Standard

 

IEC 380

EMC Standard

 

VDE 0871

Aluminum Casing

 

6063-T5 (Anodized BS1615)

 


PayPal Verified
We understand our customers want their online transactions to be simple and secure. To increase security, we have a verified PayPal account, so you can feel secure when making payments to us.

 

 

PayPal Accepted Currencies


If you wish to pay in your local funds or major currencies, write to us after you win this bid or have made a purchase with us. We will then invoice you according to your preferred currency.


 

We've have thousands of satisfied customers worldwide in over 120 nations worldwide some of which are:

United States, Canada, Antigua and Barbuda, Guadeloupe, Puerto Rico, Saint Vincent the Grenadines, The Netherlands Antilles, Virgin Islands, Argentina, Brazil, Chile, Jamaica, Mexico, Panama, Puerto Rico, French Polynesia, Trinidad & Tobago, Venezuela, Virgin Islands, Albania, Belgium, Bulgaria, Cyprus, Czech Republic, Denmark, France, Finland, Germany, Greece, Hungary, Ireland, Italy, Latvia, Lithuania, Malta, Netherlands, Norway, Portugal, Poland, Romania, Russia, Slovakia, Slovenia, Spain, Sweden, Switzerland, Turkey, United Kingdom, Ukraine, Bahrain, Saudi Arabia, United Arab Emirates, Ghana, Namibia, Nigeria, South Africa, Tunisia, Zimbabwe, Australia, New Zealand, Northern Mariana Islands, Bangladesh, Brunei, Hong Kong, India, Indonesia, Japan, Pakistan, Philippines, Singapore, South Korea, Sri Lanka, Thailand, Vietnam, Malaysia, etc.

© 2006-2016

 Xceed Enterprise

 (160526

)

Last Updated @ 6/20/2016 10:12:35 AM

Last Updated @ 6/20/2016 10:15:45 AM





---
We prefer receiving payments via Maybank:
A/C Name: Xceed Enterprise
A/C no: 5127 6310 6522
Worldwide Shipping
Here at My Global Mall, weve shipped to tens of thousands of satisfied customers worldwide. To our neighbouring countries such as Singapore, Hong Kong, Indonesia and Philippines to countries in the European and American continent. Theres literally no place we will not ship to.
We normally ship all in stock items within 1-5 business days from the time your order is received.
Most of our customers, local or international prefer to use Pos Malaysia. It is both economical and reliable. The added Registered Mail service includes a tracking number and tracking information. Customers can expect to receive their items within 5 to 15 workdays.
We also provide premier courier shipping services:
Occasionally, circumstances beyond our control will require additional shipping time. Holiday seasons, large orders, custom items, special orders and out of stock items may take longer. Some items may be temporarily out of stock for as long as 2 to 6 weeks weeks due to color, style, size or other unforeseen circumstance. We will contact you if items are backordered and customers will be notified if item ordered has been discontinued or is no longer available.
If you are requesting a rush order and require delivery before times indicated, please e-mail for current shipping times for particular products and locations.
Shipping and Handling charges are based on merchandise total weight or volume metric weight.
Customers in Singapore and Malaysia
Now customers residing in Singapore or Malaysia can make payments in Singapore Dollars or Malaysian Ringgit via Auto Teller Machine (ATM) or online transfers. Do contact us for transaction details.
Backorders
In the rare instance that an item is on backorder after you have placed an order with us, we will notify you within 48 hours of the order and find the best resolution for the order.
Cancellations
Since we attempt to ship orders within 24 hours, cancellation of an order must be received within 24 hours of the order being placed. Shipping, handling and freight charges will apply to all orders shipped prior to our receiving your cancellation. Please email info.myglobalmall@gmail.com to cancel an order.
100% Satisfaction Guaranteed with 30-Day Money Back Guarantee!
Returns
Have confidence in ordering with us, if you are dissatisfied with any of our products due to manufacturing deffects, you may return the item for a full refund within 30 days of receiving the item less shipping costs. In the event that you need to return a product, please contact us for return instructions. Returns on items will be accepted within 30 days and a refund will be credited back to your credit card minus any shipping, handling or freight charges.

Warranties
All items, if any, are warranted directly by the manufacturers. No other warranty either expressed or implied is offered by My Global Mall. My Global Mall is not responsible for normal wear and tear, abuse, or mistreatment of item(s). Items which are reported defective within 30 days of receipt will be replaced or if requested, a refund will be issued. Claims reported after 30 days of receipt for any defects may be replaced or repaired at the discretion of My Global Mall at no charge.
The terms for return and warranties are only valid for items purchased from this website.
Questions & Answers
Do you have any questions to ask merchant about this product
Ask Seller
| | | |
| --- | --- | --- |
| 5 star | | 0 |
| 4 star | | 0 |
| 3 star | | 0 |
| 2 star | | 0 |
| 1 star | | 0 |
Share your thoughts with others
Write a review
Only buyers who purchased the product may leave a review