Item Specification
Model / SKU
: Bekunis Dragees 2 x 45's
Product Description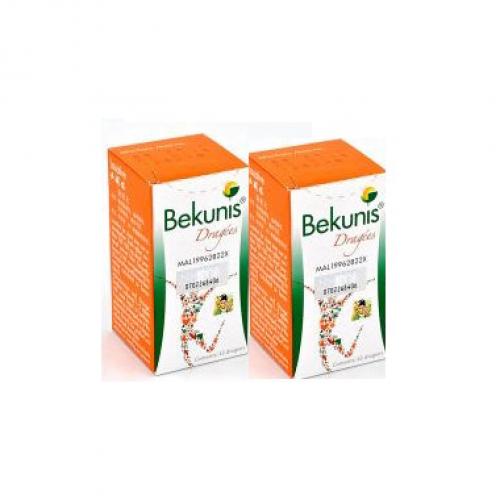 BEKUNIS TABLETS
NATURAL HERB TO TREAT CONSTIPATION & BLOATED STOMACH

SUITABLE FOR DETOX
Constipation?
Bekunis brings relief!
discover natural regularity... with Bekunis ®
If you've ever worried that a laxative might be too strong or the ingredients too harsh, you should know about Bekunis — one of the most respected brands in Europe. Derived from the leaves and/or pods of the Senna plant, one of mankind's oldest natural remedies, Bekunis offers natural, gentle, overnight relief from constipation. Developed by a leading pharmaceutical company in Germany. Their extensive experience and expertise over the last 80 years has enabled them to establish a reputation for excellence specialising in herbal remedies like Bekunis, in one of the most sophisticated and quality driven natural healthcare markets in the world.
Gentle and natural… 
Bekunis brings you the gentle and natural relief that you need. Take Bekunis before bedtime and, while you sleep, its mild ingredients will gently stimulate your body's natural processes to bring you smooth, comfortable relief the next morning. It's as natural as nature itself.
Bekunis works with your body…… 
Bekunis products contain no harsh chemicals and are designed to work with your body rather than against it. Their unique laxative action encourages the body's natural processes to help clear the body of waste matter. Bekunis prevents constipation gently and reliably, because it works with the body's natural processes. Bekunis is made from the senna plant, an ages-old, well-tried medicinal herb. Bekunis is the drug of choice for natural relief from constipation.
Bekunis Tablets are easy to take. Even in obstinate cases, the dosage of active ingredient - taken in the evening - has a reliable effect the next morning. Bekunis Tablets are a modern laxative that systematically and reliably puts the bowel function back into balance without subjecting the body to unnecessary stress. Bekunis Tablets contain senna.
Quick and easy to administer, Bekunis Tablets - standardised ingredients allow precise monitoring of the dosage. The enteric coating also means they can be used by patients with sensitive. What is Bekunis?
Modern medicine is rediscovering the therapeutic qualities of many traditional herbal remedies. Senna, originally from the arid regions of the Middle East, has been used as an effective herbal laxative for more than 1,200 years. This long history of therapeutic use, means that medicinal plants containing senna are among the best documented medicines.
The fruit and leaves of the Senna plant contain compounds which stimulate the body's natural processes to provide gentle relief from constipation.
Bekunis products use modern production techniques to standardise levels of active ingredients for accurate and controlled dosage and clinical research has shown that senna based laxatives work to relieve your body of constipation.
How does Bekunis work? 
The active ingredient in Bekunis is standised to it's sennoside content which stimulates peristalsis, the natural rhythmic movement of the colon, to relieve constipation through normal elimination. This usually occurs within 6 –12 hours after the Bekunis has been taken. That is why we recommend that you take Bekunis before retiring at night.
Active Ingredients 
Apart from mucins and flavonoids, Senna contains compounds derived from anthracene, the 1.8-dianthrol derivatives. These have a laxative effect. In the case of sennosides, which are quantitatively predominant, or of their active metabolite in the colon, rhein anthrone, this effect is based mainly on contractions and a stimulation of the propulsive contractions. This results in an accelerated passage through the intestines and, due to the shortened contact time, in a reduction of the absorption of liquid. In addition, water and electrolytes are discharged through a stimulation of the active secretion of chlorine (1-10).
Metabolism 
The sennosides are prodrugs which are neither split nor absorbed in the upper gastro-intestinal tract. In the colon they are broken down by bacterial enzymes into rhein anthrone. Rhein anthrone is the laxative metabolite. The systemic availability of rhein anthrone is very small. In animal experiments, less than 5% is discharged in the urine in the form of the oxidised and partly conjugated products rhein and sennidine. The greatest part of the rhein anthrone (>90%) is bonded to intestinal content in the faeces and is excreted in the form of polymeric compounds. Small quantities of active metabolites such as rhein find their way into the mother's milk. No laxative effect has been observed in suckling infants. In animal experiments, the presence of rhein in the placenta is extremely low (5-9, 11-18)
Mode of Action 
Today the scientific literature discusses that the mode of action of stimulating laxatives like Bisacodyl, Picosulphate and Senna is based mainly on an influencing of colonic motility in the sense of an inhibition of the stationary contractions and a stimulation of the propulsive contractions.
In addition (second step) water and electrolytes are discharged through a stimulation of the active secretion of chlorine. This is known to be based on a complex mechanism in which very different factors are involved.
A blockade of the sodium/potassium – dependent ATPase in the cell membrane and thus inhibition of the so-called "sodium pump" and the absorption of water.
An increase in the permeability of the mucous membranes in the area of the tight junctions between the cells.
Stimulation of the synthesis of PGE2 in the mucous membranes of the colon.
The importance of the prostaglandins for the action mechanism of antiabsorbent and hydragogue laxatives has been investigated in depth by Beubler (6, 7). In the course of his investigations he was able to prove in vivo in the ligatured colon of a rat that senna, following oral application, reverses the net absorption of water, sodium and chloride ions as a direct function of the dose, and also increases the net secretion of potassium ions into the colonic lumen. He also found that with senna the secretion of PGE2 into the lumen of the bowels was increased.
This effect was also a direct function of the dose. As the diagrams show, the net water flux and the secretion of prostaglandins were reduced when the animals were previously treated with the prostaglandin inhibitor indomethacine.
Net water flux in the ligatured colon of rat Prostaglandin secretion in vivo in the colon of rat plus explanation for each identified by dark and clear circle
Due to the fact that the chemical laxatives bisacodyl and sodium picosulphate on the one hand, and the anthracene glycosides on the other, have the same action mechanism, it can not be excluded that in the case of continued use or an overdose an increased secretion of potassium could result in a loss of potassium from the organism. According to Lemmens and Borja (8), the hydragogue effect of the anthracene derivatives is dependent on the presence of free phenolic hydroxyl groups such as those occurring in the aglucones of the sennoside and their effective metabolites in 1.8 position. The sennosides themselves therefore have no influence on the transfer of fluids between the lumen of the bowels and the blood.
The reversion of the net absorption of water into a net secretion simultaneously increases the volume of the faecal matter and thus by means of a dilation stimulus indirectly promotes peristalsis.
Senna laxatives during pregnancy and breast-feeding 
Laxatives number alongside vitamins and anti-emetics/antihistamines among the most common medical preparations taken during the first three months of pregnancy. In a survey of more than 14,500 women in the first three months of pregnancy, it was found that 21.1% of the women took laxatives (9). From a general medical point of view, however, Bekunis like any other medication, should be taken during pregnancy and lactating periods only after you have consulted your healthcare professional.
Bekunis & Standardisation 
The medicinal senna plant, proven over centuries, has found its modern adaptation to quality standards and drug safety in Bekunis.
Sophisticated production technique ensures that each individual dose (volume measure)of Bekunis Instant Tea and Bekunis Tablets will always contain the same weight/quantity of the active component. This is achieved by a "double standardisation".
For example: the weight quantity of inactive ingredients is determined on the basis of the sennoside content in the liquid, aqueous senna pod extract. Sugar free loading materials are added to the extract during the liquid phase, before spray drying. Thus Bekunis Instant Tea is standardised in regard to weight in the first step.
In the second step, the spray-dried tea powder is adjusted to a defined bulk density (g/cm). This is done by compacting the specifically light tea powder in a screw mixer until the preset bulk weight has been reached.
Double standardisation ensures that each teaspoonful of Bekunis Instant Tea contains 20mg of the active component, calculated as sennoside B. This standardisation is important as it allows you to individualise your dose to suit your specific needs.
You can confidently take just as much Bekunis Instant as you need and easily reduce the dosage as appropriate.
Why should I purchase Bekunis instead of another laxative?
Efficacy
Overnight Reliable Action
Tolerability
Simple and Quick To Use
Individualised Dose
Indication:
Constipation and all conditions in which bowel evacuation with soft stool is desired
Contraindications:
Bekunis is contraindicated in patients with ileus. Pregnant women must consult a doctor before using Bekunis.
Side Effects:
Patients with sensitive stomachs may experience abdominal pain and or diarrhoea. In these cases it is wise to reduce the dose or discontinue use.
Presentation Form: 
Enteric-coated tablets
Composition: 1 tablet contains: 
150-220mg extract from Tinnevelly Senna fruit corresponding to 20mg Hydroxyanthracene derivates, calculated as Sennoside B
Pack Sizes: 45 tablets
Dose Administration:
Swallow 1 - 2 tablets with water at bedtime
Onset of Action: 8 -12 hours post dose provides relief of obstinate symptoms
Product Benefits: Bekunis tablets are easy to take and allow precise monitoring of the dosage.The enteric coating means that they can also be used by patients with sensitive stomachs. The amount of active ingredients is suited to produce effective results
Therapeutic Category: Contact laxative, cathartic, Under Medinical Herbs column in table, Contact laxative, cathartic
Buy with confidence
| | | | |
| --- | --- | --- | --- |
| Buyer | Item ID | Date | Ratings |
| ad**** | 187393448 | 7/18/2018 9:40:00 PM | - |
| th**** | 204612839 | 7/18/2018 8:45:00 AM | thanks. |
| zu**** | 204045905 | 7/17/2018 3:45:00 PM | trusted seller |
| sh**** | 194322166 | 7/17/2018 3:07:00 PM | - |
| sh**** | 192135271 | 7/17/2018 3:07:00 PM | - |
| my**** | 193917516 | 7/17/2018 10:58:00 AM | - |
| ni**** | 203441843 | 7/13/2018 12:25:00 AM | - |
| ni**** | 192375985 | 7/13/2018 12:22:00 AM | - |
Recent Transactions
Buyer
Product
Details
su****
Bekunis Dragees Laxative 2 x 45''s (Treat Constipation)
10 pcs


28/05/2018




















---
How to Buy?
Method 1: For Lelong User.
Note:
Method 1 – Pay by Netpay ( Credit card / Online transfer)
Method 2 – Online transfer / Direct bank in
Netpay is owned by Lelong.com.my and will charge extra 3% on every transaction. Buyer can click on other payment method and pay direct to seller in order to save on the 3% of netpay transaction charges and in case of out of stock situation, you will get a full refund.
Method 2: For Non Lelong User Or Buy Direct
After you have made the payment, please sms or whatsapps the following to make order. Please follow the order format below or else order will not be processed. Please send a snapshot of payment slip as evidence of purchase to 011-23508092.
1. Product Title:
2. Date of Payment:
3. Amount Paid (Balance if any):
4. Which bank you transfer to (Maybank / Ambank ):
5. Parcel Receiver Name:
6. Shipping address:
7. Contact Number:
Method 3: For International Buyer
-For International shipping (outside of Malaysia), we are using Paypal as our payment channel. Please contact us via whatsapps / email for further clarification.
Within Malaysia: Poslaju /Skynet/ Taqbin
- Estimated delivery time of 3-5 working days upon receipt of payment
International Delivery
– DHL courier/ Aramax/ EMS
- Estimated delivery time of 7-12 working days upon receipt of payment
Note:
1) Combined Shipment is allowed.Combine your purchases at our store to save on shipping fees.
2) Please note that order placed after 11am on Friday will reach on Monday onwards due to Poslaju non-collection during weekend. Any inconvenience is much regretted.
It is your obligation to enter the correct delivery address details at the time of ordering. If the address has been entered incorrectly, the buyer will have to bear the shipping cost of re-sending.
If wrong items or defective items being delivered, we will gladly accept returns of packages within 3 days of the receipt date and issue a replacement. Replacement will only be issued if the products being returned are not used, in the same condition you received it and in the original box and / or packaging. Delivery costs of any return will be borne by you.
Please contact us and send proof of picture to our email fairpricehealthstore@gmail.com.
Questions & Answers
Do you have any questions to ask merchant about this product
Ask Seller
| | | |
| --- | --- | --- |
| 5 star | | 0 |
| 4 star | | 0 |
| 3 star | | 0 |
| 2 star | | 0 |
| 1 star | | 0 |
Share your thoughts with others
Write a review
Only buyers who purchased the product may leave a review