VIDEO COLLECTION DVDs Description :


Hip Hop Abs Workout, As Seen on TV (including Ellen) is an innovative workout technique that will bring you the washboard abs you've always wanted WITHOUT ever doing a single sit-up! Shaun T created a program that always you to lost fat and strengthen your core by simply dancing while incorporating fun movements that work your abs.

Shaun T was 50 pounds heavier before creating Hip Hop Abs - now Shaun has ripped abs. He shares his secret with you in Hip Hop Abs. The results are real and can be seen in the before and after photos of the test group. To learn more about Hip Hop Abs take a look at the video below to watch and learn about how you can transform your body and improve your health - all while dancing!
Dance your way to hot, sexy abs and burn fat off your entire body with Shaun T's fun, exciting dance program, which includes four DVDs, a step-by-step nutrition guide, 30-day workout calendar, and six-day slim down plan. Workouts include:
Secrets to Flat Abs: Shaun T shows you his exclusive training techniques that target your upper abs, lower abs, and obliques while you burn fat. Just Tilt, Tuck & Tighten and you're on your way to a flat, sexy midsection. (13 minutes)

Fat Burning Cardio: You'll burn calories and shed fat with Shaun T's fun, hip dance moves set to the same hot music you hear on the radio. (30 minutes)

Ab Sculpt: Shaun T gives you more of his signature ab moves to get you the six-pack you've always wanted without a single sit-up or crunch. (25 minutes)

Total Body Burn: This head-to-toe workout combines cardio and total body- sculpting with even more ab-defining moves. You'll have a blast while you burn fat and get a lean, tight body. (45 minutes)

Hips, Buns, and Thighs: Get ready to lift and firm those stubborn problem areas, and get you back in your skinny jeans fast. (25 minutes)
6 Different All New Bestselling Video Workouts by Shaun T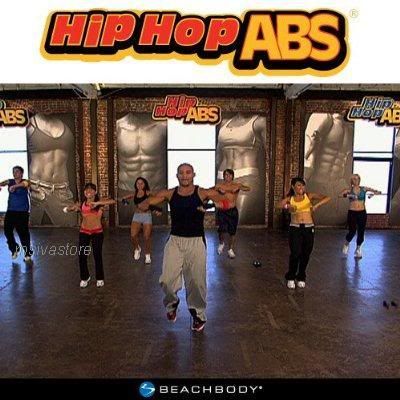 Other videos in this package include:
Step-by-Step Nutrition Guide: Shaun T shares his secrets for how you can lose weight faster and still eat the foods you love.

30-day workout calendar: You can freestyle your Hip Hop Abs workouts, or follow Shaun T's schedule designed to get you jaw-dropping abs and to tone your entire body fast.

Results on the Run diet guide: You can still eat at your favorite fast food restaurants--guilt free. Shaun T shows you the best stuff to order when you're on the go.

6-Day Slim Down plan: Want to start losing in a hurry? Jump-start your weight loss with Shaun T's easy-to-follow plan and lose up to 3 inches off your waist in your first week.

Learn to Dance: Shaun T shows you 2 full Hip Hop dance routines that will rev up your metabolism while you learn the latest moves he's been teaching the hottest names in music for their videos (Take It to the Dance Floor; Last Minute Dance).
More Videos Description
(1)SECRETS TO FLAT ABS: Shaun shares his targeted training technique, TILT, TUCK & TIGHTEN, which activates your upper, middle, and lower abs and obliques at the same time so you get beautiful, flat, sexy abs!
(2)FAT BURNING CARDIO: This is not your mama's aerobics video. A maximum calorie burn that targets your ABS, so you burn off the fat while revealing a tight, toned, sexy midsection. Shaun's energy, hot music, and exciting moves like the "throw down" and "up-rock" make the time fly by.
(3)AB SCULPT: Are you ready for your very own six-pack? Shaun teaches you the most innovative standing ab and core moves you'll ever experience! With Shaun's TILT, TUCK & TIGHTEN technique you'll really fire up those ab muscles and melt the flab!
(4)TOTAL BODY BURN: This head-to-toe workout combines cardio with total body sculpting, while you target your midsection - so you burn off the fat and reveal a tight, toned body ... Say goodbye to love handles and say hello to a slimmer waist and flat, sexy abs!
(5)HIPS, BUNS, AND THIGHS: Slim your upper and lower abs while you target those stubborn lower-body problem areas. Forget boring lunges and dreaded squats - Shaun's dynamic Hip Hop moves like "the freak" and "drive the car" not only get results but they make it fun! So now you can slim your hips, trim your thighs, lift your booty, and get back into your skinny jeans FAST!
(6)LAST MINUTE ABS: Ready, Set, GO! Just give Shaun 5 minutes and you're guaranteed an ab workout that's fast, fun, and effective. Plus, you'll be singing out loud to this famous tune and before you know it you're not only done, you've got great abs too! Perfect when you're short on time but still want to work on that six-pack! *BONUS LEARN TO DANCE Routines. *Extras Include: Workout Calendar; 6 Day Slim Down; Step-By-Step Nutrition Guide; Results on the Run Fat-Burning Fast Food;

..:: What Will You Receive in This Package? ::..
Contents of the 1 DVD  as below :

Complete HD VIDEOS & Hidden BONUS Videos With Diet and Nutrition Ebook Guides .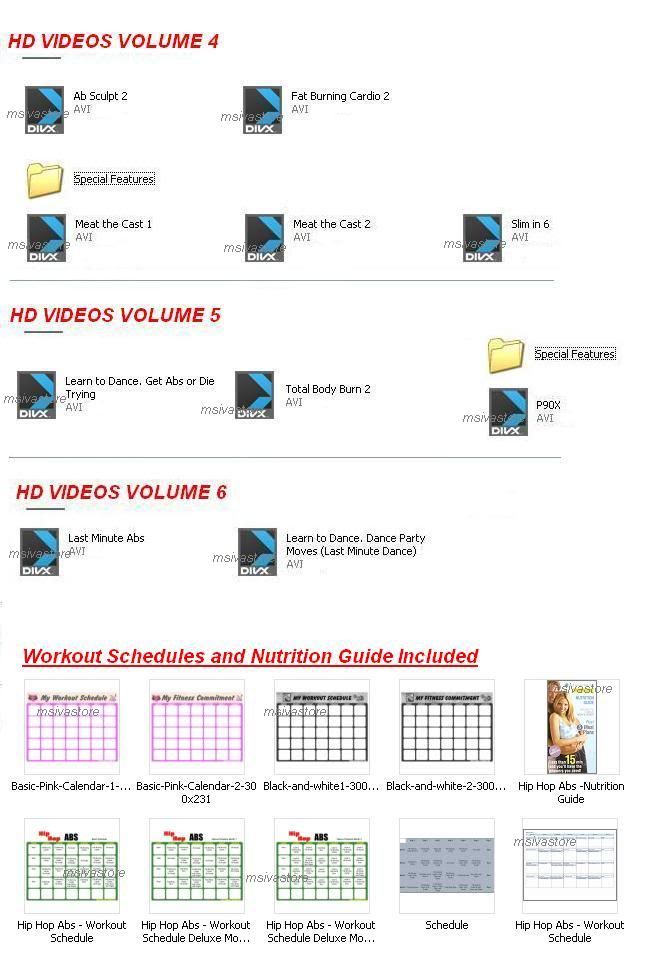 - Language : English
- File Format : .avi video , for PC, Laptop, DVD with Divx Support  . Player included for PC viewing
- Winner will receive 1 COMPLETE DVD with All the HD Videos & Guides Described above. Hip Hop Abs Extreme Pack Complete Course
( complete with training charts and diet guides as seen above )
watch Demo video below :

Tamilyn B.
Lost 32 lbs. and 19.5 in.
Maria C.
Lost 90 lbs. and 43 in.
Anna E.
Lost 10 lbs. and 13.75 in.
Basil M.
Lost 41 lbs. and 35 in.
Chris I.
Lost 52 lbs. and 39 in.
Dixon M.
Lost 58 lbs. and 38.5 in.
" A compact ,authoritative guide to Strength Training + Fitness Level Enhancement"
Testimonials :
Best ab workout ever!,
Shaun T is an amazing instructor who makes it fun. He makes it where you don't want to quit no matter how bad it burns. I ordered Hip Hop Abs and his Rockin' Body three weeks ago and I already see a big difference. I've lost in my waist and hips, my thighs are tightening up, and I feel better overall! The workouts are fun and the music has a good beat to it. I hate to work out to the same ol boring everyday but this keeps you moving and its amazingly fun, fun, fun! If the floor is not your idea of a fun workout this is for you!
Hip hop fun,
I have tried many dance workout DVDs even though I have no background in dancing. With the other DVDs I always found myself stumbling and unable to kep up with the instructor. Shaun T makes it fun and easy to stay motivated with his up beat basic choreography. I love the body rolls and booty bouncing.I highly recommend this DVD set to anyone who wants to get active and have fun doing it.

A 5-STARS RECOMMENDATION