Item Specification
Product Description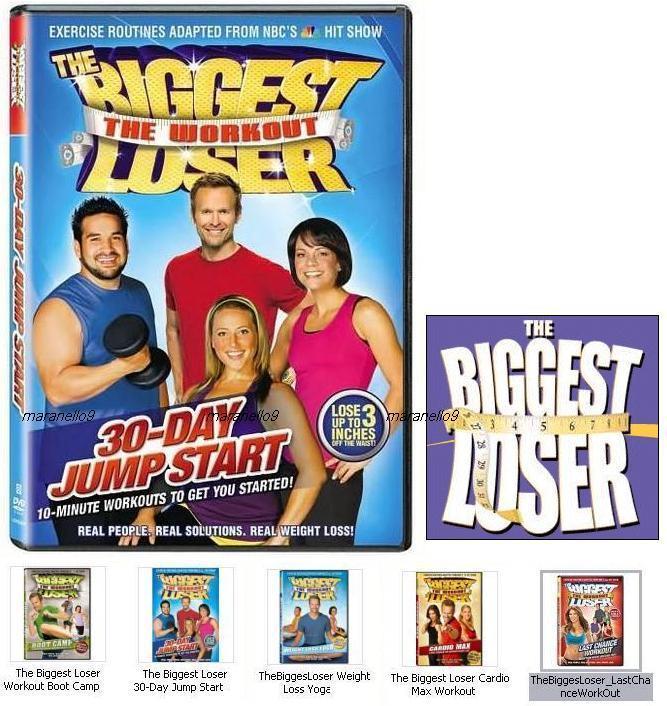 Box and covers shown are for illustration only. tq
  THE HOTTES

T :
DVD COLLECTION  :
The Biggest Loser Workout Ultimate Collection

DVD


- Must Have DVD VIDEOS COLLECTION -
Buy It
>>  Other Fitness , Beachbody and P90X Packages can be viewed here : CLICK
Product # 1

 Box and covers are for illustration only. tq

 Amazon Price: $89.95

 

 DVD Description :   

You've seen the staggering weight loss on tv's hit show and now, just like the contestants, you too can rev up your fat-burning furnace and experience dramatic weight loss! Join 'The Biggest Loser' trainers, Angie and Richard, as they guide you through their fun, intensive, calorie crunching workout!

Now's your chance to workout alongside the contestants and maximize your success by following the six-week programme so you too can see those extra pounds disappear!

Includes the following workouts:

The Biggest Loser 30-Day Jump Start Workout tutorial

The Biggest Loser Cardio Max Workout tutorial
The Biggest Loser Workout Boot Camp tutorial
The Biggest Loser Last Chance Workout tutorial
The Biggest Loser Weight Loss Yoga tutorial

 

 

The Biggest Loser 30-Day Jump Start Workout

Jump-start weight loss in just 30 days with the help of your favorite contestants from NBC's "THE BIGGEST LOSER." You've seen Ali, Tara and Sione shed pounds on the show and now it's your turn! Burn fat and tone muscle as they lead you through five 10-minute workouts that cover every inch of your body. Now's your chance to get started, get fit and lose big with this 30-day program! And it doesn't stop there – in two special segments, Bob gives the diet tips and motivation you'll need to get started and stay on track.

 

The Biggest Loser Cardio Max Workout

Maximum results in minimum amount of time. Achieve greater weightloss and watch the extra pounds disappear as your endurance level and strength increase and your whole body transforms. For best results we recommend you follow our six to eight week program recommendation using the different levels as "add-ons" as your progress. THE BIGGEST LOSER CARDIO MAX DVD: This DVD consists of three different cardio workouts (plus a warm-up and a cool-down) each with an increased level of intensity: LEVEL 1: With Bob as your trainer this 20-minute boot camp will touch every part of your body and get your fat-burning engine going strong. LEVEL 2: With Jillian as your trainer this 10-minute supercardio drill workout will sweat away pounds galore. LEVEL 3: With Kim as your trainer you will continue to maximize your weightloss with a kickboxing workout concentrating on your butt and thigh.

 

The Biggest Loser Workout Boot Camp

Just like the contestants on NBC's hit show, you too can rev up your fat-burning furnace and experience dramatic weight loss in less time. Join "The Biggest Loser" trainer, Bob, and show contestant winners and finalists for a 6-8 week program that beats the bulge one intensity level at a time. Begin with Boot camp 1 and as you improve, add on Boot camps 2 and 3 for a powerful workout that challenges every muscle with dynamic moves designed to give those unwanted pounds the boot!

WARM-UP (5 Minutes): Prepare your body for boot camp with athletic conditioning moves that get the heart pumping and the muscles warm.

LEVEL 1 (Weeks 1 and 2) -Boot camp Level 1 (20 Minutes): Bob turns on the burn with upper- and lower-body strength intervals, then revs your metabolism with calorie-crushing cardio.

LEVEL 2 (Weeks 3 and 4) – Boot camp Level 2 (15 Minutes): Pick up the pace and drop the pounds with Bob's innovative power moves that integrate fat-blasting bursts of cardio.

LEVEL 3 (Weeks 5 and 6) – Boot camp Level 3 (10 Minutes): Challenge your balance and fine-tune your physique using bands and weights to further chisel your newfound muscle.

COOL-DOWN (5 Minutes): Reward and energize your body with athletic and yoga-inspired stretches that soothe tight muscles and improve posture.

 

Biggest Loser Last Chance Workout

In the pre "weigh-in" workouts on NBC's hit show, "THE BIGGEST LOSER," you've seen contestants push themselves to the limit to reach their weight-loss goals – and now you can too! In this intense Last Chance Workout, trainer Jillian Michaels pulls out all the stops with three workouts that challenge your body to the maximum. But don't worry, past contestants will be by your side every step of the way. With a unique blend of cardio and strength designed to boost your fat-burning potential, and the motivation to keep going, now's your chance to step on the scale and lose more weight faster than ever!

 

The Biggest Loser Weight Loss Yoga

This yoga DVD requires no extra equipment (although two sections use optional tools) and is a fun way to stay in shape. NBC's Biggest Loser television show trainer, Bob Harper leads former Biggest Loser contestants and winners through an intermediate yoga workout.

 

 

What will you receive ?

You will receive 1 Full format DVD will full workout contents above

I

ncludes All Workouts:

The Biggest Loser 30-Day Jump Start Workout
The Biggest Loser Cardio Max Workout
The Biggest Loser Workout Boot Camp
The Biggest Loser Last Chance Workout
The Biggest Loser Weight Loss Yoga

 

 

- Language : English

 

- Full Format DVD . Playable on your DVD player , PC and Laptop . No mp4 or . avi files inside. Just buy and play instantly after receiving this DVD.

 

- Winner will receive 1DVD Containing

The Biggest Loser

 

 Workouts Collection

.

 

 

Rockin' Body Testimonials :

WOW WHAT A WORKOUT

 

Have had this for about a week and I have to agree with the others it is a very good and motivational DVD. The cardio is based on martial arts moves particularly in the arm movements, but it really gets your heart pumping and the strengthening section with Angie is also very motivational. Even the warm up is not "soft". Certainly one of the better work out dvds on the market today and is good for those of us who want to "get in and get out" knowing that the 40 mins workout has done the job.

 

 

Love this!!!

Having just received this DVD today and just this minute finished doing the first section, I have to say MAN THIS WAS TOUGH! But, I love it, its hard work, but you can feel it straight away, I gotta tell you these guys know their stuff, this DVD is definately the best workout dvd I own, its not for the faint hearted - get it I dare u lol

 

Good All Round Workout!!

Iv been exercising with home fitness dvds for a year and a half now and I like to vary my workouts (I mainly do the firms dvds because they definately work you hard!), so I was hoping this would do the same. You have varied workouts for your levels, so you can choose how hard you want to work. I love Angie and Richard, they explain well what the moves are and keep you motivated the whole way through. Angie does the warm up, theres not alot of jumping around, but the moves she does certainly does warm you up. Richard does the cardio, there are 3 sections, he builds to putting all 3 together, as the other reviews have said, there is no fancy dancing moves, just punching, upper cuts and star jumps etc. It gets you sweating, but I think it just could be alittle longer (just my opinion), but certainly gets your heart going! Angie does the strengh section, which at first you think how is this hard, but by the time your on to the second time round, it starts to burn. She does squats and lunges with weights, abs, pushups and the dreaded planks!! You do the circuit twice round and just because your not jumping around, you do sweat, and shes very motivating. The next day, I was aching in places that I have never ached before, and I workout 4-5 times a week!! Richard does the hip-hop section, I havent properly done this yet. Overall, its a very good dvd, and as the other review said, its nice to see ordinary people (from the biggest loser programme) in the back instead of skinny, toned models!!! Highly recommend:)

You Have Seen Them On TV, Now Get Ready To Lose Weight And Stay Fit from Our Favourite  Fitness Gurus!




 

~ Don't waste another moment ~ CLICK ON THE BuyNow Button above now .

 
For the first time ever all these golden materials are available to the general public.
~ Don't waste another moment ~ BID NOW ~ Before Price Increases



Thank u and have a nice day
For assistance or more info please  :: CLICK HERE :: emails will be replied within 24 hours. :)
Please see my other items.. :: CLICK HERE ::
Terms and Conditions :
1.
No COD
,please understand the inconvenience .
2. Successful bidder must conclude the deal and transfer appropriate amount of funds into my Maybank account within 2 days, after auction ends.
3. Full shipping charges must be paid together with the final bid price (end price). This shipping term must be agreed before any bidding.
4. Successful bidder must contact seller within 48 hours after the auction close.
6. SERIOUS BIDDERS ONLY.
7. NO JOYBIDDERS PLEASE.
* Joy bidders will be blacklisted and given negative feedbacks.
Please BID with Confidence.
My Other Items at a Glance
Special Featured Items :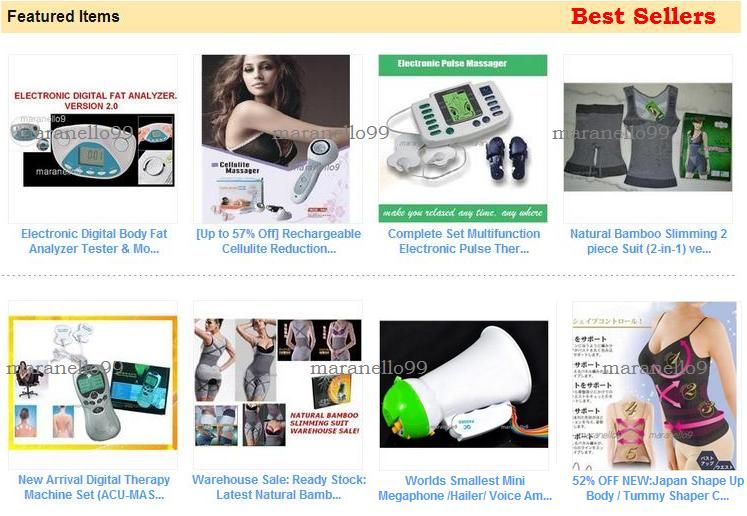 ~~ I AM AN I.C VERIFIED LELONGER ~~ PLZ BID WITH CONFIDENCE ~~


---
Dear Friends ,
Please update complete payment details or scanned image into lelong system for fast processing of your item(s).
Please refer to individual posting for delivery information
Questions & Answers
Do you have any questions to ask merchant about this product
Ask Seller
| | | |
| --- | --- | --- |
| 5 star | | 0 |
| 4 star | | 0 |
| 3 star | | 0 |
| 2 star | | 0 |
| 1 star | | 0 |
Share your thoughts with others
Write a review
Only buyers who purchased the product may leave a review