Item Specification
Model / SKU
: TB250-BTC PRO
Product Description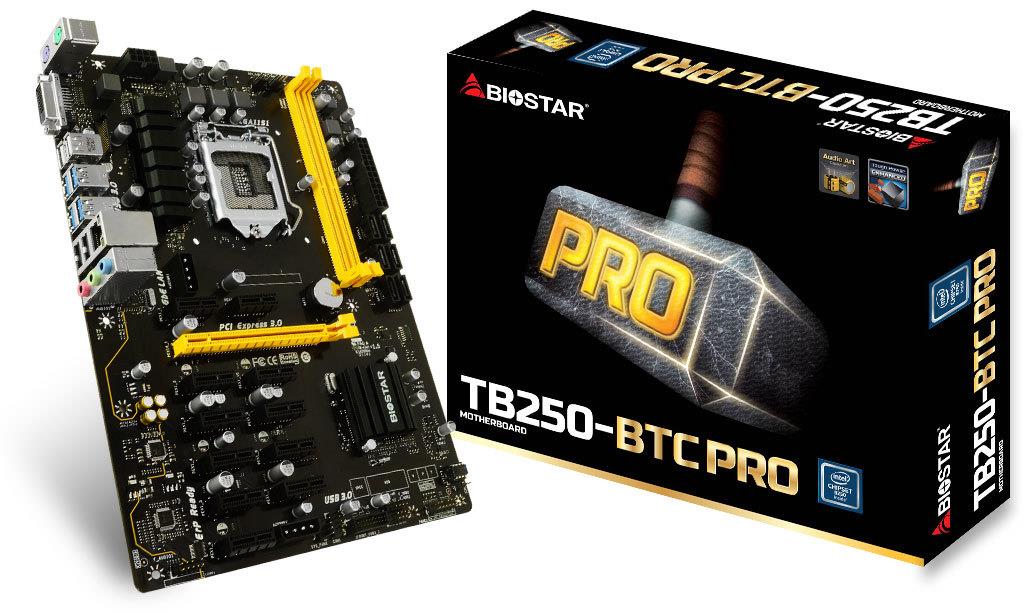 ULTRA PRO CRYPTO-MINING
Chipset

Intel B250

CPU SUPPORT

Intel® Core™ i7 LGA 1151 Processor
Intel® Core™ i5 LGA 1151 Processor
Intel® Core™ i3 LGA 1151 Processor
Intel® Pentium® LGA 1151 Processor
Intel® Celeron® LGA 1151 Processor
Maximum CPU TDP (Thermal Design Power) : 95Watt

MEMORY

Support Dual Channel DDR4 2400/ 2133/ 1866 MHz
2 x DDR4 DIMM Memory Slot
Max. Supports up to 32GB Memory
* DDR4 2400 for 7th Generation Intel® Core™ Processor Family

EXPANSION SLOT

1 x PCI-E x16 3.0 Slot
11 x PCI-E x1 3.0 Slot(Note: PEX1_6/7/8/9/10/11 slot are not compatible w/ ATX standard, users need extra coonecting kit to install VGA card for crypto mining.)

STORAGE

6 x SATA3 Connector

USB

4 x USB 3.0 Port
1 x USB 3.0 Header
2 x USB 2.0 Port
2 x USB 2.0 Port(only 5V power, up to 1.5A)
2 x USB 2.0 Header

LAN

Realtek RTL8111H - 10/100/1000 Controller
Support Super LAN Surge Protection

INTEGRATED VIDEO

By CPU model
Supports DX12
Supports HDCP

CODEC

Realtek ALC887 8-Channel HD Audio
Support HD Audio

REAR I/O

1 x PS/2 Mouse
1 x PS/2 Keyboard
4 x USB 3.0 Port
2 x USB 2.0 Port
2 x USB 2.0 Port(only 5V power, up to 1.5A)
1 x DVI-D Connector, resolution up to 1920 x 1200 @60Hz
1 x RJ-45 Port
3 x Audio Connector

INTERNAL I/O

1 x USB 3.0 Header
2 x USB 2.0 Header
6 x SATA3 6Gb/s Connector
1 x SATA Power Connector(for rear USB power enhancement)
1 x Front Audio Header
1 x Front Panel Header
1 x CPU Fan Header
2 x System Fan Header
1 x Serial Header
2 x PCI-E 12V 4Pin Connector(Must be installed when using for bitcoin mining.)

H/W MONITORING

CPU / System Temperature Monitoring
CPU / System Fan Monitoring
Smart / Manual CPU Fan Control
System Voltage Monitoring

DIMENSION

ATX Form Factor Dimension: 29.5cm x 21cm ( W x L )

OS SUPPORT

Support Windows 10(x64) for Intel 7th Generation Processor
※Support Windows 7 / 8.1(x64) / 10(x64) for Intel 6th Generation Processor

BUNDLE SOFTWARE

BullGuard
Smart Speed LAN(Windows 7/ 8.1 only)
Intel Rapid Storage Technology

ACCESSORIES

2 x SATA Cable
1 x I/O Shield
1 x DVD Driver
1 x User Manual

FEATURES

Supports 100% Solid capacitor
Supports Charger Booster
Supports BIOS Online Update

Caution!! The specification and pictures are subject to change without notice!
Supreme Weapon Dawning for New Mining Revolution
The world's No.1 ultimate crypto mining motherboard, TB250-BTC PRO supporting up to 12 native PCI-e slots with 12 graphics cards, is officially out NOW and available on the worldwide market. Just mining NOW! BIOSTAR brings a whole new crypto mining revolution dawning for the mining market.
Saving up to US$200 in Your Pocket
The cost of a mining system is always such a thing that a miner cares about the most. Now BIOSTAR TB250-BTC PRO saves all professional miners' money efficiently and wisely! You can build up one crypto mining system with TB250-BTC PRO, loaded up to 12 GPUs to earn even much more profit than that of two systems with the setup of TB250-BTC and 6 GPUs respectively. That is, you may probably save a system cost around up to US$200 on the mining hardware and components. For example, the cost saving includes a CPU, a motherboard, a SSD, a memory card, and other PC peripherals. We do bring the best cost saving solution to all professional mining enthusiasts!
Time is Money!
Compared to two mining machines with TB250-BTC, one ultimate mining machine with TB250-BTC PRO efficiently boosts the mining performance up to 200% to maximize your profitability and makes you spend much less time getting the highest mining return. TB250-BTC PRO brings 2X faster mining speed to increase much higher hashrate and makes the mining performance most efficient; that is, you can get the best cost of return just in 79 days , which is compared to 97 days for the two sets of TB250-BTC mining machines. We do bring the most bang for a miner's buck and time is money. The more time you save, the more money you get!
Neat Slot Layout Design
BIOSTAR exclusively designs the awesome and neat layout of PCI-e slots, evenly equipped on the motherboard to prevent short circuit while mining. There is no more short circuit issue to bother a professional miner for non-stop mining money stably.
Native PCI-e for Best Compatibility
12 PCI-e slots of TB250-BTC PRO are thoroughly native PCI-e from the latest Intel B250 chipset. This feature is amazingly superior to some of the mining motherboards with PCI-e bridge solution to expand more slots for their so-called mining motherboards yet miners will get some incompatibility and low stability problems from that kind of mining mainboards. To top it off, BIOSTAR TB250-BTC PRO is equipped with the latest Intel B250 chipset yet others on the market are Intel H110 chipset.
BIOSTAR proudly brings such excellent mining user experience to mining enthusiasts. Why are native PCI-e slots so vital to GPU mining? Native PCI-e slots can make the GPUs operating with high stability, high compatibility, and high speed of PCI-e bandwidth. That's why we are so proud to be the first one to launch such kind of dedicated and powerful crypto mining motherboard TB250-BTC PRO onto the crypto mining market. We make a very robust mining base for every miner.
BIOSTAR TB250-BTC PRO
BIOSTAR TB250-BTC PRO uses Intel B250 chipset supporting native PCI-e up to 12 slots. Every slot has a dedicated channel itself that makes mining more smoothly.
Others
Other crypto mining motherboards use Intel H110 chipset only supporting 6 native PCI-e slots, and the other extra PCI-e slots are supported by PCI-e x1 extension chip, which makes the bandwidth limited and comes with much more mining performance problems just like low stability, low compatibility, low speed of bandwidth, and so on.
Hybrid Graphics Card Support
There is no more stock problem out there for those professional miners who are desperately looking for the hot-selling and high price performance crypto mining graphics card AMD RX 470. BIOSTAR TB250-BTC PRO compatibly supports the hybrid graphics card platform and now you can easily take the hybrid GPU setup, like 6 pieces of AMD RX 470 and 6 pieces of NVIDIA GTX 1060. Others are still waiting for the stock, yet you are mining to earn tons of money day and night. Time is all about money, money, and still money to an ultimate miner!
| | |
| --- | --- |
| 1 | Intel LGA 1151 CPU |
| 2 | 2 x DIMM DDR4-2400 Slots |
| 3 | SATA3 Connectors |
| 4 | 1 x PCI-E x16 3.0 Slot |
| 5 | 2 x PCI-E 12V 4Pin Connectors |
| 6 | 11 x PCI-E x1 3.0 Slots |
| 7 | 7.1ch HD Audio |
| 8 | Super LAN Surge Protection |
| 9 | SATA Power Connector |
HD Audio
Provides high quality sound with minimal loss of audio fidelity.
DVI
DVI is better than VGA for LCD displays since it is digital while VGA is analog. For LCD displays, the picture is digitized pixel per pixel. Through DVI, the panel gets data for each pixel, so the picture generated in the Graphics device matches the pixels on the panel itself.
DX12
DirectX 12 introduces the next version of Direct3D, the graphics API at the heart of DirectX. Direct3D is one of the most critical pieces of a game or game engine, and we've redesigned it to be faster and more efficient than ever before. Direct3D 12 enables richer scenes, more objects, and full utilization of modern GPU hardware.
USB 3.0
Experience Fastest data transfers at 5 Gbps with USB 3.0--the new latest connectivity standard. Built to connect easily with next-generation components and peripherals, USB 3.0 transfers data 10X faster and backward compatible with previous USB 2.0 components.
The popularity of PC usage and working environment is getting deteriorating and moist(rural, coastal, etc.). The PCB will be oxidizing easily by damp or absorbed moisture, and ionic migration or CAF (Conductive Anodic Filament) will be generated. Moisture-proof PCB meets high density and high reliability requirements for moisture proof.
Low resistance design can significantly reduce the current out of energy loss.Low temperature, small size, excellent thermal conductivity.
Super Anti-Surge Protection
BIOSTAR exclusive Anti-Surge design provides the best protection of board and extends the product life. Having the latest model of "Transient Voltage Suppressor" on- board can effectively protect the board circuit, reducing the shocks caused by ESD as well as other damages arising from overvoltage transients to enhance system durability.
Super LAN Surge Protection
Super LAN Surge Protection, providing LAN port with more advanced antistatic protection capabilities by adding an integrated chip to strengthen electrical stability and prevent damage from lightning strikes and electrical surges. SLSP (Super LAN Surge Protection) series motherboard upgrades the existing system protection standards with maximum 4X protection comparing to other board makers.
ESD (Electrostatic Discharge) is the major factor to destroy PC by electrical overstress(EOS) condition, ESD occurred by PC users when touch any devices connect to PC, which may result in damage to motherboard or parts .ESD protection is designed to protect the motherboard and equipment from damage by EOS
OC / OV / OH Protection
All BIOSTAR special circuit design detects overvoltage conditions and prevents voltage surges from spreading in real time. It also actively cuts off the overvoltage supply to protect your system. Over current protection, avoid motherboard from damage when doing overclock or an unusual current import. Over heat protection, avoid motherboard & CPU from burning when exceeding the temperature limitation.
Users can easily assemble their own computer, a simple-swap data discs and other accessories.

Last Updated @ 3/5/2018 12:10:18 PM
Buy with confidence
| | | | |
| --- | --- | --- | --- |
| Buyer | Item ID | Date | Ratings |
| ei**** | 199235774 | 7/19/2018 5:06:00 PM | - |
| ei**** | 195857434 | 7/18/2018 6:06:00 PM | - |
| ga**** | 195485128 | 7/18/2018 10:08:00 AM | - |
| jo**** | 195496745 | 7/17/2018 5:57:00 PM | - |
| me**** | 205714529 | 7/17/2018 1:51:00 PM | - |
| ne**** | 205638192 | 7/16/2018 9:30:00 PM | - |
| tc**** | 205638192 | 7/14/2018 6:05:00 PM | Installed it and it works well. Expected. Great product. |
| te**** | 195496745 | 7/14/2018 2:07:00 PM | Good Service , arrive at expected time , genuine product , fair price , well done , keep the service like that |
Recent Transactions
Buyer
Product
Details
Sk****
# BIOSTAR TB250-BTC PRO Ver. 6.x Motherboard # LGA 1151
1 pcs


02/02/2018

vi****
# BIOSTAR TB250-BTC PRO Ver. 6.x Motherboard # LGA 1151
1 pcs


30/01/2018

is****
# BIOSTAR TB250-BTC PRO Ver. 6.x Motherboard # LGA 1151
1 pcs


29/01/2018

fa****
# BIOSTAR TB250-BTC PRO Ver. 6.x Motherboard # LGA 1151
1 pcs


29/01/2018

Be****
# BIOSTAR TB250-BTC PRO Ver. 6.x Motherboard # LGA 1151
1 pcs


28/01/2018

tw****
# BIOSTAR TB250-BTC PRO Ver. 6.x Motherboard # LGA 1151
1 pcs


25/01/2018

yk****
# BIOSTAR TB250-BTC PRO Ver. 6.x Motherboard # LGA 1151
5 pcs


24/01/2018

iz****
# BIOSTAR TB250-BTC PRO Ver. 6.x Motherboard # LGA 1151
1 pcs


24/01/2018

sh****
# BIOSTAR TB250-BTC PRO Ver. 6.x Motherboard # LGA 1151
2 pcs


23/01/2018

ja****
# BIOSTAR TB250-BTC PRO Ver. 6.x Motherboard # LGA 1151
1 pcs


23/01/2018




















---
Please Go Through @ Read This Carefully; It Contains Very Important Information About Your Rights And Obligations, As Well As Limitations And Exclusions That May Apply To You Behalf Of This Purchase.

*Goods Sold / Paid / Delivered Are Not Refundable, Returnable And Exchangeable. All Items Sold Carried 1 Year In-House Warranty. Extended Warranty By Manufacturer Or Distributor After The First Year, Processing And Delivery Charges Will Be Imposed. Cancellation Fee (20%) Will Be Imposed On Orders Which Customer Require Refund Under The Condition Of Last Minutes Cancellation
*Deposit For Advance / Pre Order Is Not Refundable. Transportation / Courier Of Goods / Orders And All Cost Will Be Borne By Purchaser. For Self Collect Order, Shipping Fee Is Non-Refundable
*Buyer / Purchaser Bear The Risk For Postage / Courier Orders. Mishandling, Damaged Or Missing Parcels / Orders Are To Be Claimed With Respective Courier Company According To Their Term And Condition (Insurance Is Optional For Item Value More Than RM500 For Extra Liability Coverage)

*Please Keep Any Purchase Receipt For Warranty Purposes. Dotatech IT Enterprise Holds To The Right To Reject Any Claim Without The Presence Of Purchase Receipt. Please Request Our Official Tax Invoice In Case You Didn't Receive Them Within 7-Working Days Of Purchase FOC. In Case You Lost Or Misplaced The Invoice After That, Penalty RM15 Will Be Imposed To Reissue The Document

*Warranty On All Products Sold Is Considered Null And Void Under Any One Of The Following Conditions:

1) Warranty Claim Do Not Come With Original Proof Of Purchase/Receipt.
2) Warranty Seal/Sticker Is Tear, Broken Or Tempered.
3) Misuse, Mishandling, Natural Disaster Or Unauthorized Disassembly.
4) Burn Mark Or Any Physical Defect/Damage Caused By End User Or During Deliver / Postage / Courier.
5) Modification, Personal Repair Or Excessive Over Clocking Resulting Malfunction.
*Please Check Carefully When You Send In Defective Part(s) For RMA/Warranty. If We Checked The Product Are Issue-Free, Handling and Service Charges Incur Starting From RM35.
**DoTaTech is not liable for any loss or corruption of data of your confidential, proprietary or personal information. You are advise to back up all your data before bring in the hardware/system for repair.

**All system that send in for services are at YOUR OWN RISK.

**DotaTech will not charge any charges to customer for the any hardware service/inspection within the one (1) year warranty period excluding courier charges for outstation buyer. Charges shall applied to the customer after one (1) year period and hardware that not purchase from Dotatech including handling and delivery fees.

**All defective products that need one to one exchange within 7 days from the date of purchase are depends on stock availability and condition of the particular items.
**Please Check Carefully When You Send In Defective Part(s) For RMA/Warranty. If We Checked The Product Are Issue-Free, Handling and Service Charges Incur Starting From RM35


DotaTech reserves the right to revise, amend or modify this terms of conditions at any time and any manner without prior notice and shall not responsible for any unlicensed software that comes with hardware/system.

Hardware/System after repair that have not claimed within the sixty (60) days after being notified, it will consider your system abandoned . We may dispose of your system without any prior notice to you .
Questions & Answers
Do you have any questions to ask merchant about this product
Ask Seller
| | | |
| --- | --- | --- |
| 5 star | | 0 |
| 4 star | | 0 |
| 3 star | | 0 |
| 2 star | | 0 |
| 1 star | | 0 |
Share your thoughts with others
Write a review
Only buyers who purchased the product may leave a review