Item Specification
Product Description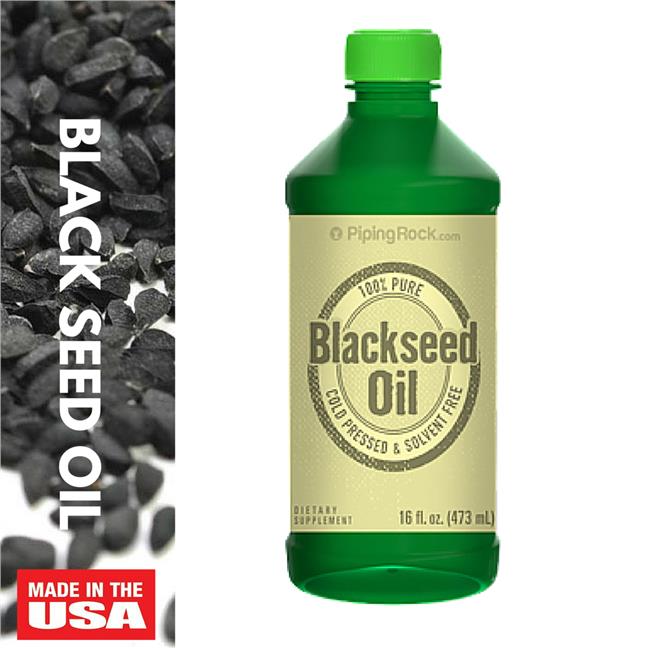 MADE IN USA
Black Seed Oil
From Hippocrates and Cleopatra, to King Tut and the civilizations that followed, a strange commonality they shared was the value they placed on a certain herb.That herb is no other than black seeds.
You may know black seeds from a variety of different names, depending on which part of the world you're in. Here are a few of the more popular one's:
Kalonji Oil
Black Cumin Seed Oil
Nigella Seeds
Habbatus Sauda
Graine De Nigelle
Schwarzkummel
Where Does Black Seed Oil Comes From?
Black seed oil is simply an extracted oil substance produced by the squeezing and compression of black seeds.
What are black seeds?
The tiny, black, thick shaped cumin seed is most commonly referred to as 'black seeds' or 'black cumin seeds'. They are slightly curved with a rough distinct texture that make them unique and easy to identify. These ingredients of black seed oil enable it to act as a multipurpose natural remedy for just about anything and everything. Take a look at some of it's properties:
Anti-bacterial
Anti-inflammatory

Anti-oxidant

Anti-fungal

Anti-cancer

Anti-asthmatic
Anti-histamine

Anti-viral

Anti-coagulant
Just to name a few. The 2 most potent chemicals it contains that cause it to be such an effective remedy is thymoquinone and thymohydroquinone. These 2 are the main responsible compounds that you can credit the wonderful healing effects to.They assist your body's immune system directly, giving it aid wherever needed. These powerful anti-inflammatory compounds were probably the main reason why King Tut was found to have a bottle of black seed oil with him in his tomb wishing to take it to the
afterlife.

These 2 compounds are also responsible for striking wonder and awe in thousands of researchers' minds with all the capabilities this little seed has.
Where do black seeds come from?
Black seeds come from the Nigella Sativa flower, and are grown worldwide today. It's origins are from North Africa, Mediterranean/Europe, and Asia, and have since spread far throughout the globe and is regarded as one of the most effective natural remedies.

What does black seed oil do?
10 of the seed's remarkable health benefits:
Type 2 Diabetes: Two grams of black seed a day resulted in reduced fasting glucose, decreased insulin resistance, increased beta-cell function, and reduced glycosylated hemoglobin (HbA1c) in human subjects.
Helicobacter Pylori Infection: Black seeds possess clinically useful anti-H. pylori activity, comparable to triple eradication therapy.
Epilepsy: Black seeds were traditionally known to have anticonvulsive properties. A 2007 study with epileptic children, whose condition was refractory to conventional drug treatment, found that a water extract significantly reduced seizure activity.
High Blood pressure: The daily use of 100 and 200 mg of black seed extract, twice daily, for 2 months, was found to have a blood pressure-lowering effect in patients with mild hypertension.
Asthma: Thymoquinone, one of the main active constituents within Nigella sativa, is superior to the drug fluticasone in an animal model of asthma. Another study, this time in human subjects, found that boiled water extracts of black seed have relatively potent antiasthmatic effect on asthmatic airways.
Acute tonsillopharyngitis: characterized by tonsil or pharyngeal inflammation (i.e. sore throat), mostly viral in origin, black seed capsules (in combination with Phyllanthus niruri) have been found to significantly alleviate throat pain, and reduce the need for pain-killers, in human subjects.
Chemical Weapons Injury: A randomized, placebo-controlled human study of chemical weapons injured patients found that boiled water extracts of black seed reduced respiratory symptoms, chest wheezing, and pulmonary function test values, as well as reduced the need for drug treatment.
Colon Cancer: Cell studies have found that black seed extract compares favorably to the chemoagent 5-fluoruracil in the suppression of colon cancer growth, but with a far higher safety profile. Animal research has found that black seed oil has significant inhibitory effects against colon cancer in rats, without observable side effects.
MRSA: Black seed has anti-bacterial activity against clinical isolates of methicillin resistant Staphylococcus aureus.
Opiate Addiction/Withdrawal: A study on 35 opiate addicts found black seed as an effective therapy in long-term treatment of opioid dependence.
Here are 16 additional potential health benefits to add to the growing list:
Prevents Radiation Damage: Nigella sativa oil (NSO) and its active component, thymoquinone, protect brain tissue from radiation-induced nitrosative stress.
Protects Against Damage from Heart Attack: A thymoquinone extract from nigella sativa has a protective effect against damage associated with experimental heart attack.
Prevents Morphine Dependence/Toxicity: An alcohol extract of nigella sativa reduces morphine-associated conditioned place preference, an indication of morphine intoxication, dependence and tolerance.
Prevents Kidney Damage Associated with Diabetes: A thymoquinone extract from nigella sativa has protective effects on experimental diabetic nephropathy.
Prevents Post-Surgical Adhesions: Covering peritoneal surfaces with Nigella sativa oil (NSO) after peritoneal trauma is effective in decreasing peritoneal adhesion formation in an experimental model.
Prevents Alzheimer's Associated Neurotoxicity: A thymoquinone extract from nigella sativa has protective effects on experimental diabetic prevents neurotoxicity and Aβ1-40-induced apoptosis in the cell model.
Suppresses Breast Cancer Growth: : A thymoquinone extract from nigella sativa inhibits tumor growth and induces programmed cell death (apoptosis) in a breast cancer xenograft mouse model.
Exhibits Anti-Psoriasis Properties: The alcohol extract of nigella sativa seeds exhibit anti-psoriatic activity, consistent with its medicinal use in traditional medicine.
Prevents Brain Pathology Associated with Parkinson's Disease: A thymoquinone extract from nigella sativa protects cultured neurons against αSN-induced synaptic toxicity, a pathology observed in the brains of patients with Parkinson's disease and dementia with Lewy bodies.
Kills Highly Aggressive Gliobastoma Brain Cancer Cells: A thymoquinone extract from nigella sativa exhibits glioblastoma cell killing activity.
Suppresses Liver Cancer Growth: A thymoquinone extract from nigella sativa prevents chemically-induced cancer in a rat model.
Prevents Diabetic Pathologies: A water and alcohol extract of nigella sativa at low doses has a blood-sugar lowering effect and ameliorative effect on regeneration of pancreatic islets, indicating its value as a therapeutic agent in the management of diabetes mellitus.
Suppresses Cervical Cancer Cell Growth: A thymoquinone extract from nigella sativa exhibits anti-proliferative, apoptotic and anti-invasive properties in a cervical cancer cell line.
Kills Oral Cancer Cells: A thymoquinone extract from nigella sativa induces programmed cell death (apoptosis) in oral cancer cells.
Black Cumin Seed Oil: What to Look For
It is important to make sure that it is from a quality source and preferably:
Organic
Pure pressed without chemical extraction
Contains no additives or diluting oils
Protected from rancidity by high quality light and air protective container.

Black cumin seed oil is simply a food supplement that contains some concentrated compounds that may be protective of health. Just as with any supplement, make sure that whatever brand you use is high quality and free from harmful additives.
How To Use Black Seed Oil
You can take a teaspoon of this oil straight a couple times a day. It works great to add a teaspoon or so to an oil cleansing blend or to experiment with adding it to lotions, shampoos and hair detox, and skin products.
The Bottom Line of Black Cumin Seed Oil
Black cumin seed oil is an amazing supplement that has been used for thousands of years for its ability to support health naturally. It isn't a panacea or a miracle drug, just a potent natural oil.

Use common sense. Black seed oil is a supplement, but a nutritionally potent one. Anyone with a medical condition or who is pregnant/nursing should check with a doctor before using this or any substance.
Nutrition Facts
Serving Size:
1 Teaspoon (5 grams)
 
Amount
Per Serving
% Daily
Value
(DV)
Calories
45
 
Fat Calories
45 mg
 
Total Fat
5 g
7.5%
Saturated Fat
1 g
0.05%
Black Cumin Seed Oil, Virgin Nigella Sativa Seed Oil

Omega-3 (ALA) 0.3% Omega-6 (LA) 58.8% Omega-9 (OA) 22%

5 g
*
Ingredients:
Freshly cold-pressed & unrefined virgin black cumin seed oil (Nigella sativa).
Directions:
For adults, take 1-2 teaspoonful's, with food.
WARNING:
If you are pregnant, nursing or taking any medications, consult your doctor before use. If any adverse reactions occur, immediately stop using this product and consult your doctor. If seal under cap is damaged or missing, do not use. Keep out of reach of children. Store in a cool, dry place.
Other Information:
May be kept refrigerated or stored at room temperature, keep away from heat or direct sunlight.
* Daily Value (DV) not established.

Last Updated @ 10/28/2016 7:50:01 PM

Last Updated @ 4/11/2017 12:39:33 PM
OUR PRODUCT WARRANTY
Product Quality
We guaranteed that our products are 100% original and genuine. If at any time you discovered the product to be fake or non-original, you may return the product without any question asked. We will refund the full price you paid for the product, including any shipping charges. All we asked is you drop us a note to let us know why you think the product is not original.
Product Satisfaction
If you are not happy with the product you ordered, you may return to us the product (unopened) and we will be glad to refund you the price you paid for the product (less any shipping charges). You will need to do this within 15 days from the order date.
OUR SHIPPING POLICY
We ship your items on the same day that you order them, as long as you place your order before 12pm noon. Orders received after 12pm noon will be shipped the next business day.
Depending on your location, your order will arrive 1-3 business days after it is processed. To keep you posted, we'll update your shipment at the shopping portals as soon as your order leaves our warehouse that will include a tracking number for your order.
All our orders ship from our facility in Sitiawan, Perak. We never drop-ship products. By keeping all shipping in-house, we can guarantee quality, speed and accuracy in your order fulfillment.
OUR RETURN POLICY
We are proud of the quality of our products and want to make sure you are completely satisfied.
All Maxwell e-store purchases are backed by our 100% satisfaction guarantee. If you are not satisfied with any item you have purchased from us, you may return it within 15 days of the date of your order. The items can only be returned for refund if they are unopened and are in their original packaging. All shipping costs will be the responsibility of the customers. However, you may keep any free gifts that comes with the purchases.
When you receive your order, please check to make sure these items are in good condition, and let us know right away if there is a problem with your shipment. You may either PM (Private Message) us or email us at myee5851@yahoo.com.
Once your return has been received, a credit or refund will be issued.
We will not be responsible for shipping and handling on returned items. We recommend using courier companies for returns as we cannot be responsible for items that do not arrive at our warehouse.
If you have any questions about our domestic return policy or about a specific return, email us at myee5851@yahoo.com, call us at 016-4264801, or Whatsapp us at 016-4264801 .
Initial shipping charges are not reimbursed except as stated in Our Product Warranty. Returns may be refused on an individual basis due to repeated patterns indicative of abuse.
OUR PERSONAL PRIVACY COMMITMENT
Personal privacy is critically important to us. Since we started our business, we have never sold, leased or shared any customer information with third parties. Your personal information remains entirely confidential.
OUR CUSTOMER SERVICE POLICY
We are also reachable by chat and email to answer questions and resolve issues with your order. Of course, nobody's perfect. We may get quite busy at times and we ask for a little patience. We'll do our best to take care of things promptly, efficiently and courteously - this is what our customers deserve!
Maxwell e-store
Policy Update 9 December 2016

---
Please bank-in your money into Yee Hock Thiam, Malayan Banking Bhd Account No. 1082 9921 0814. You can then sms me your transaction number to my mobile phone at 016-4264801. Your items will be despatched to you immediately. Thanks for your patronage.
All our delivery are made through Postlaju courier services. Generally, you should received your purchases in 1 to 3 days.
We warranty our products to be 100% original and fully imported.
Questions & Answers
Do you have any questions to ask merchant about this product
Ask Seller
| | | |
| --- | --- | --- |
| 5 star | | 0 |
| 4 star | | 0 |
| 3 star | | 0 |
| 2 star | | 0 |
| 1 star | | 0 |
Share your thoughts with others
Write a review
Only buyers who purchased the product may leave a review