Item Specification
Product Description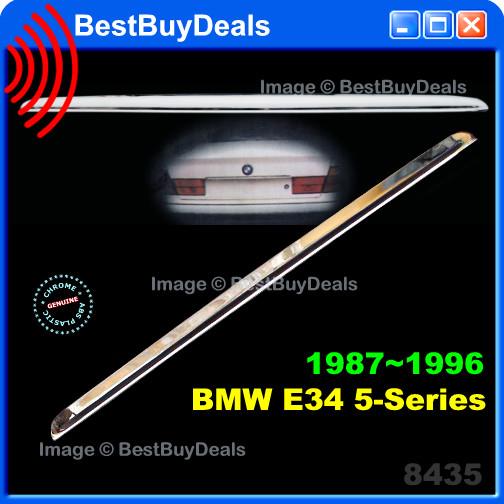 Description
BMW E34 5-Series M5 Chrome Trunk Boot Lid Moulding Door Cover Trim Surround Overlay ABS
Quantity
1 Piece
Extra Details:
BMW E34 BMW E34 5 Series (1987~1996)

1x Piece Trunk Lid Trim Cover Lip Overlays (Stainless Steel)

The Length of the Trim is 62.5 centimeter = 24.6 inch, Please Measure before buying as there are two model / sizes

Will Fit most of the Following models
E34 (1987-1996) 5 Series

Model Years
518i 1989 to 1994 Sedan/Touring
518i 1994 to 1996 Sedan/Touring
518g 1995 to 1996 Touring
520i 1988 to 1990 Sedan
520i 1990 to 1992 Sedan/Touring
520i 1992 to 1996 Sedan/Touring
525i 1988 to 1990 Sedan
525i 1990 to 1992 Sedan/Touring
525ix 1991 to 1992 Sedan/Touring
525i 1992 to 1996 Sedan/Touring
525ix 1992 to 1996 Sedan/Touring
530i 1988 to 1990 Sedan
530i 1992 to 1996 Sedan/Touring
535i 1987 to 1993 Sedan
540i 1992 to 1996 Sedan/Touring
M5 1988 to 1993 Sedan
M5 1991 to 1995 Sedan/Touring
 
Diesel 
Model Model Years Body version
524td 1988 to 1991 Sedan
525td 1993 to 1996 Sedan/Touring
525tds 1991 to 1996 Sedan/Touring


Features:
• ABS Chrome Side covers are the fastest route to eye-popping gleam
• Specialized injection-molded shape assures ABS Chrome covers fit closely with the contour of your stock vehicle.
• ABS Chrome covers use generous chrome plating over automotive-grade ABS that withstands the elements and matches factory trim
• The durable chrome plating on ABS Chrome covers won't yellow or rust like metal trim pieces
• ABS Chrome covers install in just minutes over your stock vehicle housing—just peel the adhesive backing, press into place and hit the road
• Pre-applied 3M adhesive and the included promoter solution form a strong bond with the factory ABS that lasts
Dramatically enhance the look of your vehicle and perfectly match the rest of your vehicle's trim!
• ABS Chrome covers do both with ease, offering a smooth and brilliant shine to the back of otherwise dull side views.
• Crafted from automotive-grade ABS with durable chrome plating, ABS Chrome covers are tough enough to handle all of the abuse your vehicle takes: tossed rocks, pounding weather and exploded bugs. And, the bright chrome plating will never yellow like a steel cover.
• With a custom-molded shape, ABS Chrome covers pop over the back of your stock housings in seconds without needing to remove any parts. Your Chrome Vehicle Covers stay in place with pre-applied, heavy-duty 3M adhesive tape that holds tight to a cleaned surface.
• So pop a little limited-edition style onto your vehicle—it takes just minutes with ABS Chrome covers.


Special Note:
We recommend applying a high quality automotive wax to maintain the original appearance on your new trims.
Upgrade the look of your Vehicle with these sharp chrome trims overlays.
Give it a custom look in minutes that will last for the lifetime of your Vehicle. Made of automotive grade ABS / Stainless Steel (please refer details above)  with triple chrome plating, each set has been computer designed and injection-molded to ensure an exact custom fit for your year, make and model. The overlay fits precisely over the existing trim and molds seamlessly into surrounding bodywork. The look is spectacular and the match to your existing chrome is perfect.

Best of all, you can achieve this look in minutes. Simply clean your vehicles existing trim peel the backing off the pre-applied Red 3M™ Tape and stick the overlay into place. The tape makes a permanent bond that will hold up year after year through any weather or road conditions. No cutting, no drilling, no tool work are needed. No need to spring for metal replacement trims with its much greater cost, disassembly and installation time. In just minutes you're finished, and your vehicle has a dramatically enhanced appearance.


Extra Related Information On Your Vehicle:

BMW 5 Series (E34)
From Wikipedia, the free encyclopedia
Jump to: navigation, search
BMW 5-Series (E34) 
Manufacturer BMW
Production 1988–1996
1,333,412 built
Predecessor BMW E28
Successor BMW E39
Class Mid-size (E) luxury
Body style(s) 4-door sedan
4-door station wagon
Layout FR layout
Platform BMW E34
Engine(s) 1.8 L M40B18 I4
1.8 L M43B18 I4
1.8 L M43B18 I4
2.0 L M20B20 I6
2.0 L M20B20 I6
2.0 L M50B20 I6
2.5 L M20B25 I6
2.5 L M50B25 I6
3.0 L M60B30 V8
3.5 L M30B35 I6
4.0 L M60B40 V8
2.5 L M20B25 I6
3.5 L M30B35 I6
3.6 L S38B36 I6
2.5 L M50B25 I6
3.0 L M60B30 V8
3.8 L S38B38 I6
4.0 L M60B40 V8
Transmission(s) 4-speed automatic
5-speed manual
5-speed automatic
6-speed manual
Wheelbase 2,761 mm (108.7 in)
Length 4,719 mm (185.8 in)
Width 1,750 mm (68.9 in)
Height 1,412 mm (55.6 in)
1,417 mm (55.8 in)
 
BMW E34 M5 with M Parallel 18 inch wheelsThe BMW E34 is the version of the BMW 5 Series automobile built from mid-1987 to 1996, with the Touring model ending June 1996. It replaced the BMW E28 in 1988 and was replaced by the E39 in 1996.

The E34 succeeded the BMW E28 in 1989 with two models. The 525i used the BMW M20 engine while the 535i used the larger M30. The cars were a blend of BMW tradition and modern technology. BMW's traditional FR layout and straight-6 were used, providing the smooth engine and optimal weight distribution BMW customers had come to expect. The E34 also had a much stiffer body and was more streamlined than its predecessor, looking very much like the BMW E32 7-series.

The E34 was among the most reliable luxury cars on the market, earning the best-in-class reliability rating from Intellichoice in 1991. It is still considered one of the most reliable BMWs made. It was also one of the safest cars on the road during its production,[citation needed] providing airbags, 4-wheel anti-lock brakes, and a very rigid body structure to protect occupants in the event of an accident. The E34's 60-0 mph (97 to 0 km/h) stopping distance of 130 feet (40 m) was the best of any production sedan in 1990.[citation needed] It was also equipped with dynamic stability control (DSC) or skid control in later years on higher-specification variants.

A few enhancements to the body's cosmetics and functionality, as well as a slew of engine and transmission evolutions, have appeared throughout its years of production. Among those, BMW's VANOS variable valve timing technology made its first appearance in the M50 2.5L engines built in September 1992 and later.
 
 
VERY IMPORTANT PLEASE READ BEFORE BUYING
Material: ABS Chrome Plastic
[8435]

Last Updated @ 6/2/2017 11:50:17 PM
Buy with confidence
| | | | |
| --- | --- | --- | --- |
| Buyer | Item ID | Date | Ratings |
| mh**** | 192629380 | 11/5/2017 11:59:00 PM | - |
| ko**** | 181701491 | 11/2/2017 6:01:00 PM | - |
| ko**** | 191335767 | 11/2/2017 6:01:00 PM | - |
| ko**** | 191717577 | 11/2/2017 6:01:00 PM | - |
| am**** | 191337200 | 10/31/2017 10:21:00 PM | - |
| ze**** | 191335874 | 10/24/2017 1:16:00 PM | - |
| dr**** | 172399518 | 10/16/2017 10:37:00 PM | Thanks for your service. Excellent. 5 stars |
| ad**** | 191337737 | 10/14/2017 9:11:00 PM | fast delivery as promised. recommended. |
Questions & Answers
Do you have any questions to ask merchant about this product
Ask Seller
| | | |
| --- | --- | --- |
| 5 star | | 0 |
| 4 star | | 0 |
| 3 star | | 0 |
| 2 star | | 0 |
| 1 star | | 0 |
Share your thoughts with others
Write a review
Only buyers who purchased the product may leave a review