Item Specification
Model / SKU
: Boteng Shaver RSCW-V3
Product Description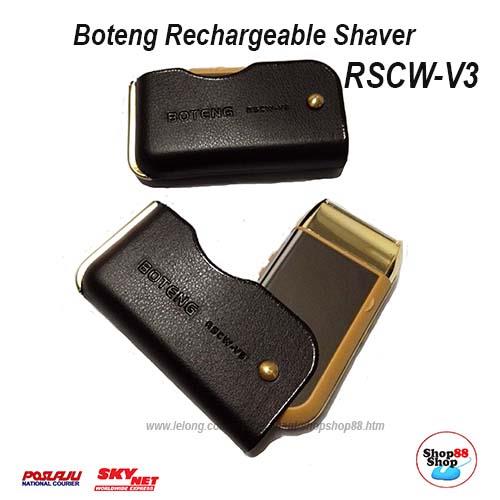 Boteng Rechargeable Folderable
 Shaver Trimmer RSCW-V3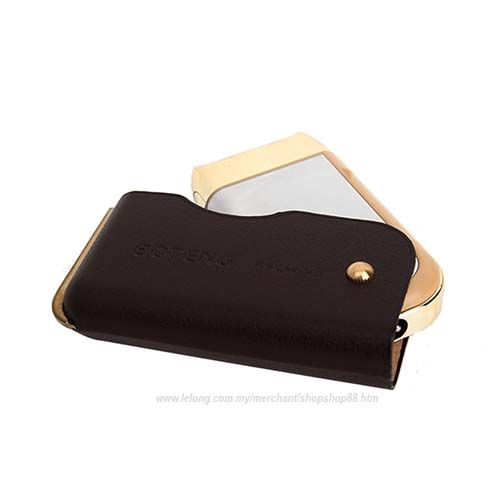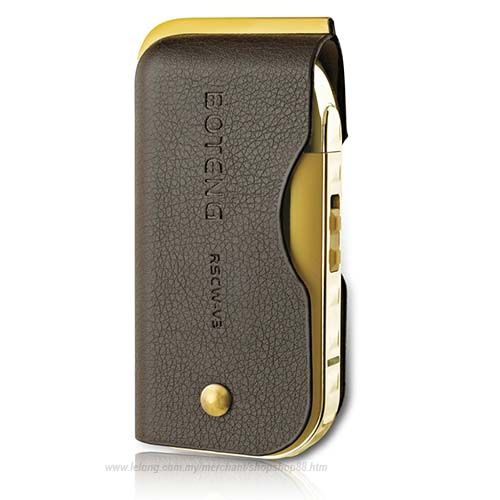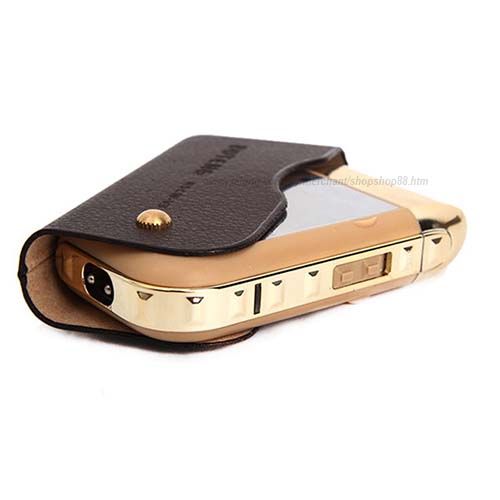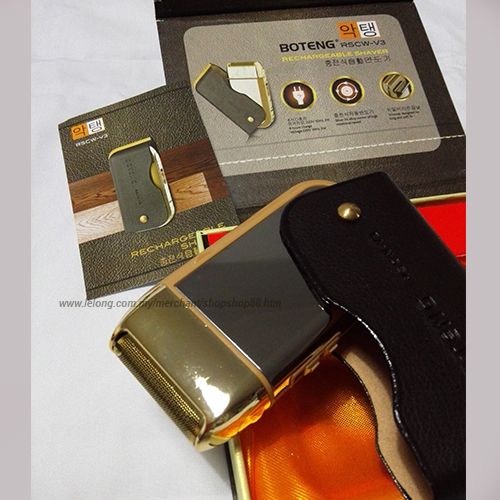 Original Item In Box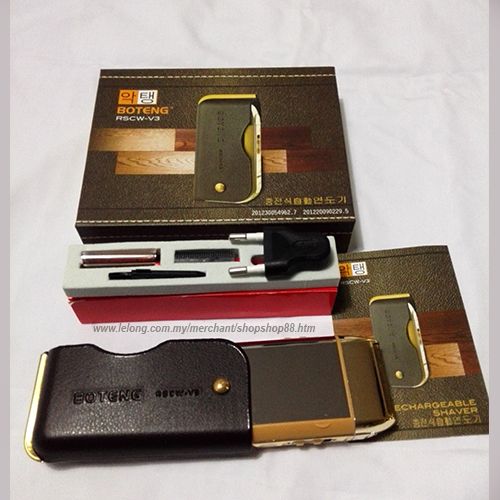 1.    Boteng Shaver RSCW-V3 is Rechargeable Shaver, 8 hours Charge for 50 mins use.
2.    Voltage 220V 50HZ 3W.
3.    Silver PD Alloy Motor of High Rotational Speed.
4.    Trimmer Designed for Short and Soft Hair.
5.    Dimension: Depth: 22mm, Height: 106mm, Width: 54mm.
6.    Product Weight: 109 g.
7.    One Month Warranty.
1.              
7.    Package Contents: 1*Shaver, 1*US Plug Power Adapter, 1*Blade, 1*Brush, 1*Accessory, 1*Korean User Manual.

Last Updated @ 5/23/2017 1:24:13 PM
Buy with confidence
| | | | |
| --- | --- | --- | --- |
| Buyer | Item ID | Date | Ratings |
| ao**** | 187898579 | 7/4/2017 2:15:00 PM | - |
| ne**** | 180537399 | 6/20/2017 4:11:00 PM | - |
| fa**** | 182288784 | 6/9/2017 10:08:00 PM | very good seller |
| 30**** | 173786663 | 1/24/2017 4:44:00 PM | Easy to install esp for a female nerd like me. Initially water that flows out is slimy. After a while ok. Boiled water as usual but no longer has the brown residual! Great. |
| ke**** | 157446654 | 1/18/2017 9:49:00 AM | Goods received within the timeline and in good condition |
| sh**** | 159394133 | 1/10/2017 8:51:00 PM | Penghantaran cepat. Produk dalam keadaan baik |
| RA**** | 159394133 | 12/27/2016 8:31:00 AM | - |
| RA**** | 159394133 | 12/27/2016 8:31:00 AM | - |



















---
We all know that nobody likes waiting, that is why at ShopShop88, we promise you that, upon receiving payment confirmation, we will try our best to ship out your orders, within the next working day.
At ShopShop88 we work with a number of different courrier and postal services, depending on the type of product, the value of the product, the product's weight and dimensions, we will choose the most suitable shipping or postal agent. Our choice of shipping and postal services include Pos Laju, Pos Daftar, TNTT, SkyNet, Citylink, and other similar services.
TERMS OF USE
Welcome to the shopShop88 website (the "Site"). ShopShop88 provides services to you subject to the notices, terms, and conditions set forth in this agreement (the "Agreement"). In addition, when you use any of our services (e.g., Customer Reviews), you will be subject to the rules, guidelines, policies, terms, and conditions applicable to such service, and they are incorporated into this Agreement by this reference. We reserve the right to change this Site and these terms and conditions at any time. ACCESSING, BROWSING OR OTHERWISE USING THE SITEINDICATES YOUR AGREEMENT TO ALLTHE TERMS ANDCONDITIONS IN THIS AGREEMENT, SO PLEASE READ THIS AGREEMENT CAREFULLY BEFORE PROCEEDING.
USE OF SITE
You represent and warrant that you are at least 18 years old or visiting the Site under the supervision of a parent or guardian.
Subject to the terms and conditions of this Agreement, we hereby grant you a limited, revocable, non-transferable and non-exclusive license to access and use the Site by displaying it on your internet browser only for the purpose of shopping for personal items sold on the Site and not for any commercial use or use on behalf of any third party, except as explicitly permitted by us in advance. Any breach of this Agreement shall result in the immediate revocation of the license granted in this paragraph without notice to you.
Except as permitted in the paragraph above, you may not reproduce, distribute, display, sell, lease, transmit, create derivative works from, translate, modify, reverse-engineer, disassemble, decompile or otherwise exploit this Site or any portion of it unless expressly permitted by us in writing. You may not make any commercial use of any of the information provided on the Site or make any use of the Site for the benefit of another business unless explicitly permitted by us in advance. We reserve the right to refuse service, terminate accounts, and/or cancel orders at its discretion, including, without limitation, if we believe that customer conduct violates applicable law or is harmful to our interests.
You shall not upload to, distribute, or otherwise publish through this Site any Content, information, or other material that (a) violates or infringes the copyrights, patents, trademarks, service marks, trade secrets, or other proprietary rights of any person; (b) is libelous, threatening, defamatory, obscene, indecent, pornographic, or could give rise to any civil or criminal liability under Malaysia or international law; or (c) includes any bugs, viruses, worms, trap doors, Trojan horses or other harmful code or properties.
Content provided on this site is solely for informational purposes. It is your sole responsibility to consult a licensed physician or qualified health care professional for advice, diagnosis, and/or treatment of any health related condition. Submissions or opinions expressed on this Site are that of the individual expressing such Submission or opinion and may not reflect our opinions. Product representations expressed on this Site are that of the vendor and are not made by us.
We may assign you a password and account identification to enable you to access and use certain portions of this Site. Each time you use a password or identification, you will be deemed to be authorized to access and use the Site in a manner consistent with the terms and conditions of this Agreement, and we have no obligation to investigate the authorization or source of any such access or use of the Site. YOU WILL BE SOLELY RESPONSIBLE FOR ALLACCESS TO ANDUSE OF THIS SITEBY ANYONE USING THE PASSWORDANDIDENTIFICATION ORIGINALLY ASSIGNED TO YOU WHETHER OR NOT SUCH ACCESS TO ANDUSE OF THIS SITEIS ACTUALLY AUTHORIZED BY YOU, INCLUDING WITHOUT LIMITATION, ALLCOMMUNICATIONS ANDTRANSMISSIONSANDALLOBLIGATIONS (INCLUDING WITHOUT LIMITATION FINANCIAL OBLIGATIONS) INCURRED THROUGH SUCH ACCESS OR USE. You are solely responsible for protecting the security and confidentiality of the password and identification assigned to you. You shall immediately notify us of any unauthorized use of your password or identification or any other breach or threatened breach of this Site's security.
REVIEWS ANDCOMMENTS
Except as otherwise provided elsewhere in this Agreement or on the Site, anything that you submit or post to the Site and/or provide us, including without limitation, ideas, know-how, techniques, questions, reviews, comments, and suggestions (collectively, "Submissions") is and will be treated as nonconfidential and nonproprietary, and we shall have the royalty-free, worldwide, perpetual, irrevocable and transferable right to use, copy, distribute, display, publish, perform, sell, lease, transmit, adapt, create derivative works from such Submissions by any means and in any form, and to translate, modify, reverse-engineer, disassemble, or decompile such Submissions. All Submissions shall automatically become our sole and exclusive property and shall not be returned to you.
In addition to the rights applicable to any Submission, when you post comments or reviews to the Site, you also grant us the right to use the name that you submit with any review, comment, or other Content, if any, in connection with such review, comment, or other content. You represent and warrant that you own or otherwise control all of the rights to the reviews, comments and other Content that you post on this Site and that use of your reviews, comments, or other Content by us will not infringe upon or violate the rights of any third party. You shall not use a false e mail address, pretend to be someone other than yourself or otherwise mislead us or third parties as to the origin of any Submissions or Content. We may, but shall not be obligated to, remove or edit any Submissions (including comments or reviews) for any reason.
NTELLECTUAL PROPERTY
All text, graphics, button icons, images, audio clips, and software (collectively, "Content"), belongs exclusively to ShopShop88, or its affiliates. The collection, arrangement, and assembly of all Content on this Site (the "Compilation") belongs exclusively to ShopShop88 or its affiliates. All software used on this Site (the "Software") is the property of ShopShop88, its affiliates or its Software suppliers. The Content, the Compilation and the Software are all protected by Malaysian and international copyright laws. MyShop88 and other logos, slogans, trade names or words are registered trademarks, trademarks or service marks of ShopShop88, its affiliates, suppliers, or third parties. The use of any of our trademarks or service marks without our express written consent is strictly prohibited. You may not use our trademarks or service marks in connection with any product or service in any way that is likely to cause confusion. You may not use our trademarks or service marks in any manner that disparages or discredits us. You may not use any of our trademarks or service marks in meta tags without prior explicit consent.
PRIVACY POLICY
Please review our Privacy Policy, which also governs your visit to this Site, to understand our practices.
Shop With Confidence
Protecting Your Personal Information
Privacy Policy
Last updated: July 2014.
Thank you for accessing the MyShop88 Website ("Site") operated by shopShop88. We respect your privacy and want to protect your personal information. To learn more, please read this Privacy Policy.
This Privacy Policy explains how we collect, use and (under certain conditions) disclose your personal information. This Privacy Policy also explains the steps we have taken to secure your personal information. Finally, this Privacy Policy explains your options regarding the collection, use and disclosure of your personal information. By visiting the Site directly or through another site, you accept the practices described in this Policy.
This privacy policy applies to the Site. This privacy policy does not necessarily apply to any offline collection of your personal information. Please see below for details.
We are not responsible for the content or privacy practices on any web site not operated by ShopShop88 to which the Site links or that links to the Site.
INFORMATION COLLECTION ANDUSE
1. Information Collection.
We collect information from you in several different ways on this Site. One goal in collecting personal information from you is to provide an efficient, meaningful, and customized experience. For example, we can use your personal information to:
· help make the Site easier for you to use by not having to enter information more than once.
· help you quickly find information, products, and services.
· help us create content that is most relevant to you.
· alert you to new information, products, and services that we offer.
(a) Registration and Ordering. Before using certain parts of any Site or ordering products, you must complete an LELONG online registration form. During registration, you will be prompted to provide to us certain personal information, including but not limited to your name, shipping and billing address(es), phone number, email address, and credit card number. In addition, we may also ask you for your country of residence and/or your organization's country of operation, so we can comply with applicable laws and regulations, and for your gender. These kinds of personal information are used for billing purposes, to fulfill your orders, to communicate with you about your order and the Sites, and for internal marketing purposes. If we encounter a problem when processing your order, your personal information may be used to contact you.
(b) Email Addresses. Several locations of the Site permit you to enter your email address for purposes including but not limited to: to register for a contest or sweepstakes; to request us to notify you of new products, new product styles, or product sizes; to sign up for email newsletters and special offers; or to sign up for the LELONG Sales Campaigns. Your participation in a contest or sweepstakes is completely voluntary, so you have a choice whether to participate and disclose information to us. We use this information to notify contest and sweepstakes winners and to award prizes. We may post on the Site the names and cities of contest and sweepstakes winners. By entering a contest or sweepstakes, you may be opting in to receive our email newsletter and special offers and this will be disclosed in the official rules governing the contest or sweepstakes.
(c) Cookies and Other Technology. Like many sites, the Site employs cookies and web beacons (also known as clear GIF technology or "action tags") to speed your navigation of the Site, recognize you and your access privileges, and track your Site usage.
(i) Cookies are small pieces of information that are stored as text files by your Internet browser on your computer's hard drive. Most Internet browsers are initially set to accept cookies. You can set your browser to refuse cookies from web sites or to remove cookies from your hard drive, but if you do, you will not be able to access or use portions of the Site. We have to use cookies to enable you to select products, place them in an online shopping cart, and to purchase those products. If you do this, we keep a record of your browsing activity and purchase. THE SITE'S COOKIES DO NOT ANDCANNOT INFILTRATE A USER'S HARD DRIVE TO GATHER A USER'S CONFIDENTIAL INFORMATION. Our cookies are not "spyware."
(ii) Web beacons assist in delivering cookies and help us determine whether a web page on the Site has been viewed and, if so, how many times. For example, any electronic image on the Site, such as an ad banner, can function as a web beacon.
(iii) We may use third-party advertising companies to help tailor site content to users or to serve ads on our behalf. These companies may employ cookies and web beacons to measure advertising effectiveness (such as which web pages are visited or what products are purchased and in what amount). Any information that these third parties collect via cookies and web beacons is not linked to any personal information collected by us.
(iv) As an example, Facebook collects certain information via cookies and web beacons to determine which web pages are visited or what products are purchased. Please note that any information collected by Facebook via cookies and web beacons is not linked to any customer's personal information collected by us.
(d) Log Files. As is true of most web sites, the Site server automatically recognizes the Internet URL from which you access the Site. We may also log your Internet protocol ("IP") address, Internet service provider, and date/time stamp for system administration, order verification, internal marketing, and system troubleshooting purposes. (An IP address may indicate the location of your computer on the Internet.)
(e) Age. We respect children's privacy. We do not knowingly or intentionally collect personal information from children under age 13. Elsewhere on the Site, you have represented and warranted that you are either 18 years of age or using the Site with the supervision of a parent or guardian. If you are under the age of 13, please do not submit any personal information to us, and rely on a parent or guardian to assist you.
(f) Product Reviews. You may choose to submit a product review. If you post a review, we may ask for your email address and geographic location. If you submit a review, your geographic location may be visible to other users (your email address will be kept private). Also, any personally identifiable information that you submit as part of the review can be read or used by other visitors to the Site. We are not responsible for any personally identifiable information that you choose to submit as part of your review. We believe you can post a helpful review without disclosing any personal information.
2. Information Use and Disclosure.
(a) Internal Use. We use your personal information to process your order and provide you with customer service. We may internally use your personal information to improve the Sites' content and layout, to improve outreach and for our own marketing efforts (including marketing our services and products to you), and to determine general marketplace information about visitors to the Site. In order to facilitate such use and the other use described in this Section 2, we may share your information with affiliates under MyShop88's control.
(b) Communications with You: We will use your personal information to communicate with you about the Site and your orders and deliveries. Also, we may send you a confirmation email when you register with us. We may send you a service-related announcement on the rare occasions when it is necessary (for example, if we must temporarily suspend our service for maintenance.) Also, you may submit your email address for reasons such as to register for a contest or sweepstakes; to request us to notify you of new products, new product styles, or product sizes; to sign up for email newsletters and special offers; or to sign up for the MyShop88 sales promotions. If you submit your email address, we use it to deliver the information to you. We always permit you to unsubscribe or opt out of future emails (see the opt out section, below, for more details). Because we have to communicate with you about orders that you choose to place, you cannot opt out of receiving emails related to your orders.
(c) External Use. We want to provide you with excellent service and to offer you a great selection. We do not sell, rent, trade, license or otherwise disclose your specific personal information or financial information to anyone other than to affiliates under MyShop88's control, except that:
(i) As do most catalog and Internet retailers, we sometimes use others to perform specific functions on our behalf. When we disclose information to these service providers, we disclose information to help them to perform their service. For example, in order to deliver products to you, we must share some information. We partner with third parties (such as the Pos Laju, TNTT, OCS, etc…) to ship products, to ensure delivery, and so that we can obtain feedback, improve the quality of our service, and measure and improve the quality of the service of the third party. In the example of shippers, we provide them some personally identifiable information such as your name, shipping address, email, and phone number.
(ii) Similarly, to help you buy products and provide customer service to you, we must provide your credit card number to financial-services corporations such as credit-card processors and issuers. When we submit your credit card number for authorization, we use state-of-the-art data encryption to protect your information.
(iii) We may disclose such information in response to requests from law enforcement officials conducting investigations; subpoenas; a court order; or if we are otherwise required to disclose such information by law. We also will release personal information where disclosure is necessary to protect our legal rights, enforce our Terms of Use or other agreements, or to protect ourselves or others. For example, we may share information to reduce the risk of fraud or if someone uses or attempts to use the Site for illegal reasons or to commit fraud.
(iv) We will not sell (or trade or rent) personally identifiable information to other companies as part of our regular course of business. However, it's possible that we might acquire or merge with or be acquired by another company or that we might dispose of some or all of our assets. If that happens, your personal information may be disclosed to another company, but that disclosure will be subject to the Privacy Policy in effect.
(v) We may share non-personal information (such as the number of daily visitors to a particular web page, or the size of an order placed on a certain date) with third parties such as advertising partners. This information does not directly personally identify you or any user.
(vi) We may publicly disclose the name, city, and state of the contest and sweepstakes winners, if and when we do conduct any such events.
DATASECURITY
The Site incorporates physical, electronic, and administrative procedures to safeguard the confidentiality of your personal information, including Secure Sockets Layer ("SSL") for all financial transactions through the Site. We use SSL encryption to protect your personal information online, and we also take several steps to protect your personal information in our facilities. Access to your personal information is restricted. Only employees who need access to your personal information to perform a specific job are granted access to your personal information. Finally, we rely on third-party service providers for the physical security of some of our computer hardware. We believe that their security procedures are adequate. For example, when you visit the Site, you access servers that are kept in a secure physical environment, behind a locked cage and an electronic firewall.
While we use industry-standard precautions to safeguard your personal information, we cannot guarantee complete security. 100% complete security does not presently exist anywhere online or offline.
OPTOUT/CORRECTIONS
Upon your request, if you need to (a) correct or update your personal information; (b) stop sending emails to your email address; and/or (c) disable your account to prevent any future purchases through that account. You should contact the administrators of LELONG.MY (Interbase Resources Sdn. Bhd.) +603-80602528
Please do not email your credit-card number or other sensitive information.
OFFLINE COLLECTION, USE DISCLOSURE OF INFORMATION
As you might expect from us, the majority of information that we collect is obtained through the Site, and this Privacy Policy applies only to that online collection of personal information. We also may collect information offline, where we also try to protect the privacy of your personal information. One example involves someone calling us to place an order or to ask questions. When someone calls, we will ask only for the personal information we need in order to place the order or to answer the question. When we need to store information (such as order information), we will enter it into our database through SSL encryption. (See the Data Security section above for more information). Another example involves faxes. If you fax something to us, we will act upon the fax and then either store it a locked repository or we will shred the fax if there is no need to retain the information. There are other ways we could learn of personal information offline (for example, we suppose someone could send us a letter including some return address information), and this Policy doesn't discuss or try to predict all of those methods or uses. As we mentioned, we will try to treat offline collection, uses, and disclosures consistently with our relevant online practices.
UPDATES TO THIS POLICY
If we change or update this Privacy Policy, we will post changes and updates on the Site so that you will always be aware of what information we collect, use and disclose. We encourage you to review this Privacy Policy from time to time so you will know if the Privacy Policy has been changed or updated. If you have any questions about the Privacy Policy, please contact us at shopshop882gmail.com
Effective july 2014
RISK OF LOSS; OTHER TERMS OF SALE
The risk of loss and title for items purchased by you pass to you upon our delivery of the items to the carrier pursuant to our standard terms of sale.
THE STANDARD TERM OF SALE
The user of this site accepts all the Terms Condition (Term of Use) herein mentioned whether expressed or implied. The buyer shall be responsible for providing the correct shipping address and correct recipient details, and to track and trace the whereabouts of the parcel during the delivery and transit period. Once the seller has shipped out the goods and a tracking number has been issued, if the parcel is lost due to incorrect shipping address, and/or recipient details, and/or any other incorrect information provided by the buyer, resulting in the lost of the parcel during delivery and transit, the seller shall not be held responsible for the lost or any other cost incurred as a result of the lost parcel. The buyer shall also be responsible for ensuring the recipient, or a trusted person, is available to receive the goods at the shipping address provided.
TERMINATION AND EFFECT OF TERMINATION
In addition to any other legal or equitable remedies, we may, without prior notice to you, immediately terminate the Agreement or revoke any or all of your rights granted under this Agreement. Upon any termination of this Agreement, you shall immediately cease all access to and use of the Site and we shall, in addition to any other legal or equitable remedies, immediately revoke all password(s) and account identification issued to you and deny your access to and use of this Site in whole or in part. Any termination of this Agreement shall not affect the respective rights and obligations (including without limitation, payment obligations) of the parties arising before the date of termination.
INTERNATIONAL ACCESS
This Site may be accessed from countries other than the Malaysia. This Site may contain products or references to products that are not available outside of the Malaysia. Any such references do not imply that such products will be made available outside the Malaysia. If you access and use this Site outside the Malaysia,you are responsible for complying with your local laws and regulations.
DISCLAIMER ANDLIMITATION OF LIABILITY
EXCEPT AS OTHERWISE PROVIDED IN THE STANDARD TERMS OF SALE THAT GOVERN THE SALE OF EACH PRODUCT ON THIS SITE, THE PRODUCTS OFFERED FOR SALE ON IT ANDTHE TRANSACTIONS CONDUCTED THROUGH IT AREPROVIDED BY US ON AN "AS IS" BASIS. WE MAKE NO REPRESENTATIONS OR WARRANTIES OF ANY KIND, EXPRESS OR IMPLIED, AS TO THE OPERATION OF THE SITEOR THE INFORMATION, CONTENT, MATERIALS, OR PRODUCTS INCLUDED ON THISSITEEXCEPT AS PROVIDED. TO THE FULLEXTENT PERMISSIBLE BY APPLICABLE LAW, WE DISCLAIM ALLWARRANTIES, EXPRESS OR IMPLIED, INCLUDING, BUT NOT LIMITED TO, IMPLIED WARRANTIES OF MERCHANTABILITY ANDFITNESS FOR A PARTICULAR PURPOSE, NONINFRINGEMENT, TITLE, QUIET ENJOYMENT, DATAACCURACY ANDSYSTEM INTEGRATION. THISSITEMAYINCLUDE INACCURACIES, MISTAKES OR TYPOGRAPHICAL ERRORS. WE DO NOT WARRANT THAT THE CONTENT WILL BE UNINTERRUPTED OR ERROR FREE.
TO THE MAXIMUM EXTENT PERMITTED BY LAW, WE WILL NOT BE LIABLE FOR ANY DAMAGES OF ANY KIND ARISING FROM THE USE OF THIS SITE, INCLUDING, BUT NOT LIMITED TO INDIRECT, INCIDENTAL, PUNITIVE, EXEMPLARY, SPECIAL OR CONSEQUENTIAL DAMAGES. TO THE MAXIMUM EXTENT PERMITTED BY APPLICABLE LAW, OUR TOTAL LIABILITY TO YOU FOR ANY DAMAGES (REGARDLESS OF THE FOUNDATION FOR THE ACTION) SHALL NOT EXCEED IN THE AGGREGATE THE AMOUNT OF FEES ACTUALLY PAID BY YOU TO US DURING THE MONTH IMMEDIATELY PRECEDING THE ACT ALLEGEDLY GIVING RISE TO OUR LIABILITY.
TYPOGRAPHICAL ERRORS
In the event a product is listed at an incorrect price or with incorrect information due to typographical error or error in pricing or product information received from our suppliers, we shall have the right to refuse or cancel any orders placed for product listed at the incorrect price. We shall have the right to refuse or cancel any such orders whether or not the order has been confirmed and your credit card charged. If your credit card has already been charged for the purchase and your order is canceled, we shall immediately issue a credit to your credit card account in the amount of the charge.
LINKS
This site may contain links to other sites on the Internet that are owned and operated by third parties. You acknowledge that we are not responsible for the operation of or content located on or through any such site.
COPYRIGHT COMPLAINTS
We respect the intellectual property of others. If you believe that your work has been copied in a way that constitutes copyright infringement, please follow our Notice and Procedure for Making Claims of Copyright Infringement. At the time of product posting, all information about the product is supplied to us by our suppliers. The administrators of MyShop88 will at the time of product posting, do an online search for the Malaysian Sole Authorised Dealer ,and/or Agent, and/or Distributor of the product, and at the time of product posting have not found any such information. The administrators of this site did not find any entitiy that has any substantiated claim to be the Malaysian Sole Agent and/or Sole Distributor of the product and the time of product posting. If you think that you are the Sole Agent or Sole Authorised Dealer and/or Distributor, and is able to show substantiated evidence and documentation to proof your claim, please contact us for an amicable solution to the problem.
REMEDIES
You agree that our remedy at law for any actual or threatened breach of this Agreement would be inadequate and that we shall be entitled to specific performance or injunctive relief, or both, in addition to any damages that we may be legally entitled to recover, together with reasonable expenses of any form of dispute resolution, including, without limitation, attorneys' fees.
No right or remedy of ours shall be exclusive of any other, whether at law or in equity, including without limitation damages injunctive relief, attorneys' fees and expenses.
No instance of waiver by us of our rights or remedies under these terms and conditions shall imply any obligation to grant any similar, future or other waiver.
APPLICABLE LAW
This site is created and controlled by us in Malaysia. As such, the laws of Malaysia, will govern these disclaimers, terms, and conditions, without giving effect to any principles of conflicts of laws.
DISPUTES
Any dispute relating in any way to your visit to the Site or to the products you purchase through the Site shall be submitted to confidential arbitration in Kuala Lumpur, Malaysia, except that to the extent you have in any manner violated or threatened to violate our intellectual property rights, we may seek injunctive or other appropriate relief in any state or federal court in the Kuala Lumpur, Malaysia. You hereby consent to, and waive all defenses of lack of personal jurisdiction and forum non conveniens with respect to venue and jurisdiction in the state and federal courts of Malaysia. Arbitration under these Terms of Use shall be conducted pursuant to the Commercial Arbitration Rules then prevailing at the Malaysian Institute of Arbitrators. The arbitrator's award shall be final and binding and may be entered as a judgment in any court of competent jurisdiction. To the fullest extent permitted by applicable law, no arbitration under this Agreement shall be joined to an arbitration involving any other party subject to this Agreement, whether through class action proceedings or otherwise. You agree that regardless of any statute or law to the contrary, any claim or cause of action arising out of, related to or connected with the use of the Site or this Agreement must be filed within one (1) year after such claim or cause of action arose or be forever banned.
SEVERABILITY
If any these provisions shall be deemed invalid, void, or for any reason unenforceable, that condition shall be deemed several and shall not affect the validity and enforceability of any remaining provision.
CONTACT US
E-mail: shopshop88@gmail.com
POLICY
Important Notice:
Please note that not all products come with a warranty, the copy of warranty card shown above is just a sample copy with the terms of guarantee, for some of our products, for your perusal. Depending on the nature of the product, we will at our disgression change the period of warranty as we see fit. If you have any questions feel free to contact us at shopshop88.my@gmail.com
Questions & Answers
Do you have any questions to ask merchant about this product
Ask Seller
| | | |
| --- | --- | --- |
| 5 star | | 0 |
| 4 star | | 0 |
| 3 star | | 0 |
| 2 star | | 0 |
| 1 star | | 0 |
Share your thoughts with others
Write a review
Only buyers who purchased the product may leave a review