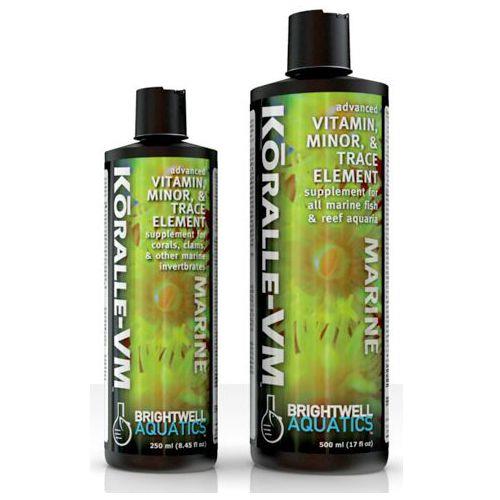 Overview
Unique vitamin and minor and trace element complex for establishing and replacing substances important to marine invertebrates, including corals, clams, and their allies; these substances are particularly important to biological reactions.
Does not contain minor or trace elements notexpressly known to be utilized by marine organismsor take place in chemical interactions.
Vitamins are present in ratios found in the tissues of filter-feeding marine invertebrates.
Minor and trace elements are present in natural seawater ratios.
Composed of purified water and ultra-high purity materials.
Formulated by a marine scientist.
Sizes
250ml
Technical Background
Kōralle-VM provides a host of minor and trace elements found by oceanographers to exhibit non-conservative behavior in seawater (meaning that they are depleted by biological and chemical reactions taking place within the photic zone) and that are safe for human handling. Elements are present in natural seawater ratios (i.e. the ratios in which they are present in seawater). Since they are not depleted by biological nor chemical interactions, no minor or trace elements that are not expressly needed by aquatic organisms are present in this product; this includes unnecessary elements such as lithium, rubidium, and molybdenum. Additionally, a full-complement of vitamins are present in the same ratios found in the tissues of filter-feeding marine invertebrates, organisms that extract plankton from the surrounding water and gain their nutritional benefit, and which are in turn consumed by many reef inhabitants. This logical blend of vitamins and minerals is of benefit to all marine aquarium inhabitants.

Of the detectable elements in seawater, 11 are minor elements and 52 are trace elements. Between the two groups, at least 13 elements appear to be expressly-required for the growth of primary producers such as algae, and an additional 18 are either incorporated into living tissue/skeletal material or undergo chemical interactions that cause their depletion in surface waters. These elements are important to a number of enzymatic and vitamin-synthesis reactions for plants and animals alike; additionally, they influence pigmentation, and therefore coloration, of various organisms. Iodine, though an important trace element, is not provided by this product but instead appears in a separate supplement as a result of rapid usage relative to other trace and minor elements in marine environments.

Kōralle-VM does not require refrigeration, however storage in a cool, shaded area will prolong the activity of the vitamins. Refrigeration will maximize the shelf-life of the product.
Instructions and Guidelines
Basic: Shake well before using. Add 5 ml (1 capful) per 25 US-gallons of water in the aquarium system weekly for the first four weeks of use; then, gradually increase the dosage to 10 ml per 25 US-gallons per week if desired. When used in this fashion, 250 ml treats up to 1,250 US-gallons (4,732 L).

Advanced: Shake well before using. Begin by adding 5 ml (approximately 40 drops or 1 capful) of Kōralle-VM per 25 US-gallons of water weekly for the first four weeks of use; this corresponds to adding approximately 4 drops per 20 US-gallons each day. Then, gradually increase the weekly dosage to 10 ml per 25 US-gallons over the following four weeks and maintain this dosage. [Note: if using Kōralle-VM in conjunction with Brightwell Aquatics Rēplenish and/or Vītamarin-M, decrease dosages of those products by 50%.] Starting at a low dosage will not cause any harm to the livestock, and will enable you to notice subtle changes in the appearance of the system that indicate the effectiveness and need for the product. Daily dosing maintains more stable concentrations (and a more natural environment) than dosing weekly, in which the concentration of elements spikes just after dosing and then gradually decreases throughout the course of the week. Vitamins and trace elements are important to biological reactions taking place inside all living organisms, however they are present and required in very low concentrations.
Caution: Keep out of reach of children. Not for human consumption.
Guaranteed Analysis
Zinc (min) 0.0305 mg/oz.; Iron (min) 0.00315 mg/oz.; Manganese (min) 0.00172 mg/oz.; Vitamin-A Propionate (min): 9.8 IU/oz.; Thiamine (B1) (min): 7.5 mg/oz.; Riboflavin (B2) (min): 7.5 mg/oz.; Niacin (B3) (min): 132.5 mg/oz.; Pantothenic Acid (B5) (min): 19.5 mg/oz.; Pyridoxine (B6) (min): 7.5 mg/oz.; Biotin (B7) (min): 0.4 mcg/oz.; Folic Acid (B9) (min): 1.0 mcg/oz.; Cyanocobalamin (B12) (min): 1.9 mcg/oz.; Ascorbic Acid (C) (min): 180 mg/oz.; Cholecalciferol (D) (min): 780 IU/oz.; Tocopherol (E) (min): 22.8 IU/oz.; Menadione (K) (min): 0.008 mcg/oz.

Ingredients
Purified water, Barium chloride, Sodium metavanadate, Zinc sulfate, Nickel chloride, Chromium chloride, Sodium feredetate, Manganese chloride, Ascorbic acid, Niacin, dl-a-tocopherol acetate, Calcium pantothenate, Thiamine hydrochloride, Riboflavin, Pyridoxine hydrochloride, Cholecalciferol, Vitamin-A propionate, Cyanocobalamin, Folic acid, Biotin, Menadione dimethylpyrimidinol


---
Our item will send to you on the every Monday till Friday except live stock will not send out Thu and Friday after we have receive your payment and receive your email regarding your particulars and payment info. Combine shipping is allowed.
Item will be post via: Pos Laju Malaysia or Citylink
Terms & Conditions
DISPATCH POLICY
We ensure that all items shown are in stock we offer no guarantee of availability and this electronic publication does not constitute an offer for sale. Goods are normally dispatched within 48 hours. If we are unable to dispatch your order within 48 hours, we will contact you by e-mail with an estimated date and offer you the option of cancelling the order.
SHIPPING
Delivery charges are subject to change depending on location, volumetric & weight of each order. Shipping on some orders may be higher than those quoted or charged on our website.
WORLDWIDE Shipping
To Request a Custom Shipping Quote (for addresses outside Malaysia):
Contact us and tell us what you want to order & tell us your address.
We'll get back to you with a delivery quote and payment options.
We can ship anywhere in the world, with a range of services. Let us know what you want to order and we will give you shipping options and costs, this doesn't take very long. Either call us on +6012-5533791(Samson) or send us email. This way we can find the best and cheapest way to deliver your order to you.
Please note that we cannot be held responsible for lost, damaged or undelivered International packages. ORDER AT YOUR OWN RISK.
International delivery costs vary according to location. If your location is not listed on our website it doesn't mean we can't post to you- give us a quick email or call us on +6012-5533791 to let us know where you are and we will put together a quote and look into updating our website to include your location.
Our system doesn't yet include all shipping destinations, but don't let that put you off – we can usually add them upon request.
POSTAGE AND TAX
The price shown for the goods excludes postage cost
CANCELLATION AND RETURNS
If you are not satisfied with the goods you have a right to cancel the contract, return the goods and receive either a full refund or replacement goods. Please send an e-mail to us before you return goods, telling us that you are returning the goods and why.
PRODUCT PHOTOGRAPHS AND IMAGES
All product images and photographs are for illustration purposes only.
DAMAGED GOODS, BREAKAGES AND RETURNS
Any damaged goods, missing items or breakages must be reported to us within 48 hours of receipt of the goods and must be accompanied by photographic evidence. Otherwise no replacement or refund will be given. After reporting the damaged goods to us you must send them back to us, including all original packaging, via a recorded delivery service.
CONFIDENTIALITY
All confidential information, are held securely and only transmitted in encrypted form. Customer details are not passed to third parties and are used only in accordance with the Data Protection Act.
Replace & Refund Policy
All items are subject to careful inspection before they are delivered, so quality of our products is guaranteed and damage is rare. However, if you are not happy with the quality or the item happens to be faulty, please contact or email to our company within 2 days of delivery with photos of the damage. We will take this record for a reference purpose to improve our services.
Our company stuff will assess the damage and, if authorized, they will arrange to collect the item from you or send you a replacement. If the item runs out of stock, we will give you a refund.
If you are having a problem and dissatisfied with the response from the store support, please report to us.
When you request for a replacement, we reserve the right to understand the reason behind it.
When you receive your item, we recommend you to check your item immediately before signing the delivery form, to confirm that the delivered items are in good conditions.
We hold the rights to refuse a replacement or refund if an item are worn or have been used.
If the item runs out of stock, will email you to schedule a refund.
Following advice from our company support team, we will issue the refund in full straightaway after receive the receipt of the item, and should be credited to your specified Bank account within 14 working days.
A refund is not approved with any item lost during delivery.
Average Product Rating
0.0 stars out of 5
| | | |
| --- | --- | --- |
| 5 star | | 0 |
| 4 star | | 0 |
| 3 star | | 0 |
| 2 star | | 0 |
| 1 star | | 0 |
Share your thoughts with others
Write a review
Only buyers who purchased the product may leave a review