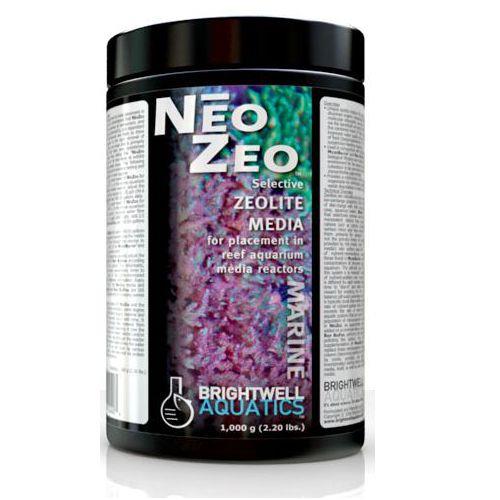 Overview
Unique zeolitic medium for selective removal of dissolved organic compounds through ionic and molecular adsorption, as well as passive uptake via the beneficial microbes that colonize the media; the combined result of these processes yields improved water quality and an important source of food (bacterioplankton) for corals and other suspension-feeding organisms.
Used in conjunction with Brightwell Aquatics MicrōBacter7 and Reef BioFuel, helps establish biological filtration and maintain an ultra-low nutrient environment for the express purpose of enabling coral coloration to be perceived without interference from zooxanthellae pigmentation.
Provides a colonization site for the microorganisms responsible for nitrification, denitrification, and organic waste degradation in marine aquaria.
Sizes
1kg
Technical Background
Zeolites are naturally-occuring minerals that have specific ion-exchange properties; they essentially exchange ions of like-charge with their surrounding medium (in this case, aquarium water). NēoZeo is a blend of zeolites that selectively remove ammonium and certain other monovalent cations from seawater (leaving divalent cations such as calcium, magnesium, strontium, and various minor and trace elements alone), exchanging them primarily for potassium ions, however this is not the primary means of water quality improvement provided by this media; rather, the colonization of the media's vast surface area with the appropriate types of nutrient-remineralizing microorganisms, such as those found in MicrōBacter7, serves to deplete existing concentrations of dissolved organic material from the aquarium. The ultimate goal for hobbyists employing this system is to maintain a balance between the rate of nutrient-addition and -removal/uptake; this balance is different for each individual aquatic system and takes time to "dial-in" and obtain the desired result. The reward for investing the time required to attain this balance (all water parameters and lighting being optimal) is typically corals that exhibit spectacular coloration. The rate of nutrient-uptake that this system achieves often exceeds the rate of nutrient-addition, particularly in aquatic systems that are rarely-fed. To help maintain the population of microorganisms that become established in NēoZeo, an appropriate carbon source should be added on a continual basis to ensure population viability; Reef BioFuel performs this task efficiently and without polluting the system. Once established, occassional supplementation of MicrōBacter7 is recommended to replace those microorganisms that are lost to the water column (becoming planktonic and available for predation by corals, sponges, and other suspension-feeding invertebrates) during routine disturbances to the NēoZeo media, itself, as well as when replacing a portion of the media.
Instructions and Guidelines
Rinse material in freshwater prior to initial placement in aquarium system. It must be remembered that NēoZeo is an extremely-effective adsorber of ammonium, and corals that have become accustomed to, and dependant upon, the presence of ammonium are likely to show an initial negative response to the rapid removal of this ion. As expected, this is an issue that is primarily encountered in aquaria that have been established for many years; aquaria that utilize the "NēoZeo system" from the onset are far less-likely to exhibit this sort of ammonium-related issue. The following recommendations are based upon extensive testing and will produce the best results in most aquaria.

Weeks 1 and 2: Place 200 g each week of NēoZeo for each 100 US-gallons (378.5 L) in the entire aquarium system into an appropriate media reactor; adjust the rate of water flow through the reactor to ~25 gph (94.6 lph). Add 5 ml MicrōBacter7 per 100 US-gallons daily.

Weeks 3 and 4: Add 200 g each week of NēoZeo for each 100 US-gallons (378.5 L) in the entire aquarium system into the media reactor; increase water flow through the reactor to ~50 gph (189.3 lph). Add 2.5 ml MicrōBacter7 and Reef BioFuel per 100 US-gallons daily.

Week 5: Add 200 g of NēoZeo for each 100 US-gallons (378.5 L) in the entire aquarium system into the media reactor; increase water flow through the reactor to ~100 gph (378.5 lph). Add 2.5 ml MicrōBacter7 and Reef BioFuel per 100 US-gallons daily.

Once the first 5 weeks of usage has passed, adjust the dosage of MicrōBacter7 and Reef BioFuel according to the appearance of the system, the inhabitants, and as dictated by the water parameters. Refer to the instructions on each of the afore-mentioned supplements' labels for additional information. Every six-weeks, change 25% of the NēoZeo media and add 2.5 ml MicrōBacter7 and Reef BioFuel per 100 US-gallons daily for one week before resuming normal dosing schedule.

Due to the highly-porous nature of NēoZeo and the rate at which it is colonized by microbes, some degree of surface impaction with latent organic material and microbial biomass will invariably occur with time. It is important to gently dislodge this material from the NēoZeo media by physically handling it (see the instructions that accompany the media reactor) and/or by briefly increasing the flow rate through the reactor to help blow some of the latent material into the water column. This material will be fed upon by various aquarium inhabitants and is also removed via protein skimming and mechanical filtration.


---
Our item will send to you on the every Monday till Friday except live stock will not send out Thu and Friday after we have receive your payment and receive your email regarding your particulars and payment info. Combine shipping is allowed.
Item will be post via: Pos Laju Malaysia or Citylink
Terms & Conditions
DISPATCH POLICY
We ensure that all items shown are in stock we offer no guarantee of availability and this electronic publication does not constitute an offer for sale. Goods are normally dispatched within 48 hours. If we are unable to dispatch your order within 48 hours, we will contact you by e-mail with an estimated date and offer you the option of cancelling the order.
SHIPPING
Delivery charges are subject to change depending on location, volumetric & weight of each order. Shipping on some orders may be higher than those quoted or charged on our website.
WORLDWIDE Shipping
To Request a Custom Shipping Quote (for addresses outside Malaysia):
Contact us and tell us what you want to order & tell us your address.
We'll get back to you with a delivery quote and payment options.
We can ship anywhere in the world, with a range of services. Let us know what you want to order and we will give you shipping options and costs, this doesn't take very long. Either call us on +6012-5533791(Samson) or send us email. This way we can find the best and cheapest way to deliver your order to you.
Please note that we cannot be held responsible for lost, damaged or undelivered International packages. ORDER AT YOUR OWN RISK.
International delivery costs vary according to location. If your location is not listed on our website it doesn't mean we can't post to you- give us a quick email or call us on +6012-5533791 to let us know where you are and we will put together a quote and look into updating our website to include your location.
Our system doesn't yet include all shipping destinations, but don't let that put you off – we can usually add them upon request.
POSTAGE AND TAX
The price shown for the goods excludes postage cost
CANCELLATION AND RETURNS
If you are not satisfied with the goods you have a right to cancel the contract, return the goods and receive either a full refund or replacement goods. Please send an e-mail to us before you return goods, telling us that you are returning the goods and why.
PRODUCT PHOTOGRAPHS AND IMAGES
All product images and photographs are for illustration purposes only.
DAMAGED GOODS, BREAKAGES AND RETURNS
Any damaged goods, missing items or breakages must be reported to us within 48 hours of receipt of the goods and must be accompanied by photographic evidence. Otherwise no replacement or refund will be given. After reporting the damaged goods to us you must send them back to us, including all original packaging, via a recorded delivery service.
CONFIDENTIALITY
All confidential information, are held securely and only transmitted in encrypted form. Customer details are not passed to third parties and are used only in accordance with the Data Protection Act.
Replace & Refund Policy
All items are subject to careful inspection before they are delivered, so quality of our products is guaranteed and damage is rare. However, if you are not happy with the quality or the item happens to be faulty, please contact or email to our company within 2 days of delivery with photos of the damage. We will take this record for a reference purpose to improve our services.
Our company stuff will assess the damage and, if authorized, they will arrange to collect the item from you or send you a replacement. If the item runs out of stock, we will give you a refund.
If you are having a problem and dissatisfied with the response from the store support, please report to us.
When you request for a replacement, we reserve the right to understand the reason behind it.
When you receive your item, we recommend you to check your item immediately before signing the delivery form, to confirm that the delivered items are in good conditions.
We hold the rights to refuse a replacement or refund if an item are worn or have been used.
If the item runs out of stock, will email you to schedule a refund.
Following advice from our company support team, we will issue the refund in full straightaway after receive the receipt of the item, and should be credited to your specified Bank account within 14 working days.
A refund is not approved with any item lost during delivery.
Average Product Rating
0.0 stars out of 5
| | | |
| --- | --- | --- |
| 5 star | | 0 |
| 4 star | | 0 |
| 3 star | | 0 |
| 2 star | | 0 |
| 1 star | | 0 |
Share your thoughts with others
Write a review
Only buyers who purchased the product may leave a review