Item Specification
Product Description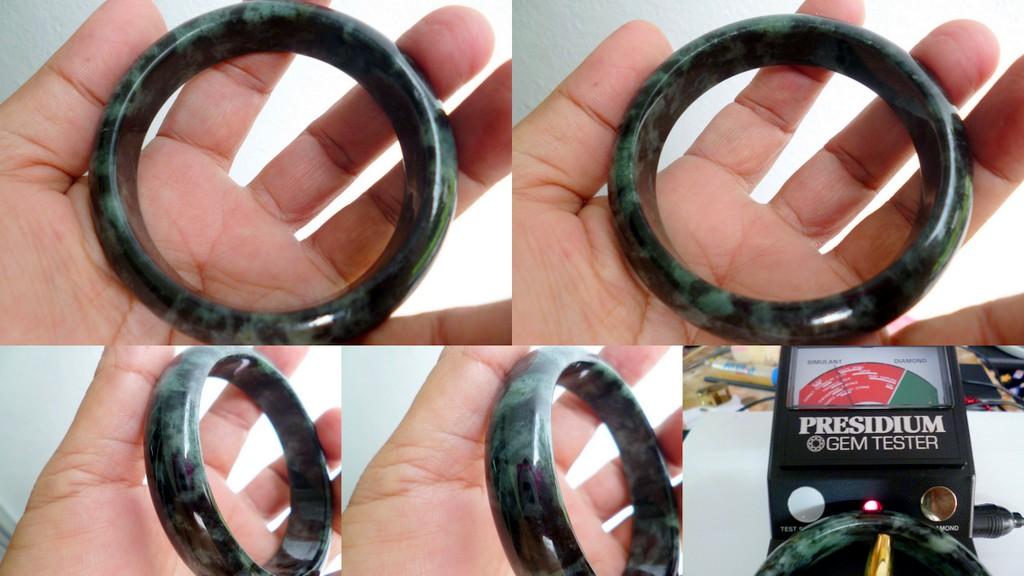 BURMESE NEPHRITE JADE BANGLE 

100% UNTREATED NEPHRITE  JADE.

INSIDE DIAMETER 63 MM BAND IS 15 MM

FLAWLESS CUT NO  CRACKS

LOVELY POLISH SMOOTH SURFACES.

 NEPHRITE  JADE IS GENERALLY USED FOR  CARVING , UNLIKE  THE  BEAUTIFULL AND  VERY  EXPENSIVE JADEITE JADE WHICH ARE THE  GLASSY AND  TRANSLUCENT  TYPE.

A  QUICK CHECK WITH A PRESIDUIM GEMSTONE  TESTER WILL TELL YOU IN 3  SECONDS , ITS  REAL  JADE.

DEFINITION OF NEPHRITE JADE::::a tough fibrous amphibole mineral: a variety of jade consisting of calcium magnesium silicate in monoclinic crystalline form. Formula: Ca 2 Mg 5 Si 8 O 22 (OH) . A green to blue variety of jade. Nephrite is an amphibole and is the least precious form of jade. Chemical formula: Ca 2 (Mg,Fe) 5 Si 8 O 22 (OH) 2. The term nephrite is used to distinguish a gemstone that is associated with jadeite as being part of the jade family. Actually they are two different stones with some distantly similar properties, but due to their similarities in color and use in carvings in China they have come to be related to each other if in name only. However, nephrite does have some properties that jadeite will not have. Particularly in rarity and durability Nephrite is a variety of the calcium and magnesium-rich amphibole mineral actinolite (aggregates of which also make up one form of asbestos). The chemical formula for nephrite is Ca2(Mg, Fe)5Si8O22(OH)2.[1] It is one of two different mineral species called jade. The other mineral species known as jade is jadeite, which is a variety of pyroxene. While nephrite jade possess mainly grays and greens (and occasionally yellows, browns or whites), jadeite jade, which is rarer, can also contain blacks, reds, pinks and violets. Nephrite jade is an ornamental stone, used in carvings, beads, or cabochon cut gemstones. Nephrite can be found in a translucent white to very light yellow form which is known in China as mutton fat jade,[1] in an opaque white to very light brown or gray which is known as chicken bone jade.

---
PAYMENTS THRU MAYBANK TRANSFERS, OVERSEAS BUYER , PAYPAL OR WESTERN UNION.FOR OVERSEAS BUYER PLEASE CONFIRM WHICH TYPE OF PAYMENT.
DELIVERY THRU POSLAJU , FOR LOCAL TOWN , P. MALAYSIA CHARGES ARE RM9. 00 AND EAST MALAYSIA IS RM11.00 FOR NORMAL BELOW 500 GRAMS MAILING. ABOVE 501 GRAMS , POS LAJU CHARGES ARE AS ACCORDING TO POS LAJU RATES.
FOR OUT SIDE MALAYSIA , SHIPPING CHARGES AS ACCORDING TO POST OFFICE .
PLEASE DO INQUIRE , COMMUNICATE WITH ME , IF YOU ARE NOT SURE ABOUT THE ITEMS, OR ANY MATTER BEFORE BIDDING.I WILL REPLY YOU ASAP.
FOR EXPENSIVE OLD AMULETS , PLEASE MAKE VERY SURE YOU KNOW THE ITEM AND YOU UNDERSTAND THOROUGHLY WHAT YOU ARE BIDDING FOR.
ANY QUESTIONS PLEASE ASK .