This webpage is best viewed at 1280 x 1024 Resolution

---

Seller Notes
100% genuine products supplied by local authorized distributor.

CamelBak introduced the Got Your Bak™ Lifetime Guarantee for all reservoirs, backpacks, bottles and accessories. The Got Your Bak™ Lifetime Guarantee covers all reservoirs, backpacks, bottles and accessories from manufacturing defects in materials and workmanship for the lifetime of the product.

We offer +1.5% insurance service to cover for lost & damage during transit. *Optional*

We offer worldwide international shipping by urgent courier with additional shipping cost borne by buyer.

We selling CamelBak products & Accessories through internet channel only.

Stock quantity appears in the sales posting may not reflects realtime stock status. If the quantity you wish to order more, please contact us, we can adjusting up the quantity. Some out of stock item or special item, you also can place a pre-order with us.

We do not reserved the stock unless you have clicked BuyNow and make your payment on time.

We accept Money transfer via banking system, Credit Card Payment Gateway & PayPal. Click here.

All shipping times on this page are estimates. Delivery times may vary depending on product availability.
---

About CAMELBAK
If you have found yourself wondering— with the unlimited amount of time you have reclaimed by texting instead of emailing— what CamelBak is really like, read through our mission statement and values.
AN IDEA BORN FROM THE MOST BASIC HUMAN NEED — THIRST
It's 1988.
Bicycle enthusiast, Michael Eidson, is competing in the "Hotter'N Hell 100." And that's exactly what it is: a 100-mile road race in the grueling summer heat of Wichita Falls, Texas. Water is vital to surviving the race, and there are few places to refill a water bottle. Eidson, an emergency medical technician by trade, decides to fill an IV bag with water and slip it into a white tube sock. Yes, a tube sock. Then he stuffs the contraption into the back of his bike jersey, throws the thin hose over his shoulder and clamps it with a clothespin.
Hands-free hydration is born. And Eidson is able to drink as he pedals...while the other racers laugh and fiddle with their water bottles.
OPERATION HYDRATION — THE ROAD TO SURVIVAL
Jeff Wemmer, a competitive cyclist who fell hard for CamelBak, was so impressed by the product that he started bringing packs to races to sell them. Talk about a fan. CamelBak eventually hired him, and in 1993, Jeff embarked on a road trip to keep the start-up running during very tough times.
Company lore has it that Jeff visited bike shops from Florida to California, pitching our renegade product from the back of his motorcycle. Each order Jeff faxed back to the factory literally breathed another day of life back into CamelBak.
THE REST IS HISTORY
It took courage, conviction and imagination to evolve from an IV bag in a tube sock sold by a motorcycle-driven sales force of one. Our core values remain the same and drive everything we do - from inventing the hydration category to becoming the world's leading maker of hydration solutions.
Oh yeah...about those bikers who laughed at Eidson? Well, chances are they've got a CamelBak strapped to their back or in their bike cage these days. Go figure...
---

Product Description
The Lobo is ideal for days when the weather is clear and the trail is calling—days when you want to ditch most of your gear to travel fast and light. With 3 liters of hydration capacity, it carries enough water for a substantial 3+ hour ride, and the external fill means you can top off the reservoir without unpacking anything.
Features
The brand new Crux delivers 20% more water per sip, with an ergonomic handle for easier refilling, and an on/off lever that makes it easy to prevent leaks.

Magnetic Tube Trap™ keeps your tube secure and accessible when you need it

Air director back panel offers air channels to keep your back cool

External hooks let you carry your helmet while still allowing full access to your pack

Stretch overflow storage compartment lets you easily stash a rain shell or extra layer

Reflective accents for visibility in low-light environments

Removable stability belt keeps everything in place during bumpy rides
Specifications
Collection: Mountain Bike

Activity: Mountain Biking

User: Unisex

Hydration Capacity: 3L/100 fl oz

Hydration Type: CRUX™ Reservoir with Quicklink™ System

BPA/BPS/BPF Free: Yes

Quick Link Disconnect: Yes

Gear Capacity: 6L/350 cu in

Pack Weight: 480 g/1 lb 0 oz

Dimensions: 45.5 x 21 x 19 cm / 17.9 x 8.3 x 7.5 in

Fits torso: 43-53 cm/17-21 in

Back Panel: Air Director™ Back Panel provides superior ventilation

Waist Belt: Removable 3/4" stability belt

Accessories Included: Magnetic Tube Trap™

Number of exterior pockets: 4
Product Care:
PACK CLEANING
We recommend wiping your pack with a damp cloth to remove dirt. If the pack is extremely dirty and needs a deeper cleaning, soak it in cool or warm water with a very mild soap. Rinse the pack thoroughly with cool water. If soap residue remains in the fabric, it may create suds if exposed to water or sweat.
DO NOT wash your pack in a washing machine. Machine washing may damage the pack or affect the integrity of the fabric and fasteners, and will void the Got Your Bak™ Guarantee.
RESERVOIR CLEANING
The best way to care for your reservoir is to clean and dry it after every use, especially if you fill the reservoir with anything other than water. However, if a reservoir has not been cleaned after every use, and mold or discoloration develops:

1. Use hot water and a CamelBak Cleaning Tablet. Or use 2 tablespoons of baking soda or bleach instead of CamelBak Cleaning Tab. Mix the solution inside your reservoir and elevate the reservoir above the tube and Big Bite Valve. Pinch the bite valve, allowing the solution to flow into the drink tube and fill the bite valve.

2. Let the reservoir and cleaning solution sit in the reservoir and drink tube for about 30 minutes.

3. Wash the reservoir with hot water and mild soap. Be sure to completely rinse away the cleaning solution in the reservoir and drink tube before using again. You can also use CamelBak brushes from our Cleaning Kit to scrub your reservoir and drink tube. Brushes are the best way to ensure you are scrubbing all of the areas of the reservoir clean.

4. Once the reservoir is clean, be sure to air dry overnight so no moisture is trapped inside, which can cause mold to grow.

These steps will make your reservoir safe for use. If there are still spots left behind, these are permanent mold stains that may not be removable. However, your reservoir is still safe and usable after you've cleaned it.
---

Models and Variants
* Note:
Please select the model in [Option] drop-down menu when place an order.
| | |
| --- | --- |
| | 01. Atomic Blue Pitch Blue - 1118401000 |
| | 02. Black - 1118001900 |
| | 03. Laser Orange Pitch Blue - 1118801000 |
| | 04. Racing Red Pitch Blue - 1118602000 |
| | 05. Sulfur Springs Black - 1118701000 |
---

Photo(s) Gallery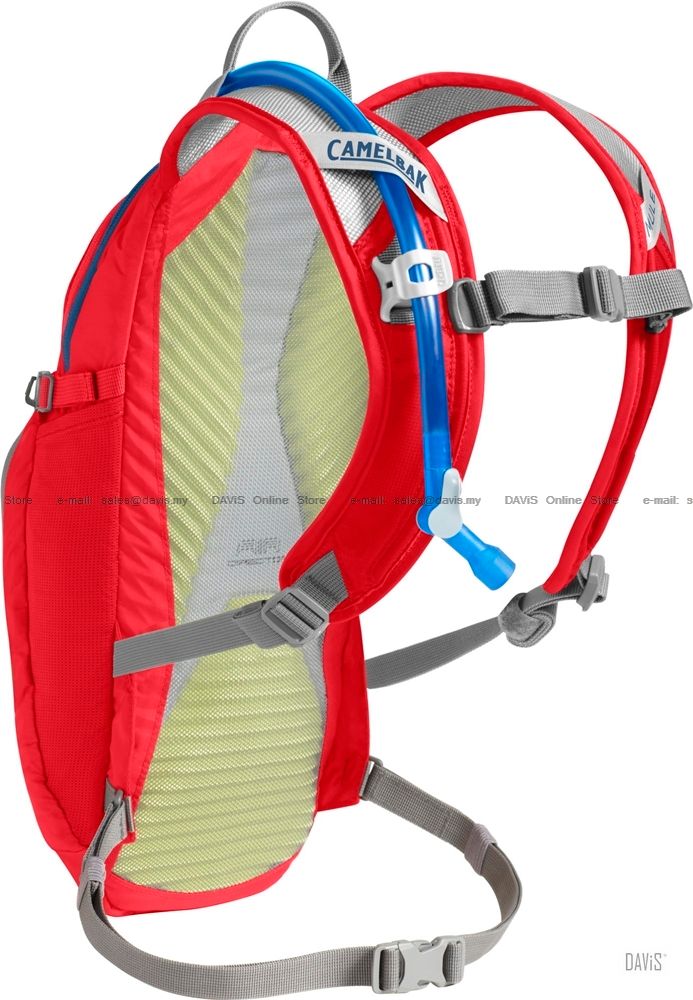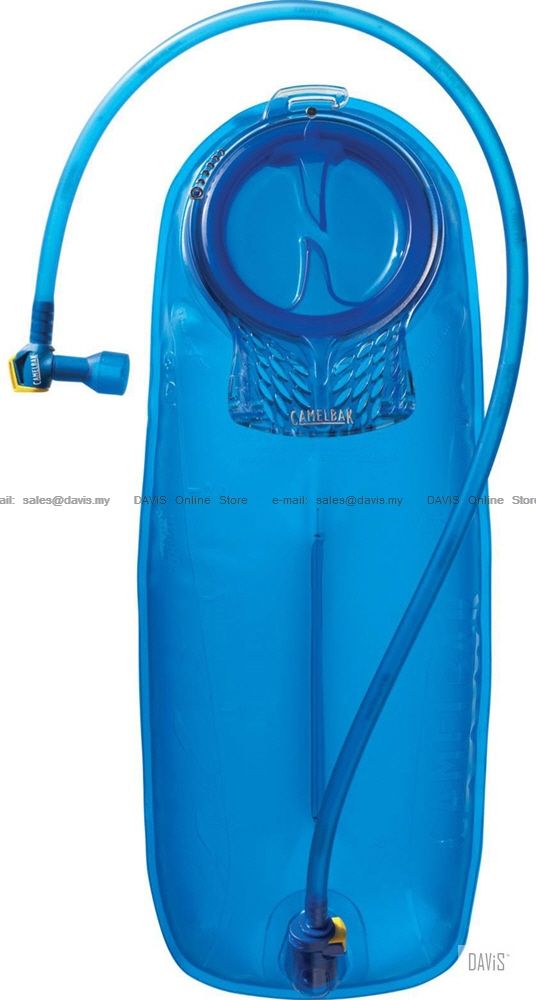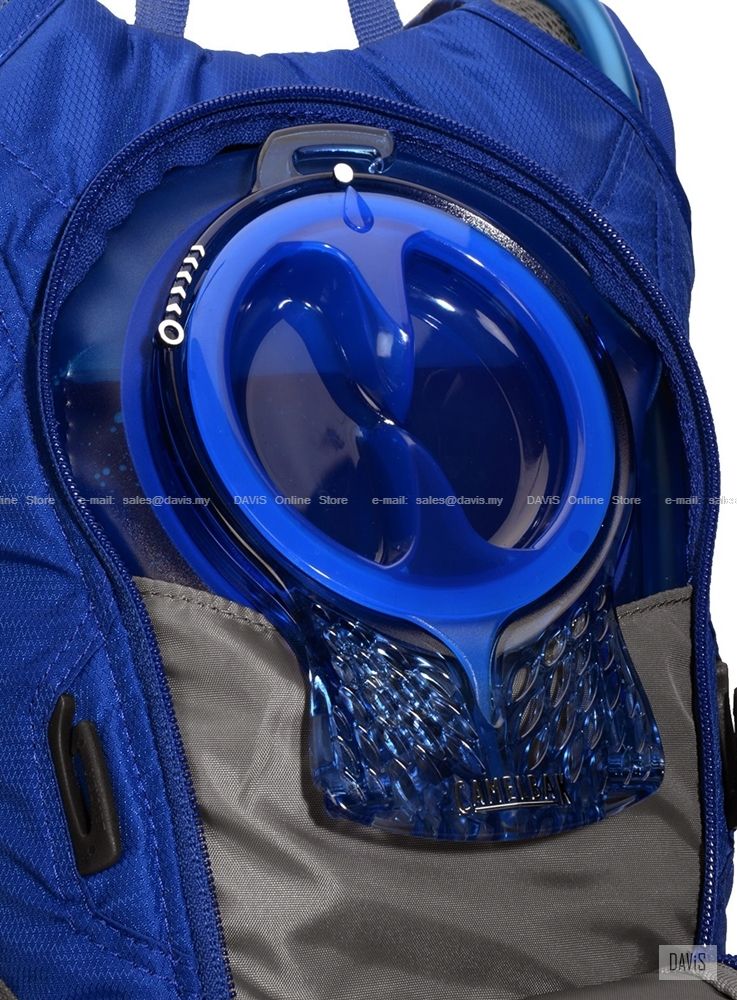 * No contents included.
* Colour and model may be different from the illustration.
* All specifications and prices are subject to change without notice.
---

Video Gallery