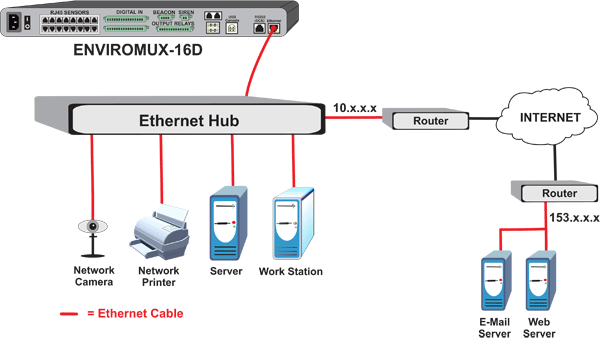 Carbon Dioxide Sensor, CO2
CO2 room sensor for periodically unoccupied areas.
Measures CO2 in a range of 0 to 2,000 ppm.
Accuracy:

400 to 1,250 ppm: ±30 ppm or 3%, whichever is greater.
1,250 to 2,000 ppm: ±5% of reading + 30ppm

Sensing element: Single Beam Non-Dispersive Infrared (NDIR)
0 to 5 VDC output.
Continuous automatic air pressure compensation.

Features built-in barometric sensor that continuously compensates the output for accurate readings despite the weather or the altitude.

LED indicators for operation status and system test.
Requires the ENVIROMUX-S5VDC sensor converter to operate.

Maximum cable length: 1000 ft (305 m).
Powered by ENVIROMUX-2D/5D/16D.

Includes 12V/1A power supply.
Operating temperature: 32 to 122°F (0 to 50°C).
Regulatory approvals: RoHS
MTBF: 131,400 hrs
Compatible with ENVIROMUX-FSC Fiber Converter/Extender.

Use to extend sensor up to 1.2 miles (2 km) from the ENVIROMUX unit.
IMPORTANT NOTE:
**All prices quoted are subject to USD exchange rate fluctuations and may change without prior notice.
**Prices quoted in this document are exclusive of GST (if applicable) and Primalcom Enterprise Sdn Bhd shall reserve the right to charge and add on GST on the quoted prices,where the delivery or performance of services is made on or after 1 April 2015 and issuea tax invoice to you.
Primalcom GST no: 000164380672
Hear from you soon!
Thanks in advance!

Regards,
Noorshida Kamarullbahrin (6012-6067699)
PRIMALCOM ENTERPRISE SDN. BHD. (GST No: 000164380672)
21-3, Jalan Tiara 3, Bandar Baru Klang,
41150, Klang, Selangor, Malaysia.
Tel:  +603-3343 1708/ 9,    
fax:  +603-3343 1711
Email: shida@primalcom.com
Web: www.primalcom.com
Sole Malaysiandistributor for NTI, Verax NMS & Hiperwall, Nagios Sole Featured Partner