Item Specification
Model / SKU
: N1-0216110020
Product Description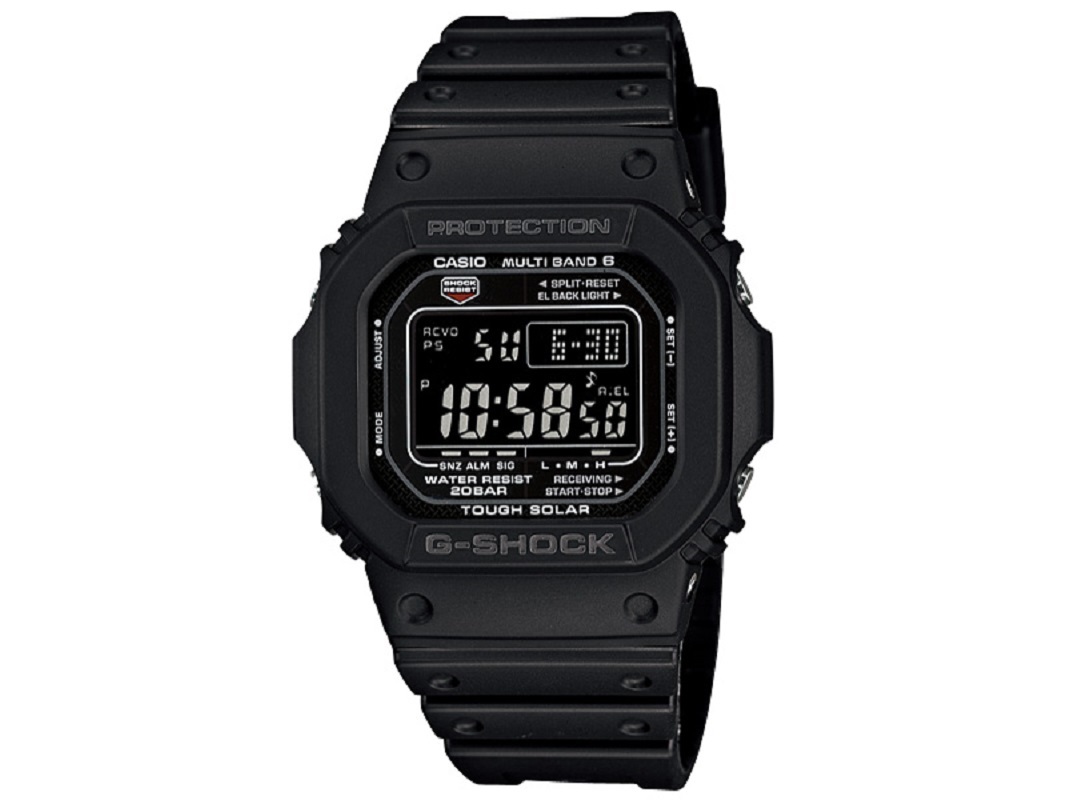 1, G-SHOCK who built a new concept of toughness on the watch.
2, New color, inherited the design of DW-5000C born in 1983, equipped with tough solar, multiband evolved popular GW-M 5610 series.
3, Inherited case shape of "DW-5000" and face design and combined inverted LCD for black case band.
4, Specification
Shock-resist, Inorganic glass, water resistant 20 ATM, Case:Bezel, Bark band
5, Provides stable operation of various high-load functions
CASIO's original solar-charging system converts not only sunlight but also light from fluorescent lamps and other sources into power. Light captured by a tiny solar panel is used to generate electric power and charge a built-in rechargeable battery with ample capacity to operate several energy-hungry functions with ease.
6, https://www.youtube.com/watch?v=Df_XPlIXB1Y https://www.youtube.com/watch?v=WZBsasMxPg4

【Welcome to Japan Best Selection-Mai/ jpn-best-selection】
We sell selected Japanese items so that our product quality is very high. The feature of our shop is to offer fulfilling service including after service and delivery satisfaction to customer.
Our item sticks to be authenticate so that we sell only items that would receive a high evaluation from Japanese customer. We also guarantee our product. You will feel "Omotenashi Service", Japanese traditional hospitality. If you have concerns about our items, please let me know. We will solve your concerns. We also offer happiness to you.
【Customer Review】
・ I have only had this watch for a mere hours, but already I can tell it is going to be great. Being that it is imported from Japan, it came with Japanese instructions. Easy work around, go online and you can get a pdf of the manual in English. I really have no complaints so far. Everyone that has complained about the inverted screen being too dark is malarkey. Don't get me wrong. It is very dark! But, it is supposed to be. If you want something that isn't "covert", don't get the inverted screen in this model or any other of the g-shock models with this feature. This shouldn't be a "con" in any review. It does what it is designed to do, plain and simple.
・This watch is awesome!! Well worth the money! Tough, blacked out, and solar. No need to replace the battery every 2 years losing the water-seal. This watch is from Japan, and came in a cool box with a small pillow. The watch has a soft rubber band, its feels very smooth and comfortable, unlike those HORRIBLE RESIN and SILICON bands. Today was 92 and I didn't even notice the band. Even though its blacked out, it is easy to read the time and has a light for darkness. Some people have whined about the display, that's why they have pictures on Amazon before you buy it. I had the DW5600MS-1CR but returned it when Casio said the battery only last 2 years. Then when its replaced you might lose the seal. I am still amazed how comfortable the rubber band is, I don't understand why they use resin bands, they are very uncomfortable in the heat, and when it's cold they stiffen up. The buttons on this watch are very easy to use and your fingers won't go numb from setting the watch. It came with a high charge and I put it in direct sunlight for 20 minutes to keep it highly charged. I looked at Seiko solar and Citizen Eco Drive, but I know they can't handle being under water, and you have to be careful not to crack the watch face. For $141 it is well worth the price. It also has a great size, and a perfect fit. The display size is very easy to read, and simple to set, you don't need a degree from MIT to figure out the watch. This watch deserves 6 stars and the seller is great as well.
・Great watch, the display isn't an issue at all. I'd love for the case/face to be about 20% bigger.
【G-SHOCK History】
Everybody knows "G-SHOCK" watch made by Casio.
"G-SHOCK" build the concept "Toughness" to watch. Developer started to create Unbreakable watch even when you fall watch since 1981. This challenge was to defy conventional wisdom.
Project started in 1981 and made over 200 Prototypes to complete first model. It took 2 years to complete impact resistant structure, which play a important role in technology.
After that, Casio seek for toughness from every point of view such as structure, material and function. As a result, Casio developed reinforced structure for endearing 3 gravitational acceleration and TRIPLE G RESIST. Moreover, Casio succeed SMART ACCESS, Lilting and accurate operability under Any kinds of environment. G-SHOCK do not end to seek for toughness.
History of G-SHOCK
1981 Organized "PROJECT TEAM Tough"
1983 Born 1st model "G-SHOCK DW-5000C"
2010 Achieve Cumulative shipment 50 Million in the world
2012 TRIPLE G RESIST equipped with SMART ACCESS GW-A1000

【G-SHOCK CONCEPT "ABSOLUTE TOUGHNESS"】
10-year battery life, 10-bar water resistance and 10-meter dropping shock resistance.
These were the three requirements of the "Triple 10" concept that led to development G-SHOCK's shock-resistant structure.
The rugged shape and robust styling originated with an engineer's brief calling for an "unbreakable watch".
Since its birth in 1983, G-SHOCK has continued its unrestrained evolution while retaining its unique basic structure.
Today, G-SHOCK continues to take up challenges beyond the limits of time and common sense

【Recommend】
1, We offer excellent service. Our creed is Customer Satisfaction"
2, We sell only High-reliability items
3, G-SHOCK is most famous watch and is strong against shock (Impact). This watch is fashionable and necessary item for hot shot (bottler) and shinning woman.
Questions & Answers
Do you have any questions to ask merchant about this product
Ask Seller
| | | |
| --- | --- | --- |
| 5 star | | 0 |
| 4 star | | 0 |
| 3 star | | 0 |
| 2 star | | 0 |
| 1 star | | 0 |
Share your thoughts with others
Write a review
Only buyers who purchased the product may leave a review