Item Specification
Model / SKU
: CAT6-UTPF-XXX
Product Description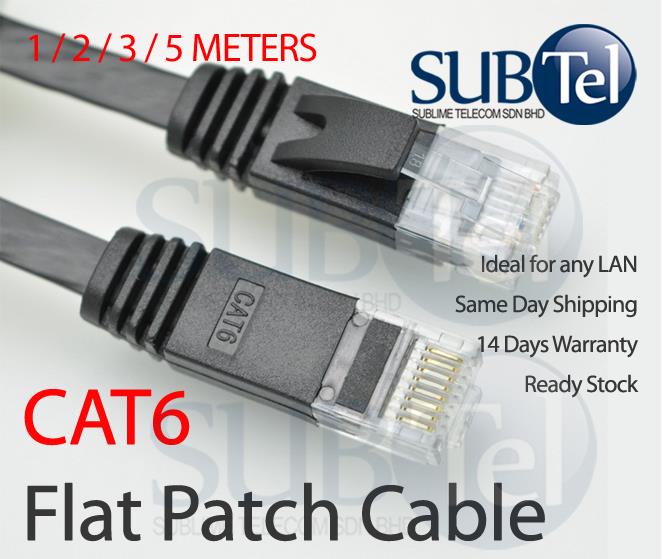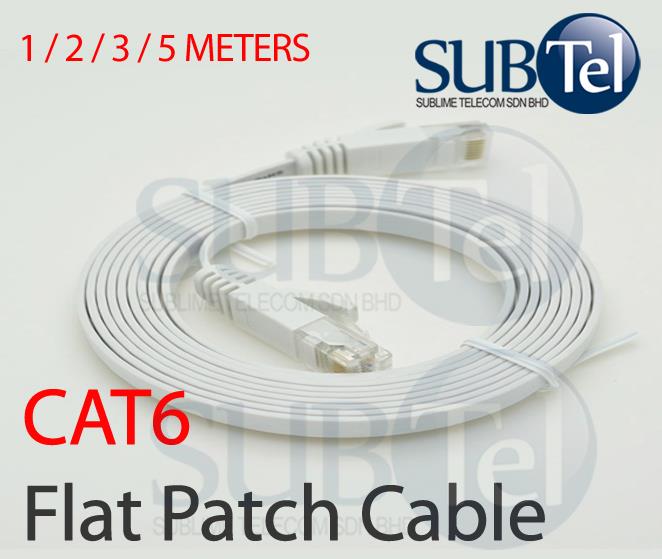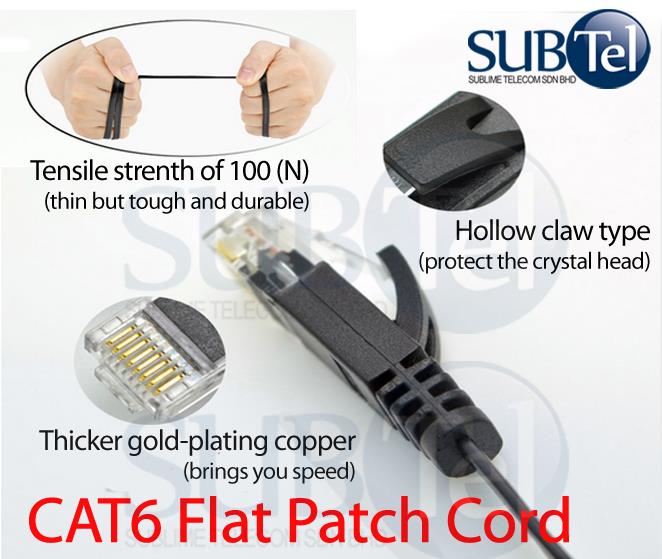 CAT6 UTP flat network cable GigE Ethernet cable - 1m 2m 3m 5m
Main Features
 • Ideal for any LAN
 • Great for installation
 • Comfortable in travelling
 • Wired straight through
 • Simple to connect
 • Environment friendly
 • ROHS Compliant

Product Description
Original 1M,2M,3M,5M CAT6 UTP flat network cable GigE Ethernet cable (White, Black)
CAT6 (Category 6 Cable), six four pairs of unshielded twisted pair, according to the Gigabit Ethernet communication protocol is backward compatible with Cat-5 series line Material .Cat-6 strengthened crosstalk and system clutter solutions; communication signal transmission bandwidth of up to 250 MHz, higher than the Cat-5e 2.5 times the transmission bandwidth; and transfer rates of up to 1000 Mbps, and can provides 10BASE-T, 100BASE-TX and 1000BASE-T Ethernet type variety, even in a short time can provide Gigabit Ethernet.
Product Specifications
SubTel CAT6-UTP-010/020/030/050
Condition
New
Color
White, Black
Width
6mm
Thickness
1.4mm
Length
1/2/3/5 meter 
Material
SRPVC Fire Wire
Working Temperature
0°C ~ +60°C
Storage Temperature:
-1°C ~ +70°C 
Humidity
<0.2(-25℃~65℃、93%)
Package Contents
Original 1M,2M,3M,5M CAT6 UTP flat network cable GigE Ethernet cable
No retail box
Contact Us
PM on Lelong
Email: sublimemalaysia@gmail.com
Calls/Whatsapp: +6 016-305-0261
Update
We have ready stock at our warehouse in Kuala Lumpur!
We can manufacture custom fiber optic patch cords with lead time of 7-10 days. Please, contact us with your requirements.
We provide warranty (14 days against manufacturer defect) and best prices in Malaysia.

With our precision manufacturing equipment and our skilled workers, our Ethernet patch cords are reliable and 100% tested according to industrial and international standards, these patch cords are with flexible customization, good prices and very prompt delivery.

Contact us or click Buy Now.