Item Specification
Model / SKU
: CCR1036-12G-4S-EM
Product Description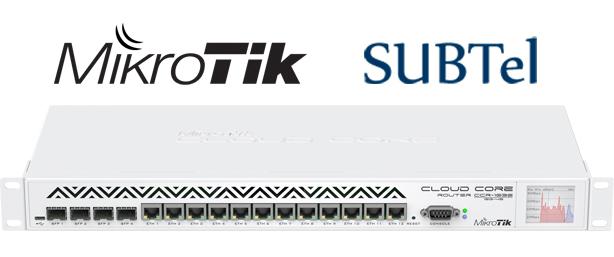 MikroTik CCR1036-12G-4S-EM - Carrier Grade Core Gigabit SFP Router
Main Features
 • Flagship of Mikrotik Cloud Core Platform
 • Twelve Gigabit Ethernet ports (12 ports)
 • Four SFP Cages (4 ports)
 • Cutting Edge 36 core TILERA CPU 1.2 GHz per core
 • 12 Mbytes total on-chip cashe
 • 16 GB RAM upgradeable
 • Level 6 RouterOS license
 • Hardware Encryption Support
 • MicroUSB port and LCD touch screen
 • Supports Single-mode/Multi-mode fiber and Copper (RJ45) SFP modules
 • Over 20 times faster than RB1100AHx2
 • Stateful Firewall, MPLS, BGP, OSPF, PPP, IPIP, GRE, EoIP, Radius, IPSec and many other standards supported

Local Information
 • Malaysia Local Product and Warranty support by Sublime Telecom Sdn. Bhd.
 • Mikrotik Routers are supported and used by Malaysian ISPs - TM, Maxis, RedTone, YTL and others.
 • Perfect core router for your infrastructure network.
 • Manage thousands of Hotspot/VPN/PPPoE users with AAA, VLANS and bandwidth limits.
 • And much more...


Product Description
MikroTik CCR1036-12G-4S-EM is an carrier grade router with a cutting edge 36 core Tilera CPU! Unprecedented power and unbeatable performance - this is MikroTik's new flagship device. The Cloud Core supports throughput of up to 24 million packets per second, or up to 16 gigabits - full wire speed.

The cloud core router is powered by RouterOS, a fully featured routing operating system which has been continuously improved for fifteen years. Dynamic routing, hotspot, firewall, MPLS, VPN, advanced quality of service, load balancing and bonding, real-time configuration and monitoring - just a few of the vast number of features supported by RouterOS.

The device comes in a 1U rackmount case, has four SFP ports, twelve Gigabit ethernet ports, serial console and a USB port. A color touchscreen displays device status, traffic graphs, or provide access to simple configuration options.

It has two SODIMM slots, by default it is shipped with 16GB of RAM, but has no memory limit in RouterOS, so will accept and utilize more.

You can choose any of MikroTik or our Sublime Telecom branded SFP transceiver modules to use with CCR1036-12G-4S.


Product Specifications
Details
Product code
CCR1036-12G-4S-EM
CPU nominal speed
1.2 GHz
CPU core count
36
Size of RAM
16 GB
SFP DDMI
Yes
Architecture
TILE GX
10/100 Ethernet ports
None
10/100/1000 Ethernet ports
12
Number of USB ports
1
MiniPCI slots
0
MiniPCI-e slots
0
Power Jack
1
802.3af support
No
Supported input voltage
13 V - 30 V
PoE out
No
PoE in
No
Voltage Monitor
Yes
CPU temperature monitor
Yes
PCB temperature monitor
Yes
Dimensions
355x145x55cm
Temperature range
Min ambient -10C; Max ambient temperature 50C @1.2Ghz; 70C @1Ghz CPU core frequency
Operating System
RouterOS (64bit)
RouterOS License Level
L6
Current Monitor
Yes
CPU
TLR4-03680CG-12CE-A3b
Max Power consumption
69W
SFP ports
4
SFP+ ports
0
USB slot type
microUSB type AB
Serial Port
RS232
Performance test results
CCR1036-12G-4S
Tile 36 core all port test
 
 
Mode
Configuration
64 byte
512 byte
1518 byte
kpps
Mbps
kpps
Mbps
kpps
Mbps
Bridging
none (fast path)
23,808.0
15,618.0
3,759.0
15,938.2
1,299.1
15,963.3
Bridging
25 Bridge filter rules
5,704.8
3,742.3
3,759.0
15,938.2
1,299.1
15,963.3
Routing
none (fast path)
23,808.0
15,618.0
3,759.0
15,938.2
1,299.1
15,963.3
Routing
25 Simple Queues
8,353.1
5,479.6
3,759.0
15,938.2
1,299.1
15,963.3
Routing
25 IP filter rules
3,481.8
2,284.1
3,392.9
14,385.9
1,299.1
15,963.3
Downloads
Datasheet : Download Product Datasheet
Quick Guide : Download PDF

Package Contents
CCR1036-12G-4S-EM Cloud Core Router
Rack Ears
Screw and feet kit (K10)
USB Cable
Malaysia (UK) power cord
Contact Us
PM on Lelong
Email: sales@sublimegroup.co
Call/SMS/Whatsapp: +6 012-368 0911
Update
We are temporary out of stock for this product, but you can always pre-order them with lead-time of 2-4 weeks.

We carry full range of Ubiquiti and MikroTik products at best prices in Malaysia.

Contact us or click Buy Now.