Allows you to send power to a device on the receiving end through the unused wires in a cat5 cable.
Great for applications where you need to install a wireless access point,but a power plug is unavailable or very far away from where the wireless access point needs to be installed.
Features:
Easily extend the range of the ethernet devices without a separate power cable.

Suitable for all types of different devices such as IP telephones, IP cameras, wireless LAN access points and so on.

With standard CAT5 network cables.

An essential accessory for CCTV IP camera installation

POE PIN = 45\u00a3\u00a8+\u00a3\u00a9 78\u00a3\u00a8-\u00a3\u00a9+ LAN Data \u00a3\u00a81236\u00a3\u00a9

LAN Connection : RJ45
Power Connection : Barrel size is 5.5mm X 2.1mm
How to Use?
It is very simple to connect a passive PoE.

On the lower part, we connect the Ethernet RJ connector of passive PoE to the PC, Hub or Switch and connect the power adapter to the power socket.

On the opposite end (RJ socket) we connect the Ethernet cable leading to the far end. At the far end, we connect the end of the Ethernet cable to the RJ socket and connect the power connectors and the Ethernet to the powered equipment.

The equipment is now connected.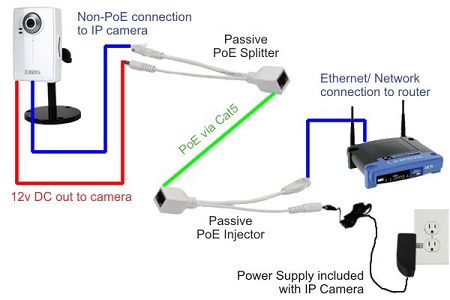 Package Content :
1 X POE cable Injector (RJ45 Male + DC in to RJ45 Female)

1 X POE cable Extractor (RJ45 Male + DC out to RJ45 Female)
(Note : Photo attached is for reference only, it may be slightly varied in items of colour, shape from the actual item delivered from time to time)