Product ID : 214067822
Warranty : No Warranty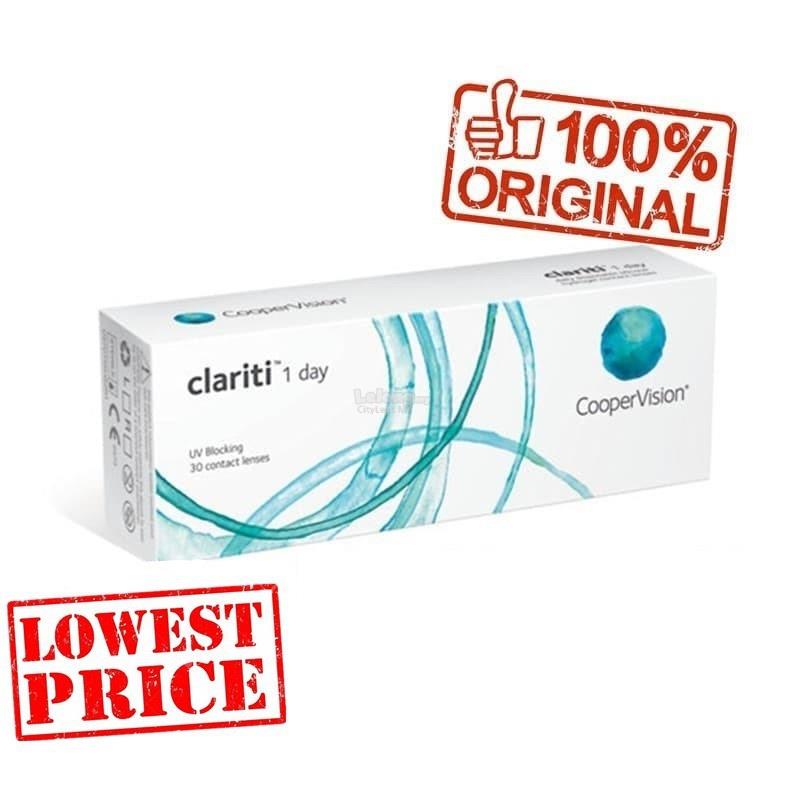 Clariti 1 Day contact lenses from Sauflon offer the convenience of a daily disposable combined with the state of the art technology of silicone hydrogel material. Ideal for sufferers of both short and long-sightedness these uniquely designed lenses offer premium correction for these conditions.
The premium advantages of making use of Clariti dailies include:
• The ability to simply dispose of the lenses after wearing means that users can do away with the need to clean or store the contacts.
• The design of the Clariti 1day contact lenses allows perfect vision regardless of the quality of interior or exterior light.
• The high water content and ground-breaking Aquagen technology of the Sauflon dailies allow maximum hydration for the eyes. This can offer a fully healthy guarantee for the safety, protection and all round comfort of eyes and vision.
Recommended for anyone who experiences problems with their vision, Clariti 1day contact lenses are a great way to maximize sight and overall eye comfort. People who spend long hours in front of a computer screen will be among those who experience the full benefit of these technologically advanced corrective lenses.

Last Updated @ 7/18/2019 12:46:23 PM




---
The product/item(s) are delivered directly from CityLens Sdn.Bhd. in Johor Bahru, Malaysia
The estimate shipping time, with stock availability 2-5 business days, if pre-order 4-7 business days, otherwise stated in product prescription. We will inform customers if more time is needed.
We may cancel a Contract if the Product is not available for any reason. We will notify you if this is the case and return any payment that you have made.
You shall receive an email confirmation from us with the tracking number once we have shipped out your order.
If you have issues receiving your parcel, you may drop us an email at citylens@gmail.com or whatsapp us at 0127701660. Our team will get back to you as soon as we can.

These Terms & Conditions shall apply to all Orders and Contracts made or to be made by us for the sale and supply of Products. When you submit an Order to us, give any delivery instruction or accept delivery of the Products, this shall, in any event, constitute your unqualified acceptance of these Terms & Conditions. Any conditions that you submit propose or stipulate in whatever form and at whatever time, whether in writing, by email or orally, are expressly waived and excluded. No other terms or changes to the Terms & Conditions shall be binding unless agreed in writing signed by us.
By placing an order through the Site, you warrant that you are at least 21years old and for prescription glasses and contact lens purchases in possession of a valid eye prescription from an Optometrist or Eye Doctor.
In the event of a complaint it will help us if you can describe the matter of your complaint as accurately as possible and, where applicable, send us copies of the Order or at least the order number that we assign you in the Acknowledgement or Confirmation of Order. Should you not have received any reaction from us within three Business Days, please make further inquiries. In rare cases, your emails may be caught up in our spam filters or not reach us, or correspondence that we send to you may otherwise not have reached you.
We warrant that the Product will be delivered undamaged in the quantities ordered, and the Product will conform with the manufacturer's latest published information as set out on the Site or in our Product material at the time of your Order. Minor differences in material, colour, weight, measurements, design and other features might occur to the extent that they are reasonable. The product is intended to be used strictly in accordance with the manufacturer's latest published instructions as set out on the site or as on the product itself. It is your responsibility to ensure that you use the product strictly in accordance with those instructions. We try very hard to deliver Products in excellent condition.
We shall have no Liability for: loss of revenue; loss of actual or anticipated profits; loss of contracts; loss of the use of money; loss of anticipated savings; loss of business; loss of operation time; loss of opportunity; loss of goodwill; loss of reputation; loss of, damage to or corruption of data; any indirect or consequential loss.
We shall perform our obligations under these Terms & Conditions with reasonable skills and care. We place great value on our customer satisfaction. You may contact us at any time using the contact details given in these Terms & Conditions. We will attempt to address your concerns as soon as reasonably possible and will contact you on receipt of any relevant inquiry or complaint. In guarantee cases, the manufacturer frequently must be involved, and as such, it may take longer to resolve such an inquiry or complaint.
We reserve the right to amend these Terms & Conditions at any time. All amendments to these Terms & Conditions will be posted online. However, continued use of the Site will be deemed to constitute acceptance of the new Terms & Conditions.
It is very important for us to keep our customers happy! If you are not completely satisfied, please contact us within 3 days of receiving your order. We will handle the return/refund request on a case by case basis. Shipping and return shipping is buyer's responsibility.
You may return the product within 7 days of receiving the product if it is in good condition (no trace of use, no damage, and returned in the original package), only if we have agreed that the product is returnable. Please make sure that the item for returning is in a condition that it can be sold again and that the original package is intact.
Whilst every care is taken when sending items, occasionally post does go missing. In most cases, this is usually a case of 'delayed post' rather than missing parcels as most post eventually turns up. If you are concerned, please do not hesitate to contact us at citylens@gmail.com and we will do everything in our power to locate your item.
However, if you tell us that the Product is faulty, you agree to keep the Product in its current condition available for us (or our suppliers) to inspect within a reasonable time. In order to provide you with any remedies for a faulty Product, we may need your assistance and prompt provision of certain information regarding the Product, including, you specifying with reasonable detail the way in which it is alleged that the Product is damaged or defective, and you providing us with the delivery note number and such other information as we reasonably require. If you would like us to repair, replace or provide a refund for the Product where it did conform to the applicable Contract, and we find that the Product has:
*been misused, abused or subjected to neglect, improper or inadequate care, carelessness, damage or abnormal conditions; or,
*been involved in any accident or damage caused by an incorrect attempt at modification or repair; or
*been dealt with or used contrary to our or the manufacturer's instructions for the Product; or
deteriorated through normal wear and tear, after delivery by us, we may at our discretion decide not to repair, replace or refund you for the Product and/or we may require you to pay all reasonable carriage costs and servicing costs at our current standard fees and costs and charge this to your credit or debit card, or the payment details that you provided to us when you made your Order, and, to the extent permitted by law, we shall not be liable to you for any losses, liabilities, costs, damages, charges or expenses as a result
*the faulty lens to be returned in the original packaging including boxes, bottles, and blisters
*exchange charges to be borne by the buyer

Average Product Rating
0.0 stars out of 5
| | | |
| --- | --- | --- |
| 5 star | | 0 |
| 4 star | | 0 |
| 3 star | | 0 |
| 2 star | | 0 |
| 1 star | | 0 |
Share your thoughts with others
Write a review
Only buyers who purchased the product may leave a review