Item Specification
Product Description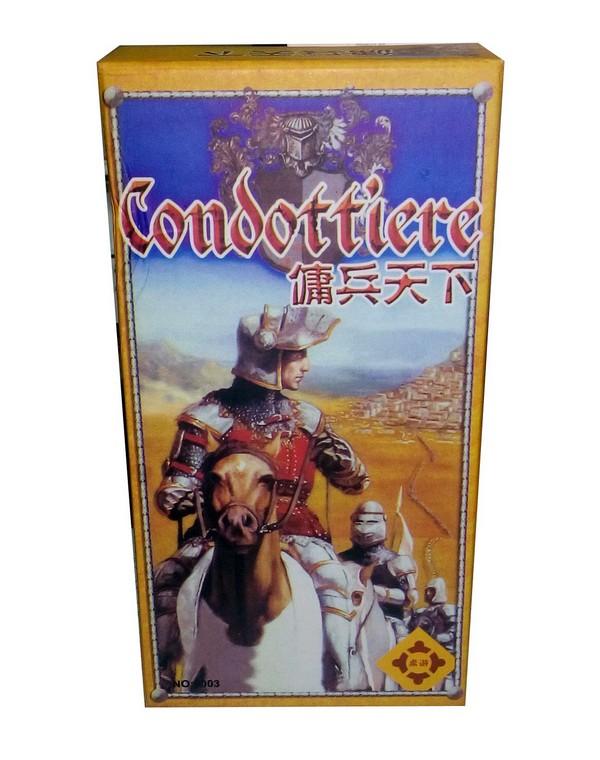 Condottiere  佣兵天下
Number of players 
: 
2
 - 
6
Suggested age 
: 
14+
Playing time 
: 
45
 Min  
Subdomain : Strategy Games
Categories : Bluffing , 
Medieval , 
Negotiation
Game mechanics : Area Control / Area Influence , 
Auction/Bidding , 
Hand Management
Language : No necessary in-game text
In Renaissance Italy, armies of mercenaries fought to conquer the fragmented city-states for the highest bidder. Elite mercenary leaders, known as Condottiere, led these armies to victory under such fabled banners as Medici, Sforza and Colleoni.
Recreate this era as you, an elite Condottiere, strive to carve out your own Renaissance kingdom! Using a unique deck of cards and a map of Italy, you must exploit the assets in your hand and thwart the traps set by your adversaries. Your task is difficult, your mercenaries are unreliable, the Church may intervene, and you are surrounded by others who envy your position! This game is loaded with intrigue and subterfuge. To win, you must be both a clever diplomat and a daring general. Succeed at both, and you will triumph!
Fantasy Flight Games is proud to publish a 3rd edition of this classic bluffing game. The new edition features new art, new card abilities, and new rules to enhance game play.
文艺复兴时代,意大利由时而友善、时而敌对的独立城邦所构成。最有名的有热内亚、佛罗伦萨、米兰公国和威尼斯联邦。
   在这个年代中所出现的佣兵队长,带领着部下为最富强的城邦服务,作为可畏的策略家与精锐的士兵,他们不满足于单纯受到指挥与部队的征召,甚至在谋略、连盟、战争和围剿的过程中重塑意大利的政治地图,其中更有建立王朝的先驱,例如掌控米兰公国的弗朗西斯科斯福尔札、乔凡尼.梅迪奇在佛罗伦萨 建立王国。
    在「佣兵队长」中,你重返这个似乎拥有决心的人便可能达成任何事的惊异时代,游戏中,你扮演尝试征服意大利多数著名城市的佣兵队长,单纯军队的力量是不够的,你还需要外交来获取胜利的机会。但是请注意,不仅仅只有你而已,你必须防范其他佣兵队长的野心。
The pictures above are indicative and may not apply to the version of the game for sale.
Looking for More other Board Game Go to http://goo.gl/BtD5Y5
上面的图片仅供参考,可能并不适用于游戏发售的版本。
寻找更多的桌上游戏,可以来这里看看 http://goo.gl/BtD5Y5

Last Updated @ 9/15/2016 7:45:52 AM






---
Internet Online Bank Transfer (IBG) then whatsapp or e-mail Bank slip to me, then 1~3 days will sent to you.
Account Name : MOH MING SHYE
: 7043763536
: 151204264555
: 12350106652
---
Non-Member Buyer
1) whatsapp to me which you wloud like to buy,combine all product shiiping fee then tell you Final Quotation.
Payment by Online bank transfer(IBG) then PM receipt photo to me and......
Your Order Info :
1. Product Name OR Item ID
5. Receiver Contact Number
Shpping by courier and Tracking number to follow up.
---
When you pay money for 1 to 2 days after the goods will be sent, please note the order status.
When the status changes to [Shipped-completed], when clicked, displays the contents of the order ....
In the lower right part of the order of [Shipment Details], will show the courier company and the shipment tracking number.
After the can to the courier company website for shipment tracking.
Questions & Answers
Do you have any questions to ask merchant about this product
Ask Seller
| | | |
| --- | --- | --- |
| 5 star | | 0 |
| 4 star | | 0 |
| 3 star | | 0 |
| 2 star | | 0 |
| 1 star | | 0 |
Share your thoughts with others
Write a review
Only buyers who purchased the product may leave a review