Item Specification
Product Description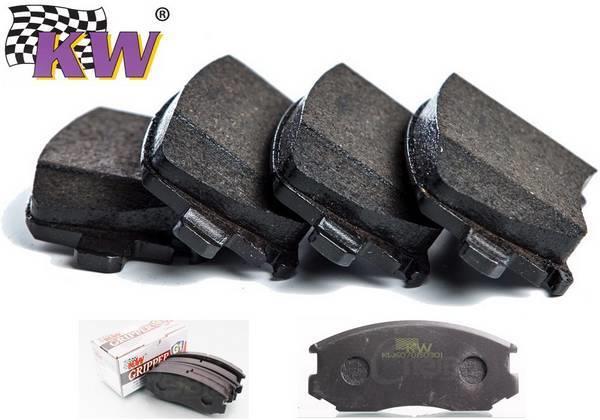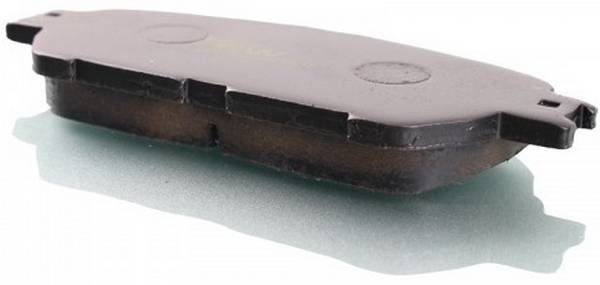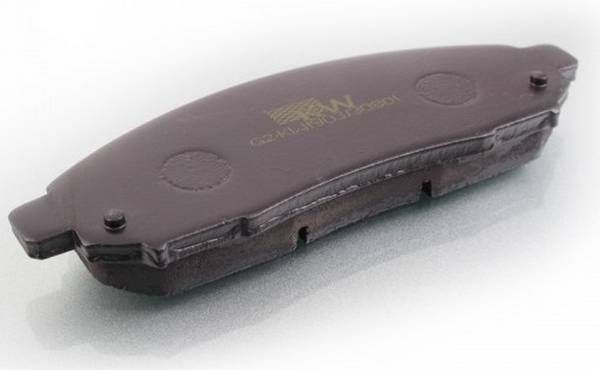 (MOST CARS) ORIGINAL KW GERMANY G1 400ºC Racing Brake Pads (Rear) [KW5056]
The KW G1 is the ultimate street ceramic-carbon-metallic compound developed for extreme speeds and power. KW G1 is our latest development with lots of technology and effort in it to cope the demands of a extreme street compound. It is suited for use in a power brake system with or without ABS and EPS. The KW G1 is a high heat resistance compound which can also be used for circuit racing, like a sports car club race day. There is no need to change pads for such an event. The initial bite and response is excellent even at very high speed like 200- 250 km/h and so also the pedal feel and brake balance. KW G1 compound is not agressive towards the discs.
Friction value: 0.37 - 0.47

Material: Ceramic Carbon Metallic Compound

Maximum Speed Support 200 - 250 Km/h

Recommended for Street & Track

Made in Germany

Weight: 1Kg
Notice for Pads Installation:
Check the clips that solidify the pads to see if out of shape.

Remove the bolts from calipers and refill proper oil.

Move the pads to assure the glide of pads.

Assure every related screws that have been tighten up.
Car Model:
DAIHATSU
DAIHATSU BOON 2004 - 2010 (Front) [KW0100]

DAIHATSU BOON 2011 - 2016 (Front) [KW0101]

DAIHATSU CERIA 1990 - 1994 (Front) [KW0004]

DAIHATSU COURE 1990 - 1994 (Front) [KW0004]

DAIHATSU COURE 1998 - 2002 (Front) [KW0038]

DAIHATSU HANDI 1990 - 1994 (Front) [KW0004]

DAIHATSU MIRA GINO 1999 - 2004 (Front) [KW0038]

DAIHATSU MIRA L200 1990 - 1994 (Front) [KW0004]

DAIHATSU MIRA L250/ L260 2002 - 2006 (Front) [KW6100]

DAIHATSU MIRA L700 1998 - 2002 (Front) [KW0038]

DAIHATSU MOVE (Front) [KW0038]

DAIHATSU SIRION 2004 - 2010 (Front) [KW0100]

DAIHATSU SIRION 2011 - 2016 (Front) [KW0101]
HONDA
HONDA ACCORD SM4 CB, CD, CF, CL (All) (Rear) [KW5056]

HONDA CITY IDSI 2003 - 2008 (Front) [KW5073]

HONDA CITY VTEC 1998 - 2013 (Front) [KW5070]

HONDA CIVIC EG, SR4 1991 - 1995 (Front) [KW5070]

HONDA CIVIC EG, SR4 1991 - 1995 (Front) [KW5073]

HONDA CIVIC EK, SO4 1996 - 2000 (Front) [KW5070]

HONDA CIVIC EK, SO4 1996 - 2000 (Rear) [KW5056]

HONDA CIVIC ES 1.7/ 2.0 (Front) [KW5070]

HONDA CIVIC FD2 2.0 2006 - 2011 (Front) [KW5113]

HONDA JAZZ IDSI 2004 - 2007 (Front) [KW5073]

HONDA ODYSSEY RB1 RB2, 2003 - 2007 (Front) [KW5113]

HONDA STEAM 1.7 2000 - 2014 (Front) [KW5070]

HONDA STREAM RN3/ RN4 2.0 2000 - 2006 (Front) [KW5113]
HYUNDAI
HYUNDAI ACCENT II 1.5 1999 - 2005 (Front) [KW8001K]

HYUNDAI ACCENT III FGP3 1.5 2006 - 2011 (Front) [KW8001K]

HYUNDAI ATOS 1.0 1st Model 1997 - 2003 (Front) [KW8012K]

HYUNDAI ATOS 1.0, 1.1/ ATOS PRIMA 1.1 2004 - 2007 (Front) [KW8017K]

HYUNDAI ELANTRA IV 1.6, 1.8 2006 - 2010 (Front) [KW8010K]

HYUNDAI GETZ 1.3, 1.6 2002 - 2011 (Front) [KW8001K]

HYUNDAI MATRIX 1.6 2001 - 2007 (Front) [KW8010K]

HYUNDAI SONATA V 2.0 2004 - 2009 (Front) [KW8010K]
KIA
KIA CARENS 1.8, 2.0 MPV 2006 - 2013 (Front) [KW8109K]

KIA CARENS 1.8, 2.0 MPV 2006 - 2013 (Rear) [KW8102K]

KIA CARENS 1999 - 2006 (Front) [KW8105K]

KIA RONDO 1.8, 2.0 MPV 2006 - 2013 (Front) [KW8109K]

KIA SEDONA 2.5 1998 - 2006 (Front) [KW8113K]

KIA SEPHIA 1.6 2001 - 2004 (Front) [KW8105K]

KIA SEPHIA 1.6 2001 - 2004 (Rear) [KW8102K]

KIA SPECTRA 1.6 2001 - 2004 (Front) [KW8105K]

KIA SPECTRA 1.6 2001 - 2004 (Rear) [KW8102K]
NAZA
NAZA CITRA 1.8 2.0 MPV 2006 - 2013 (Rear) [KW8102K]

NAZA CITRA 1.8, 2.0 MPV 2006 - 2013 (Front) [KW8109K]

NAZA RIA K58S 2.5 1998 - 2006 (Front) [KW8113K]
NISSAN 
NISSAN CEFIRO/ MAXIMA A32 1994 - 2000 (Front) [KW1105]

NISSAN CEFIRO/ MAXIMA A32 1994 - 2000 (Rear) [KW1148]

NISSAN GRAND LIVINA 1.6, 1.8 2005 - 2016 (Front) [KW1904]

NISSAN LATIO/ TIIDA 2004 - 2016 (Front) [KW1904]

NISSAN SENTRA N16 1.6 XE 2002 - 2009 (Front) [KW1233]

NISSAN SENTRA N16 1.8 2002 - 2009 (Rear) (Front) [KW1105]

NISSAN SENTRA N16 1.8 2002 - 2009 (Rear) [KW1148]

NISSAN STANZA/ BLUEBIRD/ PINTARA U12 1987 - 1992 (Front) [KW1105]

NISSAN STANZA/ BLUEBIRD/ PINTARA U12 1987 - 1992 (Rear) [KW1148]
PERODUA 
PERODUA KANCIL 660, 850, EX (Front) [KW0004]

PERODUA KELISA, KENARI 2000 (Front) [KW0038]

PERODUA MYVI 1.0 1.3 2005 - 2010 (Front) [KW0100]

PERODUA MYVI 1.3 1.5 2011 - 2016 (Front) [KW0101]

PERODUA VIVA (Front) [KW6100]
PROTON 
PROTON EXORA CAMPRO 1.6 (Non Turbo) (Front) [KW6806]

PROTON GEN 2 1.3, 1.6 (Rear) [KW6805]

PROTON GEN2 1.3, 1.6 (Front) [KW6804]

PROTON ISWARA 1.3, 1.5 (Front) [KW6070]

PROTON PERDANA 2.0/ V6 (Front) [KW6043]

PROTON PERDANA 2.0/ V6 (Rear) [KW6024]

PROTON PERSONA 1.3, 1.6 (Front) [KW6804]

PROTON PERSONA 1.3, 1.6 (Rear) [KW6805]

PROTON PUTRA 1.8 (Front) [KW6043]

PROTON PUTRA 1.8 (Rear) [KW6024]

PROTON SAGA BLM SE FL FLX SV (Front) [KW8201K]

PROTON SAGA LMST 2003 - 2004 (Front) [KW6070]

PROTON SAGA Megavalve 8V/ 12V, 1986 - 1992 (Front) [KW6010]

PROTON SAGA2 2005 - 2007 (Front) [KW6070]

PROTON SATRIA 1.6 (Front) [KW6043]

PROTON SATRIA 1.6 (Rear) [KW6067]

PROTON SATRIA GTI 1.6, 1.8 (Front) [KW6043]

PROTON SATRIA GTI 1.6, 1.8 (Rear) [KW6024]

PROTON SATRIA NEO 1.3, 1.6 (Front) [KW6804]

PROTON SATRIA NEO 1.3, 1.6 (Rear) [KW6805]

PROTON SAVVY (Front) [KW8201K]

PROTON WAJA 1.6, 1.8 (4G18/ Campro) (Front) [KW6802]

PROTON WIRA 1.3, 1.5 (Front) [KW6070]

PROTON WIRA 1.6 (Rear) [KW6067]

PROTON WIRA 1.6, 1.8, 2.0 (Front) [KW6043]

PROTON WIRA 1.8, 2.0 (Rear) [KW6024]
SUBARU
SUBARU JUSTY 2004 - 2010 (Front) [KW0100]
SUZUKI
SUZUKI SWIFT 1.3/ 1.5 2004 - 2012 (Front) [KW9030]
TOYOTA
TOYOTA AE100, AE101, AE102 1995 - 2000 (Front) [KW2118]

TOYOTA ALTIS 1.6, 1.8 2002 - 2007 (Rear) [KW2204]

TOYOTA ALTIS 1.6/ 1.8 2002 - 2007 (Front) [KW2183]

TOYOTA AVANZA 1.3 1.5 2003 - 2016 (Front) [KW0044]

TOYOTA CAMRY SV40, SV41, SV42 1994 - 1998 (Front) [KW2118]

TOYOTA CAMRY XV30 2.0/ 2.4 2002 - 2006 (Front) [KW2222]

TOYOTA CAMRY XV30 2.0/ 2.4 2002 - 2006 (Rear) [KW2219]

TOYOTA CAMRY XV40 2.0, 2.4 2007 - 2011 (Rear) [KW2114]

TOYOTA CAMRY XV40 2.0/ 2.4 2007 - 2011 (Front) [KW2222]

TOYOTA CELICA GT 1999 - 2006 (Front) [KW2183]

TOYOTA COROLLA AE100 AE101 1991 - 1995 (Front) [KW2023]

TOYOTA COROLLA EE80, AE80, AE82 1983 - 1987 (Front) [KW2023]

TOYOTA COROLLA EE90, AE92 1987 - 1991 (Front) [KW2023]

TOYOTA CORROLA ALTIS 2008 - 2013 (Front) [KW2274]

TOYOTA HARRIER XU30 2.4/ 3.0 2002 - 2008 (Front) [KW2222]

TOYOTA HARRIER XU30 2.4/ 3.0 2002 - 2008 (Rear) [KW2219]

TOYOTA MRS 1999 - 2007 (Front) [KW2183]

TOYOTA PASSO 2004 - 2010 (Front) [KW0100]

TOYOTA PASSO 2011 - 2016 (Front) [KW0101]

TOYOTA VIOS 1.5 (Rear Use Brake Shoe) 2007 - 2012 (Front) [KW2252].

TOYOTA VIOS 1.5 2003 - 2006 (Front) [KW2183]

TOYOTA VIOS 1.5 2003 - 2006 (Rear) [KW2204]

TOYOTA VIOS 1.5 2007 - 2012 (Front) [KW2253]

TOYOTA VIOS 1.5 2007 - 2012 (Rear) [KW2254]

TOYOTA WISH 1.8 2002 - 2016 (Front) [KW2222]

TOYOTA WISH 1.8 2002 - 2016 (Rear) [KW2219]

TOYOTA YARIS 2007 - 2012 (Front) [KW2253]

TOYOTA YARIS 2007 - 2012 (Rear) [KW2254]
Buy with confidence
| | | | |
| --- | --- | --- | --- |
| Buyer | Item ID | Date | Ratings |
| an**** | 203337135 | 7/20/2018 7:05:00 PM | packing cantik dan kemas..sesuai jika pos ke sabah dan sarawak |
| Ai**** | 195987620 | 7/18/2018 10:23:00 AM | Good seller. Item received as displayed. Will buy from seller again. |
| re**** | 203334383 | 7/10/2018 7:59:00 PM | A+++ |
| nc**** | 203815943 | 7/5/2018 10:18:00 PM | - |
| mw**** | 194282667 | 7/5/2018 5:50:00 PM | - |
| fa**** | 203336485 | 6/9/2018 4:23:00 AM | Item received. Thanks seller!! Trusted. |
| xm**** | 203815972 | 6/7/2018 7:16:00 PM | Good seller |
| CK**** | 149221330 | 5/28/2018 1:31:00 AM | Professional Seller. |
Questions & Comments











---

Net Pay (Credit Card VISA MASTER,

Maybank2u, CIMBclicks, Hong Leong Bank, Bank Simpanan Nasional, FPX)

Maybank2U

Maybank Cash Deposite Machine

Paypal

Cimb Clicks

Cimb Cash Deposite Machine
Contact Us
Company Name:

Max Audio Online Sdn. Bhd

E-mail: lelongmaxaudio@gmail.com

Office Phone:

+603-92878259
Phone: +6016-3375742/ +6012-3375742/ +6016-6681432/ +6016-2053415
Our Location:

Max Audio Online Sdn. Bhd. 74 Ground Floor, Taman Maluri, Cheras, 55100, Kuala Lumpur Malaysia

Drive by Waze: http://waze.to/hw283fcjst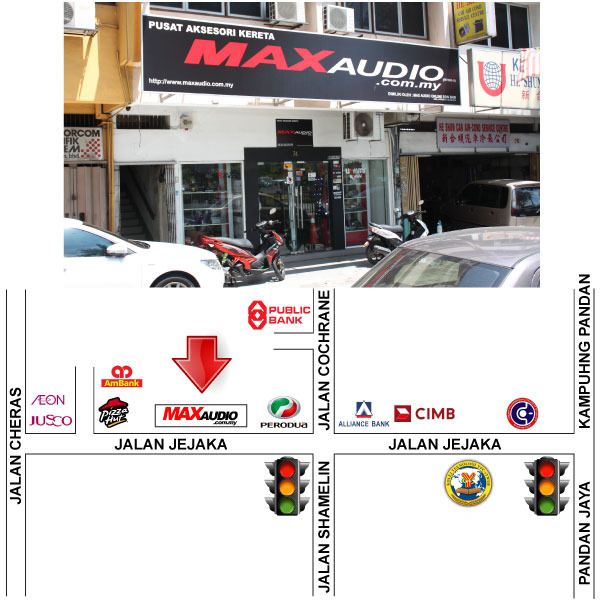 SkyNet Courier Service (

www.skynet.com.my

)

5 - 7 Working Days

Skynet will not ship to P.O. BOX Addresses

We Only Deliver on Monday to Friday

We will check all products, test before postage

Shipping and Handling Charges depends on Item(s) Weight Size

Seller is not held responsible for mistakes made by buyers/bidder if they provide wrong or incomplete mailing address, contact information and etc

Payment must done Up Front before delivery

Seller is not held responsibility for any demand or lost parcel during shipping (Please Contact Skynet if your parcel is demage or lost for claim)
Terms Condition:
All Payment must be cleared within 3 days after Auction Buy It Now

No Joy Bidder or Joy Buyer (Account will be suspend after 3 Reminder Sent)

We will exchange or replace similar product if the item is

Out Of Stock

No Money back refund after payment done

No Combine Shipping or Cash On Delivery (We will only ship the item after payment receive)

All Shipping Handling Fees is bear by Buyer or Bidder

Seller Owned the rights to cancel all bids if Item is

Out Of Stock
Warranty Return Policy
Sales Item - 1 Year Warranty

Auction Item - 1 Week Warranty

All Shipping Handling Fees must be paid by Buyer or Bidder




Please Kindly Provide Full Shipping Information inside the Parcel for Warranty
Questions & Answers
Do you have any questions to ask merchant about this product
Ask Seller
| | | |
| --- | --- | --- |
| 5 star | | 0 |
| 4 star | | 0 |
| 3 star | | 0 |
| 2 star | | 0 |
| 1 star | | 0 |
Share your thoughts with others
Write a review
Only buyers who purchased the product may leave a review