Product ID : 213486470
Model / SKU : Delivery times vary depending on item availability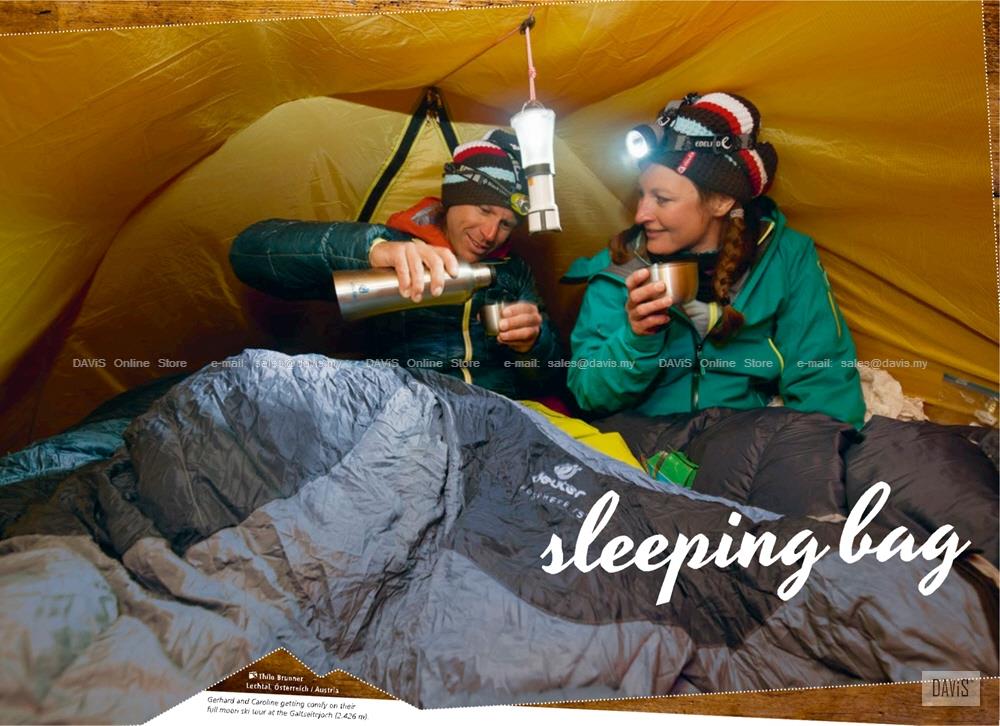 This webpage is best viewed at 1280 x 1024 Resolution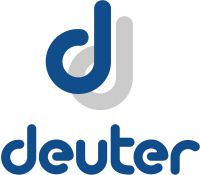 ---
Warranty:
Deuter warrants its products against defects in materials and workmanship for the lifetime of the product. This warranty does not cover the damage caused by extreme use, improper care, or the natural breakdown of material over time. If a product is deemed defective, Deuter will repair or replace it. Monetary refund or credit is not possible. If damages are not covered under warranty, Deuter offers repair services. Charges for repairs will be figured at time of evaluation. Please note that Deuter does not warrant or offer repair service on any products that are sold through non-authorized channel.
Seller Notes:
100% genuine products supplied by local authorized distributor.

We offer +1.5% insurance service to cover for lost & damage during transit. *Optional*

We offer worldwide international shipping by urgent courier with additional shipping cost borne by buyer.

We selling Deuter products & Accessories through internet channel only.

Stock quantity appears in the sales posting may not reflects realtime stock status. If the quantity you wish to order more, please contact us, we can adjusting up the quantity. Some out of stock item or special item, you also can place a pre-order with us.

We do not reserved the stock unless you have clicked BuyNow and make your payment on time.

We accept Money transfer via banking system, Credit Card Payment Gateway & PayPal. Click here.

All shipping times on this page are estimates. Delivery times may vary depending on product availability.
---
Models and variants:
* Note: Please select the model in [Option] drop-down menu when place an order.
01. Two Face - black-cranberry - 37061-7500

A super comfortable fleece sleeping bag that is extremely spacious with its wide cut and offers extra room in the foot section. Suitable use in summer, in huts, and as a blanket; used as a liner, it increases sleeping bag warmth. Compact pack size and an all-round zip.

Weight: 720 g

Length: 205 cm

Bodysize: 185 cm

Shoulder Width: 75 cm

Bottom Width: 55 cm

Pack-Size: ø 16 cm x 30 cm

Outer lining: Deuter Dura Lite RS

Inner lining: Deuter Poly-Lite Soft

Fill: High-Loft Hollowfibre

02. Dream Lite 500 - titan-black - 37071-4100

This lightweight sleeping bag packs down super small making it perfect for weight conscious excursions. The bag can also be used as a sleeping bag liner.

Fill: Polydown Soft Polyester fibre

Lining: Soft Nylon Taffeta

Outer Material: Dura Hexlite RS

Weight: 580 g

Length: 205 - cm

till Bodysize: 185 cm

Shoulder Width: 75 cm

Bottom Width: 48 cm

Pack-Size: ø 12 cm x 22 cm

Outer lining: 70D 200T Nylon Ripstop+W/R+Double Cire

Inner lining: 78D 200T Soft Nylon +W/R+Double+Cire

Fill: Polydown Soft Polyester fibre

Fillweight: 160 g

Suitable for

Biking

Camping

Motorbike

Huts

City

Material: ( material composition: Polyester: 50% / Polyamide: 50% )
78D 200T Soft Nylon +W/R+Double+Cire
A soft, breathable, non-moisture sensitive, and fast drying shell material. Strong and durable, used on the Starlight EXP and Little Star EXP models.

70D 200T Nylon Ripstop+W/R+Double Cire
Hexlite is an extremely lightweight and soft fabric that is used for the outer shell material in the Dreamlite series. This ripstop nylon material is also characterized by its water-repellent finish.

Polydown Soft Polyester fibre

Construct: 1-Layer
The outer shell material is sewn to the upper layer of Polyester fleece. Since this construction can lead to cold spots, we only use it in summer sleeping bag.

03. Orbit 0° - fire-cranberry - 37430

Trusty, durable and easy care synthetic sleeping bag for allround use. The perfect companion for cooler temperatures with a functional soft fill.


Details:

functional contour hood with two drawcords

anti-catch strip

two-way YKK ® zip for combining to another bag

compression pack sack

internal valuables pocket

can be used as a blanket

warmth collar with padded edges

Construction: single layer thermo construction

Fill: Deuter Thermo Enviro Loft

Inner lining: Deuter Poly-Lite Soft BS

Outer material: Deuter 210T-Soft-Nylon Taffeta BS

Weight:1370 g

Length:220 cm

till Bodysize:200 cm

Shoulder Width:80 cm

Bottom Width:50 cm

Pack-Size:ø 20 cm x 45 cm

Outer lining:Deuter Dura Lite RS

Inner lining:Deuter Poly-Lite Soft

Fill:High-Loft Hollowfibre

Fillweight:680 g


Deuter Poly-Lite Soft
The pleasantly soft, fast warming, breathable and easy-care polyester fabric is the ideal lining fabric for synthetic sleeping bags like Exosphere.

Deuter Dura Lite RS
Supersoft, easy is the outer fabric for our Orbit and Space models. This ripstop nylon material is also characterized by its water-repellent finish. It is even lighter Hexlite version is used for the DreaLite.
Sleeping Bags Construction: Click Here
---
Product Description: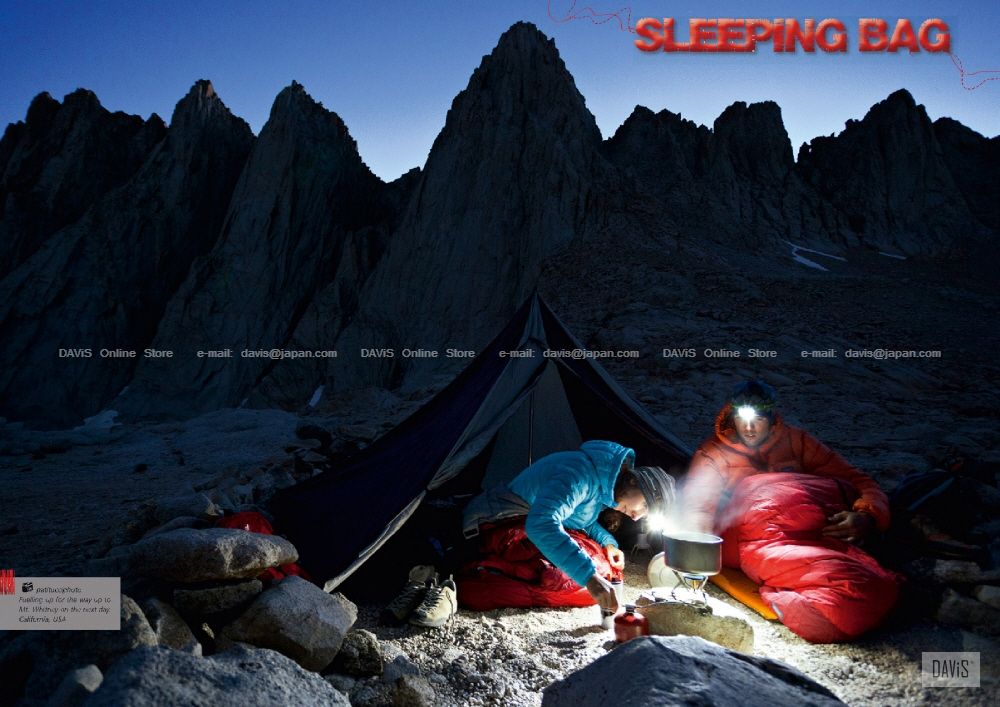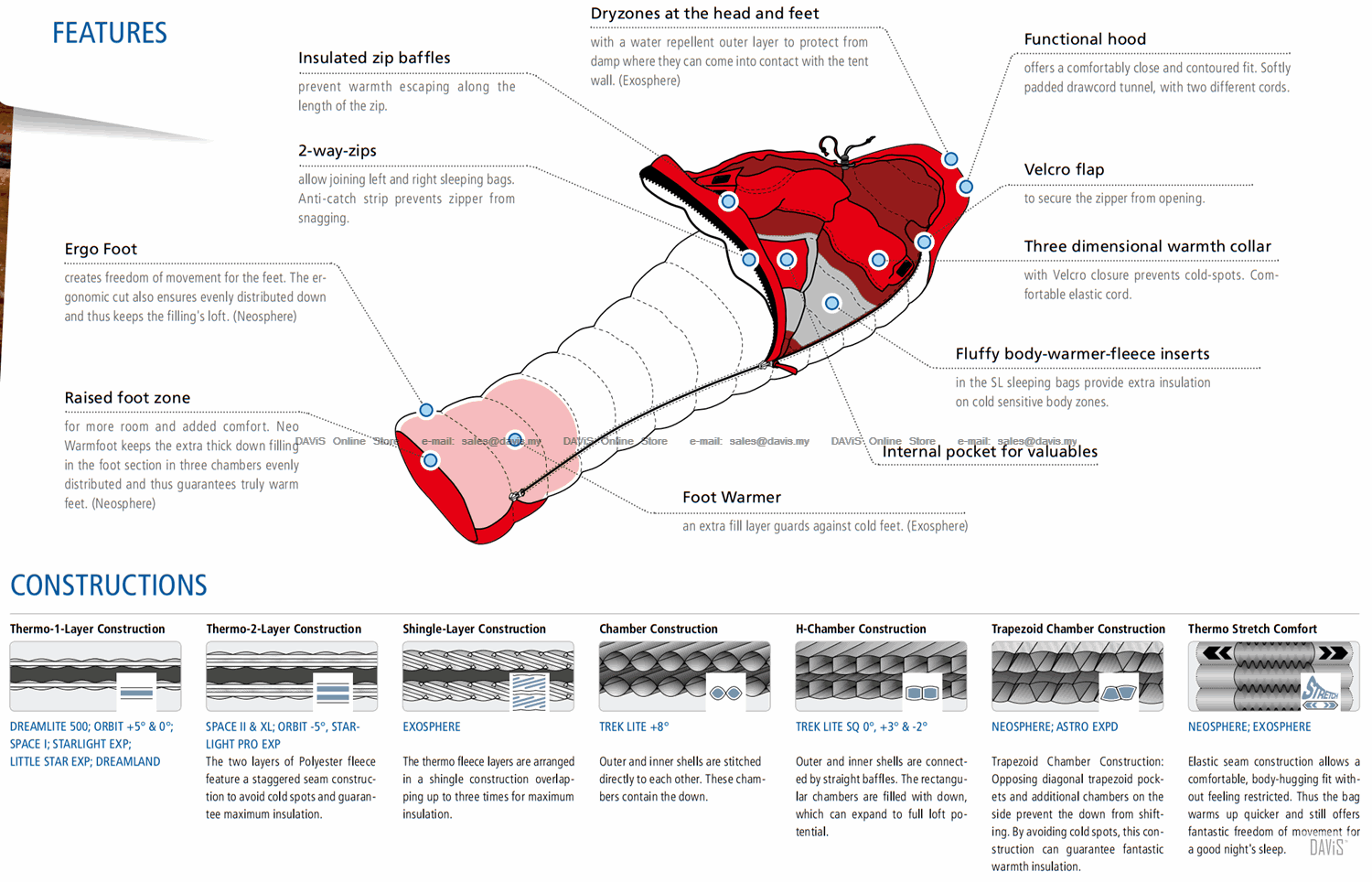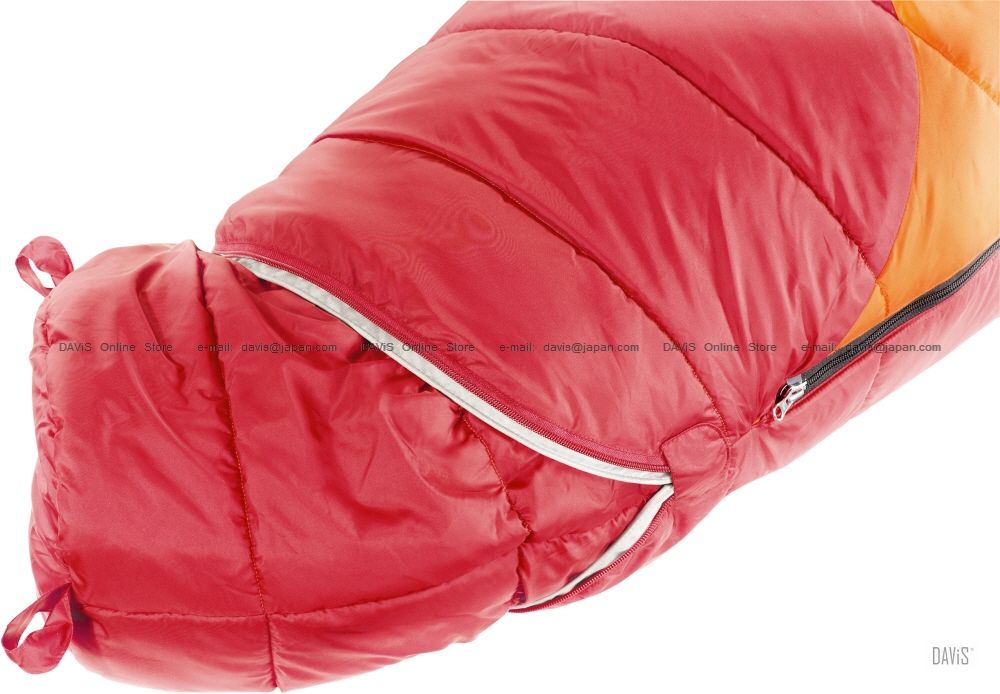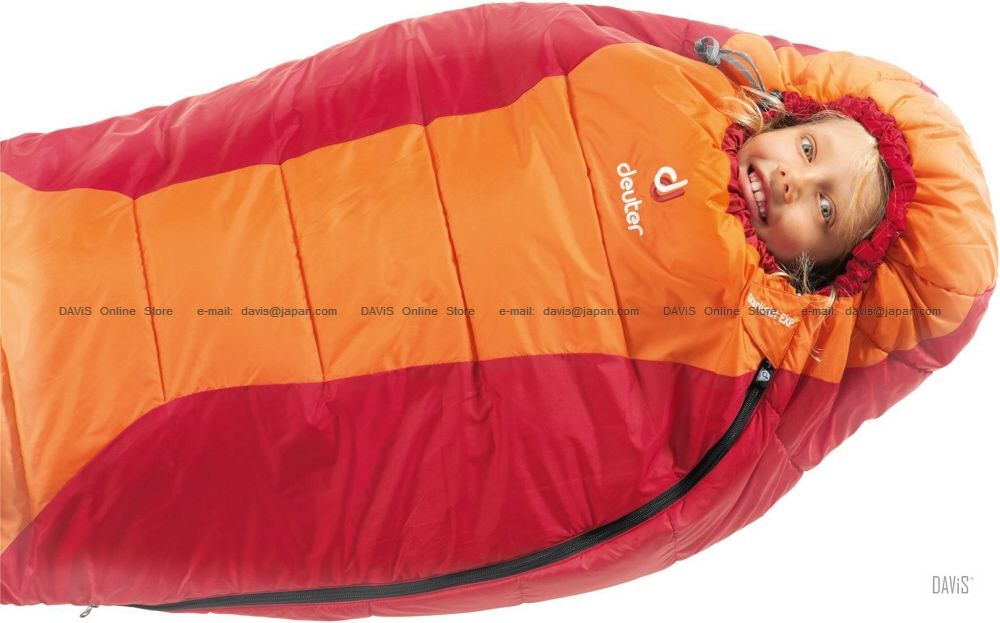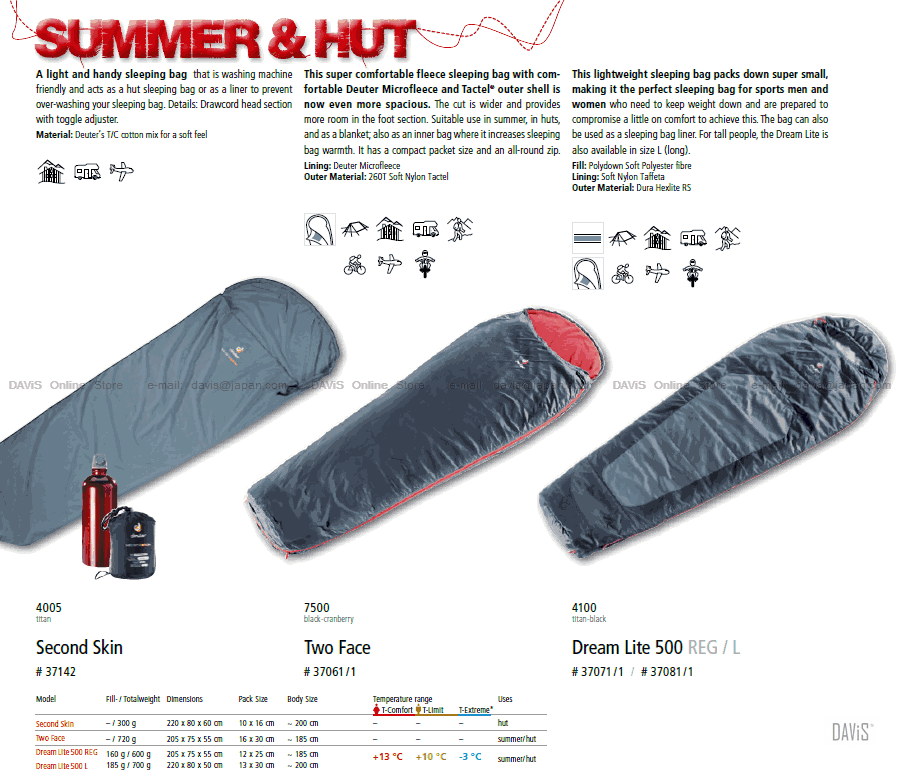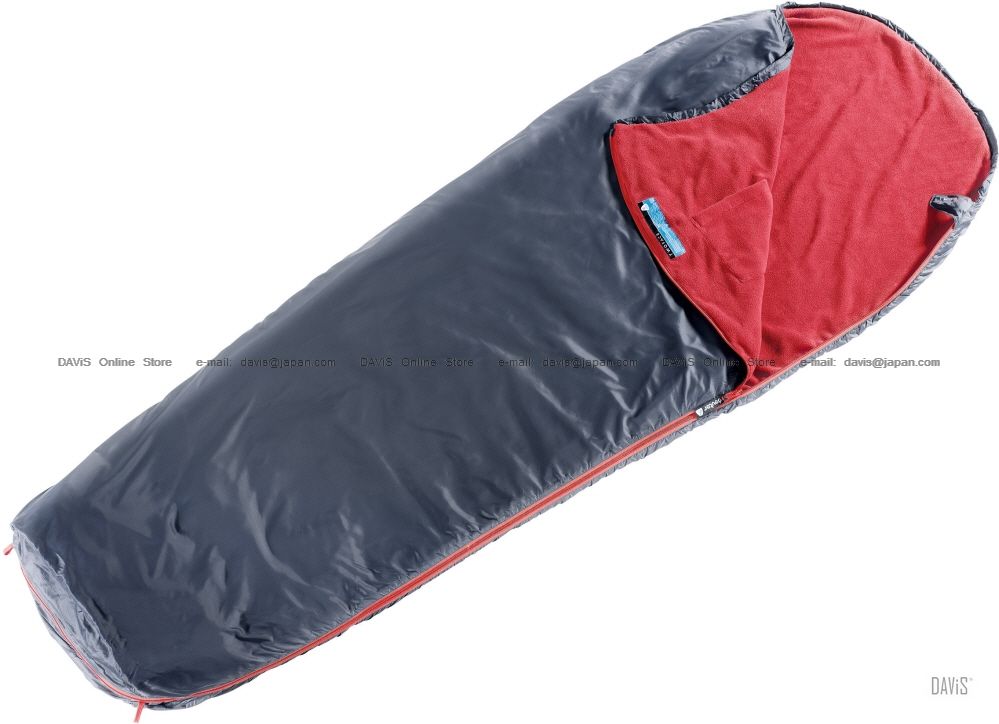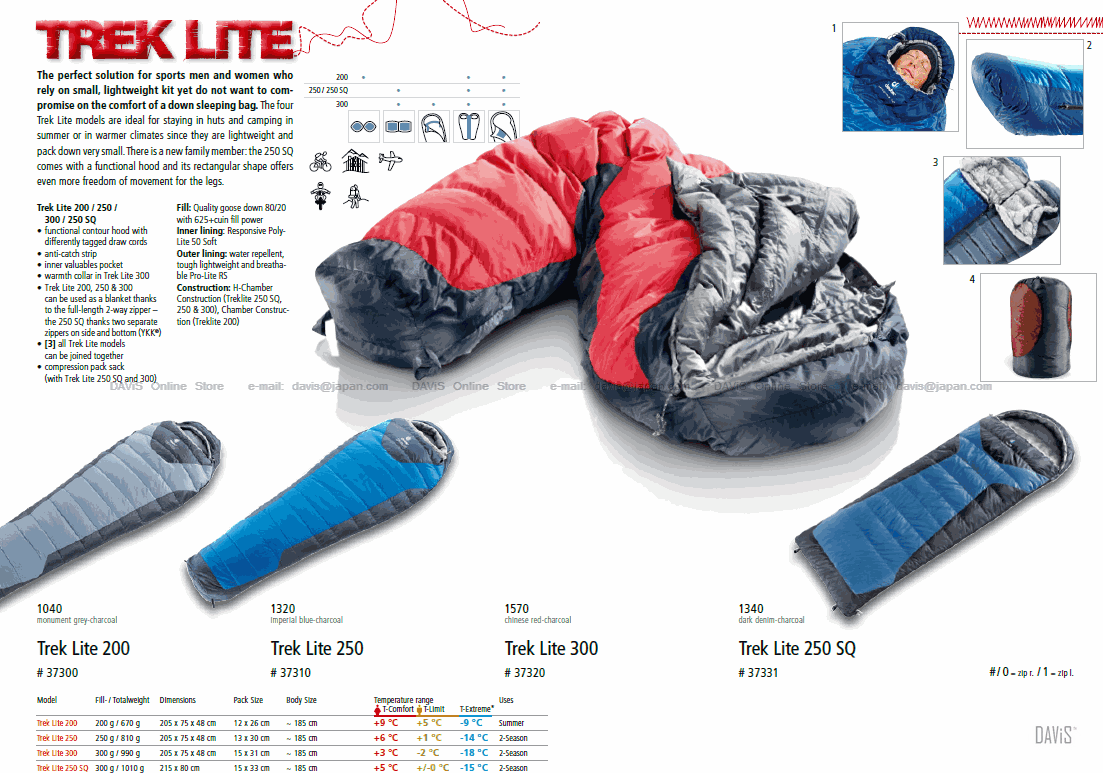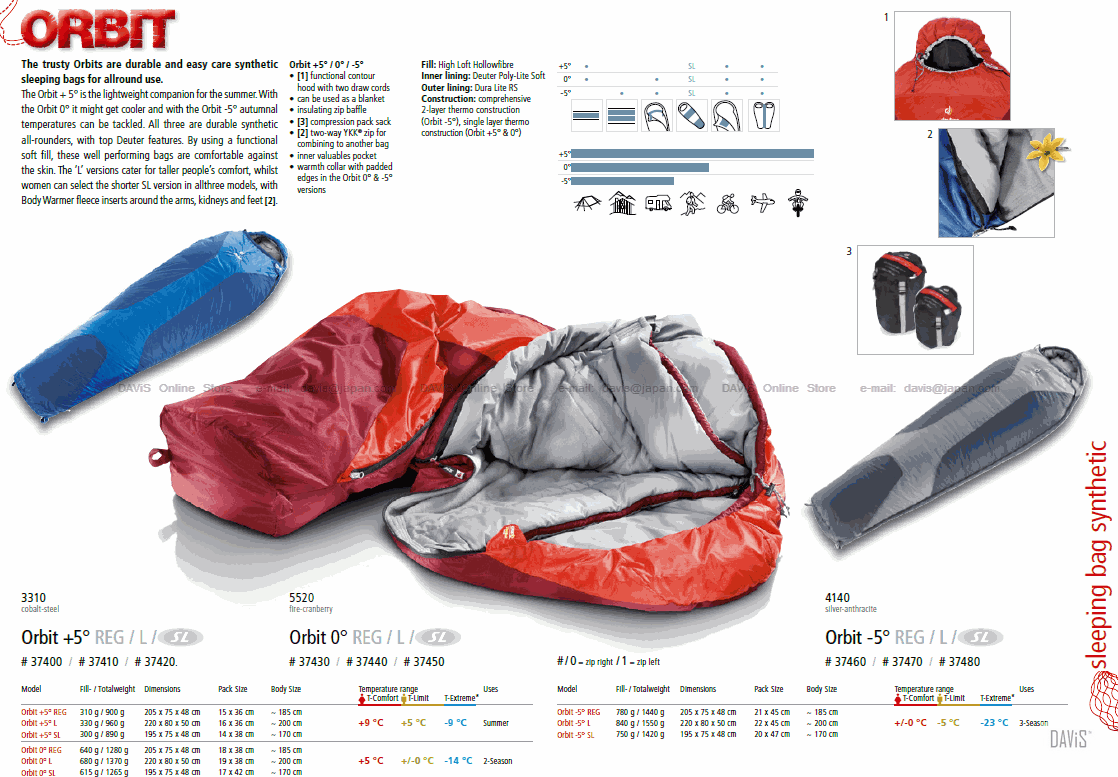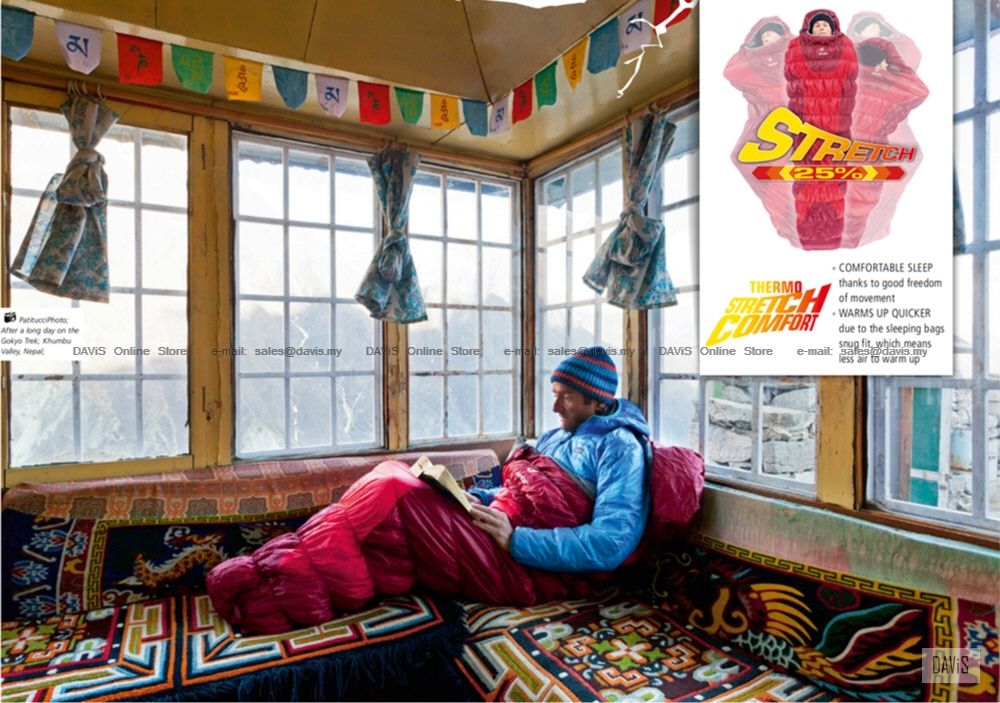 * No contents included.
* Colour and model may be different from the illustration.
* All specifications and prices are subject to change without notice.

Last Updated @ 7/26/2018 3:13:40 PM



















---
What forms of payment does Aqua-Terra accept?
Cash transactions, direct payment to banks or PayPal only.
Visa (PayPal)
MasterCard (PayPal)
AMEX (PayPal)
Please consider:
We are unable to reserve merchandise until your check or money order arrives.
There is no guarantee that the merchandise you selected will still be available by the time your order arrives.
Rebates
By not using NetPay service, our price able go lower as you seeing right now. The saving will pass back to customers.
Malaysia Shipping Rates
Our items for sale some may included free shipping in Malaysia by PosLaju. Unless stated wise in our listing with additional shipping cost involved for some oversize items, harzadous items may be ship by special arrangement of delivery truck may be limited within Peninsular Malaysia only. Some items may took longer to arrive for the addressee located in Sarawak, Sabah and Labuan.
International Shipping Rates
Most of our items for sale in our store regulated with non-cross-border selling policy enforced by manufacturers. If the items not for sale, not available or out of stock in your home country, you can purchase the product from us which consider as exception case. We can ship it out to you with additional shipping cost either by Malaysian Post Office (www.pos.com.my) registered air parcel or Malaysian Courier Delivery (www.poslaju.com.my) EMS.
*EMS service is equivalent to FedEx, UPS, DHL, TNT and etc.
We only sending out our products by delivery method only.
The AQUA-TERRA Terms Conditions
Manufacturer Terms and Conditions as posted in our sale listing is our store Terms Conditions for that specific product. :)
All products sold will not accepted back as returned goods.
The AQUA-TERRA Guarantee
We stand behind everything we sell, all items sending out from our warehouse will make sure is good condition before pack.
Plus, we listen to your feedback. All of it. Bottom line? You can count on everything we offer to be highly functional and 100% satisfaction guaranteed. Which means you can and #39;t go wrong with gear from AQUA-TERRA.

All product sold from AQUA-TERRA following the warranty period, terms conditions determined by the distributors and manufacturers.
Average Product Rating
0.0 stars out of 5
| | | |
| --- | --- | --- |
| 5 star | | 0 |
| 4 star | | 0 |
| 3 star | | 0 |
| 2 star | | 0 |
| 1 star | | 0 |
Share your thoughts with others
Write a review
Only buyers who purchased the product may leave a review