Item Specification
Product Description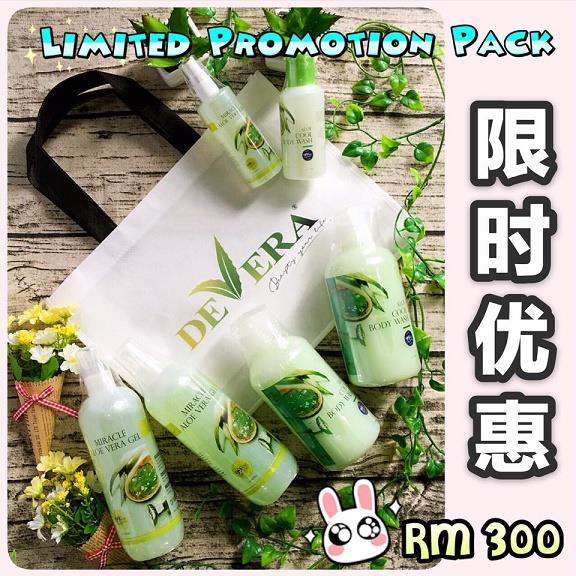 💥Fixed Market Price * Beware of fake products💥
🔰 1 Set come in 2 full size of Aloe Vera Gel + 2 full size of Body Wash
(Free 1 body wash & 1 aloe vera gel travel size)
💥Aloe Cool Body Wash Album on Facebook💥
https://www.facebook.com/BlissDeVera/media_set?set=a.1173975652695999.1073741865.100002507259253&type=34
☘————☘————☘————☘————☘————☘————☘————☘————☘————☘————☘————☘
NEW Aloe Cool Body Wash 500ml

Aloe Cool Body Wash based on organic Aloe Vera, long knows for it soothing and calming benefits. it cleanses the skin without stripping it natural oils and replenishes essential moisture as it soothes and conditions irritated dry skin, resulting in softer, smoother, healthier-looking skin all day long.

Benefits :
- Provide long lasting freshness
- Moisturise skin leaving it soft and clean
- Calming natural aroma
- Gentle and soothing with natural foaming properties.
- Perfect for daily use for all age
- This luxurious body wash is enriched with the natural extract of Aloe Vera
- Specially formulated with added moisturizer to cleanse your skin leaving it delicately scanted.
- By using Aloe Cool Body Wash, which organic Aloe Vera contains more than 130 biologically active compounds and 34 amino acids that act synergistically to create soothing support for your skin, helps produce cologne and elastin.
- Its unique fragrance of spices, Aloe Vera provides a clean, fresh burst that awareness your senses and refreshes your entire body. A rich conditioning lather leaves skin in better condition. This special formula rinse clean, without any heavy residue.

Directions :
Wet your body with lukewarm water, simply squeeze an adequate amount of body wash onto your palm or on a bath lily or sponge (recommended) and massage all over your skin before rinsing off. **Note : Using bath Lily increases the lather of your body wash and gently exfoliates skin while you cleanse.....Help to removes dead skin cells.

Ingredients :
Dl water , Sodium Lauryl Sulphate. Cocamidopropyl Betaine, Disodium EDTA
Glycerine, Cocamide MEA, Sodium Gluconate,Hydroxypropyl Methylcellulose, Lactic Acid,Triclocarban , Aloe Barbadensis Extract,Sodium PCA, Methylisothiazolinone.

Storage : 
Store in a cool place, avoid direct sunlight. Due to this body wash contain pure natural ingredient, the aroma of natural essential oils may taint after some time, this is normal.Usually product that contains a high amount of plant extract may produce slightly precipitation after keep on for a long time. Rest assured that this will not affect the quality of the product.

Formulated :Africa

☘️ Unlock The Secret Of Aloe Cool Body Wash ☘️

Why Aloe Cool Body Wash?

☘️ This luxurious body wash is a special formula which is rich in natural extracts of aloe vera, additional add in moisturizing cream, help to moisturizing the skin while cleaning.

☘️ In addition, the body wash are clinically proven do help on cooling effect. Organic Aloe Vera contains more than 130 bioactive compounds and 34 amino acids that act synergistically to create soothing feel as well as help in produce elastin.

☘️ It has a unique natural scent. Provides a clean, fresh feeling and protects your entire body.

☘️ The active Ingredients extract from Aloe Vera combined with exclusive advanced technology to enhance the concentration to carry out the best and outstanding result.

☘️ Form a protective film on the skin, lock the moisture of body after bathing so that the skin maintained its moisturizing level.

☘️ Totally suitable from top to toe for Newborn baby. Encourage to drip in few drops of body wash into water while having water SPA for newborn baby.

☘️ Effectively activate the skin vitality, enhance the skin's "breathing" and promote blood circulation. It helps to regenerate the skin cells and absorb nutrients. It can also eliminate the waste from the surface of the skin for many years back, which is very helpful for the elderly to take care their skin.

☘️ It is particularly effective for sensitive skin to cure their itchness.

☘️ Contains nutrients to moisturize the skin, to prevent skin damage caused by ultraviolet or air pollution.

☘️ For peoples who always exposure under sun, they are recommended to use this natural aloe body wash to help on cooling and soothes the skin to prevent sunburn. Its also help to restore moisture, leaving the skin immune and to avoid sweat stains.

☘️ This delicate and purifying body wash are clinically proven to cure back acne. Long term continuosly using this body wash can prevent irritation of getting back acne.

☘️ It is very helpful and able to achieve the good effect of sterilization. Strongly recommended to peoples who suffer from skin disease, sensitive skin, itchness, "Fu Gui" hand, skin dryness (soles cracked) to improve their condition .

☘️ For general issue such as mosquito bites, scars, falls, surgical wounds are also recommend to bath with Aloe Cool Body Wash and apply our Miracle aloe vera gel to get the best results.
🍃
🍃林中仙子呼吸的都是大自然芬多精 
🍃
繁忙的都市人总是缺少时间走入大自然呼吸新鲜空气
那就舍远取近的把☘️芦荟大王沐浴乳☘️带回家吧!

☘️天然萃取纯芦荟精华 • 给你最温和清新具有修復醫療的沐浴 Spa ☘️
🔛开启疗愈沐浴时光🚿

淡淡的芦荟清新香气唤醒你还处于昏昏欲睡的脑袋
全天然植物配方犹如森林芬多精般••••滋养着灵魂
以轻奢华的节凑宠爱自己 •••••••• ☘️


⚠️自己试过就能体会舒解压力和身心最简单的方式
压力如山大的生活 想来一场说走就走的旅行却身不由己⁉️