DIEM WASH- 150ML (MALE INTMATE WASH)
Product code : DIEM-004
PRODUCT DESCRIPTION
DIEM WASH- 150ML (MALE INTMATE WASH)

DIEM Wash for Men is a CONCENTRATED wash specifically formulated for MEN's most intimate skin.

DIEM Wash is soap free and is guaranteed to clean and remove unwanted dirt, oils or smell.

Use it daily to remove unwanted male genital odor. Unwanted male genital odor is caused by poor intimate hygiene and smegma leading to the "smelly penis" problem.

DIEM Wash is also suitable for those suffering from skin irritation, chaffing, mild jock itch and rashes in the groin area.
It also effective in cleaning and removing residue left by the use condoms and lubricants.
DIEM Wash For Men

Is a "UNIQUE" concentrated wash formulation that is effective in ensuring clean male genital hygiene.

DIEM Wash for Men is a combination of herbs and botanicals that is gentle to use as a daily penis wash.

These unique herbs and botanical is formulated to act as an effective all natural bacteria removing antiseptic agent, which also has superior cleansing ability.

This combination of herbs and botanicals helps to reduce the risk of infections and get rid of unwanted smells and odor.

DIEM Wash for Men It contains all natural active ingredients. Over 60 different herbs and botanicals have been traditionally blended and formulated to clean, refresh and rejuvenate your most intimate skin.

Powerful and well known aphrodisiac herbs including Tongkat Ali (Eurycoma Longifolia), Tribulus Terristeris and Smilax Myosotiflora are used to stimulate, enlarge blood vessels, and encourage blood circulation in and around the penis shaft, groin and testicles.


Removes unwanted smells and prevents unwanted Male Genital Odors


Improves intimate hygiene - smells fresh


Improves your sex life - instant sex appeal


Fast, safe and effective wash


Registered product with the Ministry of Health, Malaysia


No prescriptions required, approved for Over The Counter sales




CLEANS, PROTECTS and REJUVENATES

DIEM Wash for Men is highly recommended for use by sexually active men and men who want extra care for their intimate areas. YOU will gain the benefit of a cleaner, fresher feeling of your most intimate parts, GUARANTEED!

SAFETY is paramount!
DIEM Wash for Men is guaranteed to contain all NATURAL active ingredients. It is formulated from natural botanicals, herbs or spices and contains no drugs or harmful chemicals.

DIEM Wash for Men DOES NOT CONTAIN TRICLOSAN. Triclosan is widely used and recent studies have shown that Triclosan is harmful and MAY affect the endocrine system.

How to use Duroil Wash for Men:

Use Duroil Wash for Men as part of your daily wash routine. Alternatively, use it as part of your ritual prior to having sex.
Using DIEM Wash as a penis wash in-between sex sessions will help reduce "rest" periods for erections. DIEM wash may tingle when applied to the penis and intimate areas.
Use DIEM Wash as a penis wash and re-use as many times per day if necessary.
Directions:

Wet intimate area with clean water.
Apply between 8 to 12 drops to the penis head, groin and testicles.
Gently rub and circulate wash onto the skin and leave on for 25 to 45 seconds.
Rinse thoroughly with clean warm water. Repeat if desired.
If your have an uncut or uncircumcised penis, you will need to gently pull back your foreskin, hold back your foreskin.
1. Wet the penis head with clean water.
2. Then, apply between 8 to 12 drops of the wash directly onto the "wet" penis head, lather and allow for the wash to clean the penis head.

Remember, to allow for the wash to stay on the skin between 25 and 45 seconds. Now rinse with clean warm water. Repeat is desired.

You are recommended to massage your penis outward and stretching it the penis shaft. This will help with increasing blood circulation to the penis shaft.

NOTED:
DIEM products is guaranteed as all NATURAL. DIEM products is formulated from natural botanicals, herbs or spices and contains no drugs, synthetic fragrances. DIEM products has also been tested for safety by an Internationally Recognized Lab, in Malaysia. Only the highest quality natural oils, spices and the purest herbs and botanicals are used in producing DIEM products.
PRODUCT IMAGES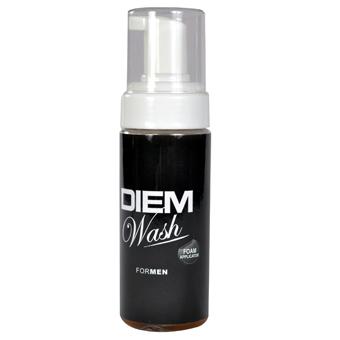 SHIPPING POLICY
All orders are shipped in nondescript packages, people will not knowing the content without open the package.
Sender is our company name, no "condom" wording in the parcel.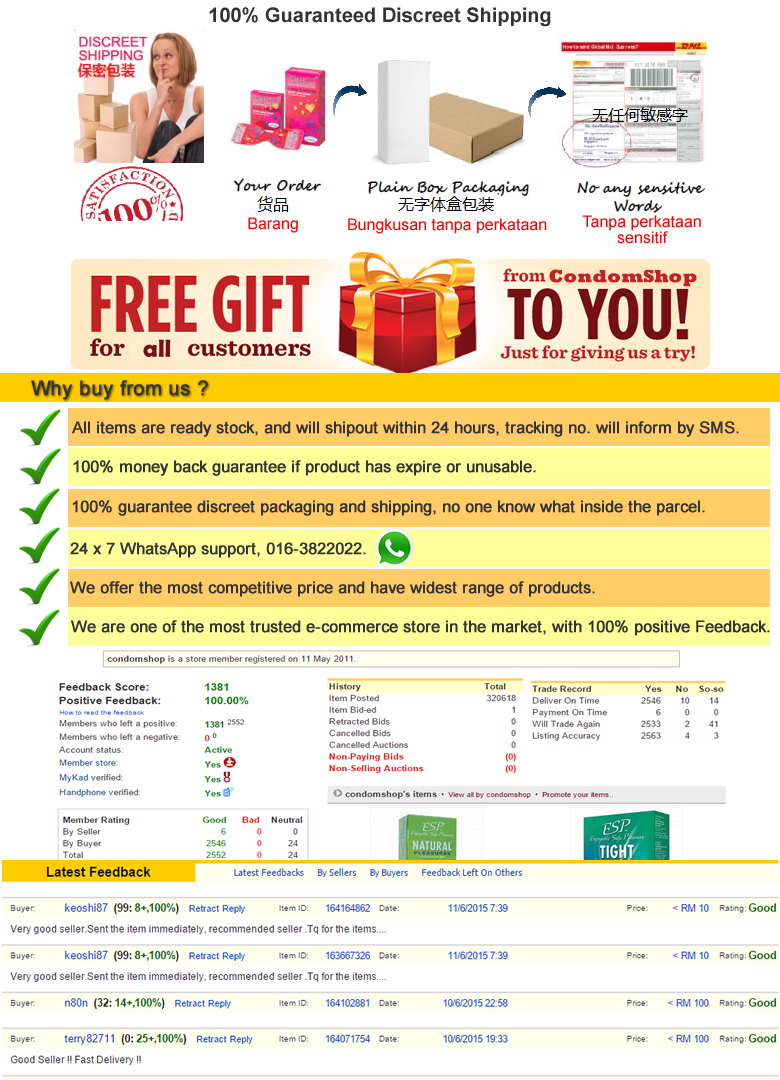 We currently charge shipping fees on "Per Order" basis. Depending on your location and shipping mode the price will vary, please refer to chart below for details.
All our orders are packed and shipped within 24 hours upon payment confirmation. We use POSLAJU for most of our orders . POSLAJU are able to ship overnight to most cities and towns in the Peninsular Malaysia, however you should allow 1-2 business days in case any unexpected delays. East Malaysia orders may often take 2 to 3 extra days, so please allow 3 to 5 business days for delivery.
We will provide the POSLAJU tracking number by email once we sent out the goods so that you can check and track the shipment status online.

| State | Shipping Method | Cost | Transit Time |
| --- | --- | --- | --- |
| Peninsular Malaysia | POSLAJU or Ta-Q-Bin Express | RM 6.00 | 2 Working Days |
| East Malaysia | POS LAJU | RM 10.00 | 3 Working Days |
| Singapore | Courier Service | RM 26.00 | 3 - 5 Working Days |
| International | FedEx | Inform by Email after order made | 5 - 7 Working Days |
Other Option : Self-Collect at Post Laju Office
You may put a remark (during check-out) say you prefer to collect your order at Post Laju office near your house. In this case, we will send the parcel to the nearest Post Laju office, tracking number will update you by email, and you can collect your order at Post Laju office by showing the officer your tracking number next day.
PAYMENT METHOD
1. Bank Deposit or Internet Banking Transfer
| Bank | Account Number | Account Holder | Email |
| --- | --- | --- | --- |
| | Will be provide after checkout | Greentail Marketing Sdn Bhd | lelong@condom003.com |
| | Will be provide after checkout | Greentail Marketing Sdn Bhd | lelong@condom003.com |
| | Will be provide after checkout | L** H*** C***ng | lelong@condom003.com |
2. Paypal


TERMS OF SALES
All the sales are final with this listing.
All photographs were taken at close proximity (variation in colors may occur due to different display settings.) Original color might be slightly different from the picture due to the computer monitor settings.
are exactly 100% same as our product, we will do our best to describe every item if they are different from our pictures.
Refunds or exchanges will be given at the discretion of the company management. All of our products are sold in the same packing that it was obtained directly from our manufacturers or distributors. For hygiene reasons, all items will not be exchanged or returned except for items that was shipped incorrectly or damaged during the delivery process. However, the items must not be opened or used.