Item Specification
Product Description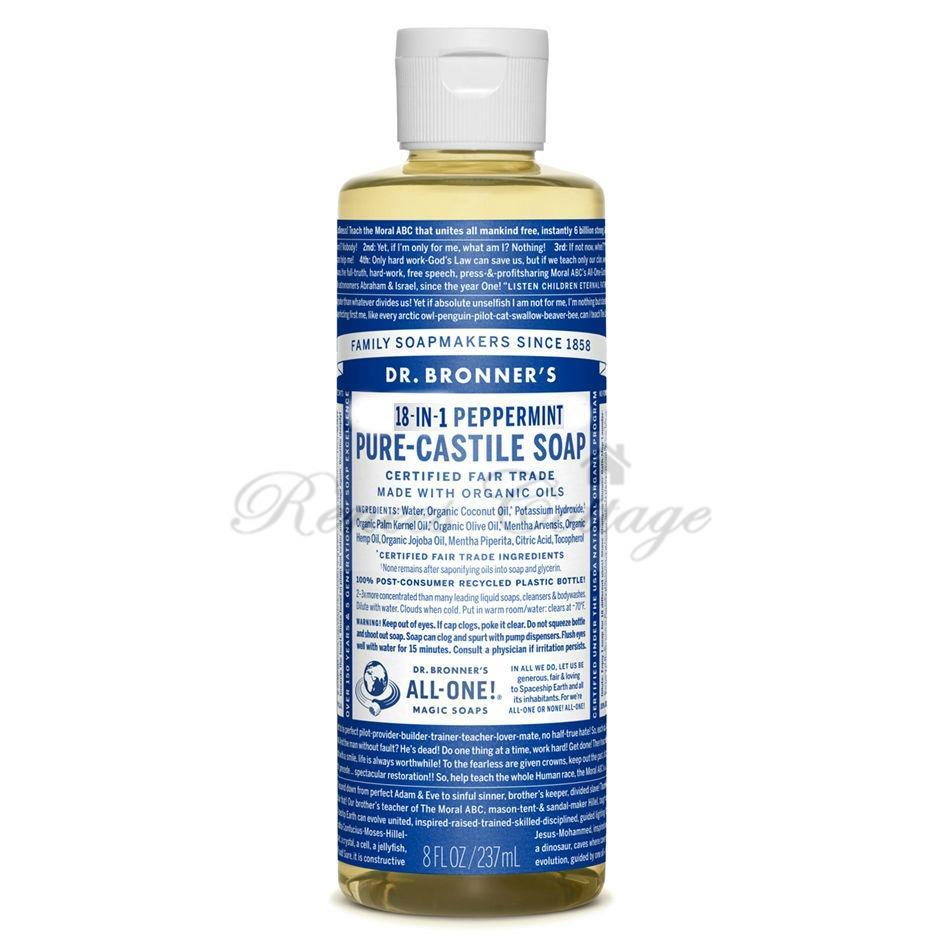 Product Description
Certified Fair Trade

Made with Organic Oils

No Detergents

No Foaming Agents

Over 150 Years & 5 Generations of Soap Excellence

Certified Under the USDA National Organic Program

100% Biodegradable
One of humanity's oldest and simplest products, soap is made by saponifying oils with alkali, with no waste generated. The alkali is either sodium (for bars) or potassium (for liquids) hydroxide, made by running electricity through salt water. No alkali remains in our superb soaps. All glycerin is retained. Our unique old world formula = high lather cleansing and smooth, mild afterfeel.
Enjoy only 2 cosmetics, enough sleep & Dr. Bronner's 'Magic Soap' to clean body-mind-soul-spirit instantly uniting One! All One! Absolute cleanliness is Godliness! For facial packs, scalp & soothing body rub, add dash on bath towel in sink of hot water. Wring out. Lay over face & scalp. Massage with fingertips. Repeat 3 or 4 times 'til arms, legs & all are rubbed, always towards the heart. Rinse towel in plain hot water and massage again. Breathe deeply! Health is Wealth. Within 9 minutes you feel fresh and clean, saving 90% of your hot water & soap, ready to help teach the whole Human race the Moral ABC of All One God Faith! For we're All One Or None! All One! All One! All One!
Suggested Use
To simplify & enjoy life more, dilute 1/2 oz or 2 squirts of this pure castile soap with 2 gallons or sinkful of hot water, then towel massage, do a facial pack, then wring towel out & fingertip massage your hair & scalp. Enjoy the creamy emollient lather on baby, bath, beach, body, dentures deodorant, shaving & aftershave. Use on silk, wool, pets, diapers, car, hands & feet.
Dilute: Enjoy 1 soap for 18 different uses! Guaranteed no synthetic oils & 100% vegetarian. Super mild castile, has outstanding water softening & cleansing powers. Preferable to harsh soap & defattening synthetics. It does not cut dirt, but dissolves it. It is the mildest, most pleasant soap you ever used or your money back! Enjoy body rub to stimulate body mind-soul-spirit and teach the essence moral ABC uniting all free in the shepherd astronomer Israel's Greatest All One God Faith!
Ingredients
Water, Saponified Organic Coconut* and Organic Olive* Oils (w/ Retained Glycerin), Organic Jojoba Oil, Organic Peppermint Oil, Mentha Arvensis Extract, Citric Acid, Vitamin E.





*Certified Fair Trade Ingredients
Warnings
Keep out of eyes. If cap clogs, poke it clear only: Do not Squeeze Bottle and Shoot Out Soap. Soap can clog and spurt with pump dispensers. Flush eyes well with water for 15 minutes. Consult a Physician if irritation persists.
Not animal tested.
Dilution Method:
http://www.lisabronner.com/dilutions-cheat-sheet-for-dr-bronners-castile-soap/
18 Uses for Dr. Bronner's Magic Soaps
1. SHAVING
Dilute one part liquid castile soap to two parts of water and massage into skin as a shaving lubricant.
2. SHAMPOO
Wet hair thoroughly and massage a small amount of liquid castile soap into your hands until a lather forms. Wash hair and rinse well.
3. DENTAL CLEANING
Put a single drop on your toothbrush (almond, peppermint, and citrus are nice flavours to use) and brush and rinse as per usual. This is great for sensitive teeth and gums, and will also clean dentures effectively.
4. BODY WASH
Wet skin and massage a small amount onto a cloth, loofah or sponge then wash and exfoliate at the same time. You can also just apply directly to the skin – you only need a tiny amount!
5. HOT TOWEL MASSAGE
For facial packs, scalp and soothing body rub, add a dash of liquid castile soap on a bath towel in sink of hot water. Wring the towel out and place it over the face & scalp. Massage with your fingertips. Repeat on each area of the body until the arms, legs & entire body have been massaged (using light strokes towards the heart.) Rinse the towel in plain hot water and massage again. Breathe deeply! Choose whichever scent makes your heart sing.
6. BATHING
Add a squirt to a bath tub of water at the beginning for bubbles, or after the bath has been drawn for a relaxing soak without bubbles. Rose is a divine fragrance for this use.
7. DEODORANT
Add 1-2ml (0.05 fl oz) to a spray bottle of water (125ml/4.2 fl oz) along with a teaspoon of Himalayan crystal salt for best results. Rose, Citrus, Lavender or Tea Tree are effective – or just choose whichever scent appeals from the range of eight!
8. BREATH FRESHENER
One or two drops in a spray bottle containing 50-125ml (1.7-4.2 fl oz) of distilled water helps to keep the breath fresh and prevent unhealthy bacteria from thriving in the gums and between the teeth. Peppermint, tea-tree, eucalyptus or citrus are great choices.
9. MOUTH WASH
Add 1 drop to a shot glass of water, swish and rinse. Peppermint, tea-tree, eucalyptus or citrus are great choices.
10. BABY WASH
Add a drop or two to a wet washcloth, or a couple of drops to the bathwater. Baby Mild is ideal as it is completely natural and fragrance-free.
11. AFTER-SHAVE
One or two drops in a spray bottle containing 50-125ml (1.7-4.2 fl oz) of distilled water helps to invigorate the skin and prevent shaving rash. Peppermint, Eucalyptus, or Tea Tree work well, or Baby Mild for sensitive skins.
12. HAND SOAP
Dilute anywhere from 1 part castile soap to 4 parts water through to 1:1. You can also use the full strength soap with a foaming dispenser. Any scent is ideal for this application.
13. FOOT SOAK
Add a tablespoon (15ml/0.5 fl oz) to a foot bath and relax! Peppermint is a great choice for hard or cracked heels, or use Tea Tree if fungal infections are a concern.
14. LAUNDRY WASH
For the laundry, use 1/4 cup (62.5ml) for top-loading machines (1/8 cup for front loaders – 31.3ml); adjust as needed depending on hardness of water. Adding a dash of baking soda may also help. Great for nappy washing, as it is all natural and won't contribute to nappy-rash. Also delicate enough to use for hand wash items, such as silks and wool. Any scent works well, or unscented if you prefer.
15. PET WASH
Wet the coat of your pet thoroughly first then apply the liquid castile soap by massaging a small amount in your hands first until a lather is formed, then washing the hair/fur and rinsing clean afterwards. Can also be added to the wash water for ease of use (one squirt is plenty). Choose a stronger scent to help deter fleas and ticks, or Baby Mild if your pet has very sensitive skin.
16. FRUIT & VEGETABLE RINSE
Fill the sink with water and add a squirt of liquid castile soap to remove most chemical residues from fruit and vegetables. Baby Mild (unscented) is the best choice.
17. PEST SPRAY
Use 1-2 tablespoons/about 23ml per litre (0.7 fl oz per quart) of water in a spray bottle for garden pests (4-6 tablespoons per gallon). Citrus, Lavender, or Baby Mild work well.
18. HOUSEHOLD CLEANER
Dilute from one part soap into 40 parts water for light cleaning, to 1:1 or full strength for heavy-duty grease-dissolving jobs. Lavender, Citrus, Peppermint, Eucalyptus, Tea Tree work well – although Almond, Rose and Baby Mild are also great choices if you prefer those scents in your house (almond is a favourite around here – it smells just like marzipan!).
Handling and Delivery
All orders will be dispacted out within 1 working day, except Saturday, Sunday and Public Holiday.
We engage Poslaju as our delivery partner. Takes 1-2 days to deliver to Peninsular Malaysia, 2-3 days to Sabah and Sarawak.
Buy with confidence
| | | | |
| --- | --- | --- | --- |
| Buyer | Item ID | Date | Ratings |
| ck**** | 183939097 | 7/6/2018 5:47:00 AM | - |
| ck**** | 193711253 | 7/6/2018 5:47:00 AM | - |
| ck**** | 183940404 | 7/6/2018 5:47:00 AM | - |
| so**** | 205030935 | 6/21/2018 8:18:00 PM | Excellent and fast shipping seller recommended to all. Thank you ! |
| th**** | 204646307 | 6/9/2018 6:55:00 AM | Fast delivery. Two thumbs up for seller :) |
| mf**** | 202599025 | 4/25/2018 9:35:00 AM | Excellent seller |
| mf**** | 202600185 | 4/25/2018 9:35:00 AM | Excellent seller |
| ls**** | 202421985 | 4/24/2018 11:14:00 AM | - |



---
Courier and Tracking Number
Your parcel will be delivered using Poslaju courier service and tracking number will also be given to you once we shipped out your parcel.
Next-Day Delivery
For next-day delivery, please make your payment before 2:00pm, in order for us to arrange packing and delivery before 3:00pm cut off time for Poslaju. Later than that, we will post your parcel the next day.
Combined Shipment
Now you can combine shipment to purchase more items from our store with cheaper delivery cost.
Delivery
We will not send out parcel on Saturday, Sunday and Public holidays. All parcel will be posted in the next working days. Please be patience and contact us via email if you need any help. We will response to your message as soon as possible.
Terms and Conditions
By purchasing our items, you are agreeing to the following:
Items sold are non-refundable/ returnable.

All items are brand-new, unused, unopened, undamaged and not expired.

In the event that there is an out of stock situation, we will advise on the availability of the product.

Items will be sent to the address registered in Lelong. Please make sure your shipping details are correct.

Items will be shipped within the periods stated in all the listing, mostly will ship out within 1 working day after the payment is cleared.

Items will be shipped via Poslaju and it requires 1-2 days for delivery to Peninsular Malaysia areas and 2-3 days for Sabah and Sarawak areas.

Please email to reneescottage.my@gmail.com if you have any inquiry.
Questions & Answers
Do you have any questions to ask merchant about this product
Ask Seller
| | | |
| --- | --- | --- |
| 5 star | | 0 |
| 4 star | | 0 |
| 3 star | | 0 |
| 2 star | | 0 |
| 1 star | | 0 |
Share your thoughts with others
Write a review
Only buyers who purchased the product may leave a review