Item Specification
Product Description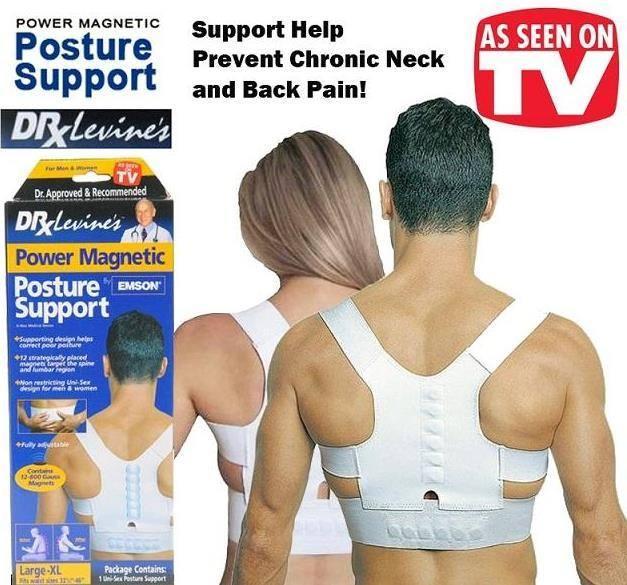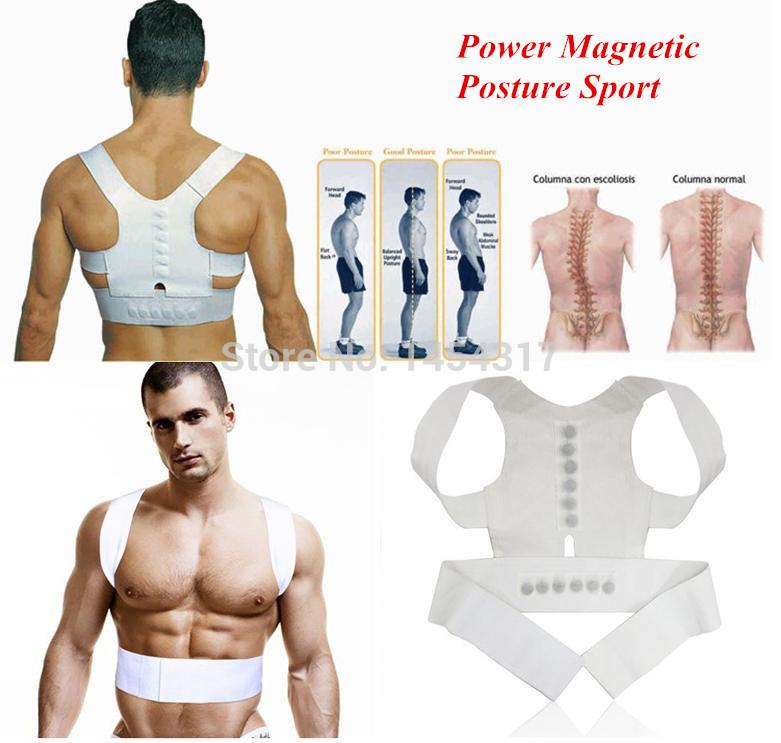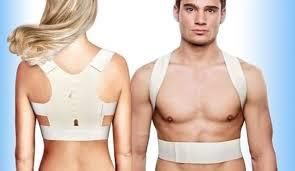 ,
Brand new and high quality
Help you ease back and shoulder pain through 5 magnets aligned down the center spine and 6 across the lumbar region.
Support straps around the front shoulders to pull them gently back for correct posture. Make you stand taller and straighter.
Comfortable and light to wear underneath clothes, with no discomfort or visibility.
Hand washable and available to fit either Gents or Ladies.
Fits 90-110cm chest and waist (strap is adjustable)
Size:S,M,L,XL,XXL
long
S 73-74cm/28.74"-29.13"
M 77-78cm/30.31"-30.70"
L 83-84cm/32.67"-33.07"
XL 87-88cm/34.25"-34.64"
XXL 93-94cm/36.61"-37.01"
Color: White
How it works: 
The Magnetic posture sport helps ease pain and correct por posture. As it gently pulls back the shoulders the neck and head are straightened while aligning the spine. THe magnetic posture sport is easy to wer and gives no discomfort. It's lightweight design enables the wearet to use the sport hidden under clothing. Within the sport are 12 stragically placed magnets that target the spine and lumbar region.
Magnetic Therapy has been used for centuries to help relieve stress, increase circulation, relax muscles and reduce pain. 
Improve Your Posture With Orthopedist - Designed. Power Magnetic Posture Support Help Prevent Chronic Neck and Back Pain! 
Unisex Magnetic Posture Support
1 Dr Levine Power Magnetic Posture Supporter
Contains 12 Gauss magnets
Material: Polyurethane-rubber blend
12 strategically placed magnets target the spine and lumbar region
Non-restricting design for men and women
Supporting design helps correct poor posture
Pulls back the shoulders, straightens neck and aligns the spine
Magnets help soothe pain in the spine and lumbar area
Invisible under clothing
Helps ease pain and corrects poor posture! Special design pulls back shoulders, straightens neck and head, and aligns spine without discomfort. 
12 magnets inside the adjustable brace may help soothe spine and lumbar area. 
Poly/rubber blend.
Similarly, if you're constantly sitting in an unnatural or unhealthy position, you're likely to be putting excess strain on certain muscles or tendons.
Good posture can help to keep this sort of problem from developing.
Bad posture can negatively affect blood flow and air circulation, which can lead to a host of other problems. Correct posture ensures that your
circulation remains healthy, which provides you with more energy throughout the workday, and keeps you healthier in the long term.
My personal experience:  I have upper back and neck pain and I went to go see a local physical therapist.  The physical therapist said that my
neck and back pain were related to my poor posture from sitting at a computer all day.  He recommended exercise and put duck tape across my back to keep my posture  straight and to relearn my back to keep a good posture.  The physical therapist was getting expensive so I purchased this brace and it really helps.  The magnetics improves the circulation in your back.  I can feel them when I lean up against a chair or wall.  
BENEFITS OF CORRECTING POSTURE: 
1. Reduces the risk of back pain.
The most obvious benefit of having a good posture is the reduced risk of having back and neck pain. Keeping the body in the correct postural
alignment prevents the ligaments and muscles from being overworked and strained. There are less chances of the discs being compressed, thus
reducing the risk of back and neck pain.
2. Prevents the occurrence of arthritis.
Good posture reduces the risk of wearing of bones, thus reducing the risk of painful diseases like arthritis.
3. Reduces body fatigue.
When a person tries to remain in good posture, the muscles of the body are used more efficiently. Thus, more work can be done employing
less amount of body energy and preventing fatigue.
4. Beneficial to the brain
Good posture is quite beneficial for the brain because people with good posture have greater concentration and better mental ability compared
to those with poor postures.
5. Enhances confidence.
People having good posture feel and appear quite confident as compared to those who don't care for their posture. Such people project
greater authority on others both at formal and informal places.
6. Improves appearance.
Good posture helps people to improve their appearance and make them look taller and slimmer.
Correct posture is beneficial in some very significant ways. Perhaps the most serious consequence of bad posture is the development of neck or back problems, which can have a major impact on not just your work, but also the way you live your life. Correct posture substantially reduces the risk of neck or back problems.
Correct posture also reduces strain on your joints. Putting unnecessary wear and tear on your joints can lead to the development of conditions like arthritis, so correct posture is important in this regard as well.
BENEFITS of the Magnets 
Reduces Inflammation and Pain
Magnets are believed to help ease pain and act as an anti-inflammatory. This is because although it is unknown why, magnetic fields stimulate blood
flow and circulation. So, if you wear a magnetic piece of jewelry or braces near a pain point on the body, the increased blood flow will reduce swelling
and ease pain. It also helps flush water retention and toxins from that area.
Increases Energy and Stamina
Magnetic fields help increase circulation and blood flow which in turn means that an increase in oxygen flow to the rest of the body is likely.
When the heart, other vital organs and muscle are getting an adequate amount of blood flow it helps increase energy and stamina. This means you
feel better and can increase the intensity of your physical activity with less stress being placed on the body.
Promotes Wound Healing
Magnetic fields help increase blood circulation and flow, which in turn can help speed up the healing process when you are injured.
For instance, if your ankle is injured, the extra blood and oxygen drawn to the area will help reduce inflammation and increase tissue repair.
Questions & Answers
Do you have any questions to ask merchant about this product
Ask Seller
| | | |
| --- | --- | --- |
| 5 star | | 0 |
| 4 star | | 0 |
| 3 star | | 0 |
| 2 star | | 0 |
| 1 star | | 0 |
Share your thoughts with others
Write a review
Only buyers who purchased the product may leave a review