Item Specification
Product Description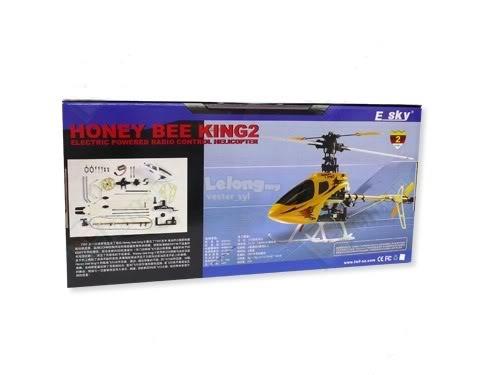 Honey Bee King II (Yellow) 6ch 3D Kit ONLY (with Motor)
Honey Bee King II congregates the latest scientific research of TWF on R/C EP models which makes their dreams come true once more.
King II adpots CCPM system and tail rotor belt drive system with standard ESKY electronic components and professional gyro and a brand-new 3D airframe design (specially design landing skit for aerobatic fly, the latest electronics and battery holder), which makes King II a perfect exhibition. 370 Super motor make an incisively vividly performance on this helicopter which is nothing less good than the funcion of brushless motor.
With an exquisite, smart airway flying action and unimaginable stability. Honey Bee King II will be the best choice for beginner and the arena for superior. It's collocation achieves perfect combination with a rapid and veracious 3D flying. We believe that it will bring you 2 happy, exciting, adventurous 3D flying with pleasant surprise.
Products Description:
- Adopted CCPM (Collective cyclic pitch mixing) system, make rolling, dive, inverted flying and 3D aerobatic acts are - displayed perfectly, which will bring you endless pleasant surprise.
- Integrated main body structure,light & novel design, and auto-Rotation System with high-precision one-way shaft bearing - can protect safe landing effectively
- Tail rotor with Belt driven construction, which can ensure easy adjustment,stable flight and low noise.
- Adopt 370 super motor with high performance,the power is driving.
Specification:
- LengthF535mm
- HeightF225mm
- Main blade diameter: 600mm
- Tail blade diameter: 130mm
- Motor gear: 9T
- Main drive gear: 140T
- Drive gear rateF9:140T
- Super motorF370 (EK1-0000A)
- WeightF470g (with 1000mAh,11.1V)
Package Includes:
- Honey Bee King 2 Helicopter Body (yellow color) x 1
- 370 Super Brush Motor (EK1-0006) x 1
- Wooden Blades Pair (EK4-0004) x 1
- Gift Box
NOT INCLUDED:
- Power and Radio Equipment
- EK1-0180 Lithium Battery:1000mAh,11.1V
- EK2-0704 Gyro: Professional gyro
- EK2-0500 Servo: 8g x4pcs
- EK2-0406A Transmitter: 6 channel or more(helicopter system)
- EK2-0420A 6 Channel Receiver
- EK2-0600A Electronic Speed Control (ESC)
- EK2-0851 Charger
- EK2-0001 Transmitter and Receiver Crystal
parcel post RM15 whole malaysia. poslaju: west malaysia RM54, sarawak RM54, sabah RM28. parcel post 4 to 7 working days delivery (sometimes a bit later). poslaju 1 to 3 working days delivery. both are safe, with tracking number provided and need receiver's signature.
any question, feel free to contact me vester_syl(at)hotmail(dot)com or use the 'contact seller' button to contact me. no sms please.item will be fully tested before posting out.
have a look at my other sales here: http://members.lelong.com.my/Auc/List/List.asp?DataAction=Apply&UserID=vester_syl buyers for more than 1 item can combine for shipping to safe cost.
payment can be made to my maybank or CIMB account through any online transfer, atm transfer, atm cash deposit, bank counter cash deposit, cash deposit machine, etc. i'll send my bank details to your email within 24 hours after auction closed. please check your email inbox and junk/spam mail folder as well (sometimes the email will land in your junk/spam mail folder). after you've paid, please email me the exact amount paid, your shipping choice (pos daftar or poslaju), your mailing name, full address with post-code, and a valid telephone number as soon. item will be posted out within 2 working days after the fund is transfered. communicate through email only please. kindly settle the deal within 3 days after auction closed. thanks in advance.
please understand that we are web based trader and we don't meet up with buyers, so please don't insist on C.O.D. (self collect). thank you.