Item Specification
Model / SKU
: 3831109891100
Product Description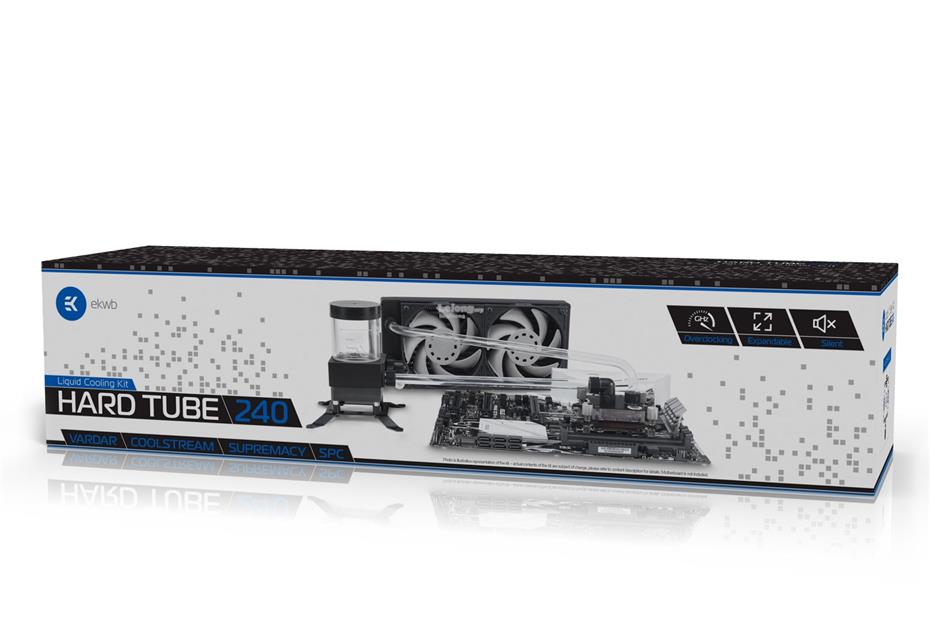 The EK-KIT HT240 is a complete hard tubing liquid cooling kit dedicated to users who seek top performing market proven components with versatile case compatibility in focus. Designed for cases with limited radiator space in mind, the HT kit is a great choice for liquid cooling enthusiasts who are looking for a complete high-performance hard tubing cooling solution.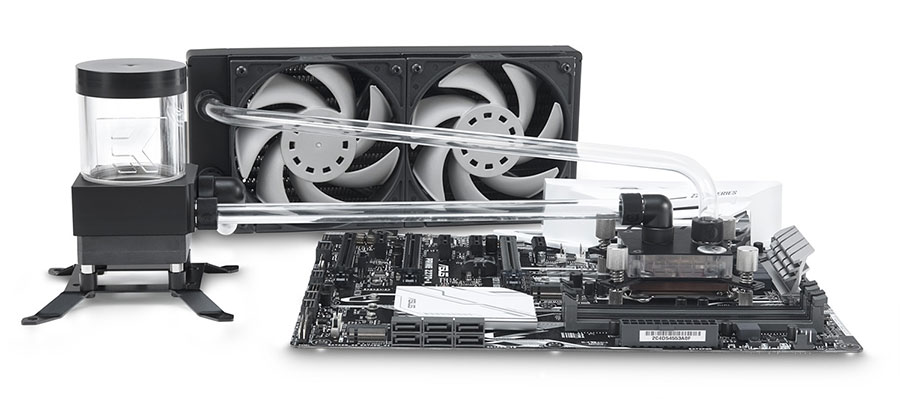 This kit brings everything you need to assemble your custom liquid cooling loop. You don't have to worry about compatibility issues or matching the fitting and tubing size. If you are looking for a quick access to the world of premium liquid cooling, this is your entry ticket.
EK-Supremacy MX - universal CPU water block that fits all modern CPU sockets with a universal mounting mechanism that offers error-preventing, tool-less installation. The result is an easy installation which brings perfect performance every time. Built upon the same cooling engine as EK-Supremacy EVO it offers the same great hydraulic performance and almost identical thermal performance.
EK-CoolStream SE 240 - the radiator which is also a part of the name of this kit. It offers the best cooling capacity in the sub 30mm thick radiator class. Its copper fins provide a massive surface area while the parallel flow cooling chambers reduce hydraulic flow resistance to a minimum. Built for EK-Vardar 120mm high static pressure fans, these radiators are optimized for maximum heat dissipation across entire fan operational range thus delivering exceptional performance at both low- and high airflow operation.
EK-Vardar F3-120 (1850rpm) - high-static pressure computer cooling fan, designed and built primarily for highest-performance computer liquid cooling systems. EK-Vardar fans are simply the best choice for computer radiator cooling as it provides unmatched performance throughout the entire operating range.
EK-XRES 100 SPC-60 MX PWM (incl. pump) - is a value-oriented water cooling pump reservoir combo. It has been designed to lower the production costs yet still offer premium hydraulic performance at the best price. PWM control allows for automatic pump speed regulation depending on your CPU temperature. Full performance on demand or whisper quiet operation in idle mode!
EK-HDC Fitting 12mm G1/4 - Black - is a hard tube compression fitting which also responsible for the name of this kit. Designed for use with solid tubing, the EK-HDC Fitting prevents the hard tube to be pulled out of the fitting by compressing the rubber gasket underneath the ring. The barb is made of nickel plated CNC machined brass while the locking ring is made of black-chrome plated CNC machined brass. Best practice is to gently secure these fittings using the enclosed Allen Key 9mm.
EK-AF Angled 90° G1/4 Black - EK-AF (Adapter Fitting) is a revolvable angled adaptor (90°) with G1/4" threads. The adapter allows the connection of liquid cooling components and fittings with G1/4" threads to simplify the tubing routing possibilities in your cooling loop.
EK-HD Tube 10/12mm - a total of 2 meters of acrylic hard tubing with timeless clarity. EK-HD Tube is solid type extruded acrylic tubing intended for use with the included EK-HDC series compression fittings. The tubing has to be heat treated to achieve desired bends and shapes.
EK-CryoFuel Clear Concentrate - EK-CryoFuel Clear is a pure, non-toxic coolant based on the patent-pending chemical formula, which prevents the creation of any sediments in the liquid cooling loop. The 100mL concentrate is to be mixed with distilled water in ratio 1:9 to form 1L of ready-to-use coolant. To make mixing the concentrate with distilled easier, EK recommends the use of filling bottle (not included) that is also designed to make a loop filling process much easier.
The kit is easy to install, use and maintain, a thorough installation manual is included. Every item in this kit can be purchased separately, further descriptions and specifications of individual items can be found in EK Webshop.
For a successful installation of the kit, EK recommends the purchase of the EK-HD Tube D.I.Y. Kit 10&12mm and EK-HD Tube Reamertools. If you are building your first hard tube based loop, EK recommends that you purchase additional EK-HD Tube 10/12mm tubingsince hard tube bending can be a trial and error based task. For easier tube routing and more sleek aesthetics, EK EK recommends that you purchase additional angled adapter fittings.
The majority of components has been pre-assembled resulting in a quick and easy installation procedure. Once installed, this kit is a full custom loop solution. It can be upgraded with additional water blocks and components, such as additional radiators.

EK-KIT HT240 water cooling kit includes:
- Universal CPU water block: EK-Supremacy MX UNI (incl. thermal material)
- Radiator: EK-CoolStream SE 240 (Slim Single)
- Radiator size: 280 x 120 x 28mm (L x W x H)
- Radiator fan: EK-Vardar F3-120 (1850rpm) (2pcs)
- Water pump-reservoir combo: EK-XRES 100 SPC-60 MX PWM (incl. pump)
- Tubing: EK-HD Tube 10/12mm 500mm (4 pcs)
- Compression fittings: EK-HDC Fitting 12mm G1/4 - Black (6 pcs)
- Coolant concentrate: EK-CryoFuel Clear Concentrate (100mL; for 1L of coolant)
- EK-Cable Y-Splitter 2-Fan PWM (10cm)
- EK-UNI Pump Bracket (120mm FAN)
- EK-Cable Pump testing adapter
- ATX bridging plug
- User manual
- Allen Key 9
This water cooling kit is compatible with the following CPU sockets:
- Intel LGA-1150/1151/1155/1156
- Intel LGA-2011(-3)
- Intel LGA-2066
- AMD Socket AM4
- AMD Socket (754, 939, 940, AM2(+), AM3(+),FM2(+) (optional, must be selected)
- Intel LGA-775 / LGA-1366 (optional, must be selected)

Assembled in Slovenia - Europe!
Additional Info
| | |
| --- | --- |
| Material / Design / Color option | Copper Plexi |
| Threads | G1/4 |
| Prepared for LED Diode | 3mm |
| Sockets | Intel, AMD |
| # of Fans | 2 |
Buy with confidence
| | | | |
| --- | --- | --- | --- |
| Buyer | Item ID | Date | Ratings |
| je**** | 197894926 | 5/27/2018 10:53:00 AM | Good Condition... 👍 |
| je**** | 197894930 | 5/27/2018 10:53:00 AM | Good Condition... 👍 |
| je**** | 204097210 | 5/27/2018 10:53:00 AM | Good Condition... 👍 |
| je**** | 204096003 | 5/27/2018 10:53:00 AM | Good Condition... 👍 |
| je**** | 203909364 | 5/27/2018 10:53:00 AM | Good Condition... 👍 |
| tc**** | 204069647 | 5/25/2018 4:10:00 PM | Good packaging and fast delivery. Will definitely deal again. |
| Re**** | 194647574 | 5/25/2018 3:03:00 PM | Awesome seller. Definitely will buy again from this seller. Thank you. |
| ko**** | 199271475 | 5/24/2018 7:09:00 AM | FAST AND FURIOUS My item come fast and on time like it should be, good packaging and easy to track.. good job.. |




















---
Please Go Through @ Read This Carefully; It Contains Very Important Information About Your Rights And Obligations, As Well As Limitations And Exclusions That May Apply To You Behalf Of This Purchase.

*Goods Sold / Paid / Delivered Are Not Refundable, Returnable And Exchangeable. All Items Sold Carried 1 Year In-House Warranty. Extended Warranty By Manufacturer Or Distributor After The First Year, Processing And Delivery Charges Will Be Imposed. Cancellation Fee (20%) Will Be Imposed On Orders Which Customer Require Refund Under The Condition Of Last Minutes Cancellation
*Deposit For Advance / Pre Order Is Not Refundable. Transportation / Courier Of Goods / Orders And All Cost Will Be Borne By Purchaser. For Self Collect Order, Shipping Fee Is Non-Refundable
*Buyer / Purchaser Bear The Risk For Postage / Courier Orders. Mishandling, Damaged Or Missing Parcels / Orders Are To Be Claimed With Respective Courier Company According To Their Term And Condition (Insurance Is Optional For Item Value More Than RM500 For Extra Liability Coverage)

*Please Keep Any Purchase Receipt For Warranty Purposes. Dotatech IT Enterprise Holds To The Right To Reject Any Claim Without The Presence Of Purchase Receipt. Please Request Our Official Tax Invoice In Case You Didn't Receive Them Within 7-Working Days Of Purchase FOC. In Case You Lost Or Misplaced The Invoice After That, Penalty RM15 Will Be Imposed To Reissue The Document

*Warranty On All Products Sold Is Considered Null And Void Under Any One Of The Following Conditions:

1) Warranty Claim Do Not Come With Original Proof Of Purchase/Receipt.
2) Warranty Seal/Sticker Is Tear, Broken Or Tempered.
3) Misuse, Mishandling, Natural Disaster Or Unauthorized Disassembly.
4) Burn Mark Or Any Physical Defect/Damage Caused By End User Or During Deliver / Postage / Courier.
5) Modification, Personal Repair Or Excessive Over Clocking Resulting Malfunction.
*Please Check Carefully When You Send In Defective Part(s) For RMA/Warranty. If We Checked The Product Are Issue-Free, Handling and Service Charges Incur Starting From RM35.
**DoTaTech is not liable for any loss or corruption of data of your confidential, proprietary or personal information. You are advise to back up all your data before bring in the hardware/system for repair.

**All system that send in for services are at YOUR OWN RISK.

**DotaTech will not charge any charges to customer for the any hardware service/inspection within the one (1) year warranty period excluding courier charges for outstation buyer. Charges shall applied to the customer after one (1) year period and hardware that not purchase from Dotatech including handling and delivery fees.

**All defective products that need one to one exchange within 7 days from the date of purchase are depends on stock availability and condition of the particular items.
**Please Check Carefully When You Send In Defective Part(s) For RMA/Warranty. If We Checked The Product Are Issue-Free, Handling and Service Charges Incur Starting From RM35


DotaTech reserves the right to revise, amend or modify this terms of conditions at any time and any manner without prior notice and shall not responsible for any unlicensed software that comes with hardware/system.

Hardware/System after repair that have not claimed within the sixty (60) days after being notified, it will consider your system abandoned . We may dispose of your system without any prior notice to you .
Questions & Answers
Do you have any questions to ask merchant about this product
Ask Seller
| | | |
| --- | --- | --- |
| 5 star | | 0 |
| 4 star | | 0 |
| 3 star | | 0 |
| 2 star | | 0 |
| 1 star | | 0 |
Share your thoughts with others
Write a review
Only buyers who purchased the product may leave a review