Product Description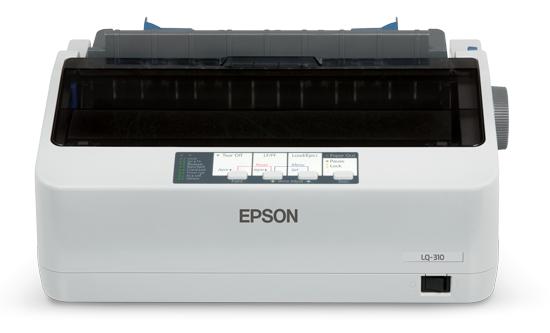 Effective 1st October 2015, Epson LQ-310 Dot Matrix Printer comes with 3 years warranty. Customer must register online !!!
WHY THE EPSON LQ310?
Building on its reputation as the world's top dot matrix printer maker, Epson has introduced the Epson LQ-310 as the next-generation narrow carriage, 24-pin model that replaces the legendary LQ-300, featuring vastly improved speed and reliability.
Extreme Speed
The Epson LQ-310 features a 128KB input data buffer memory that is double that of its predecessor. This enables it to achieve high printing speeds of up to 416 characters per second at 12 CPI – or almost 40% faster than the model it replaces.
Improving on Legendary Reliability
The Epson LQ-310 also has an improved reliability rating that is an astonishing 67% higher than its predecessor that was already renowned for its dependability. The LQ-310 is rated for a mean time before failure (MTBF) of 10,000 POH (power on hours) compared to the older model's 6,000 POH.
High Impact for Multiple Carbon Copies
Achieve optimum efficiency with the LQ-310's ability to create up to a 4-part form printout (1 original + 3 copies).
Flexible Connectivity
With built-in USB, Serial and Parallel Interface options, the LQ-310 is able to connect to just about any output device you need it for.
MODEL NUMBER
LQ-310
Printing Technology
 
Print Method
Impact dot matrix
Number of Pins in Head
24 pins
Print Direction
Bi-direction with logic seeking
Control Code
ESC/P2 and IBM PPDS emulation
Print Speed
 

High Speed Draft

10/12 cpi

347 / 416 cps

Draft

10/12/15 cpi

260 / 312 / 390 cps

Draft Condensed

17/20 cpi

222 / 260 cps

LQ

10/12/15 cpi

86 / 103 / 129 cps

LQ Condensed

17/20 cpi

147 / 172 cps
Print Characteristics
 
Character Sets
Italic table, PC437 (US Standard Europe), PC850 (Multilingual), PC860 (Portuguese), PC861 (Icelandic), PC863 (Canadian-French), PC865 (Nordic), Abicomp, BRASCII, Roman 8, ISO Latin 1, PC 858, ISO 8859-15
Bitmap Fonts
Epson Draft: 10, 12, 15 cpi; Epson Roman & San Serif: 10, 12, 15 cpi, Proportional; Epson Courier: 10, 12, 15 cpi; Epson Prestige: 10, 12 cpi; Epson Script, OCR-B, Orator & Orator-S: 10cpi; Epson Script C: Proporational
Barcode Fonts
EAN-13, EAN-8, Interleaved 2 of 5, UPC-A, UPC-E, Code 39, Code 128, Postnet
Printable Columns
 

Pitch

10/12/15/17/20 cpi

80 / 96 / 120 / 137 / 160 cpl
Paper Handling
 
Paper Path
 

Tractor

Rear in, Top out

Manual Insertion

Rear in, Top out
Paper Size

Length

Width

Thickness

Cut Sheet (Single Sheet)

100 - 364mm
(3.9 - 14.3")100 - 257mm
(3.9 - 10.1")0.065 - 0.14mm
(0.0025 - 0.0055")

Cut Sheet (Multi Part)

100 - 364mm
(3.9 - 14.3")100 - 257mm
(3.9 - 10.1")0.12 - 0.32mm
(0.0047 - 0.0126")

Envelope (No.6)

92mm
(3.6")165mm
(6.5")0.16 - 0.52mm
(0.0063 - 0.0205")

Envelope (No.10)

105mm
(4.1")241mm
(9.5")0.16 - 0.52mm
(0.0063 - 0.0205")

Continuous Paper (Single Sheet an Multi part)

101.6 - 558.8mm
(4.0 - 22.0")101.6 - 254.0mm
(4.0 - 10.0")0.065 - 0.32mm
(0.0025 - 0.0126")

Roll Paper

NA

216mm
(8.5")0.07 - 0.09mm
(0.0028 - 0.0035")
Paper Feeding
 

Standard

Friction, Push Tractor

Optional

Roll Paper Holder
Copies
Original + 3 copies
Line Spacing
4.23mm (1/6") or programmable in increments of 0.118mm (1/216")
Input Data Buffer
128KB
Interface
 
Standard
Bi-directional parallel interface (IEEE-1284 nibble mode supported)
USB 2.0 Full-Speed
Serial
Ribbon Cartridge
 
Standard
Fabric Ribbon Cartridge (Black)

Ribbon Life

Approx. 2.5 million characters (Draft 10cpi, 48 dots/character)
Acoustic Noise
Approx. 53dB(A) (ISO 7779 pattern)
Reliability
 
Mean Print Volume Between Failure (MVBF)
Approx. 20 million lines (Except print head)
Mean Time Between Failure (MTBF)
Approx. 10,000 POH (25% Duty)
Print Head Life
Approx. 400 million strokes/wire
Control Panel
4 switches and 5 LEDs
Environmental Conditions (Operating)
 
Temperature
5 ~ 35°C
Humidty
10 ~ 80% RH
Electrical Specification
 
Rated Voltage
AC 120V / AC 220 - 240V
Rated Frequency
50Hz - 60Hz
Power Consumption
 

Operating

Approx. 22W (ISO/IEC 10561 Letter pattern),(ENERGY STAR compliant)

Sleep Mode

Approx. 1.0W (120V) / 1.3W (230V)

Auto Off Mode

Approx. 0.5W

Power Off

0W
Printer Driver / Utility
 
Operating System
Microsoft® Windows® 2000 / XP / 7, Microsoft® Windows Vista®
Utility
 

Epson Status Monitor 3

Microsoft® Windows® 2000 / XP / 7, Microsoft® Windows Vista®

Epson Printer Setting

Microsoft® Windows® 2000 / XP / 7, Microsoft® Windows Vista®
Dimensions and Weight
Ribbons
Black Fabric Ribbon Cartridge (S015634) (C13S015639)
For more enquiries... kindly click on the link below to find out. Thank You!

Last Updated @ 6/27/2018 9:51:08 AM
Buy with confidence
Questions & Comments














---
Buyer is required to complete their transaction / payment

within 3 working days

. Failing so may cause the item being released without reserved.


If a product is out of stock, buyer can change it with other products or ask for a FULL REFUND.



If you are NOT using

Net

Pay

, kindly updates the

proof of payment

(online payment / bank in slip) in LELONG SYSTEM once payment is done OR email us at ink4u@live.com.my by indicating your ORDER ID, NAME and PHONE NUMBER to proceed with the delivery. You may also FAX to 03-2857 1081. Kindly note that payment by cheque will takes additional 2 - 3 working days for clearance in order for us to send out the goods.

Every purchase made from us will be issued with our company's TAX INVOICE

for your accounting and recording purposes. If you wish to claim input tax, kindly put remark and provide us your company's detail.


Bank account registered under ONE VOICE SOLUTIONS SDN. BHD.

897194793980

512174328143

3161764610

All orders will be send out within 3 working days although most of the time we managed to send out same day if we received your payment before 2pm. If your order is out of stock, we will call you up and discuss with you.
From our experience, we know that none of the courier company can truly satisfies every customer. Therefore, we urge you to Choose Your Preferred Courier Service from the list below, based on your knowledge of your area's delivery by putting it in "REMARK" when you place order. Otherwise, we will choose the courier service on your behalf.
Courier Service that we use (Alphabetical Order)
---
Customer Service Hotline no. 03 7875 7768
http://www.airpak-express.com/multitrackenq_general.asp
---
Customer Service Hotline no. 1300 222 777
http://www.nationwide2u.com/v2/care_track.cfm
---


Customer Service Hotline no. 1 300 300 300
http://www.poslaju.com.my/track-trace/
---
Customer Service Hotline no. 1 300 300 300
http://www.pos.com.my/TrackAndTrace/TrackAndTrace
---
Customer Service Hotline no. 03 5623 9090
http://www.courierworld.com/scripts/webcourier1.dll/TrackingResultwoheader?type=4&nid=1
---
Product Certification
The ISO 9000 family of standards relate to quality management systems and are designed to help organizations ensure they meet the needs of customers and other stakeholders. The standards are published by ISO, the International Organization for Standardization. Over a million organizations worldwideare independently certified, making ISO 9001 one of the most widely used management tools in the world today.

The ISO 14001 environmental management standards exist to help organizations:
(a) Minimize how their operations negatively affect the environment (i.e. cause adverse changes to air, water, or land);
(b) comply with applicable laws, regulations, and other environmentally oriented requirements;
(c) continually improve in the above.
ISO/IEC 19752 is an ISO standard method for the determination of toner cartridge yield for monochrome laser printers, introduced in June 2004. ISO/IEC 19752 strives for a comprehensive and rigorous definition of the measurement process with the purpose of creating clear and objective criteria for comparison of cartridge yields.
The purpose of this International Standard is to provide a process for determining the cartridge page yield for a given colour electrophotographic printer model (i.e. all-in-one toner cartridges and toner cartridges without a photoconductor) using a standard office consumer type test suite.
STMC stands for the Standardized Test Methods Committee. This global committee formed in 1998 to find and promote standardized test methods for the printer cartridge industry. The test methods are used to evaluate toner printer cartridge performance. Standardized test methods make it possible to evaluate a cartridge anywhere and come up with the same test results no matter who tests it.
RoHS, short for Restriction of Hazardous Substances, is required to be enforced and become law in each European Union member state. Its directive restricts the use of six hazardous materials in the manufacture of various types of electronic and electrical equipment. It sets collection, recycling and recovery targets for electrical goods and is part of a legislative initiative to solve the problem of huge amounts of toxic e-waste.
REACH is the European Community Regulation on chemicals and their safe use. It deals with the Registration, Evaluation, Authorisation and Restriction of Chemical substances. The aim of REACH is to improve the protection of human health and the environment through the better and earlier identification of the intrinsic properties of chemical substances.
Product Term
It is my pleasure trying my very best to clarify with you some of the TERMS being used refer to our INK and TONER products.
GENUINE or more accurate should be OEM (Original Equipment Manufacturer). OEM refers to the genuine product by the company itself. But OEM was misused by Malaysia market as compatible and as a result it confuse consumer. Therefore, we use the term GENUINE.
COMPATIBLE basically refer to a Third Party Company producing a COMPLETELY BRAND NEW alternative product which is similar to the original products i.e. NX Print. It carries a different Brand and cost much lesser compared to the Original. It is NOT ORIGINAL, NOT REFILL and NOT REMANUFACTURED.
REFILL basically refer to INKS which are produced by Third Party Company. It requires your EXISTING EMPTY Cartridge and you need to do the refilling job.
REMANUFACTURED means the original empty cartridge being re-used by Third Party Company for re-production. They fill in the empty cartridge with inks or powders (some parts may need to replace) and re-packaging the product to the market.
IMITATION means it is NOT GENUINE BUT LOOKS LIKE GENUINE (PACKAGING and SECURITY SEAL). It is against the law. It cause customer to pay at the price of the Genuine Product but getting something else. Therefore we urge customer to buy from a trustworthy source, especially when the price seems like too unreasonable.
Finally, we would like to state Our COMPANY POLICY here:

We sell
GENUINE
COMPATIBLE
REFILL
and REMANUFACTURED Cartridges
STRICTLY NO IMITATION !!!

Questions & Answers
Do you have any questions to ask merchant about this product
Ask Seller
| | | |
| --- | --- | --- |
| 5 star | | 0 |
| 4 star | | 0 |
| 3 star | | 0 |
| 2 star | | 0 |
| 1 star | | 0 |
Share your thoughts with others
Write a review
Only buyers who purchased the product may leave a review