Item Specification
Product Description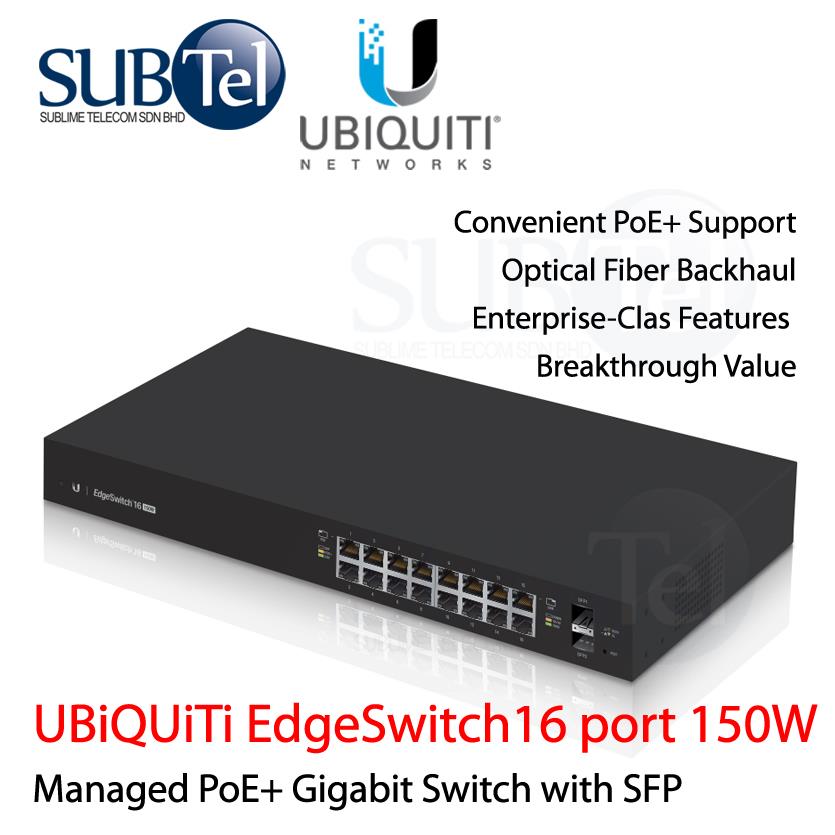 UBiQUiTi EdgeSwitch 16 port 150W
Managed PoE+ Gigabit Switch with SFP
Update
We have this product in stock!


Main Features
 • Sixteen (16) RJ45 Gigabit PoE ports
 • Additional Two (2) SFP ports
 • Ubiquiti EdgeMax OS provides web-based GUI and CLI management
 • Advanced Switch Management Features - VLAN, (R)STP, Jumbo Frames, Aggregation, Monitoring and more
 • Basic Routing Features - TACACS+, RADIUS, DHCP Snooping, 802.1X, Policy Based Routing and more
 • Non-blocking Throughput 18 Gbps
 • Switching Capacity 36 Gbps
 • Forwarding Rate 26.78 Mpps
 • Maximum Power Consumption - 150W
 • PoE support - Auto-Sensing 802.3at/af POE+ and 24V Passive POE
 • Industrial Grade Product
 • Rackmountable

Local Information
 • Malaysia Local Product and Warranty support by Sublime Telecom Sdn. Bhd.
 • Ubiquiti Managed POE+ Switches are rapidly gaining popularity in Malaysia for large and medium networks.
 • Malaysian companies using Ubiquiti solutions include Telekom Malaysia, Maxis, Celcom, KLIA/KLIA2, YTL and many others.
 • Use EdgeSwitch with other compatible Ubiquiti products - UAP, UAP-LR, UAP-PRO, UAP-AC, Rocket, NanoStation, Bullet, PicoStation, UVC and others.
 • Simplify your deployment - One EdgeSwitch can replace 24 PoE adapters.
 • Use EdgeSwitch to power up Mikrotik, Cisco or other non-Ubiquiti POE+ and Passive PoE devices.

Product Description
Build and expand your network with Ubiquiti Networks EdgeSwitch, part of the EdgeMAX line of products. The EdgeSwitch is a fully managed, PoE+ Gigabit switch, delivering robust performance and intelligent switching for growing networks.

The EdgeSwitch supports an extensive suite of advanced Layer-2 switching features and protocols, and also provides Layer-3 routing capability. It features auto-sensing IEEE 802.3af/at and 24V passive PoE to power multiple devices on the network.

The EdgeSwitch delivers the forwarding capacity to simultaneously process traffic on all ports at line rate without any packet loss. Total non-blocking throughput: up to 26 Gbps for 24-port models and up to 70 Gbps for 48-port models.


Product Specifications
UBiQUiTi 16-port EdgeSwitch ES-16-150W
Dimensions
443 x 43 x 221 mm
Weight
2.80 kg
Total Non-Blocking Throughput
18 Gbps
Switching Capacity
36 Gbps
Forwarding Rate
26.78 Mpps
Max. Power Consumption
150W
Power Method
100-240VAC/50-60 Hz, AC/DC Integrated PSU, Universal Input
Power Supply
AC/DC, Internal, 150W DC
LEDs Per Port
RJ45 Data Ports
SFP Data Ports

PoE, Speed/Link/Activity
Speed/Link/Activity
Networking Interfaces
(16) 10/100/1000 Mbps RJ45 Ethernet Ports
(2) 1 Gbps SFP Ethernet Ports
Management Interface
(1) RJ45 Serial Port, Ethernet In/Out Band
Certifications
CE, FCC, IC
Rackmount
Yes, 1U High
ESD/EMP Protection
Air: ±24 kV, Contact: ±24 kV
Operating Temperature
-5 to +40° C
Operating Humidity
5 to 95% Noncondensing
Shock and Vibration
ETSI300-019-1.4 Standard
PoE Configurable Per Port
PoE Interfaces
POE+ IEEE 802.3af/at (Pins 1, 2+; 3, 6-)
24VDC Passive PoE (Pins 4, 5+; 7, 8-)
Max. PoE+ Wattage per Port by PSE
34.2W
Voltage Range 802.3at Mode
50–57V
Max. Passive PoE Wattage per Port
17W
24V Passive PoE Voltage Range
20-27V
EdgeMax Software Specifications
Core
Switching
Features
• ANSI/TIA-1057: LLDP-Media Endpoint Discovery (MED)
• IEEE 802.1AB: Link Layer Discovery Protocol (LLDP)
• IEEE 802.1D: Spanning Tree Compatibility
• IEEE 802.1S: Multiple Spanning Tree Compatibility
• IEEE 802.1W: Rapid Spanning Tree Compatibility
• IEEE 802.1Q: Virtual LANs with Port-Based VLANs
• IEEE 802.1p: Ethernet Priority with User Provisioning and Mapping
• IEEE 802.1X: Port-Based Authentication with Guest VLAN Support
• IEEE 802.3: 10BASE-T
• IEEE 802.3u: 100BASE-T
• IEEE 802.3ab: 1000BASE-T
• IEEE 802.1ak: Virtual Bridged Local Area Networks - Amendment 07: Multiple Registration Protocol
• IEEE 802.3ac: VLAN Tagging
• IEEE 802.3ad: Link Aggregation
• IEEE 802.3x: Flow Control
• IEEE 802.1D-2004: Generic Attribute Registration Protocol: Clause 12 (GARP)
• IEEE 802.1D-2004: Dynamic L2 multicast registration: Clause 10 (GMRP)
• IEEE 802.1Q-2003: Dynamic VLAN registration: Clause 11.2 (GVRP)
• RFC 4541: Considerations for Internet Group Management Protocol (IGMP) Snooping Switches
• RFC 5171: Unidirectional Link Detection (UDLD) Protocol
Advanced
Layer 2
Features
• Broadcast Storm Recovery
• Broadcast/Multicast/Unknown Unicast Storm Recovery
• DHCP Snooping
• IGMP Snooping Querier
• Independent VLAN Learning (IVL) Support
• Jumbo Ethernet Frame Support
• Port MAC Locking
• Port Mirroring
• Protected Ports
• Static MAC Filtering
• TACACS+
• Voice VLANs
• Unauthenticated VLAN
• Internal 802.1X Authentication Server
Platform
Specifications
• DHCP Server
    • Maximum Number of Pools: 8
    • Maximum Number of Leases (Total): 128
• Routing
    • Number of Routes: 16
    • Number of Routing Interfaces: 15
• VLANs: 255
• MAC Addresses: 8k
• MSTP Instances: 4
• LAGs: 6
• ACLs: 100 with 10 Rules per Port
• Traffic Classes (Queues): 8
System
Facilities
• Event and Error Logging Facility
• Run-Time and Configuration Download Capability
• PING Utility
• FTP/TFTP Transfers via IPv4/IPv6
• Malicious Code Detection
• BootP and DHCP
• RFC 2021: Remote Network Monitoring Management Information Base Version 2
• RFC 2030: Simple Network Time Protocol (SNTP)
• RFC 2819: Remote Network Monitoring Management Information Base
• RFC 2865: RADIUS Client
• RFC 2866: RADIUS Accounting
• RFC 2868: RADIUS Attributes for Tunnel Protocol Support
• RFC 2869: RADIUS Extensions
• RFC 3579: RADIUS Support for EAP
• RFC 3580: IEEE 802.1X RADIUS Usage Guidelines
• RFC 3164: BSD Syslog Protocol
Management
• Web UI
• Industry-Standard CLI
• IPv6 Management
• Password Management
• Autoinstall Support for Firmware Images and Configuration Files
• SNMP v1, v2, and v3
• SSH 1.5 and 2.0
• SSL 3.0 and TLS 1.0
• Secure Copy (SCP)
• Telnet (Multi-Session Support)
Layer 3
Routing
• Static Routing
• Policy Based Routing
QoS
• Access Control Lists (ACLs), Permit/Deny Actions for Inbound IP and Layer 2 Traffic Classification Based on:
    • Time-Based ACL
    • Source/Destination IP Address
    • TCP/UDP Source/Destination Port
    • IP Protocol Type
    • Type of Service (ToS) or Differentiated Services (DSCP) Field
    • Source/Destination MAC Address
    • EtherType
    • IEEE 802.1p User Priority
    • VLAN ID
    • RFC 1858: Security Considerations for IP Fragment Filtering
• Optional ACL Rule Attributes
    • Assign Flow to a Specific Class of Service (CoS) Queue
    • Redirect Matching Traffic Flows
• Differentiated Services (DiffServ)
    • Classify Traffic Based on Same Criteria as ACLs
    • Mark the IP DSCP or Precedence Header Fields, Optional
    • Police the Flow to a Specific Rate with Two-Color Aware Support
    • RFC 2474: Definition of the Differentiated Services Field (DS field) in the IPv4 and IPv6 Headers
    • RFC 2475: An Architecture for Differentiated Services
    • RFC 2597: Assured Forwarding Per-Hop Behavior (PHB) Group
    • RFC 3246: An Expedited Forwarding PHB
    • RFC 3260: New Terminology and Clarifications for DiffServ
• Class of Service (CoS) Queue Mapping Configuration
    • AutoVoIP: Automatic CoS Settings for VoIP
    • IP DSCP-to-Queue Mapping
    • Configurable Interface Trust Mode (IEEE 802.1p, DSCP, or Untrusted)
    • Interface Egress Shaping Rate
    • Strict Priority versus Weighted Scheduling per Queue
Downloads
Datasheet : Download Product Datasheet
Quick Start Guide : Download User Guide
EdgeSwitch Admin Guide : Download PDF
EdgeSwitch CLI Command Reference Guide : Download PDF

Package Contents
UBiQUiTi 16-port EdgeSwitch ES-16-150W unit
Quick Start Guide
US or Europe power cord ( Malaysia (UK) power cord is available, please click here to order )
Contact Us
PM on Lelong
Email: sales@sublimegroup.co
Call/SMS/Whatsapp: +6 012-368 0911
Product Photo
Coming Shortly...



About Us
Sublime Telecom Sdn. Bhd. is the official authorized partner and reseller for Ubiquiti Networks Inc. in Malaysia. We are also Master Distributor for Mikrotik Inc. in Asia Pacific.

We carry full range of Ubiquiti and MikroTik products at best prices in Malaysia.

Contact us or click Buy Now.


Last Updated @ 4/28/2017 11:03:18 PM
Buy with confidence
| | | | |
| --- | --- | --- | --- |
| Buyer | Item ID | Date | Ratings |
| ah**** | 168113131 | 1/11/2018 7:46:00 AM | - |
| wb**** | 172068527 | 1/8/2018 6:18:00 PM | ok good and delivered in good time. |
| ni**** | 190740570 | 1/7/2018 3:09:00 AM | Item received, a good and recommend seller. |
| ni**** | 163642530 | 1/7/2018 3:09:00 AM | Item received, a good and recommend seller. |
| ni**** | 173307775 | 1/7/2018 3:09:00 AM | Item received, a good and recommend seller. |
| ni**** | 184570333 | 1/7/2018 3:09:00 AM | Item received, a good and recommend seller. |
| ed**** | 198024411 | 1/4/2018 4:50:00 PM | Price is reasonable and items are in good condition. |
| ed**** | 163657256 | 1/4/2018 4:50:00 PM | Price is reasonable and items are in good condition. |


---
PAYMENT AND PRICE POLICY

Payment
We accept credit card and debit cards (VISA and MASTERCARD) payment through our website (Temporarily Unavailable).
We also accept payment from Internet Banking (from Ambank, Maybank2U, Hong Leong, Public Bank, RHB Bank and Alliance Bank).
We accept PayPal payment through its website

(Temporarily Unavailable)

.
Cash
Customer can pay Cash, when they make a Self Collection. Please contact us for collection arrangement.
If customer fail to make the payment within 48 hours after the placement of online order, customer's order will be deemed cancelled.

Price
Price displayed for products on our website represents the full retail price listed on the product itself, suggested by the manufacturer or supplier, or estimated in accordance with standard industry practice; or the estimated retail value for a comparably featured item offered elsewhere.

Pricing of the products display in our website shall be stipulated in the official price lists published by Sublime Telecom from time to time.
The delivery process will only be initiated after payment has been validated and a notice of acceptance has been sent to the customer.
All prices are exclusive of delivery charges. A charge is made for the delivery of goods and we are keeping the charge as low as possible. Free Delivery will apply on selected product, and Sublime Telecom will display the Free Delivery icon at the product photo.
Sublime Telecom will only deliver goods to the address on the on the order.
We offer different shipping options to our customers, all of which are efficient and reliable.
The shipping and handling fee shall impose on the weight of the shopping cart.

If customer requests for special shipping arrangement or would like an alternative shipping options, kindly contact us to make the necessary arrangement.

The delivery process will only be initiated after we have received your payment.

It is necessary for you to provide a complete shipping address. We do not deliver the goods to P.O. Box addresses.
Local Delivery within West Malaysia

Estimated delivery time usually next business day to 3 business days for Peninsular Malaysia. Delivery will usually be made direct to your doorstep by reputable carrier service.

Local Delivery within East Malaysia (Sabah and Sarawak)

The estimated delivery time is usually 5 to 7 business days for Sabah and Sarawak. Delivery will usually be made direct to your doorstep by reputable carrier service.
International Delivery

Customer is responsible for all import duties, taxes and tariffs impose on any products ordered in your country. Additional charges for customs clearance must be borne by you.
For shipping of products internationally, the products are subject to inspection by customs authorities in your country.
Warranty
We follow and support our principals' Limited Warranty Statement shipped with the product. (usually 12 months from shipping date)

Optional extended warranty offered with initial purchase

During Warranty coverage product rapair and/or replacement will be fulfilled by the principal. Customer is responsible for shipping the product to Sublime Telecom and we will ship the repaired/replacement product to customer after assesment and/or repair

Product or system faillure caused by the ACT of God, such as lightning strike, power surge, accident, service or other is not covered by Limited Warranty
RETURN POLICY
Customer may return their goods purchased from Sublime Telecom. Please keep in mind :

Customer must inform us before customer attempts to return the goods to us via email (

support@sublimegroup.co

), or contact us +6012 3680911;

Customer must return the goods to us in its original or equivalent packaging; and

Customer must be responsible for risk of loss and shipping and handling fees for returning or exchanging product (e.g. shipping cost, etc)

Any fees or charges imposed by third parties including Lelong.my, banks or others will not be refunded

To return incorrect product(s), customer must inform us within 24 hours of receiving the order. We will replace the product(s) or issue a refund. Authorization for exchange, refund or credit must be made via email.

Shall there be any claims to return a product be made after purchasing and receiving the product by customer, the claims must be emailed directly to sales@sublimegroup.co with the following required details in the email:

Email subject: RETURNS – ORDER REF: (Type in the specified order reference number)

Full Name: (Provide your full name)
Registered Email: (Provide the valid login email used in Lelong.my)
Contact number: (Provide us your contact number so that we could contact you)
Order Reference No.: (Refers to the specific purchase order made)
Product(s) Name: (Specify the product(s) you wish to return)
Reason of Return: (Refers to the reason why the product is being returned)
Additional Details: (Additional remarks about the product if any)




Once we receive the return email, we shall contact you as soon as possible. Please note that the sending of the return email to us does not constitute to a sure return, as we will assess the claim and justify accordingly.

A reference number will be issued to you. Customer can use the number to track your return process.
Questions & Answers
Do you have any questions to ask merchant about this product
Ask Seller
| | | |
| --- | --- | --- |
| 5 star | | 0 |
| 4 star | | 0 |
| 3 star | | 0 |
| 2 star | | 0 |
| 1 star | | 0 |
Share your thoughts with others
Write a review
Only buyers who purchased the product may leave a review