Product ID : 211079713
Weight : 0.6

(kg or dimension)
Brand : Exo Terra
Model / SKU : PT2054
Conditions :

New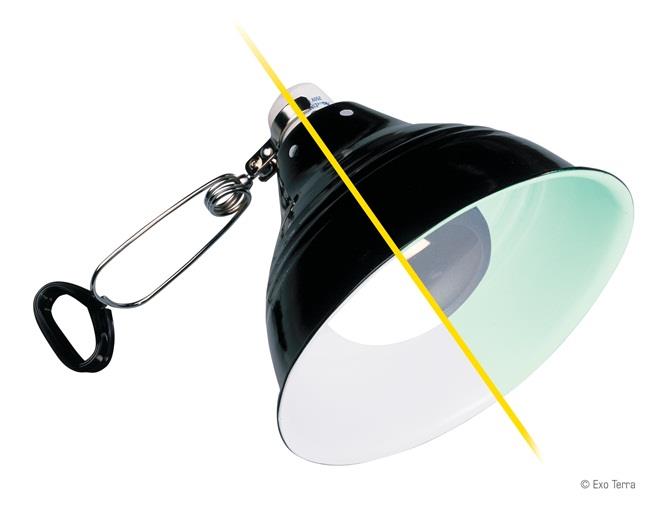 The Exo Terra Glow Light gives you the versatility of placing heat and/or light sources on your terrarium where needed. The device is sturdily constructed, with a metal reflector, heat resistant ceramic socket, and a spring-loaded swivel clamp.
It can be easily turned off and on by the switch, mounted on the extra long power cord. The inside of the reflector is coated with a highly reflective luminous coating that continues to glow long after the lamp is turned off. This allows diurnal reptiles and amphibians to retreat in their night burrow or hiding without stress.
A moon-like glow enables nocturnal reptiles and amphibians to see properly without disturbing their night cycle. It is also ideal to monitor your animals during night time, without switching on the lights which can cause stress and disorientation.
The coating reflects the otherwise wasted light rays and stores the light energy during daytime and slowly releases it at night, which makes this fixture more energy efficient then conventional fixtures. No need to add an additional night bulb, unless used as a heating source.
One or more Exo Terra Glow Lights can be mounted on the rim of the terrarium or aquarium and directed to the basking area with the spring-loaded swivel clamp or it can be put on top of a metal screen cover in any desired location.
Key Features :
Day and night fixture in one

Provides long-lasting luminous, reflective glow

Heat resistant porcelain socket

Ideal for use with compact fluorescent and incandescent bulbs

Prevents stress

Ideal for nocturnal viewing

Maximum wattage is 150W
There might have some errors with the shipping fees due to the shipping auto confirmation, please contact us thru Whatsapp at 012 492 2075 if you found the shipping fees is not correct. Thank you.

*ATTENTION FOR LIVESTOCK PURCHASE*
Due to Lelong auto confirmation starting on 16 April, shipping for all items (Hardware and Plants) will be measured by weight accordingly EXCEPT for FISHES and SHRIMPS. For shrimps and fishes purchase, the shipping are excluded from measured by weight.
Therefore dear customer are COMPULSORY to additional purchase "Shipping for Livestock" which had included Ice Box for livestock (link stated below) , as according to the quantity, size and area stated at the selection. Please take note that for purchase of livestock WITHOUT "Shipping for Livestock" WILL NOT BE SENT OUT.
LINK: https://www.lelong.com.my/shipping-fee-live-stock-shrimp-plant-fish-ice-box-acestoryaquatic-I5932570-2007-01-Sale-I.htm
For example, you have purchase a total of 5 to 15 pcs of fishes or shrimps, and to delivery within Peninsular Malaysia, you can choose from the selection which is a medium size ice box with shipping fees of RM15. Please add the selection to your shopping cart and proceed to payment.
Please feel free to contact us thru Whatsapp at 012 492 2075 if there are any problems encountered with. Thank you.
Shipment Charges
For West Malaysia
Livestock, for example shrimps – RM20.00 for 1st 2kg (Pack with polystyrene box, ice gel)
Others – RM12.00 for 1st 2kg
(RM2.00 for every added kg)
For East Malaysia
Livestock, for example shrimps – RM30.00 for 1st kg (Pack with polystyrene box, ice gel)
Others – RM22.00 for 1st kg
(RM22.00 for every added kg)
Return Policy
We value your shopping experience, that's why we also accept exchange (for item of equal or lesser value) if the item does not live up to your expectation or any other reasons beyond our wildest imagination.

7 days return or exchange policy
If you are NOT 100% satisfied with your purchase, we will gladly accept returns of packages within 7 days of the order date and issue a full refund.

All we ask is the condition of the product is:
- not used
- in the same condition you received it
- in the original box or packaging

Return or exchange procedures

Please request for return or exchange by emailing us within 7 days from the day order is received.
You have to include the following details:
- Order number
- Name Contact number
- Product to return or exchange
- Reason for return or exchange
Once we receive your request for return or exchange, we shall contact you within 3 business days for further instructions.

To exchange item, please let us know the item you want to have in exchanged.

In most cases, you will need to bear the shipping charges for returning the item to us.
However, if we send the wrong or defective items to you, we will bear all the cost of return shipping (as long as you use a standard shipping method) and we will ensure we send the correct item to you.

**Remember, before you ship anything to us, please email us first so that we can provide you a complete return instructions.
For broken item because of courier careless, customer has to make complaint and report the case to the respective courier service within one 3 days after item received. Failure to do that, we are sorry that we cannot proceed for any refund or replacement. Customer's co-operation is highly appreciated.
DOA Guarantee
Ace Story Aquatic provide below guarantees on all livestock:
1) DOA (dead on arrived) Guarantee
Any casualties claim must be made immediately within 2 hours upon goods received.
A CLEAR picture showing the quantity of the casualties before unpack the breathing air bag is needed to be captured.
2) Satisfaction Guarantee (For Plants)
Any unsatisfied, you must inform us immediately within 2 hours upon goods received.
A photo of the stock must be captured.
You can reach us and send photos thru:
Email (acestorycs@gmail.com)
OR
SMS/WhatsApp (012-4922075).
**The DOA Guarantee will not cover for :
- Wrong information given for (Name, address, and telephone number).
- Item sent, and there is no one at the mention location to receive the item.
- During the sending process, courier service unable to contact the receiver cause the delay for the item.
***Please take note that :
- We will not liable for any casualties claim if no picture are presented or exceed 2 hours.
- We provide 100% refund for the casualties.
- We provide postage fee for damage item only.
- For unsatisfied products, buyer have to bear the postage fee for exchange and replacement.
- Buyer need to top up the postage fee for goods to be re-delivered as per request.
- We will not liable for any casualties claim if no proof of pictures are presented or exceed 2 hours.
- If there is no respond or complaint after 2 hours item being received, we will assume that customer is satisfied with the product already and no argument will be entertain after that.
*** All product images are for illustrative purposes only and may differ from the actual product. Due to maturity and blooming cycle, colors of products may also appear different to those shown on the site.
***Most plants are growing outdoor, dry, broken and wounded leaves are inevitable. Please re-consider before decided getting the plants or Whatsapp us to check its condition.
***All plants might get a little dry or yellowish due to courier. Please re-consider before decided getting the plants.
* Succulent Plant
We pledge we will try our best to pack it properly and avoid any damage or leaves fallen. Failure to do that, we are so sorry that is because of courier service and is out of our control. We will pack it separately to prevent damage. When you received, you just put back the soil into pot and replant it.