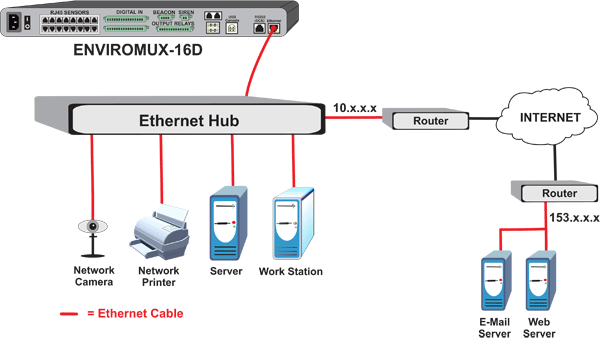 Fiber Converter/Extender
Extends sensor up to 1.2 miles (2 km) over two fiber cables.
Converts RJ45 cabling into fiber on both ends.
Built-in surge and static protection.
Supports two simplex multimode 50-micron or 62.5-micron SC cables.

Use CAT5/5e/6 cable with one end unterminated to connect the ENVIROMUX unit and sensor to the fiber converters.

Supports CAT5/5e/6 cable up to 1,000 ft (305 m) on local and remote ends combined.

Connectors (local/remote unit):

Two SC fiber connectors.
8-position terminal block.
2-way terminal block for power.

Includes two RS485 to Fiber Converters, 5VDC, 9VDC, and 12VDC power supplies.
Dimensions (WxDxH) in: 4.65x3.58x0.87 (118x91x22 mm).
Operating temperature: -40 to 185°F (-40 to 85°C).
Operating humidity: 5 to 95% non-condensing RH.
Compatible with ENVIROMUX-2D/5D/16D and ENVIROMUX-SEMS-16(U).
Regulatory approvals: CE, FCC, RoHS.
IMPORTANT NOTE:
**All prices quoted are subject to USD exchange rate fluctuations and may change without prior notice.
**Prices quoted in this document are exclusive of GST (if applicable) and Primalcom Enterprise Sdn Bhd shall reserve the right to charge and add on GST on the quoted prices,where the delivery or performance of services is made on or after 1 April 2015 and issuea tax invoice to you.
Primalcom GST no: 000164380672
Hear from you soon!
Thanks in advance!

Regards,
Noorshida Kamarullbahrin (6012-6067699)
PRIMALCOM ENTERPRISE SDN. BHD. (GST No: 000164380672)
21-3, Jalan Tiara 3, Bandar Baru Klang,
41150, Klang, Selangor, Malaysia.
Tel:  +603-3343 1708/ 9,    
fax:  +603-3343 1711
Email: shida@primalcom.com
Web: www.primalcom.com
Sole Malaysiandistributor for NTI, Verax NMS & Hiperwall, Nagios Sole Featured Partner