Item Specification
Product Description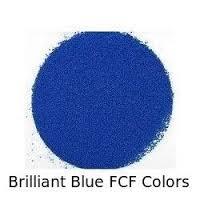 Brilliant Blue FCF
From Wikipedia, the free encyclopedia
"Blue 1" redirects here. For the airline, see 
Blue1
.
Brilliant Blue FCF
Names
IUPAC name

ethyl - [4 - [ [4 - [ethyl -[(3 - sulfophenyl) methyl] amino] phenyl] - (2 - sulfophenyl) methylidene] - 1 - cyclohexa - 2, 5 - dienylidene] - [(3 - sulfophenyl) methyl] azanium

Other names
Identifiers
3844-45-9 
ChEMBL
ChEMBL423337 
ChemSpider
18556 
Jmol interactive 3D
Image
PubChem
19700
UNII
H3R47K3TBD 
Properties
C37H34N2Na2O9S3
Molar mass
792.85 g/mol.
Hazards
NFPA 704

Except where otherwise noted, data are given for materials in their 

standard state

 (at 25 °C [77 °F], 100 kPa).

 verify (what is  ?)
Infobox references
 
 
Brilliant Blue FCF (Blue 1), also known under commercial names, is a colorant for foods and other substances. It is denoted by E number E133 and has a color index of 42090. It has the appearance of a reddish-blue powder. It is soluble in water, and the solution has a maximum absorption at about 628 nanometers.
It is a synthetic dye produced using aromatic hydrocarbons from petroleum.[1] It can be combined with tartrazine (E102) to produce various shades of green.
It is usually a disodium salt. The diammonium salt has CAS number lake. The chemical formation is C37H34N2Na2O9S3. The dye is poorly absorbed from the gastro-intestinal tract and 95% of the ingested dye can be found in the feces.
As a blue color, Brilliant Blue FCF is often found in ice cream, canned processed peas, packet soups, bottled food colorings, icings, ice pops, blue raspberry flavored products, dairy products, sweets[2] and drinks, especially the liqueur blue curaçao. It is also used insoaps, shampoos, mouthwash[3] and other hygiene and cosmetics applications. In soil science, Brilliant Blue is applied in tracing studies to visualize infiltration and water distribution in the soil.
PACKING : 1 KG BAG / 25 KG DRUM











---
Pay securely by PayPal using credit cards, wouldn and #39;t disclose your card details to any merchant, prevent fraud, get back your money in 45 days if transaction fraud occur. Not yet a member, register @PayPal now:

Products return under warranty period should be returned to us in complete set enable us to claim from our manufacturer or servicing. By making purchase from us you are agreed to our purchase return policy. Shoppers are responsible for all return goods postage for sending faulty item to us. This warranty only covered manufacturer default and not for any misused, mishandled etc..
Questions & Answers
Do you have any questions to ask merchant about this product
Ask Seller
| | | |
| --- | --- | --- |
| 5 star | | 0 |
| 4 star | | 0 |
| 3 star | | 0 |
| 2 star | | 0 |
| 1 star | | 0 |
Share your thoughts with others
Write a review
Only buyers who purchased the product may leave a review