Item Specification
Model / SKU
: FU-19V-395A-6044-2
Product Description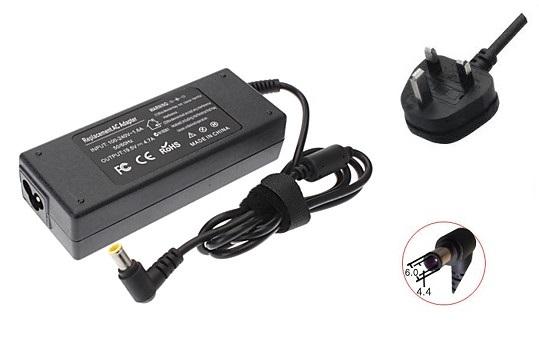 Replacement Fujitsu Power Supply Adapter for many Fujitsu laptops with 6.0X4.4 DC connector
Features:
Brand new Fujitsu replacement OEM Power Adapter

Input : Input: 100-240V, 50-60Hz

Output: DC 19V 3.95A 6.0x4.4 DC Connector

Comes with UK Power Cord (3 pin plug)

Color: Black

Brand New Replacement Product, works as genuine parts, 100% OEM Compatible.

All power supply are well packed in a customized box and protected by bubble bag

Warranty : 3 months warranty 1 to 1 exchange against manufacturing defects.
Compatible Part Number :
CA01007-0930\ FPCAC26\ FPCAC26AP\FMV-AC312 /CA01007-0890 CA01007-0920\CA01007-0930\ CA01007-0960CP-293662-01\ CP277622-02 \CP293660-02 \CP311808-01

FMV-AC312\ FMV-AC314\ FMV-AC315S\ FMV-AC316FMV-AC318 \FMV-AC319 \FMV-AC320\ FMV-AC322

FPCAC23Z\ FPCAC25 FPCAC26\ FPCAC26AP\FPCAC26W\ FPCAC26Z\FPCAC33\ FPCAC33A

PFPCAC33W\ FPCAC33Y\ FPCAC34\ FPCAC34AP\FPCAC44\ FPCAC44AP

FPCAC44W\ FPCAC46\FPCAC46AP\ FPCAC46W\ FPCAC51\ FPCAC53

FPCAC57AP\ S26391-F2474-L500\ S26391-F2474-L600\ SED80N2-19.0
Fit for models :
Amilo D6820 \ D8820 \ 4100L

Celsius H240 \FMV-6113NA9/B\ FMV-7000NA2\FMV-7160MR2 \FMV-716NU3

FMV-BIBLO MG70H\ \MG75E\ MG75H\MG75H/ST \MG75S \ MR16A

FMV-BIBLO MR16A/AH \ MR16AH \MR16B\MX70R/W \ NB14A \ NB14B

FMV-BIBLO NB14B/R \ NB15B \ NB15B/S\NB15B/T \ NB16B \ NB16B/M

FMV-BIBLO NB16C \ NB16C/A \ NB16C/R\NB16C/ST \ NB16C/T \ NB16C/V

FMV-BIBLO NB18B \ NB18C \ NB18C/A\ NB18C/T \ NB18D \ NB18D/D

FMV-BIBLO NB18D/F \ NB18D/L \ NB18D/V\NB19D \ NB19D/D \ NB50E

FMV-BIBLO NB50G \NB50H \ NB50J\NB50K \ NB50KP \ NB50L

FMV-BIBLO NB50M \ NB53E \ NB55E\NB55E/T \ NB55G \ NB55G/T

FMV-BIBLO NB55H \ NB55H/T \ NB55J/TNB55K \NB55K/T \ NB55L

FMV-BIBLO NB55M \ NB55M/T \ NB60L/E\NB60M/W \ NB70E \NB70E/T

FMV-BIBLO NB70G \ NB70H/T \ NB75G\NB75G/T \ NB75H \ NB75H/T

FMV-BIBLO NB75J \ NB75K \ NB75K/T\NB75L \NB75L/T \ NB75L/TS

FMV-BIBLO NB75M \ NB75M/T \ NB75M/TS\NB75MN \ NB75MN/T \ NB80J

FMV-BIBLO NB80K \ NB9/1600L \ NB90J/T\NB90J/TS \ NB90K/T\ NB90K/TS

FMV-BIBLO NB90L/W \ NB90M/W \ NB90MN/W\ NE3/43E \ NH24C \ NH26C

FMV-BIBLO NX70L/W \NX90L/W \ NX90M/W\ NX90MN/W \NX90R/W \RS18D

FMV-BIBLO RS18D/D \RS18D/ST \ RS18D/T\RS50E/T \ RS50G/T\ RS55E/T

FMV-Lifebook C6210 FMV-NB40M FMV-NB60M/W\FMV-NB80M

FMV-NB90M/W Lifebook 8010\8020\A1010\A3110\ C1211\C1211D\C1212\C1212D \C1320 \C1320DLifeBook C1320DA \ C1320DB\C1321\C1410 \ C2010 \C2110\C2111\C2210 \ C2220LifeBook C2230\ C2240\C2310\C2320\C2330 \E2010\E330\E380 \ E4010

LifeBook E4010D\ E6624\E6634\E6644 \E6654\E6664\E6666 \E7010\E7110

LifeBook E8000\ E8000D \E8010\E8010D \E8020 \ E8020C\E8020D\ E8110\ E8210

LifeBook N3400\ N3410\N3500\N3510\N3511\N3520\N3530\ N6110\N6210

LifeBook N6220 \S2210\ S6310
Package Content:
1 x Fujitsu LG 19V 3.95A 6.0*4.4 Notebook Power Supply Adapter
(Note : Photo attached is for reference only, it may be slightly varied in items of colour, markings from the actual item delivered from time to time)
We carry a full range of laptop power supply. For more models of Notebook power supply, please visit to our website store or contact us.




---
Step 1 : Buyer to click 'Buy Now'
Step 2 : Newfroggy to confirm your order
Step 3 : Buyer to make payment either thru Netpay or direct online bank-in/ATM cash deposits. (For more payment options, please refer section below.)
Step 4 : Newfroggy delivers goods to buyer address upon receiving of payment. Newfroggy updates the courier tracking no. into Lelong System.
Step 5 : Give ratings to seller / buyer when transaction completed
Step 1 : Buyer to sends email to jessica@newfroggy.com of your inquiry. (Indicating Product to order, Quantity, Ship to Address, Recipient Phone No., Recipient Email)
Step 2 : Newfroggy will send an email to buyer, attaching an invoice showing total amount including shipping cost and with Newfroggy company bank details.
Step 3 : Buyer to make payment via direct online payment transfer bank-in/ ATM cash deposits. (For more payment options, please refer section below). For Online transfer, please key in email address: jessica@newfroggy.com in the email address field so we will receive notification from Online Banking System.
Step 4 : Seller delivers goods to buyer upon receiving of payment. Seller updates the courier tracking no. via email to buyer
More Direct Payment Transfer Options/Payment methods:
Direct to CIMB Bank (CIMB Click)
Old Number: 07390000989059
Account Name: NEWFROGGY STORE
Account Name: NEWFROGGY STORE
OR
Number: 107086200210
Account Name : OOI SEANG YAU
Direct to Public Bank (PBe)
Account Name: NEWFROGGY STORE
Shipping Method
Courier Service : Usually the courier company will takes 1 - 2 working days for delivery after shipping.
All orders come with a tracking number. Normally the pick up time will be between 2.00p.m to 3.00p.m daily. We will update courier tracking numbers into the system in the evening.

Please keep us alert if it is not received 3 working days after shipment date.
Processing Time
All orders will be shipped within 2 working days upon receiving cleared payment. (Noted : MEPS/GIRO/All interbank transfer will only be shipped once payment cleared).

Usually we will trying our best to arrange the shipment within 1 business day or same day delivery.
Business days (Monday-Friday), Excluding Holidays.
Delivery will not be offered on Saturday, Sunday or Public Holiday. Delays in delivering your order might be incurred due to holidays, extreme bad weather or any unforeseen circumstance.
Please give us an address with someone to acknowledge receipt during day time to avoid unsuccessfully delivery of the product.
** Return Merchandise Authorization (RMA) Department **
Within 2 weeks from our delivery, we accept RETURNS. Customer can ALWAYS return the goods if you find them
A) suspected faulty or
B) you dislike it.
Customer to first contact our Return Merchandise Authorization (RMA) Department by writing to us. Give us the following information in the email.
Order Number

Product Model Number

Quantity Of RMA

Brief Description of Your Reason to Return
Our RMA department collegue will then provide you a RMA number, whether it is Case A) faulty or Case B) you dislike it, as well as the ship to address.

Case A) - As for any suspected faulty unit, customer can ship back the item to our address given (at buyer cost). We will test/check or send bank to supplier to test/check the product and if confirm faulty, we will claim from supplier for FOC repairing or replace good unit for replacement and we will ship back the repaired/replacement unit to customer. We warrants to the buyer of the product that the hardware is free of defects in material and workmanship.

Case B) - As for dislike item, within 14 days you ship back the item to our office (at buyer cost). After we receive the sent back item, we will refund 85% of the product price (15% order cancellation fee).
Questions & Answers
Do you have any questions to ask merchant about this product
Ask Seller
| | | |
| --- | --- | --- |
| 5 star | | 0 |
| 4 star | | 0 |
| 3 star | | 0 |
| 2 star | | 0 |
| 1 star | | 0 |
Share your thoughts with others
Write a review
Only buyers who purchased the product may leave a review