Item Specification
Model / SKU
: FURSE ESP240M1
Product Description
Selling One unit of
Furse Surge or Lightning PROTECTOR for Single Phase Distribution Box
Demo Set, in excellent condition.
Made in UK, the most expensive lightning protector in the world. Market price is $1500.
Market Price how much? Where to download the spec? Pls visit website below:
In English
http://uk.farnell.com/furse/esp240m1/surge-protector-240v-1-phase/dp/188621 
http://www.keison.co.uk/furse/furse06.htm
In Mandarin
http://www.sumasemi.net/%E5%9C%A8%E7%BA%BF%E7%9B%AE%E5%BD%95/%E9%AB%98%E5%8E%8B%E4%B8%8E%E5%AE%89%E5%85%A8-%E7%94%B5%E6%B0%94%E5%AE%89%E8%A3%85/%E8%8B%B1%E5%9B%BDfurse%E9%98%B2%E9%9B%B7%E5%99%A8/  
How to install? Pls look at the following photo: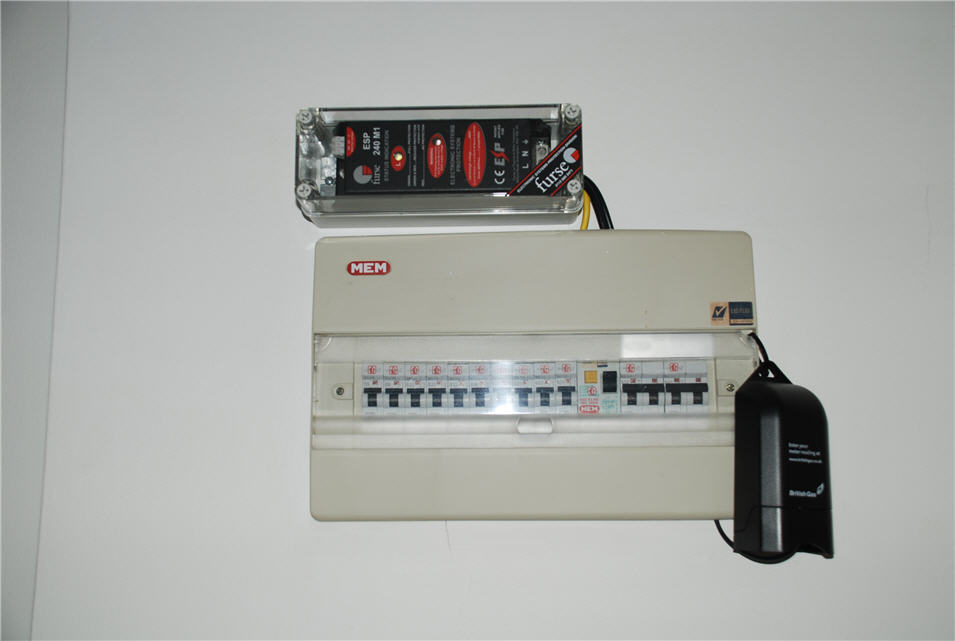 Actual item: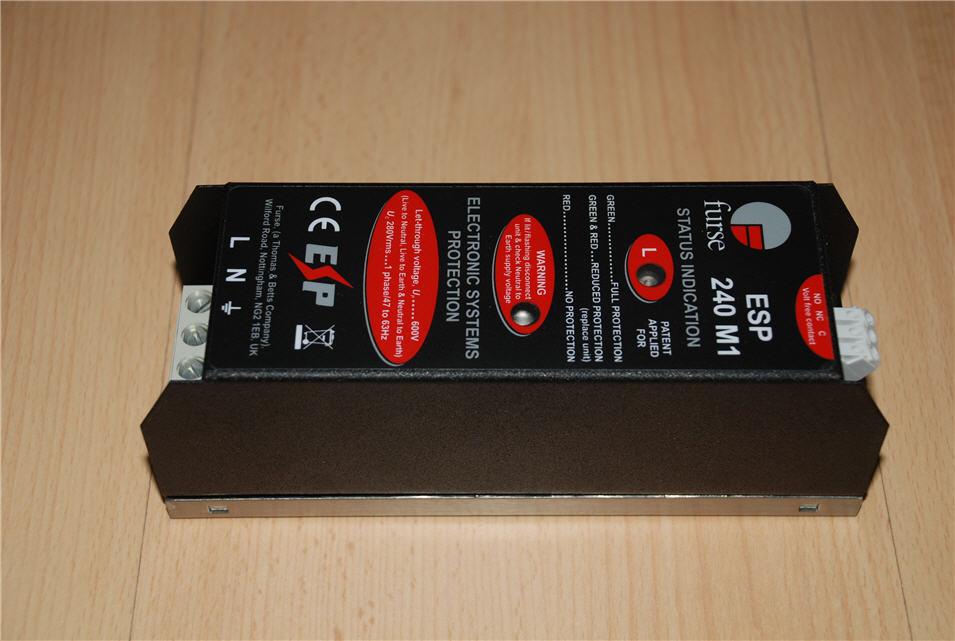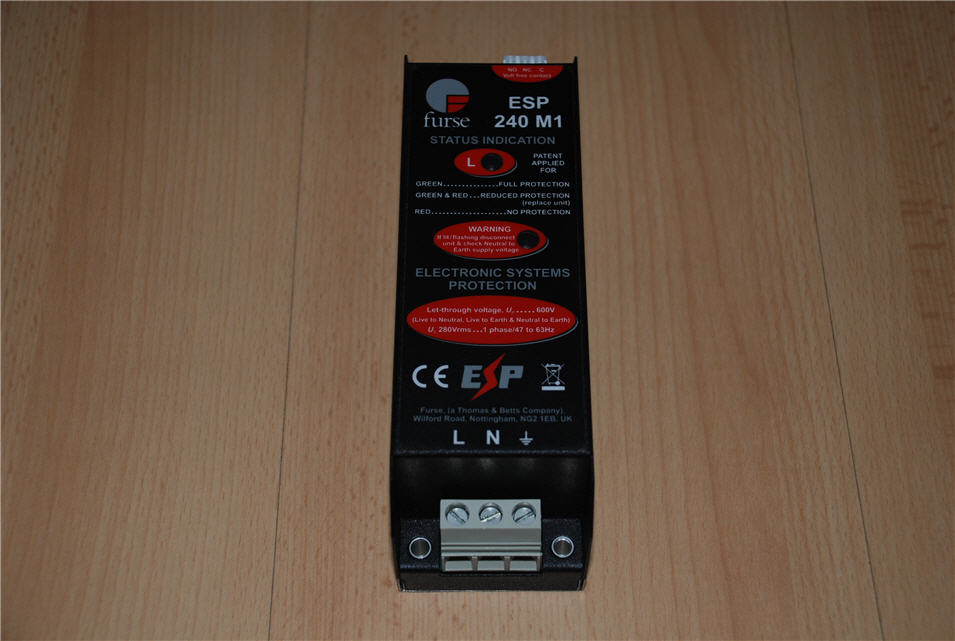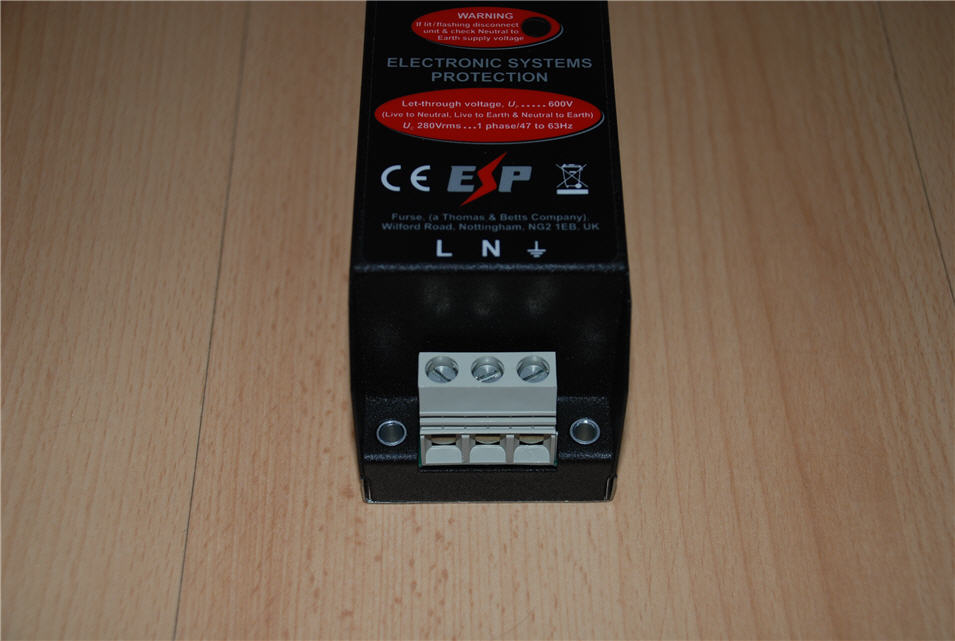 Model: Furse ESP 240M1.  (For Single phase)
Use on mains power distribution systems to protect connected electronic equipment from transient overvoltage's on the mains supply. Typical uses include the protection of:
computer equipment

transmitter/receiver systems

uninterruptible power supplies (UPS)

drives and inverters

programmable logic controllers (PLC)

medical equipment
Features and Benefits
Designed to protect and survive in lightning intense environments.
Very low let-through voltage restricts dangerous transient overvoltage's to below the damage levels of equipment circuitry.
Protection between all sets of conductors (phase to neutral, phase to earth and neutral to earth) closes all transient paths to equipment for complete protection.
Maximum surge current greatly in excess of the 10kA worst case indicated in BS 6651 and IEEE C62.41.
Repeated protection in lightning intense environments with 20 years predicted lifetime.
Innovative new Sovtrip™ multiple thermal disconnect technology, anticipates standards authorities future demands, for safe disconnection from faulty or abnormal supplies (without compromising protective performance).

*******************************************************************************************************************************************************************************************
 I saw your  products and want your suggestion on what to fix for my house to protect from lightning. Each time there is lightning (sometimes mild), my house elcb trips. Until we on the elcb back, the whole house will be without power. Recently, I purchased this Belkin power protector and so far my modem has been safe inspite of very heavy lightning for the past few days.  I will need something to protect the whole house and prevent this tripping of elcb. What do you recommend ?
In order to solve your problem, I suggest the following:
(i)

                 
You need to replace your house's Distribution Box, the ELCB/MCB inside, especially the ELCB (RCD/RCCB), & also check your earth connection.
ELCB (RCD/RCCB) is very important to prevent unwanted tripping. A good brand of ELCB device is protected against nuisance tripping due to transient voltages (lightning strikes, line disturbances on other equipment etc) and transient currents (from high capacitive circuits). A good brand of ELCB also able to prevent the risks of unwanted tripping due to transient voltages and transient current.
Do you heard about Schneider Electric/Merlin-Gerin ELCB (RCCB)? I suggest that you get one piece of this to replace your existing ELCB. If your house is single phase electric, the suitable model will be RMG 630302 , which is 63A 30mA 2P.
(ii)

               
Besides the ELCB, you need a good lightning proctetor. The Best/most well-known in the world will be FURSE (UK) and Novaris (Malaysia), both are very expensive and best in the world, you can survey online. I am selling it on Lelong.com, please take a look at the following link and download the product manual:
The abovementioned is good enough to protect the power supply for your whole house but you still have to install a protector for your telephone line and TV aerial, the following is good for this purpose:

Last Updated @ 5/19/2014 1:07:55 PM