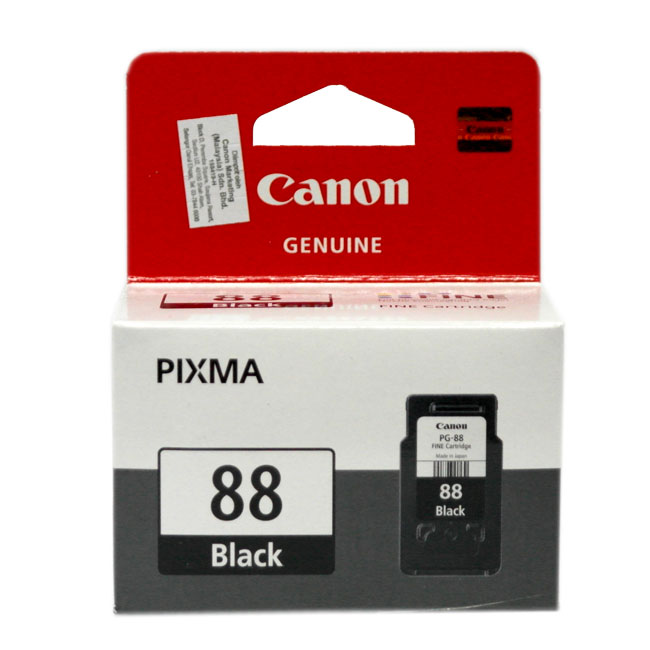 Canon PG-88 Ink Cartridge
The Canon PG-88 Ink Cartridge breathes life into every print thanks to its high-quality make and diligent performance. From text to photos, you can create magic with this colour-fast ink and share it with the world. Canon is today, the world leader in imaging technologies and offers amazing solutions to all your needs from photography to office printers. Their fervent dedication to quality and astounding line of products has today taken them to the pinnacle of success. While creating smarter imaging products, Canon also strives constantly to protect nature with recyclable materials and energy-efficient designs.
This Canon ink cartridge is compatible with the Pixma E 500 and E 600 printer models and not only helps create stunning prints but also maintains the integrity of the printer. This is because, the cartridge is of original quality and built to work in collaboration with specific printers.
The PG-88 ink cartridge has a page yield of up to 800 pages in the standard mode. This also depends on the type of the content being printed on the expanse of the paper. It uses Chromalife ink that ensure that the printed matter is vibrant and pleasing to the eye. The ink is also fade resistant, so the data lasts longer on the page and does not wear off. Often, after the completion of print, if you touch the paper directly, there can be smudges, which can destroy the whole print. But, this does not occur with this ink cartridge from Canon as it has a smudge-proof design.
Canon PG-88 Colour Ink Cartridge
This Canon ink cartridge is compatible with the Pixma E 500, E 510 and E 600. Manufactured with the same technology, it helps to create sharp colour images. This cartridge is often bought together with PG-88 (as above).