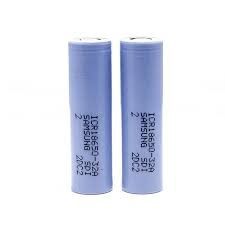 Specification:
SAMSUNG ICR18650-32A Li-ion rechargeable battery
Capacity: 3200mAh
Energy: 12.0Wh
Nominal Voltage: 3.75V
Charge Voltage: 4.35V\u00b10.05V
Charge Method: CC- CV (Constant current with limited voltage)
Max charge current: 3.2A
Max discharge current: 6.4A
Cut-off discharge voltage: 2.75V
Charging time: 3 hours with 1.6A standard charge current
Best Storage temperature: -20~25?
Weight: 50.0 g max
Size: Diameter: 18.40mm max Height: 65.00mm max
Cautions:
Battery must be charged at operating temperature range 0~45?.
Battery must be discharged at operating temperature range -20~60?.
Battery must be stored separately in a dry area with low temperature for long-term storage.
Do not short positive and negative contacts.
Do not disassemble the battery.
Do not expose to heat.
Do not solder on the battery directly.
Battery Case Storage Box