Item Specification
Product Description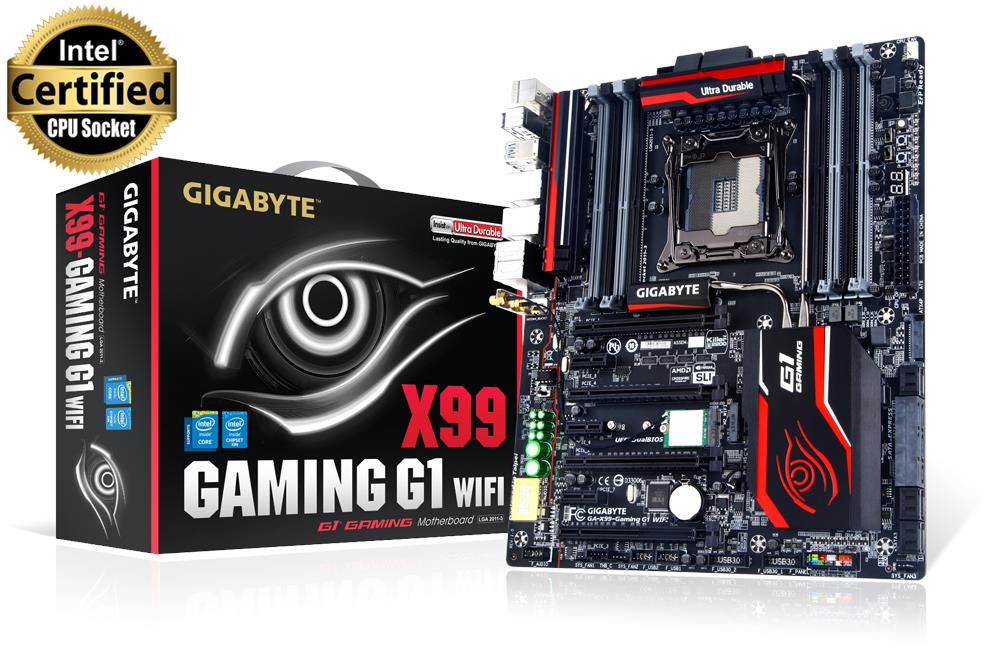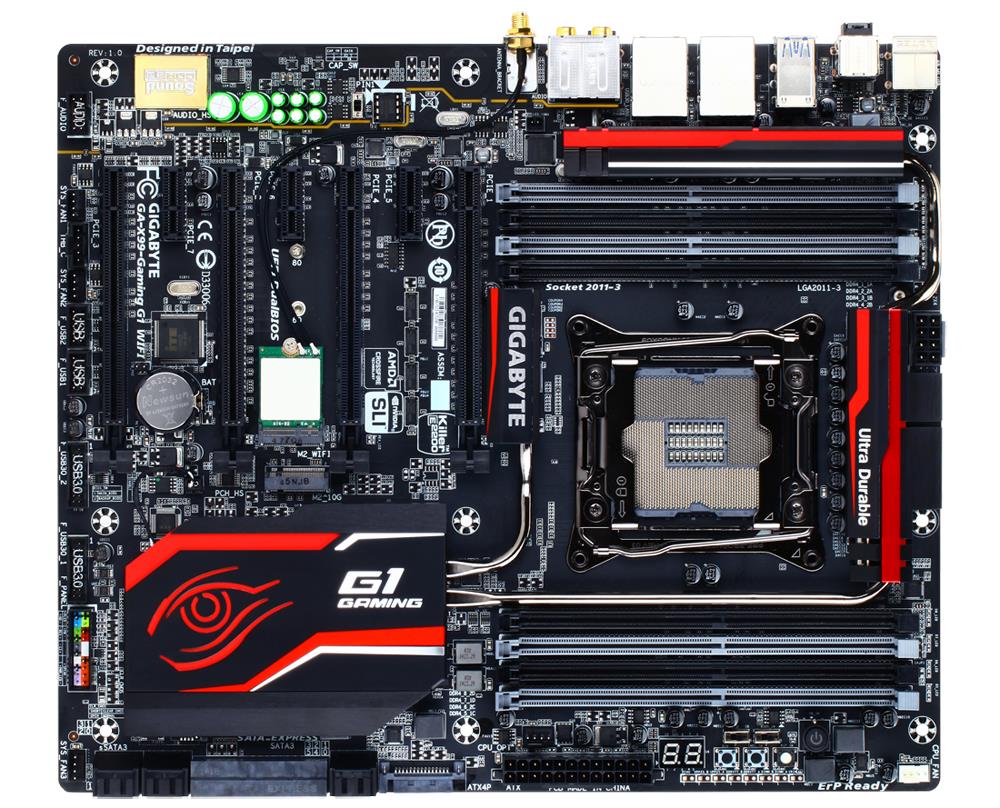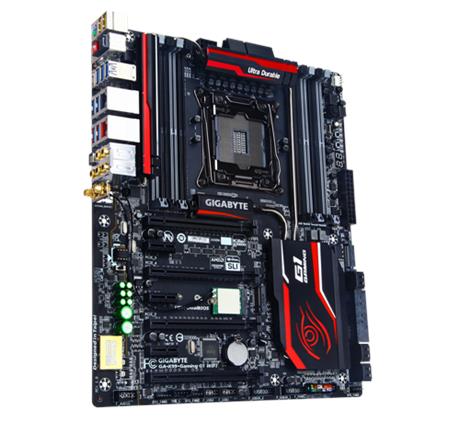 The Gigabyte GA-X99-Gaming G1 WIFI Intel X99 Chipset Motherboard uses an all-digital CPU power design from International Rectifier which includes 4th Generation digital PWM and 3rd Generation PowIRstage controllers that offer precision in delivering power to the power-hungry and energy-sensitive components. This allows enthusiasts to extract maximum performance from their Intel Core i7 Extreme Edition CPUs. It features Isense technology, which provides precise current sensing accuracy. This helps evenly distribute the thermal loading between the PowerIRstage ICs, preventing the overheating of each individual PowerIRstage, resulting in longer lifespan and better reliability.
The motherboard features server-level Cooper Bussmann chokes for server-level reliability and high current capacity. It also reduces heat created by power loss and provides efficient power delivery to CPU VRM area. This motherboard integrates solid-state capacitors that are rated to perform at maximum efficiency for extended periods, even in extreme performance configurations. It also offers low ESR.
The motherboard features a PCI Express design that utilizes all of the 40 lanes from the CPU when in a 4-way or 3-way graphics configuration. Standard designs limit all 4 main PCIe lanes to x8 (64 Gb/s) bandwidth, but thanks to the onboard external clock generator combined with the direct connection of one of the x16 lanes to the CPU (switchless design), this motherboard can unlock the full bandwidth (320 Gb/s ) available and provide the optimum graphic bandwidth possible to the user.
Featuring Dual M.2 technology, the motherboard provides users PCI-Express connectivity for SSD devices and for 11AC Wi-Fi + Bluetooth 4.0 card. It can deliver data transfer speeds of up to 10 Gb/s. The stacked design optimizes the PCB real-estate usage, allowing more components to be efficiently added without compromising any space.
The X99 motherboard features an onboard SATA Express connector that supports data transfer rates of up to 10 Gb/s, which won't bottleneck faster NAND flash technologies in SSDs. SATA Express combines the benefits of PCI-Express and SATA to provide high bandwidth, allowing SATA Express based drives to perform at similar speeds as PCI-Express based drives.
The Gaming motherboard is equipped with the Gigabyte exclusive AMP-UP Audio Technology, which provides the onboard audio features and technologies. With the AMP-UP Audio, gamers and audiophiles can experience crisp, realistic sound effects while gaming, and a rich sound experience when listening to music or watching movies.
The X99 G1 Gaming motherboard features the shortest audio communication paths between each critical component, from chipset to audio jack. This reduces the crosstalk along the way, and the very close proximity of the AMP to the audio jack directly results in lower noise disturbance. Locating the right and left audio channels on separate PCB layers, this motherboard is capable of eliminating channel crosstalk.
With Quad-Core Creative Sound Core3D Audio Processor, this motherboard is capable of harnessing the power of a dedicated audio processor to offload workload from CPU, offer total solution from Creative (hardware +software), and provide richer overall audio experience. The motherboard also features the SBX Pro Studio suite of audio playback technologies that delivers realistic surround sound, the ability to clearly hear specific sounds in a gaming environment, and more to enhance the overall experience, be it movies, games or music. Users can choose audio quality based on individual listening preferences. It supports a wide variety of additional OP-AMPs.
The X99 Gaming motherboard uses Nichicon high end audio capacitors. These professional audio capacitors deliver optimum sound resolution and sound expansion to create the most realistic sound effects for professional gamers. It includes gold plated audio connectors for improved connectivity and long lasting durability. The Creative Sound Core3D processor is also shielded by a gold plated cover which eliminates electrostatic interference.
Featuring dual USB 2.0 ports, this motherboard's USB DAC-UP provides clean, noise-free power delivery to your Digital-to-Analog Converter. The USB DAC-UP features an isolated power source that minimizes potential fluctuations and ensures the best audio experience possible.
The included Killer E2200 from Qualcomm Atheros is a high-performance, adaptive gigabit Ethernet controller that offers better online gaming and online media performance. The Killer E2200 features Advanced Stream Detect technology, which identifies and prioritizes all network traffic to ensure important applications that require high-speed connectivity are prioritized over less important traffic.
The Intel Gigabit LAN networking in this motherboard features several performance-enhancing features such as advanced interrupt handling to help reduce CPU overhead and Jumbo Frame support for extra-large data packets. The X99 motherboard comes equipped with 30 micron thick gold plating for the CPU socket, 4 PCIe slots, and 8 DIMM slots, which ensures reliability and longevity for the diverse connectors over time. It also features a 2X copper PCB design that provides sufficient power trace paths between components to handle greater than normal power loads and to remove heat from the critical CPU power delivery area. This is essential to ensure the motherboard is able to handle the increased power loading that is necessary when overclocking.
With DualBIOS system, the motherboard protects users from BIOS failure due to virus attack, hardware malfunction, improper OC settings, or power failure during the update process. Q-Flash Plus allows users to update to the latest BIOS using a thumb drive without the CPU or memory needing to be installed. By simply downloading the latest BIOS and renaming it on a USB thumb drive, and plugging it into the dedicated port, you can now flash the BIOS automatically without the need to press any buttons or even the need of onboard memory or CPU. Utilizing the ITE EC 8951E controller, the X99 motherboard's BIOS can be updated even if your system is unable to boot. An LED next to the EC controller will notify you once the procedure is complete and you are ready to boot your system normally.
The X99 motherboard features a wider copper ground pad and onboard components free area around the PCB screw mounting holes. This design reduces the chances of damaging any surrounding onboard components during the PC assembly process. Bigger copper ground pads also provide the added benefit of lower EMI disturbance for reduced noise interference. The motherboard features LED lighting for the audio guard light path, providing a cool, custom look to your rig. These lights are programmable, so you can have them beat to the rhythm of the music you are listening to, or pulse at a soothing pace to create a great atmosphere to enhance the environment of your game, movie, or music.
The heat sink design offers efficient cooling on key areas of the motherboard including the PWM area and chipset (PCH) to maintain optimal thermal parameters. This Thunderbolt Ready motherboard allows you to expand your systems capability with an onboard pin header to accommodate the addition of a Thunderbolt add-in card (not included). The Thunderbolt controller can provide bandwidth of up to 20 Gb/s. The motherboard supports Intel Core i7 processors for delivering bandwidth totaling 320 Gb/s for the most demanding gamers or graphics intensive creation tasks such as video editing. With enhanced overclocking oriented option, this motherboard allows users to take full advantage of all the performance potential of Intel Extreme Edition CPUs (not included). It also supports 4-channel DDR4 RAMs for fast loading of programs, increased responsiveness, and handling heavy data tasks.
The Gigabyte APP Center gives you easy access to apps that help enhance the functionality of the motherboard. Using a simple, unified user interface, Gigabyte APP Center allows you to easily launch all Gigabyte apps installed on your system, check related updates online, and download the latest apps, drivers, and BIOS. The Gigabyte EasyTune is a simple and easy-to-use Windows-based software application that allows users to fine-tune their system settings, adjust system, memory clocks, and voltages in a Windows environment. It also helps display system-related information without the need to install additional software.
Supports Intel Core i7 processor extreme edition
Supports 4-channel DDR4, 8 DIMMs
All digital power design with IR digital PWM and IR PowIRstage ICs
4-Way graphics with premium PCIe lane
Dual M.2 technology for SSD drive and Wi-Fi card
6x (30µ) gold plating for CPU socket, memory DIMMs, and PCIe slots
Onboard Creative Sound Core3D quad-core audio processor
AMP-UP audio technology with upgradable OP-AMP
Independent right and left audio channel PCB layers
LED lighting for the audio guard light path and the back panel LED
Dual DAC-UP USB ports
Gold-plated audio ports
Features high-end Nichicon audio capacitors
Killer E2200 and Intel gaming networking
SATA Express support for up to 10 Gb/s data transfer 1
Long lifespan durable black solid caps
APP Center including EasyTune and Cloud Station utilities
Smart Quick Boost provides users with different levels of CPU frequency to choose to achieve desired system performance
Advanced CPU OC allows users to set the CPU's base clock, frequency and voltages, and integrated graphics frequency
Advanced DDR OC allows users to set the memory clock with XMP profile support
3D power allows users to change power phase, voltage, and frequency settings
Cloud station server is composed of several apps that allow your smart phone/tablet/PC devices to communicate, share resources, and control desktop PCs via wireless connection
HomeCloud allows users to share the files between your smart phone/tablet device and computer or back up the files from the device to the computer
HotSpot turns your computer into a virtual wireless access point and allows you to share your connection with your other wireless devices
Remote allows users to remotely control the mouse/keyboard/Windows Media Player on your computer from your smart phone/tablet device
Remote OC allows users to remotely control their desktop PC with a suite of software functions that include overclocking and system tweaking, system monitoring plus the ability to also remotely power down/reset the PC when needed
Auto Green provides users with simple options to enable system power savings via a Bluetooth-enabled smart phone/tablet device
GIGABYTE Game Controller allows you to define your own hotkeys and change the mouse sensitivity, helping you make the most out of your keyboard and mouse in games
Allows you to create macro commands and define your own hotkeys to quickly perform the function you want
Using the Sniper key you can switch the mouse sensitivity when you are in sniper mode for better sniper accuracy
When the device is out of the range of the computer's Bluetooth receiver, the system will enter the specified power saving mode
Offers support for APP Center that includes @BIOS, Ambient LED, EasyTune, EZ Setup, Fast Boot, Cloud Station, ON/OFF Charge, Smart TimeLock, Smart Recovery 2, System Information Viewer, USB Blocker, and V-Tuner
Supports Q-Flash, Smart Switch, and Xpress Install
Thunderbolt ready
UEFI DualBIOS with Q-Flash Plus USB port
Safer design around screw mounting holes
Single package design for improved thermal capability and layout

SPECIFICATIONS

CPU
Support for Intel Core i7 processors in the LGA2011-3 package
L3 cache varies with CPU
Chipset
Intel X99 Express Chipset
Memory
8 x DDR4 DIMM sockets supporting up to 64 GB of system memory
4 channel memory architecture
Support for DDR4 3000(O.C.) / 2800(O.C.) / 2666(O.C.) / 2400(O.C.) / 2133 MHz memory modules
Support for non-ECC memory modules
Support for Extreme Memory Profile (XMP) memory modules
Support for RDIMM 1Rx8 memory modules (operate in non-ECC mode) 
Audio
Creative Sound Core 3D chip
Support for Sound Blaster Recon3Di
TI Burr Brown OPA2134 operational amplifier
High Definition Audio
2/5.1-channel
Support for S/PDIF Out
LAN
1 x Qualcomm Atheros Killer E2201 chip (10/100/1000 Mbit) (LAN1)
1 x Intel GbE LAN phy (10/100/1000 Mbit) (LAN2)
Wireless Communications
Wi-Fi 802.11 a/b/g/n/ac, supporting 2.4/5 GHz Dual-Band
Bluetooth 4.0, 3.0+HS, 2.1+EDR
Support for 11ac wireless standard and up to 867 Mb/s data rate 
Expansion Slots
2 x PCI Express x16 slots, running at x16 (PCIE_1, PCIE_2)
For optimum performance, if only one PCI Express graphics card is to be installed, be sure to install it in the PCIE_1 slot; if you are installing two PCI Express graphics cards, it is recommended that you install them in the PCIE_1 and PCIE_2 slots.

2 x PCI Express x16 slots, running at x8 (PCIE_3, PCIE_4)
The PCIE_4 slot shares bandwidth with the PCIE_1 slot. When the PCIE_4 slot is populated, the PCIE_1 slot will operate at up to x8 mode. When an i7-5820K CPU is installed, the PCIE_2 slot operates at up to x8 mode and the PCIE_3 operates at up to x4 mode. (All PCI Express x16 slots conform to PCI Express 3.0 standard.)

3 x PCI Express x1 slots (The PCI Express x1 slots conform to PCI Express 2.0 standard.)

1 x M.2 Socket 1 connector for the wireless communication module (M2_WIFI)
Graphics
Support for 4-Way/3-Way/2-Way AMD CrossFire/NVIDIA SLI technology 
Storage Interface
Chipset
1 x M.2 PCIe connector (Socket 3, M key, type 2242/2260/2280 SATA & PCIe x2/x1 SSD support); Only AHCI mode is supported when an M.2 PCIe SSD or a SATA Express device is installed
1 x SATA Express connector
6 x SATA 6 Gb/s connectors (SATA3 0~5)
Support for RAID 0, RAID 1, RAID 5, and RAID 10
4 x SATA 6 Gb/s connectors (sSATA3 0~3), supporting IDE and AHCI modes only (An operating system installed on the SATA3 0~5 connectors cannot be used on the sSATA3 0~3 connectors.) 
USB
Chipset
4 x USB 3.0/2.0 ports (available through the internal USB headers)
6 x USB 2.0/1.1 ports (2 ports on the back panel, 4 ports available through the internal USB headers)

Chipset + 2 Renesas uPD720210 USB 3.0 Hubs
8 x USB 3.0/2.0 ports on the back panel
Internal I/O Connectors
1 x 24-pin ATX main power connector
1 x 8-pin ATX 12V power connector
1 x PCIe power connector
1 x I/O shield audio LED power connector
1 x heatsink LED power connector
1 x SATA Express connector
10 x SATA 6 Gb/s connectors
1 x M.2 Socket 3 connector
1 x CPU fan header
1 x water cooling fan header (CPU_OPT)
3 x system fan headers
1 x front panel header
1 x front panel audio header
2 x USB 3.0/2.0 headers
2 x USB 2.0/1.1 headers
1 x Thunderbolt add-in card connector
1 x Clear CMOS jumper
1 x power button
1 x reset button
1 x Clear CMOS button
1 x Direct to BIOS button
1 x audio gain control switch
Voltage Measurement Points
2 x BIOS switches
Rear Panel Connectors
1 x PS/2 keyboard/mouse port
1 x CPU overclocking button
1 x Fast Boot button
1 x Clear CMOS button
8 x USB 3.0/2.0 ports
2 x USB 2.0/1.1 ports
2 x RJ-45 ports
1 x optical S/PDIF Out connector
5 x audio jacks (Center/Subwoofer Speaker Out, Rear Speaker Out, Line In/Mic In, Line Out, Headphone)
2 x SMA antenna connectors (2T2R)
Controller Interface
iTE I/O Controller Chip
Monitoring
Hardware
System voltage detection
CPU/System/Chipset temperature detection
CPU/CPU OPT/System fan speed detection
CPU/System/Chipset overheating warning
CPU/CPU OPT/System fan fail warning
CPU/CPU OPT/System fan speed control 
BIOS
2 x 128 Mb flash
Use of licensed AMI UEFI BIOS
Support for DualBIOS
Support for Q-Flash Plus
PnP 1.0a, DMI 2.7, WfM 2.0, SM BIOS 2.7, ACPI 5.0
Bundle Software
Norton Internet Security (OEM version)
Intel Smart Response Technology
Operating System
Support for Windows 8.1/8/7 
Form Factor
E-ATX Form Factor; 12.0 x 10.2" (30.5 x 25.9 cm)
Buy with confidence
| | | | |
| --- | --- | --- | --- |
| Buyer | Item ID | Date | Ratings |
| js**** | 199080081 | 1/23/2018 4:57:00 PM | very fast delivery. |
| sk**** | 200045023 | 1/23/2018 12:01:00 PM | Fast Delivery!!!! |
| mu**** | 189663846 | 1/23/2018 5:43:00 AM | - |
| ev**** | 200136819 | 1/22/2018 10:06:00 AM | Highly recommended and thanks for the timebox~ My sister loves it! |
| ju**** | 193189476 | 1/19/2018 8:24:00 PM | item received in good condition and fast |
| ad**** | 199046309 | 1/17/2018 7:38:00 PM | excellent seller |
| nb**** | 193305890 | 1/17/2018 6:06:00 PM | fast service |
| az**** | 190617316 | 1/17/2018 2:56:00 PM | Fast confirmation and delivery |




















---
*Goods Sold / Paid / Delivered / Not Compatible Are Not Refundable, Returnable And Exchangeable. We are not responsible for the compatibility of the items.
*Warranty On All Products Sold Is Considered Null And Void Under Any One Of The Following Conditions:
1. Warranty Seal/Sticker Is Tear, Broken Or Tempered.
2. Misuse, Mishandling, Natural Disaster Or Unauthorized Disassembly.
3. Burn Mark Or Any Physical Defect/Damage Caused By End User Or During Deliver / Postage / Courier.
4. Modification, Personal Repair Or Excessive Over Clocking Resulting Malfunction
For almost all product,we follow the product warranty period and we will charge RM30 minimum charges for warranty processing fee.

Kindly check on the warranty period covered by us,before make the purchase to void misunderstanding.

If found faulty while delivery,kindly contact us at 017-844 8006
Questions & Answers
Do you have any questions to ask merchant about this product
Ask Seller
| | | |
| --- | --- | --- |
| 5 star | | 0 |
| 4 star | | 0 |
| 3 star | | 0 |
| 2 star | | 0 |
| 1 star | | 0 |
Share your thoughts with others
Write a review
Only buyers who purchased the product may leave a review