Brand New in Original Packaging
The Quick Chop is the fast, easy way to chop, mince slice and dice with just a tap. Quick Chop is faster than a knife and easier than a processor. When you're done, just run it under the tap.
The Quick Chop will cut your kitchen time in half !
Place your favorite vegetables under the Quick Chop, give it a tap and you can have finely shredded cabbage for cole slaw. Tap again and instantly chop celery and carrots for a tasty stir-fry. One tap easily cuts potatoes for home fries.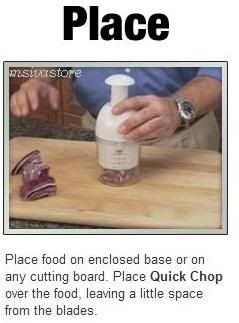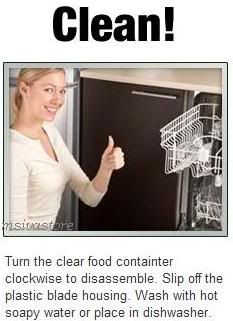 Everybody knows garlic can be a pain to chop, but not anymore. With Quick Chop you can even leave the peel on. Just give it a tap, remove the peel and you're left with fresh garlic, peeled, chopped and ready to use.

White plastic and clear acrylic with 6 carbon steel blades
3 3/4" Diameter x 9" H
Blades rotate as they retract
Use on cutting board or on enclosed base
Disassemble for easy cleaning
Features & Benefits :  
When you tap on the Quick Chop, six carbon steel blades slice your food perfectly. As they retract, they rotate so the next time you tap down the blades chop in a completely different area. Place an onion in the Quick Chop, tap twice and you have onions perfect for burgers. Tap again and you have diced onions for soups or stews. Tap again and enjoy finely minced onions. And all without tears!
Quick Chop - Dice, Chop & Mince in seconds

You never need to switch blades 

Chop up vegetables, nuts, & fruits, quickly and easily 

With every slap, the finer the food gets 

Easy to clean and dishwasher safe 

Quick Chop easily pops open like a butterfly for easy access while cleaning! 

Quick Chop is going to be your favorite cooking accessory! 

With Three blades, it can chop and create delicious foods - with just a slap 

Quick Chop is great for ice cream toppings or salads because you get perfect cubes that are the perfect size 

The Quick Chop is also great for onions and garlic so your fingers don't smell. since the skin can easily be removed from the garlic and onion with a couple of slaps 
video above is for demo only. The free gifts from us are stated below

" It's faster than a knife and less complicated than a processor, not to mention very much cheaper."
Ideal For : 
Perfect to use for working people , people who want to learn cook quickly , making quick sandwiches in your home or office.

 Package Contents : 

Gourmet Quick Chop Main Unit  x 1
+ 4 BONUSES INCLUDED
Quick Chop  Egg Separator  x 1 Unit
Quick Chop Grater x 1 Unit
Quick Chop  Gripper x 1 Unit
Quick Chop  Juicer x 1 Unit

Comes in individual blister packing set factory sealed as seen in image below
Front view of packaging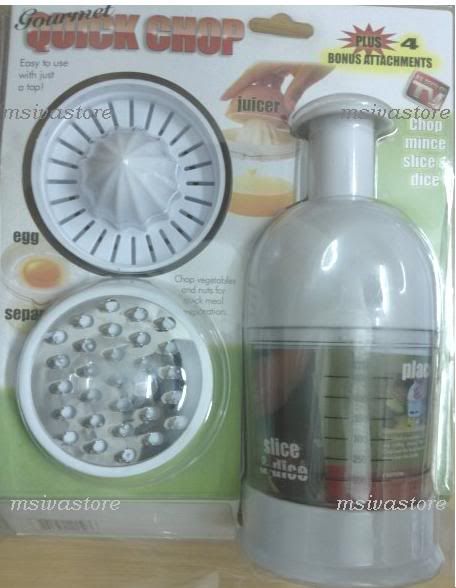 Back view of packaging
size including packaging = 28cm length x 31cm height
Bid Today to Get Your Best Price on This Quick Chop at Factory Price!