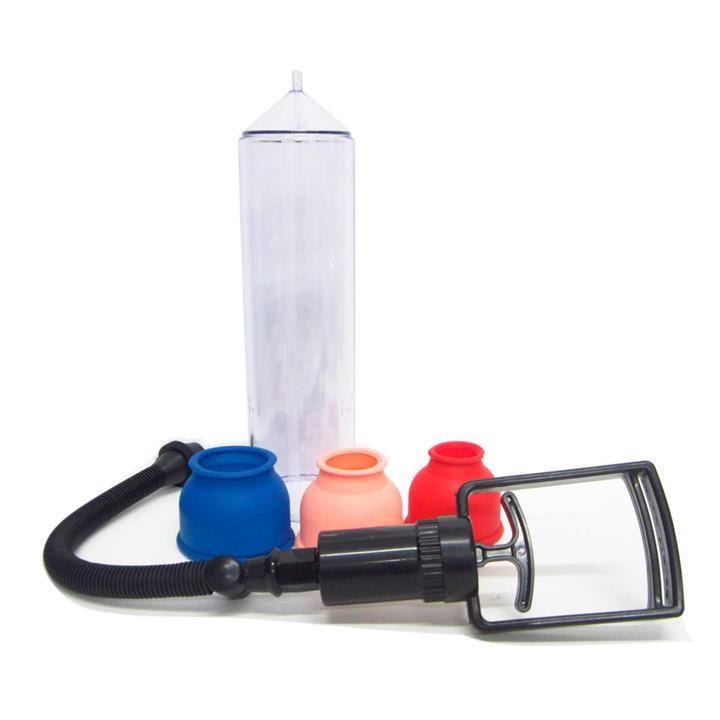 Apa itu HANDSOME PUMP Version 2 ?



Pam Zakar Handsome Up adalah suatu alat yang telah direka cipta khas untuk lelaki yang inginkan saiz zakar yang keras, besar dan panjang. Pam zakar ini mampu memberikan kuasa maksimum kepada ereksi dan juga mampu memberikan daya ketahanan dalam hubungan seks.

Pam Zakar Handsome Up merupakan alternatif bagi urutan. Jika anda tidak mahir dengan urutan batin, atau inginkan sesuatu yang ringkas dan cepat, pam zakar ini adalah pilihan yang tepat. Selain dapat membantu merawat penyakit mati pucuk (erectile dysfunction) dan ejakulasi pra-matang, ia juga dapat membantu lelaki yang inginkan saiz zakar yang besar serta mempunyai ketegangan dan kekerasan yang maksimum.

Pam Zakar Handsome Up mempunyai kepanjangan 9 inci dan berdiameter 2.4 inci. Jadi zakar anda mampu memanjang sehingga 9 inci dengan pengunaan Pam Zakar Handsome Up secara konsisten. Untuk hasil yang lebih memuaskan, kami syorkan digunakan bersama dengan

Hanya sapukan VxGra Cream pada zakar dan kemudian pam dengan Pam Zakar Handsome Up sekerap yang mungkin. Anda pasti kagum dengan kehebatan pam zakar ini apabila zakar anda bertambah 2 inci selepas menggunakannya.
Disclaimer: The results of using this product may vary from person to person

Pam Zakar Handsome Up V2 diperbuat dari material berkualiti tinggi dan tahan lasak. Tidak seperti pam zakar yang berharga murah yang mana mudah pecah dan tidak tahan lama. 
Cara Penggunaan

Sapukan minyak lintah pada keseluruhan zakar. Biarkan 30 minit
supaya minyak lintah dapat meresap ke dalam zakar anda.

Pasangkan getah ke mulut balang. Sila pilih saiz getah yang sesuai dan
selesa pada zakar anda. Terdapat 3 saiz, S, M dan L.

Masukkan balang pam ke zakar anda. Lihat gambar dibawah untuk maklumat
lanjut.

Pam berulang kali sehingga zakar anda menegang ke tahap maksimum.
Perhatian!!! Jangan paksa diri anda.

Tekan picu untuk mengeluarkan angin dari balang. Biarkan zakar anda
mengecut.

Setelah zakar mengecut, pam semula zakar anda. Lakukan proses 4 dan 5
berulang kali selama 30 minit.

Proses ini digalakkan diamalkan 2 kali sehari. Sekali pada waktu pagi
dan sekali lagi pada waktu malam.

Last Updated @ 4/27/2017 10:53:20 AM


















---
PAYMENT METHOD
CASH PAYMENT
Maybank2u
Maybank CDM
CimbClicks
CIMB CDM
RHB Now
RHB CDM
iRakyat
Bank Rakyat CDM
ATM Transfer
IBG Transfer
NetPay
http://www.lelong.com.my/merchant/Default.asp?UserID=adamma&show=Announcements&newsid=16061
Jaminan Penghantaran
Pesanan anda akan diproses dalam masa 24 jam selepas pembayaran anda disahkan. Kami akan UPDATE Tracking Number Di Dalam WebSite www.lelong.com.my atau yang beli terus dari saya (bukan melalui web lelong) akan dihantar Tracking Number melalui SMS. Jika selepas 24 jam anda masih tidak menerima sms dari kami, sila hubungi 0192278312 atau Email kepada kami: adamma@rocketmail.com
Kami hanya menggunakan perkhidmatan Poslaju, Kangaroo Ekspress, GDex Express dan CityLink untuk penghantaran pesanan anda. Bagi semenanjung Malaysia, setiap pesanan akan sampai ke tangan anda dalam 1-3 hari. Manakala bagi Sabah dan Sarawak antara 2-4 hari.
Selepas kami pos pesanan anda, kami akan sms anda untuk memaklumkan anda. Jika anda masih tidak menerima pesanan anda dalam masa 3 hari bekerja selepas menerima sms pengesahan penghantaran, sila hubungi kami. Kami akan periksa jika terdapat masalah dengan penghantaran anda.
Kami galakkan anda memberi alamat pejabat anda jika tiada sesiapa dirumah pada hari bekerja. Ini untuk memastikan barang selamat sampai ke tangan anda. Jika tiada sesiapa dirumah, maka pos laju akan tingalkan kad kutipan dirumah anda. Anda perlu menuntut bungkusan anda dipusat serahan pos laju yg ditetapkan.
HARGA PENGHANTARAN:
RM 6.60 SEMENANJUNG MALAYSIA (Untuk 500gram pertama saja)
Kami akan maklumkan jika perlu ditambah (melebihi 500gram)
RM 9.00 SABAH/SARAWAK
Free Combine Shipping...... Beli banyak mana pun boleh......
About Combine Shipping
We allowed Combine Shipping helping customers to save some shipping charge.
How it work?
Lets explain with an example:-

You buys 3 items using the Shopping Cart (add all items you need into shopping cart, do not click BUYNOW separately) :
Item A: Shipping fee RM8
Item B: Shipping fee RM20
Item C: Shipping fee RM12

System will pick up the most expensive Shipping fee, which isRM20 in this case, and add RM3.00 to each additional items.
RM20 + RM3 + RM3
You only need to pay RM26.00 instead of RM40.00
PLEASE READ THE FOLLOWING BEFORE BUYING THIS ITEM
All confirmation order will be delivered on the next day subject to stock availability.
Goods sold are

NOT RETURNABLE

or

EXCHANGEABLE

.
We will only send out the item after the payment has credited into our bank account.
Please note that Interbank/Giro Transfers have 24 to 48 hours delay before payment credited into our bank account.
At the moment, we only accept bank in / fund transfer to our Maybank and CIMB Bank account as a method of payment. For the time being, we

DO NOT

accept Credit Card Cheque.
Any information please email to
ad
amma@rocketmail.com
or
Please accept all the above terms and condition before buying.
Average Product Rating
0.0 stars out of 5
| | | |
| --- | --- | --- |
| 5 star | | 0 |
| 4 star | | 0 |
| 3 star | | 0 |
| 2 star | | 0 |
| 1 star | | 0 |
Share your thoughts with others
Write a review
Only buyers who purchased the product may leave a review