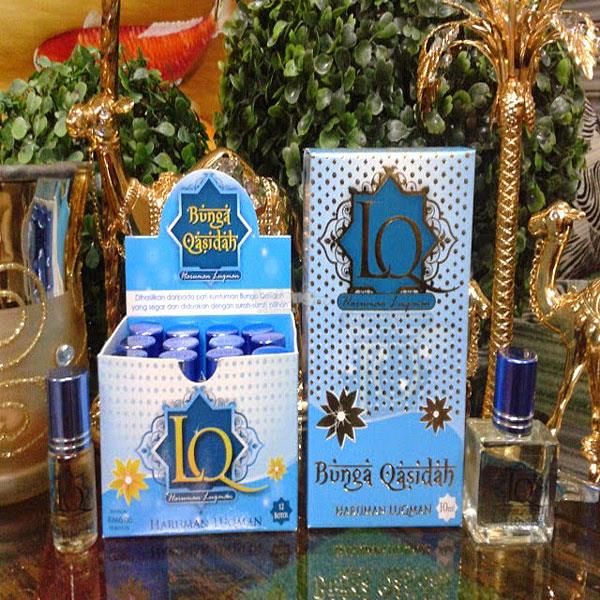 DESCRIPTION
Haruman Luqman Bunga Qasidah merupakan wangian yang bertindak sebagai penawar hasil kombinasi terapi Al-Qur'an dan rawatan tradisional Melayu. Ia diadun menggunakan kasturi kijang bersama campuran pati bunga-bungaan segar yang mampu mengharumkan tubuh badan anda di samping membantu menenangkan jiwa dan menguatkan rohani.
Haruman Luqman juga telah dibacakan ayat-ayat Al-Qur'an dan doa-doa terpilih untuk membantu membentengi diri daripada serangan sihir dan makhluk halus di samping merawat masalah rohani pemakainya. Antara surah dan ayat yang telah dibacakan adalah Surah Al-Fatihah, Surah Yasin, Surah Al-Baqarah, Surah Yusuf, ayat Syifa', ayat Ruqyah, ayat Ruqyah Jibril, selawat Syifa', selawat Tafrijiyyah, Saiyidul Istighfar, ayat Kursi, doa pelembut hati, doa penerang hati, doa pengasih, doa penyeri wajah, doa Sulaiman, doa untuk mengatasi hasad dengki, doa penenang fikiran, doa Kanzul Arasy, doa Khatamun Nubuwwah, serta solat hajat.
Ia sesuai dipakai oleh semua peringkat umur tidak kira lelaki mahupun wanita.
KHASIAT HARUMAN LUQMAN BUNGA QASIDAH
Mengharumkan dan menyegarkan tubuh badan

Membantu meredakan tekanan mental dan gangguan emosi

Membantu meningkatkan daya tumpuan

Menghilangkan masalah was-was

Menaikkan seri wajah

Membenteng diri daripada serangan sihir dan makhluk halus

Menjadi penawar untuk histeria

Membantu masalah anak-anak yang nakal dan malas

Mengatasi masalah keletihan dan kelesuan tubuh badan

Harumannya mampu bertahan lebih lama

Sesuai untuk lelaki dan wanita dari semua peringkat umur
KANDUNGAN HARUMAN LUQMAN BUNGA QASIDAH
Kasturi Kijang: Minyak kasturi dihasilkan dari sumber perut kijang jantan dan merupakan wangian yang sering diperkatakan sejak zaman dahulu lagi. Minyak kasturi membantu membekalkan ketenangan kepada jiwa, meredakan ketakutan dan kebimbangan, menguatkan jasmani dan rohani di samping melancarkan peredaran darah dan menggalakkan fungsi organ dalam tubuh badan.
Bunga Kesidang: Bunga kesidang atau Vallaris Glabra adalah bunga yang bersifat harum dan berupaya membantu menenangkan jiwa di samping menyegarkan diri dan merangsang minda yang positif.
CARA PENGGUNAAN HARUMAN LUQMAN BUNGA QASIDAH
Calit pada bahagian tubuh yang dikehendaki seperti leher dan pergelangan tangan.

Boleh dipakai untuk bersolat.

Dilarang melangkah produk ini kerana ia telah dibacakan ayat-ayat suci Al-Qur'an.

Sesuai untuk semua peringkat umur.

Last Updated @ 7/7/2017 11:02:37 AM


















---
PAYMENT METHOD
CASH PAYMENT
Maybank2u
Maybank CDM
CimbClicks
CIMB CDM
RHB Now
RHB CDM
iRakyat
Bank Rakyat CDM
ATM Transfer
IBG Transfer
NetPay
http://www.lelong.com.my/merchant/Default.asp?UserID=adamma&show=Announcements&newsid=16061
Jaminan Penghantaran
Pesanan anda akan diproses dalam masa 24 jam selepas pembayaran anda disahkan. Kami akan UPDATE Tracking Number Di Dalam WebSite www.lelong.com.my atau yang beli terus dari saya (bukan melalui web lelong) akan dihantar Tracking Number melalui SMS. Jika selepas 24 jam anda masih tidak menerima sms dari kami, sila hubungi 0192278312 atau Email kepada kami: adamma@rocketmail.com
Kami hanya menggunakan perkhidmatan Poslaju, Kangaroo Ekspress, GDex Express dan CityLink untuk penghantaran pesanan anda. Bagi semenanjung Malaysia, setiap pesanan akan sampai ke tangan anda dalam 1-3 hari. Manakala bagi Sabah dan Sarawak antara 2-4 hari.
Selepas kami pos pesanan anda, kami akan sms anda untuk memaklumkan anda. Jika anda masih tidak menerima pesanan anda dalam masa 3 hari bekerja selepas menerima sms pengesahan penghantaran, sila hubungi kami. Kami akan periksa jika terdapat masalah dengan penghantaran anda.
Kami galakkan anda memberi alamat pejabat anda jika tiada sesiapa dirumah pada hari bekerja. Ini untuk memastikan barang selamat sampai ke tangan anda. Jika tiada sesiapa dirumah, maka pos laju akan tingalkan kad kutipan dirumah anda. Anda perlu menuntut bungkusan anda dipusat serahan pos laju yg ditetapkan.
HARGA PENGHANTARAN:
RM 6.60 SEMENANJUNG MALAYSIA (Untuk 500gram pertama saja)
Kami akan maklumkan jika perlu ditambah (melebihi 500gram)
RM 9.00 SABAH/SARAWAK
Free Combine Shipping...... Beli banyak mana pun boleh......
About Combine Shipping
We allowed Combine Shipping helping customers to save some shipping charge.
How it work?
Lets explain with an example:-

You buys 3 items using the Shopping Cart (add all items you need into shopping cart, do not click BUYNOW separately) :
Item A: Shipping fee RM8
Item B: Shipping fee RM20
Item C: Shipping fee RM12

System will pick up the most expensive Shipping fee, which isRM20 in this case, and add RM3.00 to each additional items.
RM20 + RM3 + RM3
You only need to pay RM26.00 instead of RM40.00
PLEASE READ THE FOLLOWING BEFORE BUYING THIS ITEM
All confirmation order will be delivered on the next day subject to stock availability.
Goods sold are

NOT RETURNABLE

or

EXCHANGEABLE

.
We will only send out the item after the payment has credited into our bank account.
Please note that Interbank/Giro Transfers have 24 to 48 hours delay before payment credited into our bank account.
At the moment, we only accept bank in / fund transfer to our Maybank and CIMB Bank account as a method of payment. For the time being, we

DO NOT

accept Credit Card Cheque.
Any information please email to
ad
amma@rocketmail.com
or
Please accept all the above terms and condition before buying.
Average Product Rating
0.0 stars out of 5
| | | |
| --- | --- | --- |
| 5 star | | 0 |
| 4 star | | 0 |
| 3 star | | 0 |
| 2 star | | 0 |
| 1 star | | 0 |
Share your thoughts with others
Write a review
Only buyers who purchased the product may leave a review