~CLEARANCE SALES~
~FREE POSLAJU SHIPPING~
FOR WEST MALAYSIA AREA
~FREE Cable & F-Type Male Crimp Connector~
For any inquiry or faster reply, Please Whatsapp/SMS/Wechat @ 016-7887009
This antenna preamplifier booster for standard UHF Antenna (Fish Bone).
It also can be use indoor & outdoor
It can assemble and install onto your current indoor or outdoor antenna
This antenna preamplifier support any DVB T T2 digital tv or tv tuner for UHF signal.
***PLEASE THAT NOTE THAT THIS IS UHF SIGNAL AMPLIFIER BOOSTER***
For those who want to watch Digital Channels from Singaporein Johor
Channel 5, Channel 8, Suria and Vasantham are broadcast in High Definition (HD,1080p),  
Channel NewsAsia, Channel U and OKTO (720p) will be upgraded to HD by 2016.
(for Central & Southern JOHOR Area near Singapore)
Digital tv channels also available for most area in JOHOR & other states

Please check UHF Signal Condition of your area for analog & digital tv or call your local broadcast service provider for more info
All Tested 100% Good Working Conditions, Brand New & Sealed

All Goods Sold are  NOT REFUNDABLE/RETURNABLE.
transform digital TV antenna dedicated renovation
Get a better signal with the Antenna Amplifier. This piece is a medium gain, low noise preamplifier that can be used in moderate signal areas.
The HDTV antenna preamplifier will take a moderate signal that is already in your area and amplify it to a strength that is strong enough for you to watch. This amplified is just what you need when you want to watch clear HD TV without cable service and you have local stations in your viewing area.
The improved gain of the indoor antenna is good when you anticipate distributing your signal with a digital splitter to multiple outlets throughout your house. Since splitters reduce the signal strength that is available at each output, this amplifier creates enough signal to give it sufficient strength. The housing includes a combined VHF/UHF input and a single output for a simpler indoor and outdoor installation.
Features
Improves signal quality
Decreases pixilation
May increase number of channels
Ultra low noise
Gain - 30 dB
Selectable FM signal pass-through
Heavy duty rating for outdoor use
Mast mounted for close proximity to antenna
~FREE Cable & F-Type Male Crimp Connector~
Installation guide:
Technical Specifications
Power supply input voltage     220v AC-50Hz,
Power supply output voltage   12v DC, 60 mA
Impedance (Input and Output)     75 Ohm
Connector     F-type
Frequency range     470-862MHz
Gain     30dB (max)
Noise figure     typically less than 1.8dB
RoHS compliant     Yes
Input return loss     <-15
Output return loss     <-15
Max input level     15 dBmV
Max output level     40 dBmV
Power consumption     <5W
Operating temperature     -40°C to 60°C
Size (packaging)     26.5 x 18.5 x 6.5cm
Analog UHF Channels 21-69: PAL System G
TV3 535.25 Mhz
NTV7: 599.25 Mhz
8TV: 519.25 Mhz
TV9: 639.25 Mhz
DIGITAL TV Supported Region (Tested):-
Singapore
Pasir Gudang and nearby region
Ulu Tiram and nearby region
Masai and nearby region
Plentong and nearby region
Permas Jaya and nearby region
Johor Bahru and nearby region
Tampoi and nearby region
Skudai and nearby region
Senai and nearby region
Kulai and nearby region
Some area of other states having digital channels frequency signal

Bukit Pelindung, Kuantan. Freqency 674, 514, 658Mhz
Bukit Bakar, Kampung Puteh/Kota Bharu, Kelantan. Frequency 666, 714, 650Mhz
Gunung Ulu Kali, Genting Highlands.Frequency 682,666,698Mhz
Seberang Jaya, George Town, Penang. Frequency 666, 698Mhz
Menara Kuala Lumpur. Frequency 682, 666, 698Mhz
Bukit Sg Besi, Kuala Lumpur. Frequency 698,682Mhz
Bukit Keratong, Kota Kinabalu, Sabah. Frequency 594Mhz
Gunung Andrassy, Tawau, Sabah. Frequency 666, 682,650Mhz
Bukit Bintang, Bukit Besar, Bukit Bauk, Terengganu. Frequency 674Mhz
Gunung Keledang, Ipoh. Frequency 666, 698Mhz
Bukit Sembilan, Bukit Senggora, Pahang. Frequency 698,682Mhz
Bukit Tampin, Melaka. Frequency 698,682Mhz
Gunung Pulai, Skudai , Pelangi, Gunung Ledang, Johor. Frequency 682Mhz (ch47)
Gunung Jerai, Kedah. Frequency 666Mhz
Gunung Serapi, Kuching. Frequency 666, 682Mhz
Bukit Trig, Sandakan, Sabah. Frequency 666, 682Mhz


Kindly check the distance from your place to the transmitter above
Optional: Add RM35 for 13m F-male cable & IEC-male to female adaptor
Optional: HDTV Indoor / Outdoor 0-50km SNA04 with 3m/12m cable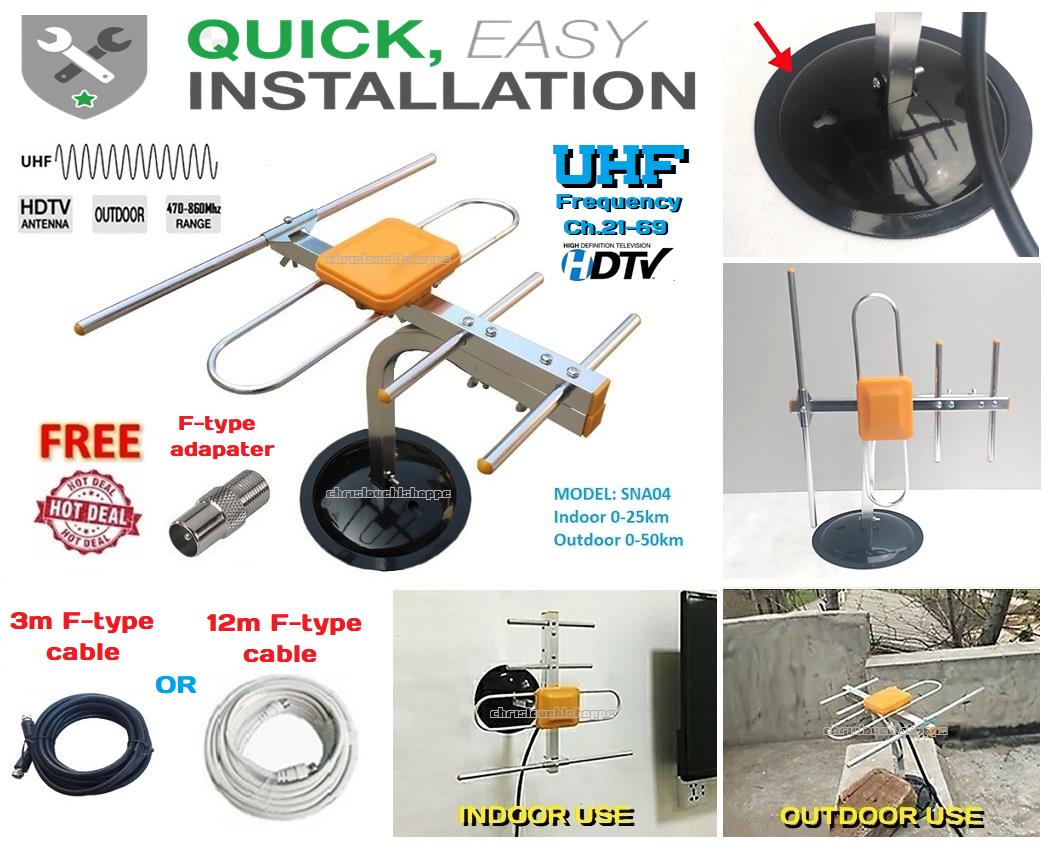 Optional: HDTV Outdoor 0-75km HD2619 with Free 13m cable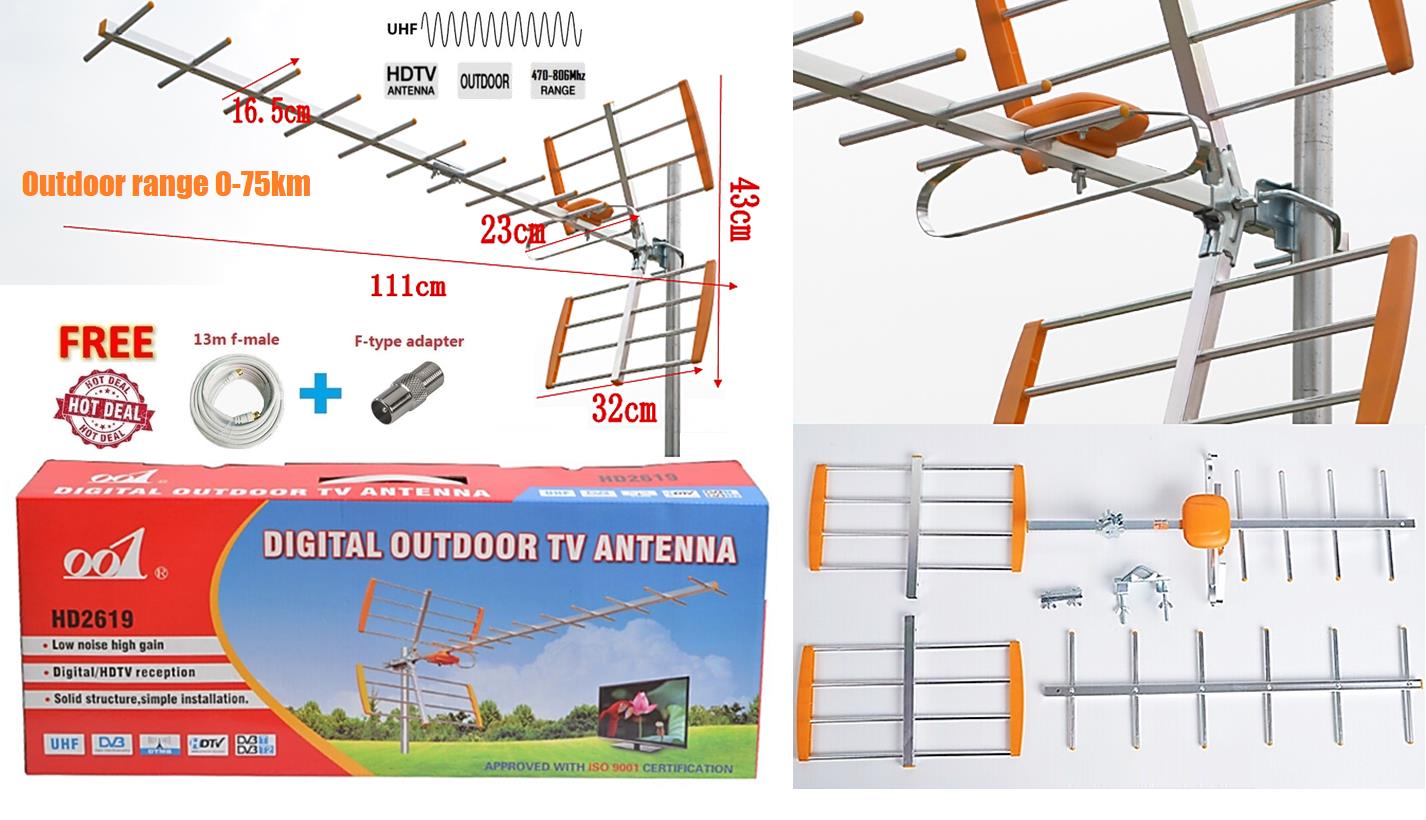 SINGAPORE MEDIACORP CHANNEL IN HD 
MALAYSIA ANALOG & DIGITAL TV CHANNELS
 Please note this clearance cheap sales offer is made without legal warranty, all at the buyer's risk
All Orders Will Be Post Out Via Poslaju  

Last Updated @ 10/2/2019 9:50:56 PM