~FREE POSLAJU SHIPPING~
FOR WEST MALAYSIA AREA
For any inquiry or faster reply, Please Whatsapp/SMS/Wechat @ 016-7887009
This F-male Coaxial Cable suitable for standard Digital SET-TOP BOX on the market
For those who want to watch Digital Channels from Singapore in Johor,
all you need just a Digital tuner TV or Decoder/Receiver/Tuner Set-top Box
Channel 5, Channel 8, Suria and Vasantham are broadcast in High Definition (HD,1080p),  
Channel NewsAsia, Channel U and OKTO (720p) will be upgraded to HD by 2016.
(for Central & Southern JOHOR Area near Singapore)
RTM1, RTM2, TVi, TV3, NTV7, 8TV, TV9, BNC & TVAH: (DTT testing channels) also available for most area in other States
Please check UHF Signal Condition of your area for DVB-T/T2 or call your local broadcast service provider for more info
All Tested 100% Good Working Conditions, Brand New & Sealed

All Goods Sold are  NOT REFUNDABLE/RETURNABLE.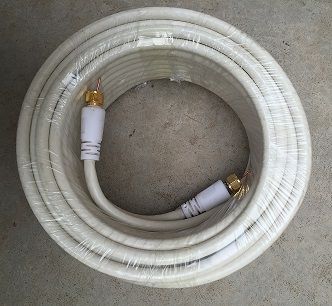 estimate 13 meter
Provides a connection for TV's, VCR's, cable modems, satellite receivers, off-air antennas & other coaxial F-Pin enabled devices.
Enjoy a crisp signal without electromagnetic & radio frequency interference.
Featuring 2 male Nickel F-Type connectors, this 75 Ω  cable houses a copper clad center conductor,
Its durable build preserves signal quality & still manages to take up only minimal wall space,
with its soft & flexible external jacket. Includes easy grip connector caps for effortless connector tightening/loosening,
rather than straining oneself with additional tools. This cable is suitable for both indoor & outdoor use.

Product Features
- Connects a TV, VCR, cable modem, satellite receiver, off-air antenna & more
- 75 Ω cable with F-type connectors
- Clear picture & sound
- Copper clad center conductor, dielectric insulation, braided aluminum shielding
- Suitable for indoor & outdoor use, with a durable, yet flexible jacket

Compatibility
Devices with F-Type ports, like a cable box, TV, satellite receiver, VCR, cable modem, off-air antenna & more

Installation
Plug-&-play: Ready to use, once each end is connected to its respective port on a compatible device

Notes
While connected to an F-type port, simply twist the easy grip caps like you would a screwdriver, to tighten/loosen the cable's hold
FREE IEC-male to female adaptor
  Optional: HDTV Outdoor range 0-60km from transmitter XYD9E with 13m cable (Bulk type plastic cover packing)
Optional add-on accessories: HDTV Analog & Digital TV Signal Filter Booster 20dB (VHF/UHF) (Outdoor) also available: RM45
RA-020 Preamplifier booster 20dB
Optional accessories: HDTV Analog & Digital TV Signal UHF Amplifier Filter Booster 30dB (Outdoor) also available: RM85
U8000 Preamplifier booster 30dB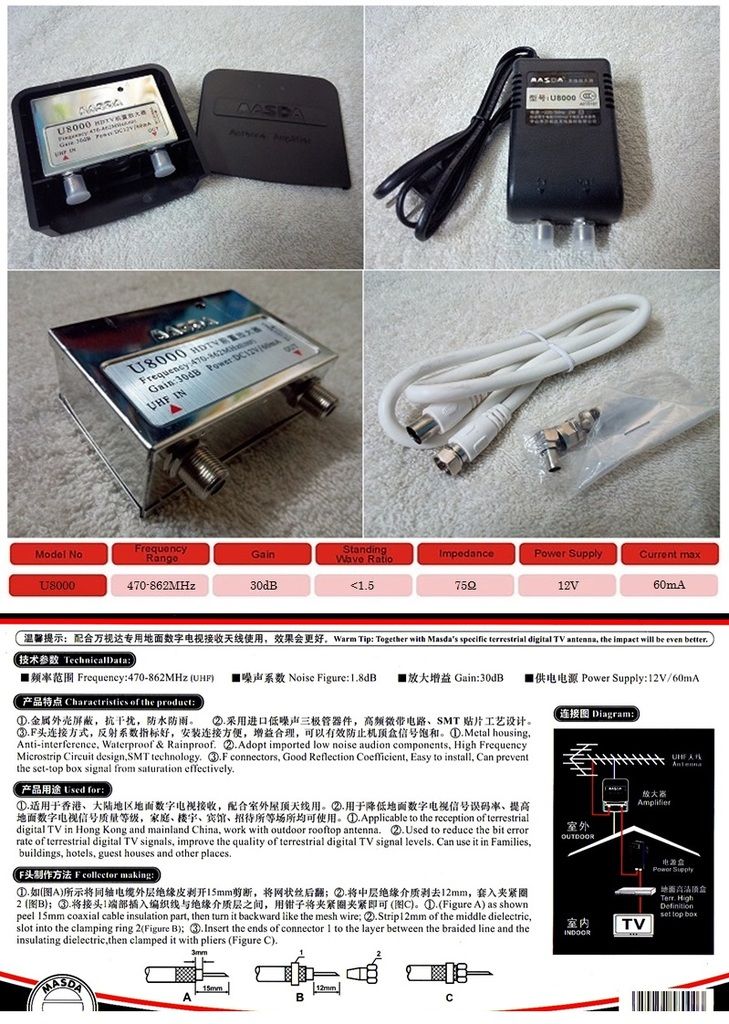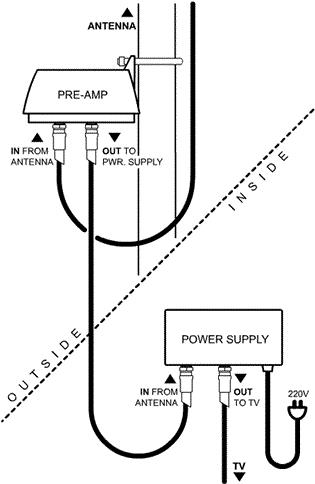 ANTENNA ALSO AVAILABLE FOR SALE: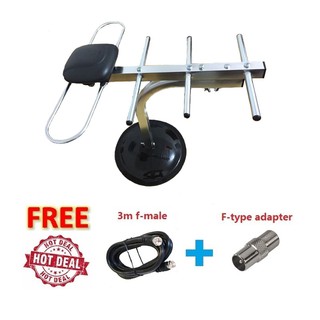 RM69 Indoor outdoor antenna
 www.lelong.com.my/2016-hdtv-dvb-t-t2-uhf-antenna-digital-sg-mytv-channels-chrislovehlgmail-I5325150-2007-01-Sale-I.htm
 http://www.lelong.com.my/hdtv-dvb-t2-uhf-antenna-element-terrestrial-hd-channels-mytv-sgtv-chrislovehlgmail-I5325148-2007-01-Sale-I.htm
LONG RANGE ANTENNA ALSO AVAILABLE FOR SALE: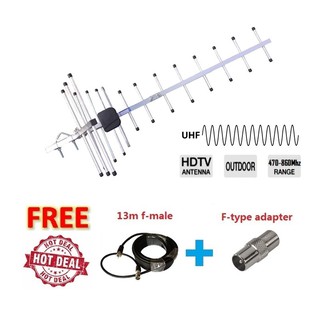 RM89 10 Elements Antenna

http://www.lelong.com.my/hdtv-dvb-t-t2-uhf-10-elements-antenna-digital-sg-mytv-channels-chrislovehlgmail-182608657-2016-11-Sale-P.htm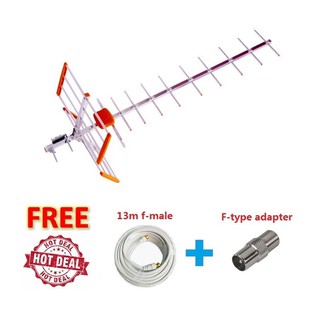 RM99 11 Elements Antenna

http://www.lelong.com.my/hdtv-dvb-t-t2-uhf-11-elements-antenna-digital-sg-mytv-channels-chrislovehlgmail-182608505-2016-11-Sale-P.htm
MYTV & Singapore DIGITAL TV Supported Region (Tested):-
Singapore
Pasir Gudang and nearby region
Ulu Tiram and nearby region
Masai and nearby region
Plentong and nearby region
Permas Jaya and nearby region
Johor Bahru and nearby region
Tampoi and nearby region
Skudai and nearby region
Senai and nearby region
Kulai and nearby region
Some area of other states having digital channels frequency signal

Bukit Pelindung, Kuantan. Freqency 674, 514, 658.
Bukit Bakar, Machang. Frequency 666, 714, 650
Gunung Ulu Kali, Genting Highlands.Frequency 682,666,698.
Menara Kuala Lumpur. Frequency 682, 666, 698
Bukit Sg Besi, Kuala Lumpur. Frequency 698,682 .
Bukit Keratong, Kota Kinabalu, Sabah. Frequency 594,
Gunung Andrassy, Tawau, Sabah.Frequency 666, 682,650.
Bukit Besar, Kuala Terengganu.Frequency 674Mhz
Gunung Ledang, Johor - Freq 546Mhz
Gunung Jerai, Kedah. Frequency 666Mhz
SINGAPORE MEDIACORP CHANNEL IN HD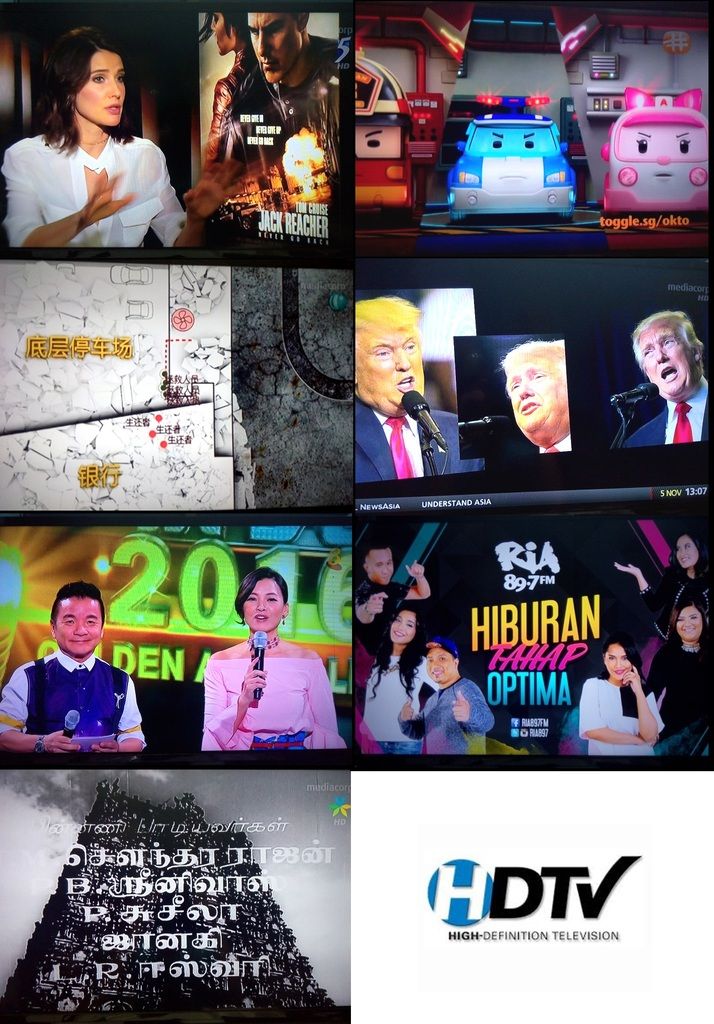 TESTED FROM DVB-T2 LED TV
Please note this clearance cheap sales offer is made without legal warranty, all at the buyer's risk
The move to digital TV broadcast is happening


All Orders Will Be Post Out Via Poslaju

Last Updated @ 10/1/2019 10:59:44 AM