Product ID : 201113785
Model / SKU : 9555263801563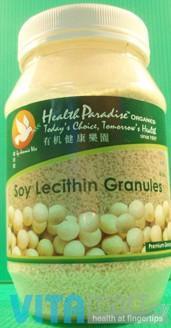 Soy lecithin is a mixture of phospholipids, naturally occurring fatty molecules, that is derived during the processing of soy beans. It is often found in chocolate bars, and sometimes in ice cream, peanut butter and margerines, where it works as an emulsifier by keeping the ingredients together. It is also added to dough to make it less sticky and easier to rise.

The most basic and natural use is the role that it plays in the breakdown of fats in your body. However, not all sources of soy are equal and there are a few soy lecithin side effects that you will need to be aware of.
The main problem with soy lecithin is that is derived from soy beans. Soy beans are widely known to have one of the highest pesticide contamination levels of any crop.

During the processing of soy beans solvents are used to degum the soybean oil and this is very likely to lead to chemical solvents and contaminant in the soy lecithin. Also, if the soybeans are not organic, then soy lecithin may also contain harmful herbicides and pesticides. Many soybeans are also genetically modified, a process which as yet has not been concluded to be safe and should be avoided.

However, soy lecithin side effects are outweighed by the benefits, especially if you choose the right supplement with the right source of soy.

The 7 Most Common Soy Lecithin Side Effects
The most important side effect is that if you have a serious soy allergy, you should avoid all products which contain it. Here are the main soy lecithin side effects to be aware of:

Gastrointestinal problems like diarrhea

Changes in weight (loss and gain)

Loss of appetite

Skin rashes

Nausea, dizziness, vomiting and confusion

Low blood pressure (which is just as dangerous as high blood pressure)

Blurred vision and occasional fainting

Now, these side effects sound severe – and some of them are – but it is worth remembering that they are almost all as a result of pesticides and chemicals applied to many soy crops. If you choose a good source of soy lecithin, you should have no problem with any of these side effects. Want to know how to avoid them by choosing a good soy source? ;) Keep reading.

How to Easily Avoid Soy Lecithin Side Effects and Get Only The Benefits Instead
Opinions on soy are mixed, but from my own personal experience, and those of others who have tested and experimented as I have, if you choose the right source of soy, there are considerable health benefits that you can experience.

There are three things to look for when choosing a soy lecithin supplement that you absolutely must adhere to if you want only the best quality without negative side effects.

Choose soy that follows strict guidelines for toxicity. Pesticide levels are high on many soy crops so to avoid the potential health problems these harmful chemicals cause you should always choose a manufacturer that complies with Good Manufacturing Practices for human food products as established by the US FDA, the European Commission and the World Health Organization's CODEX.

Ensure the soy is fermented. Many soy sources are unfermented, and while this may seem like the better choice, studies have shown that unfermented soy contains toxins and plant oestrogens that could disrupt menstrual cycles, cause breast cancer, damage your thyroid, lower testosterone and cause prostate problems as well as being difficult to digest. Fermenting soy dramatically reduces these risks but still retains all the good nutrients needed to be healthier.

Check that the soy is not genetically modified. Genetically modified organisms (GMO) pose considerable health risks and unfortunately, soy is one of the crops most likely to be modified. Long term effects are unknown and there is an increased risk of hidden toxins or interactions with other nutrients that you cannot predict. There are also no label requirements so you really have no idea what you are getting. When you consider that one in four food products are GMO, you really are risking your health by choosing food which has been genetically altered. The get the soy lecithin benefits, always check that the soy source is not genetically modified.
Parcel Protection Guarantee: If your parcel is lost during shipment or damaged, Call us (0124700629) or Email us (contact@vitamart.my), we'll pickup from your location and ship a new one to you.
Money-back Guarantee: If you change your mind, you may return any unopened item within 30 days for a full refund of amount paid. (shipping costs not included)
You're covered when you pay with NetPay. Learn more



Last Updated @ 1/31/2015 9:20:19 PM

Last Updated @ 3/1/2018 12:10:49 PM
We provide combine shipping. Click here to see all products we're selling.
Direct Payment (Save additional payment charges)
(1) SMS / Whatsapp / Email us: 0124700629, contact[at]vitamart[dot]my

(2) Payable to :
Vitamart Enterprise
Bank Account No.: CIMB Bank: 8600948946
Welcome to the
Vitamart.my
website (the "Site"). Vitamart Enterprise provides services to you subject to the notices, terms, and conditions set forth in this agreement (the "Agreement"). In addition, when you use any of our services (e.g., Customer Reviews), you will be subject to the rules, guidelines, policies, terms, and conditions applicable to such service, and they are incorporated into this Agreement by this reference.
These notices, terms and conditions together with the Policies constitute the entire Agreement between Vitamart.my and the user and supersede and cancel all prior agreements, claims, representations and understandings.
We reserve the right to change this Site and these terms and conditions at any time.
ACCESSING, BROWSING OR OTHERWISE USING THE SITE INDICATES YOUR AGREEMENT TO ALL THE TERMS AND CONDITIONS IN THIS AGREEMENT, SO PLEASE READ THIS AGREEMENT CAREFULLY BEFORE PROCEEDING.
USE OF SITE
You can lawfully enter into and form contracts under Malaysian law.

You represent and warrant that you are at least 18 years old or visiting the Site under the supervision of a parent or guardian.

Subject to the terms and conditions of this Agreement, we hereby grant you a limited, revocable, non-transferable and non-exclusive license to access and use the Site by displaying it on your internet browser only for the purpose of shopping for personal items sold on the Site and not for any commercial use or use on behalf of any third party, except as explicitly permitted by us in advance. Any breach of this Agreement shall result in the immediate revocation of the license granted in this paragraph without notice to you.

Except as permitted in the paragraph above, you may not reproduce, distribute, display, sell, lease, transmit, create derivative works from, translate, modify, reverse-engineer, disassemble, decompile or otherwise exploit this Site or any portion of it unless expressly permitted by us in writing. You may not make any commercial use of any of the information provided on the Site or make any use of the Site for the benefit of another business unless explicitly permitted by us in advance. We reserve the right to refuse service, terminate accounts, and/or cancel orders at its discretion, including, without limitation, if we believe that customer conduct violates applicable law or is harmful to our interests.

You shall not upload to, distribute, or otherwise publish through this Site any Content, information, or other material that (a) violates or infringes the copyrights, patents, trademarks, service marks, trade secrets, or other proprietary rights of any person; (b) is libelous, threatening, defamatory, obscene, indecent, pornographic, or could give rise to any civil or criminal liability under Malaysian or international law; or (c) includes any bugs, viruses, worms, trap doors, Trojan horses or other harmful code or properties.

Content provided on this site is solely for informational purposes. It is your sole responsibility to consult a licensed physician or qualified health care professional for advice, diagnosis, and/or treatment of any health related condition. Submissions or opinions expressed on this Site are that of the individual expressing such Submission or opinion and may not reflect our opinions. Product representations expressed on this Site are that of the vendor and are not made by us.

We may assign you a password and account identification to enable you to access and use certain portions of this Site. Each time you use a password or identification, you will be deemed to be authorized to access and use the Site in a manner consistent with the terms and conditions of this Agreement, and we have no obligation to investigate the authorization or source of any such access or use of the Site.YOU WILL BE SOLELY RESPONSIBLE FOR ALL ACCESS TO AND USE OF THIS SITE BY ANYONE USING THE PASSWORD AND IDENTIFICATION ORIGINALLY ASSIGNED TO YOU WHETHER OR NOT SUCH ACCESS TO AND USE OF THIS SITE IS ACTUALLY AUTHORIZED BY YOU, INCLUDING WITHOUT LIMITATION, ALL COMMUNICATIONS AND TRANSMISSIONS AND ALL OBLIGATIONS (INCLUDING WITHOUT LIMITATION FINANCIAL OBLIGATIONS) INCURRED THROUGH SUCH ACCESS OR USE.

You are solely responsible for protecting the security and confidentiality of the password and identification assigned to you. You shall immediately notify us of any unauthorized use of your password or identification or any other breach or threatened breach of this Site's security.

You have familiarised yourself with our Shipping Returns Information.
You have read and understood the Disclaimer.

You are familiar with the customs policies of your country and agree that you will be responsible for compliance with all local laws which may restrict the importation of certain goods and that you alone will be responsible for payment of any present or future tax or impost, duty or charge which may be imposed or assessed by any relevant regulatory authority on the goods purchased on the site.

All prices quoted on the site are applied to Malaysian Goods and Services Tax.

You understand that, to the fullest extent permitted by law, Vitamart.my makes no warranties of any kind whatsoever whether express or implied, and specifically no warranty of merchantability or fitness for a particular purpose and in no event shall Vitamart.my be liable, whether in contract or tort for any damages to the user in respect of economic loss, any loss or damage to property or death or injury to any person of whatever nature and however or wherever sustained that arises out of or is in any way connected with the purchase or delivery of any product.
Where any condition or warranty cannot be excluded under applicable legislation Vitamart.my's liability for breach of condition or warranty shall be limited to either: (a) replacing the product; or (b) crediting the cost of the product to the user. In no event shall Vitamart.my be liable for exemplary, special or consequential damages or losses or loss of profits.

You agree that the laws of the Malaysian Capital Territory will govern this site and the sale and purchase of any goods from this site. By using this site you agree that any action at law or in equity arising out of or relating to this site or the sale and purchase of any goods from this site will be filed only in territory or federal courts located in the Malaysian Capital Territory and you hereby irrevocably and unconditionally consent and submit to the exclusive jurisdiction of such courts.

Vitamart.my and its logo are the subject of registered trademark applications in the Malaysia and other countries and may not be used in connection with any product or service that is not Vitamart.my in any manner that is likely to cause confusion among customers, or in any manner that disparages or discredits Vitamart.my.
The site may only be used for lawful purposes and in a lawful manner. When ordering from Vitamart.my you are the purchaser of the goods and must comply with all applicable laws and regulations. It is your responsibility to investigate and ensure that you can lawfully purchase the goods you order.
Vitamart.my has the right to cancel the order(s) if the payment(s) did not receive within seven (7) days from the date of order being placed.
Pictures of the products shown on Vitamart.my may not reflect final product being sold.
REVIEWS AND COMMENTS
Except as otherwise provided elsewhere in this Agreement or on the Site, anything that you submit or post to the Site and/or provide us, including without limitation, ideas, know-how, techniques, questions, reviews, comments, and suggestions (collectively, "Submissions") is and will be treated as nonconfidential and nonproprietary, and we shall have the royalty-free, worldwide, perpetual, irrevocable and transferable right to use, copy, distribute, display, publish, perform, sell, lease, transmit, adapt, create derivative works from such Submissions by any means and in any form, and to translate, modify, reverse-engineer, disassemble, or decompile such Submissions. All Submissions shall automatically become our sole and exclusive property and shall not be returned to you.

In addition to the rights applicable to any Submission, when you post comments or reviews to the Site, you also grant us the right to use the name that you submit with any review, comment, or other Content, if any, in connection with such review, comment, or other content. You represent and warrant that you own or otherwise control all of the rights to the reviews, comments and other Content that you post on this Site and that use of your reviews, comments, or other Content by us will not infringe upon or violate the rights of any third party. You shall not use a false e mail address, pretend to be someone other than yourself or otherwise mislead us or third parties as to the origin of any Submissions or Content. We may, but shall not be obligated to, remove or edit any Submissions (including comments or reviews) for any reason.
TERMINATION AND EFFECT TO TERMINATION
In addition to any other legal or equitable remedies, we may, without prior notice to you, immediately terminate the Agreement or revoke any or all of your rights granted under this Agreement. Upon any termination of this Agreement, you shall immediately cease all access to and use of the Site and we shall, in addition to any other legal or equitable remedies, immediately revoke all password(s) and account identification issued to you and deny your access to and use of this Site in whole or in part. Any termination of this Agreement shall not affect the respective rights and obligations (including without limitation, payment obligations) of the parties arising before the date of termination.
INTERNATIONAL ACCESS
This Site may be accessed from countries other than the Malaysia. This Site may contain products or references to products that are not available outside of the Malaysia. Any such references do not imply that such products will be made available outside the Malaysia. If you access and use this Site outside the Malaysia you are responsible for complying with your local laws and regulations.
TYPOGRAPHICAL ERRORS
In the event a product is listed at an incorrect price or with incorrect information due to typographical error or error in pricing or product information received from our suppliers, we shall have the right to refuse or cancel any orders placed for product listed at the incorrect price. We shall have the right to refuse or cancel any such orders whether or not the order has been confirmed and your credit card charged. If your credit card has already been charged for the purchase and your order is canceled, we shall immediately issue a credit to your credit card account in the amount of the charge.
LINKS
This site may contain links to other sites on the Internet that are owned and operated by third parties. You acknowledge that we are not responsible for the operation of or content located on or through any such site.
SEVERABILITY
If any these provisions shall be deemed invalid, void, or for any reason unenforceable, that condition shall be deemed several and shall not affect the validity and enforceability of any remaining provision.
Following are the conditions that apply to returns of products:
1. Please note that, international sales, (herein refer to the sales shipped to outside region of Malaysia), all the international orders are non-refundable due costly freight charges.
2. In case the parcel is returned to us because of non payment of duty tax, unclaimed, several failed attemps to consignee, wrong delivery adress and etc, your money will be credited back to you. And total amount of credit is after deduction of handling cost, shipping cost, banking charges and 20% from the purchase price (for restocking fee) and other costs incurred if any.
3. Only products in unopened original packaging that have not be tampered with or used in any manner or that are damaged or defective upon delivery may be returned to Company for a refund or exchange.
4. Products must be returned to Company within 14 days of delivery using a mailing method that allows for shipment tracking.
5. You should inspect products for damage upon delivery. If you notice any damage or believe a product is defective, you should contact us immediately to file a report. However, in order to qualify to receive a refund or exchange for any such claim, you need to contact us no later than 7 days from delivery and obtain a Return Merchandise Authorization number in accordance with the procedure described below. Upon receipt, Company will make a determination, in its reasonable discretion, whether a product claimed to be damaged or defective was actually damaged or defective when originally delivered to you.
6. Prior to returning products, you must contact Company and obtain a Return Merchandise Authorize number, which number must be written on the copy of the shipping invoice that you will enclose with the returned product. To obtain the Return Merchandise Authorization number, send an email to Customer Service to contact[at]vitamart[dot]my and provide your order number, full name, contact number, shipping address and email address.
7. Products must be returned with the original shipping box, packing materials, as well as ALL COMPLIMENTARY SAMPLES and a copy of the shipping invoice.
8. Refunds will only be issued in the same form as was used for payment.
9. Shipping charges are non-refundable. However, replacement products will be shipped free of charge, except where expedited shipping is requested.
10. Returned products should be shipped to the following address:
Vitamart.my
9, Jalan Bulan,
11200 Penang,
Malaysia
11. Company will not accept merchandise that has been used, altered or damaged. Company is not responsible in the event that returned packages are lost, stolen, or mishandled.
12. Only products purchased through the Website may be returned to Company in accordance with this return policy. Company products purchased through any other outlet are subject to the return policies applicable to such outlets.
13. Company reserves the right to refuse to refund or exchange any product that does not meet the above requirements.