Product ID : 181270621
Brand : Chubeestore
Model / SKU : CBSK35
Conditions :

New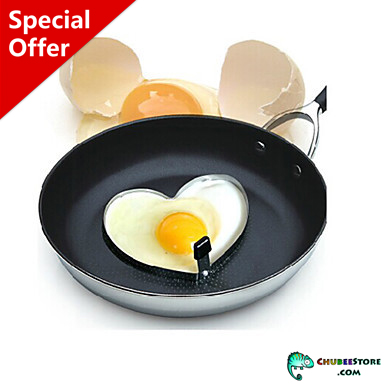 Heat proof stainless steel Valentine love heart shaped fried egg mold /mould /ring /shaper with handle holder for homemade frying pan breakfast cooking -product description
Are you planning on a gift for your loved one during a Valentine's Day? Instead, why don't you make something for your special one? Preparing something by putting in much effort certainly beats any gift that you can buy off easily. A special breakfast might be a good surprise for your beloved one. For this, you will need a heart shaped egg mold to make it look special and memorable. Not just for Valentine, kids love it too if their breakfast egg is heart-shaped instead of a dull ordinary shape. Also, it is highly recommended for those who love cooking in the kitchen and culinary art which presentation of food is deemed crucial.
Love egg mold from Chubeestore helps you in frying egg by shaping it into the shape of a heart. It consists of a ring that serves as a container for an egg. There is also a handle to ease the process of putting it down initially and lifting it up right after the egg is cooked and takes its shape. Heat proof stainless steel material is definitely better compared to a plastic mold because it has higher melting point whereas plastic can melt easily with extreme heat from the cooking oil. Not just fried egg, but you may use the shaper to cook many other kinds of food you can think of as well. The uses are only limited by the creativity of the cook.
How to use heat proof stainless steel Valentine love heart shaped fried egg mold /mould /ring /shaper with handle holder for homemade frying pan breakfast cooking?
How does this egg mold works? Fresh egg is in liquid state. This tool helps shaping it in the cooking process. It can be removed once the egg is cooked and the shape stabilizes. Follow the steps below:
Apply some oil on the inner ring of the mold.
With the fire on, put the mold on the frying pan.
Pour adequate amount of oil into the mold container.
After the oil is heated, crack an egg into the mold.
You may remove the mold once the egg is cooked.
How long you cook is up to your personal preference. Flipping over to avoid frying only at one side is up to your preference too (optional).
*Tips and tricks: Apply a thin layer of oil on inner ring of the mold. This helps in the cooking process and forming a better shape, because the sides of an egg need to be cooked properly to maintain a fixed shape. It also aid in mold removing and dish washing process because the oil will prevent the egg from sticking at the ring. Besides, oil prevents the egg from seeping out from the tiny opening between the mold and the pan, resulting in an ugly shape.
*Tips and tricks: Preheat the oil before cracking an egg into the mold. The pan and the mold can never be perfectly flat and even if they do, there will still be opening between them. Hot oil helps cooking and preventing the egg from staying in liquid form and flowing everywhere resulting in a huge mess.
*Maintenance: Avoid physical damage because the mold is mostly hollow and easily bent. Also stay away from fire to prevent deformation.
*Maintenance: Wash it with sponge or wipe with cloth. Avoid cleaning with metal dish brush for longevity of the product.
It is common that the resulting shape of your first attempt might be less ideal. The important rule is to never be disheartened but keep trying and learning from mistakes as practice makes perfect. Follow the tips and tricks above and you should be able to get a decent shaped egg.



---
Q: How much does my shipping cost?
A: The shipping cost is calculated automatically based on the location of your shipping address and the product weight /dimension.
To find out how much shipping costs, add the products that you would like to buy to your shopping cart and proceed to checkout. The shipping cost will be calculated automatically after you have entered your shipping address.
Enjoy FREE shipping if you purchase more than RM100 in ONE single purchase order. Free shipping is applicable to delivery within Malaysia including Peninsular, Sabah, Sarawak and Labuan.
Q: What courier service do you use?
A: We may send out your purchased item using Poslaju or GDex at our decision.
Q: Do you ship to my area?
A: We are currently delivering to all locations in Malaysia, including Peninsular, Sabah, Sarawak and Labuan. For international shipping, please kindly contact our sales team via sales@chubeestore.com to arrange for a delivery.
Q: When will my order arrive?
A: Under normal circumstances, you will receive your order within 5 business days (7 business days for East Malaysia) starting from the day your payment is received by us. We will always strive to send out your purchased item quickest possible within the same day the payment is confirmed, if not, then the next day. The time needed for the delivery is depending on the distance to your shipping location and its availability.
For offline bank transfer, please allow additional 3 business days for us to process your payment.
Q: Can I track my shipping?
A: Yes, the tracking number of the courier service we use to deliver your purchased items will be included in the shipping confirmation email. We may use Poslaju or GDex courier service at our decision. You can check the shipping status via the respective courier service website.
Poslaju tracking: http://www.poslaju.com.my/track-trace/
GDex tracking: http://203.106.236.200/official/etracking.php
Note: Sometimes the tracking number is not working yet because your purchased item has just been shipped. It will take some time for courier service company to update your tracking number in their system. Try to check again in 24 hours and the information should be available.
Q: What if I do not received my purchased item after a long time?
A: Please allow at least one week for the delivery process. We will always send out your purchased item immediately after your payment is confirmed, and use the fastest and most reliable courier service to send it out. However, something might have gone wrong if you still have not received your purchased item within 8 business days after you had placed your order and made your payment.
If this happens, please:
Check your order status. If your order status is 'not shipped' even though you had made your payment, contact us instantly.
If your order status is 'shipped', please check carefully whether you had filled out your shipping address correctly. Sometimes a small mistake will cause a delay in delivery.
If your shipping address is correct, track your shipping status using the tracking number given to you to find out where your purchased items are.
Contact us if you need any assistance.
Please kindly make payment for the item instantly during purchase or within 5 business days. Otherwise the item will relist /resale on store.
Please make sure the shipping address you provide us is 100% correct, or else the buyer shall be responsible to bear the cost of re-delivery and there will be a delay in shipping.
Any enquiry or question, please contact us via sales@chubeestore.com or call us at 04-226 4973 /017-476 9021. All the problem can be solved. All you need ot do is to let us know your issue, and we will try our very best to clear your doubts or solve your issue. We strive to create a perfect environment for happy customers enjoying shipping with us!
Q: Do you offer return or exchange of purchased items?
A: Yes, we offer 7 days return or exchange policy. Why? It is simply because we are so confident with our products and love to guarantee 100% customer satisfaction. If you are not fully satisfied with your purchase for ANY reasons, as long as you fulfil all our requirements, we will gladly accept return of packages within 7 days from the date you received your purchased item and issue a full refund to you. Or, you can exchange it to other products we offer with equal or lesser price. We want you to be happy shopping with us. We value your shopping experience on top of everything else, that is why we accept both return and exchange if the item does not live up to your expectation or any other reasons beyond our wildest imagination.
Q: What are the requirements to qualify for a return or exchange?
A: In order to be qualified for a return or exchange, the purchased item has to be:
not used before
in the same condition as you received it, not scratched or damaged in any manner
all the items and components are not missing
in the original packaging
You need to fulfil ALL of the above requirements to request for a return or exchange. For example, your request will not be approved if you have discarded the box or lose some of the parts.
Note that a return or exchange does not apply to the sale or clearance items in which we already mentioned no refund nor return will not be entitled. Also, we cannot extend this return policy to resellers of our products.
Q: How to request for a return or exchange?
A: Return or exchange procedures:
Please request for return or exchange by emailing us at sales@chubeestore.com within 7 days from the date your purchased item is received. You MUST email us first before shipping your purchased item back to us. You have to include the following details in the email:
Order no:
Your contact no:
Your request: return /exchange (pick one; if you intend to exchange, list out your preferred item)
Product to return or exchange:
Reason for return or exchange (so that we can improve!):
Snap a photo of your purchased item together with the packaging.
Once we receive your request for return or exchange, we shall contact you within 3 business days for further instructions.
After proper approval, only then you can send back your purchased item to us. We will update you again when we receive the item, then we will proceed on with full refund, or send out alternative item of your choice to you after you have paid for the shipping fee. Refunds will be issued to the original form of your payment (internet banking, credit card, Pay Pal, etc.).
Q: Who will pay for the return and exchange shipping cost?
A: In most cases, you will need to bear ALL the shipping charges for returning the item to us. However, if we send the wrong or defective items to you, it is our mistake and we will bear all the cost of return shipping (as long as you use a standard shipping method) and we will make sure we send the correct items to you, all at our expense.
If you have any other questions, please contact us at:
Tel: +017-476 9021
Mobile: +017-476 9021
Email: sales@chubeestore.com
Average Product Rating
0.0 stars out of 5
| | | |
| --- | --- | --- |
| 5 star | | 0 |
| 4 star | | 0 |
| 3 star | | 0 |
| 2 star | | 0 |
| 1 star | | 0 |
Share your thoughts with others
Write a review
Only buyers who purchased the product may leave a review