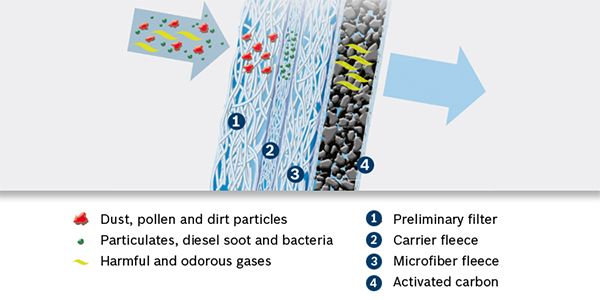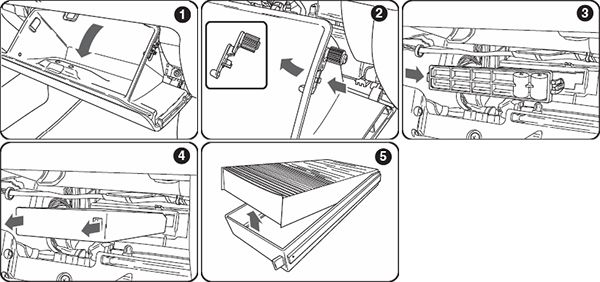 (MOST CARS) BOSCH Super Clean, Cold and Non Smell Activated Carbon Cabin Room Air Cond Air Filter Replacement
Bosch Activated Carbon Cabin Air Filters are specifically engineered for the professional installer dedicated to helping customers breathe cleaner air. Bosch Activated Carbon Cabin Filters offer an 99% efficiency rate at 3 microns or greater in capturing dirt, dust and other environmental contaminants from entering the heating and air vents of a vehicle.
Replace your cabin filter regularly with a Bosch Premium Cabin Filter and trap close to 99% of airborne contaminants before they enter the interior of your vehicle through the heating and air conditioning system.
Harmful pollutants like dust, pollen, fungus and foul smelling gases fill the air in the car leading to health related issues. Activated Carbon cabin filters from Bosch absorb up to 99% of all pollen, dust particles and foul smelling gases and other harmful pollutants entering the vehicle's interior through its heating, ventilating and air conditioning systems, assuring a healthy and hygienic ambience inside the car.
Bosch Cabin Filters with Activated Carbon. Breathe right for a better ride.
Every minute, you breathe in more than ten liters of air. For those who drive, a sizeable quantity consists of dust and engine exhaust that enters your car from the road and traffic environment. Air entering your car from the outside is circulated continuously in the ventilation system, constantly exposing occupants to polluted air. It is therefore important that the quality of air in your car be the best you can have.
Bosch cabin filters provide an ideal balance between health safety, pleasant smelling interiors, and cost-effectiveness. Derived from organically-grown coconut shells, the activated carbon filtration technology used in Bosch cabin filters is suitable for all vehicles and lifestyles.
Features and Benifits:
Bosch Cabin Air Filters deliver original equipment fit and quality for cleaner, healthier passenger cabin air.

Three distinct fiber layers expertly filter the air drawn through into your vehicle

Prevents irritation of eyes and respiratory passages as they do not allow pollen and spores to enter the car, especially beneficial to people suffering from allergies and asthma.

Good quality air inside the car improves ability to concentrate better, even during long journeys.

Prevents rapid condensation (steaming up) of the windscreen, giving a clear view even in moist weather.

Carbon Cabin filters that are offered are Charcoal lined filters that provide deodorizing agents

The best defense against microscopic particulates from entering the vehicle's cabin

A layer of activated carbon that prevents harmful and foul smelling gases from entering the car, along with solid contaminants

Pollen and harmful substances inside a vehicle can be up to six times more concentrated than outside.

Bosch Premium Cabin Filters prevent harmful spores and pollen from entering the vehicle interior and keep passengers and downstream HVAC components protected.

A cabin filter works much like the air filter used with your furnace and/or air conditioning system in your home.

Microfiber layers absorb up to 99% of all pollen, dust particles and harmful substances ensuring clean air in the cabin

Electrostatic charge in fiber layers filter out even the smallest of respirable particles

Offers at least 90% vehicle coverage

Reliable operation from -40 to 85°C
Available Model:
Aeristo CM-090
MITSUBISHI: AIRTREK, ASX, FORTIS, GRANDIS, LANCER GT, LANCER SPORTBACK, OUTLANDER
Aeristo CO-091
HONDA: ACCORD 2008 - 2012, CIVIC FD 2006 - 2011, CRV CR-V 2007 - 2011, ELYSION, INSPIRE, LEGEND, ODYSSEY RB1 RB2 2003 - 2007, STREAM RN6 RN7 RN8 RN9 2006 - 2014
Aeristo CO-092
HONDA: JAZZ / FIT GD 2001 - 2008

PERODUA: ALZA, MYVI LAGI BEST, MYVI ICON, AXIA, BEZZA, MYVI 2018

SUZUKI: ALTO, SWIFT 2004 - 2017, SX4

TOYOTA: RUSH
Aeristo CT-093
TOYOTA: ALPHARD ANH20 2008 - 2014, CAMRY, ESTIMA PREVIA ACR50 2006 - 2017, HARRIER, HILUX SURF, IPSUM, PRADO, PRIUS, VIOS 2002 - 2006
Aeristo CM-094
TOYOTA: ALTEZZA, ALTIS E140 E150 2006 - 2013, CAMRY XV40 2007 - 2011, CROWN, ESTIMA ACR50 2002 - 2005, PRIUS XW30 2009 - 2015, RAV4 2005 - 2012, VIOS 2007 - 2012, YARIS XP90 2005 - 2013, VITS, VELLFIRE ANH20 2008 - 2014, HARRIER XU60 2013 - 2017, MARK X

LEXUS: GS, LS, LX, IS, RX
Aeristo CD-095
Aeristo CO-096
HONDA: CITY GM2 GM3 2009 - 2013, CRZ CR-Z, JAZZ FIT GE 2009 - 2013, , FREED 2008 - 2015, INSIGHT 2009 - 2014
Aeristo CN-097
NISSAN: GRNAD LIVINA L10 L11 2006 - 2017, LATIO, TIIDA, SYLPHY
Aeristo CT-098