Item Specification
Model / SKU
: HP Compaq NX6110 Notebook PC AC Adapter charger
Product Description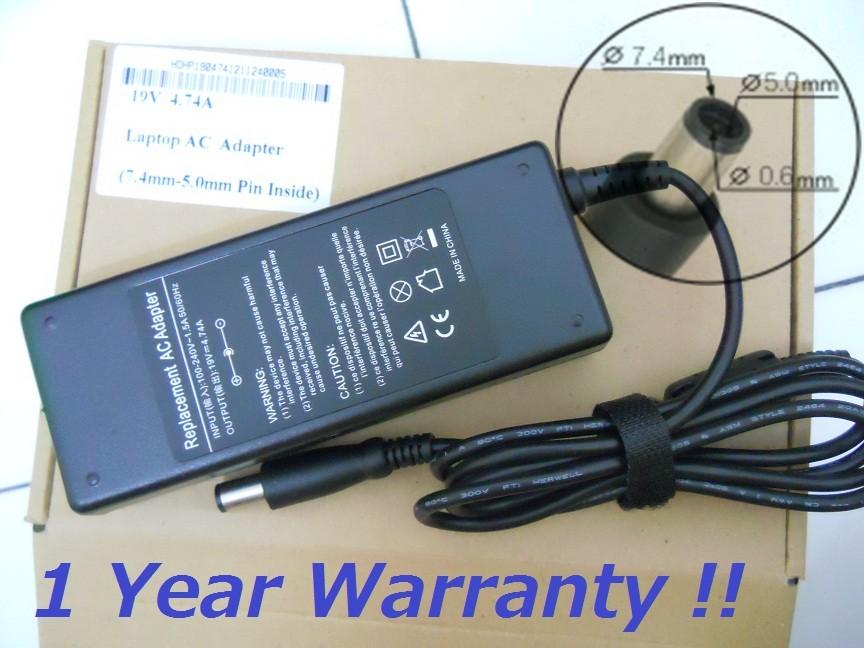 Condition: 100% NEW
Input    : 100-240V 1.5A 50-60HZ 
Output   : 19V 4.74A
Power    : 90W
Connector: 7.4mm * 5.0mm (Pin Inside)
+RM5 Only for UK 3Prong Power Cord
Warranty :  *** 1 Year (1 to 1 Exchange) ***
-------------------------------------------
Courier Tracking Number Will Be Provide
Payment Methods:
-COD (Melaka Bandaraya Only) 
-Cash Deposit/ On9 Banking
TAN SIANG LONG
Maybank:154026669178
CIMB   :04060091091525
RHB    :10401800426395
SMS   : 014 7017590 ( Tan )
Email : admin@auroraht.com
-------------------------------------------
Fit in models:
HP Compaq NX6110 Series Notebook PC Below:
EA366LA, EA367LA, EA510PA, EA545PA, EA558PA, EA559PA, EB306US, EB307US, EB308US, EB309US, EB532US, EB536US, EC719LA, EC720LA, ED995UC, EE111PA, EE112PA, EE113PA, EE114PA, EE115PA, EE143PA, EE144PA, EE190UC, EF126LA, EF392UC, EF446US, EF478US, EF479US, EF480US, EF515USR, EF515US, EF535US, EF564USR, EF564US, EF834US, EG444UC, EG467UC, EG468UC, EG813UC, EG814UC, EH248PA, EH253PA, EH254PA, EH272PA, EH273PA, EH281PA, EH328PA, EH357UC, EH371LA, EH372LA, EH373LA, EH385UC, EJ917PA, EJ939PA, EJ943PA, EJ944PA, EJ945PA, EJ962PA, EJ963PA, EK040ES, EK044ESR, EK044ES, EK046ESR, EK046ES, EK048ES, EK057ES, EK058ES, EK059ESR, EK059ES, EK060ESR, EK060ES, EK063ESR, EK063ES, EK069ES, EK070ES, EK074ES, EK077ES, EK078ES, EK092ESR, EK092ES, EK093ES, EK098ESR, EK098ES, EK099ESR, EK099ES, EK104ES, EK106ESR, EK106ES, EK110ESR, EK110ES, EK113ESR, EK113ES, EK114ESR, EK114ES, EK115ESR, EK115ES, EK116ESR, EK116ES, EK121ESR, EK121ES, EK122ESR, EK122ES, EK124ESR, EK124ES, EK125ES, EK126ES, EK127ES, EK128ESR, EK128ES, EK134ES, EK135ES, EK136ES, EK139ES, EK144ESR, EK144ES, EK149ESR, EK149ES, EK151ESR, EK151ES, EK153ES, EK164ESR, EK164ES, EK169ES, EK170ESR, EK170ES, EK172ESR, EK172ES, EK175ESR, EK175ES, EK183ESR, EK183ES, EK185ESR, EK185ES, EK187ES, EK201EAR, EK201EA, EK201ETR, EK201ET, EK202EAR, EK202EA, EK202ETR, EK202ET, EK203EAR, EK203EA, EK203ETR, EK203ET, EK208ES, EK214ESR, EK214ES, EK219ETR, EK219ET, EK220ETR, EK220ET, EK221ETR, EK221ET, EK228ESR, EK228ES, EK230ES, EK231ES, EK233ES, EL165UC, EL171LA, EL337UC, EL338UC, EL813US, EL816US, EM343PA, EM348PA, EM349PA, EM350PA, EM355PA, EM359PA, EM374PA, EM389PA, EM390PA, EM391PA, EM392PA, EM417PA, EN166UA, EN169UT, EQ206US, ER565UC, ER576PA, ER577PA, ER591PA, ER597PA, ER604PA, ES424ESR, ES424ES, ES428ESR, ES428ES, ES429ESR, ES429ES, ES430ES, ES431ESR, ES431ES, ES433ES, ES434ESR, ES434ES, ES435ES, ES436ES, ES449ES, ES450ESR, ES450ES, ES452ESR, ES452ES, ES463ES, ES464ES, ES465ES, ES481ES, ES483ESR, ES483ES, ES484ESR, ES484ES, ES485ESR, ES485ES, ES487ESR, ES487ES, ES488ES, ES519ESR, ES519ES, ES539ETR, ES539ET, ES567ESR, ES567ES, ES568ESR, ES568ES, ES570ESR, ES570ES, ES575ESR, ES575ES, ES577ESR, ES577ES, ES578ES, ES579ESR, ES579ES, ES583ES, ES617ES, ES618ES, ET404LA, ET405LA, EU081LA, EU082LA, EU109LA, EU110LA, EU113LA, EU114LA, EU115LA, EU743US, EU882US, EU891US, EU925US, EU952US, EU971US, EV074LA, EV090LA, EX600UC, EX674UC, EX729PA, EX730PA, EX731PA, EX742PA, EX766PA, EY241ES, EY243ESR, EY243ES, EY245ES, EY246ESR, EY246ES, EY250ESR, EY250ES, EY256ES, EY257ES, EY259ES, EY260ES, EY261ES, EY262ES, EY286ES, EY287ES, EY289ES, EY290ES, EY292ES, EY312ESR, EY312ES, EY318ES, EY333ES, EY334ES, EY335ESR, EY335ES, EY338ES, EY339ES, EY489ES, EY496ES, EY498ESR, EY498ES, EY499ES, EY500ESR, EY500ES, EY564ES, EY565ES, EZ946US, EZ948US, EZ964US, PC415AV, PC416AV, PC418AV, PC419AV, PC421AV, PC422AV, PG819EAR, PG819EA, PG819ETR, PG819ET, PG820EAR, PG820EA, PG820ETR, PG820ET, PG821EAR, PG821EA, PG827EAR, PG827EA, PG827ETR, PG827ET, PG840ESR, PG840ES, PG841ESR, PG841ES, PG843ES, PG847ESR, PG847ES, PR124UAR, PR124UA, PT600AAR, PT600AA, PT600ETR, PT600ET, PT601AAR, PT601AA, PT601ETR, PT601ET, PT602AAR, PT602AA, PT603AAR, PT603AA, PT603ETR, PT603ET, PT604AAR, PT604AA, PT604ETR, PT604ET, PU545US, PU597US, PU598US, PU599US, PV221PA, PV222PA, PV237PA, PX028LA, PY382ESR, PY382ES, PY383ES, PY384ESR, PY384ES, PY386ESR, PY386ES, PY387ESR, PY387ES, PY388ES, PY393ESR, PY393ES, PY397ESR, PY397ES, PY399ESR, PY399ES, PY401ESR, PY401ES, PY402ES, PY403ESR, PY403ES, PY406ESR, PY406ES, PY408ESR, PY408ES, PY409ESR, PY409ES, PY410ESR, PY410ES, PY412ESR, PY412ES, PY415ESR, PY415ES, PY431ES, PY432ES, PY435ESR, PY435ES, PY439ESR, PY439ES, PY441ES, PY454ESR, PY454ES, PY456ESR, PY456ES, PY458ES, PY461ESR, PY461ES, PY468ES, PY469ES, PY470ES, PY472ES, PY475ES, PY478ESR, PY478ES, PY485ESR, PY485ES, PY487ES, PY489ES, PY490ESR, PY490ES, PY493ESR, PY493ES, PY494ESR, PY494ES, PY496EAR, PY496EA, PY496ETR, PY496ET, PY497EAR, PY497EA, PY497ETR, PY497ET, PY498EAR, PY498EA, PY499EAR, PY499EA, PY499ETR, PY499ET, PY500EAR, PY500EA, PY500ETR, PY500ET, PY501EAR, PY501EA, PY501ETR, PY501ET, PY502EAR, PY502EA, PY502ETR, PY502ET, PY510EAR, PY510EA, PY511EAR, PY511EA, PY530ESR, PY530ES, PY531ESR, PY531ES, PY532ESR, PY532ES, PY535ESR, PY535ES, PY536ESR, PY536ES, PY540ES, PY545EAR, PY545EA, PY545ETR, PY545ET, PY550ESR, PY550ES, PY551ES, PY564ES, PY584PA, PY761PA, PY767PA, PY768PA, PY813PA, PZ065UAR, PZ065UA, PZ120UAR, PZ120UA, PZ364UAR, PZ364UA, PZ365UAR, PZ365UA, PZ366UA, PZ367UA, PZ368UA, PZ369UA, PZ370UA, PZ371UA, PZ372UAR, PZ372UA, PZ373UAR, PZ373UA, PZ374UAR, PZ374UA, PZ375UA, PZ376UAR, PZ376UA, PZ377UA, PZ378UAR, PZ378UA, PZ379UA, PZ380UAR, PZ380UA, PZ381UA, PZ382UA, PZ383UAR, PZ383UA, PZ384UA, PZ385UAR, PZ385UA, PZ386UA, PZ387UAR, PZ387UA, PZ415UAR, PZ415UA, PZ509UAR, PZ509UA, PZ758UA, PZ759UA, PZ760UA, PZ761UA, PZ762UAR, PZ762UA, PZ763UAR, PZ763UA, PZ764UA, PZ765UA, PZ766UA, PZ767UA, PZ768UA, PZ769UA, PZ770UAR, PZ770UA, PZ771UA, PZ772UA, PZ773UAR, PZ773UA, PZ774UA, PZ775UA, PZ776UA, PZ777UA, PZ778UA, PZ779UA, PZ780UA, PZ781UA, PZ782UA, PZ783UA, PZ784UA, PZ785UA, PZ786UA, PZ787UA, PZ788UA, PZ789UA, PZ790UA, PZ791UAR, PZ791UA, PZ792UAR, PZ792UA, PZ793UAR, PZ793UA, PZ794UA, PZ795UA, PZ796UAR, PZ796UA, PZ797UA, PZ798UA, PZ799UA, PZ800UAR, PZ800UA, PZ801UA, PZ866UAR, PZ866UA, PZ867UA, PZ887UA, PZ888UA, PZ889UAR, PZ889UA, PZ891UA, RA768PA, RB537UT, RB538UT, RB539UT, RB540UT, RC298PA, RD072UC, RE450UP, RE758US, RE774US, RE853US, RE996PA, RF639PA, RF640PA, RF641PA, RF642PA, RF643PA, RF644PA, RF687PA, RH082PA, RH423ES, RH785LA, RJ996PA, RL076LA, RM637ESR 

Last Updated @ 7/28/2013 10:52:40 PM
Buy with confidence
| | | | |
| --- | --- | --- | --- |
| Buyer | Item ID | Date | Ratings |
| ze**** | 147126292 | 11/19/2017 2:25:00 PM | Fast delivery. Highly recommended. |
| au**** | 176574781 | 11/14/2017 3:44:00 PM | - |
| am**** | 135461577 | 11/8/2017 4:24:00 AM | Superb service. Had to return the item to change. After sale service is great and fast. Recommended |
| ad**** | 152347839 | 11/3/2017 4:17:00 PM | - |
| ka**** | 195137776 | 11/2/2017 4:36:00 PM | - |
| am**** | 179181238 | 11/1/2017 12:48:00 PM | Thank you for correctly supply the goods. |
| im**** | 174884405 | 10/28/2017 12:25:00 PM | a repeat buyer here. service as before. the best. highly recommended. thanks |
| im**** | 174884425 | 10/25/2017 12:39:00 PM | prompt seller. very good service indeed. thanks |




















---
For Paypal Transaction fees 4.4% + RM2 will be afford by Buyer.
Payment Methods:
Cash Deposit/ Online Banking to Account below:
AURORA HITECH




CIMB: 8601130755




TAN SIANG LONG




Maybank: 1540-2666-9178
All items will be proceed to ship within 24 Hours for Ready Stocks. Working days are Monday to Saturday excluded Public holiday and first saturday of every month.
Courier: Pos Laju, Tracking Number will be Provided ! For delivery within Peninsular 1-2 Days, Sarawak Sabah takes 2-5 Days.
However it depends on Courier Service, since we will always deliver items to them on time !
Back Orders
If item not in stock, customers may email to cancel the order. All the Items are direct import from factory, and new produce from factory, for product produces it takes 1 week of time. So for Pre-order it takes about 3 weeks of time, please beware of it !
Prices, specifications and availability of products are subject to change without prior notice.
Every effort made is to ensure your satisfaction. If you are not happy with our service or product, kindly contact us. We will do our very best to solve the problem.
Returning Policy
All returning shipping cost will be afford by buyer at all circumstances. Seller will bear resending shipping cost if the item is DOA (dead on arrival).
Any Losses or Damages during delivery are not allow for warranty claim and only bear by Buyers. All Shipping Handling Fees are not refundable. However, buyer has the right to claim from the courier company.
Sold Items Warranty Claim
Warranty doesn't cover damages from Missused, Missed Abuse, Accident, Rough Handling, Warranty Sticker Broken Repair by Third Party.
Warranty void without the Invoice or item not completed as full set during the item sell.
Questions & Answers
Do you have any questions to ask merchant about this product
Ask Seller
| | | |
| --- | --- | --- |
| 5 star | | 0 |
| 4 star | | 0 |
| 3 star | | 0 |
| 2 star | | 0 |
| 1 star | | 0 |
Share your thoughts with others
Write a review
Only buyers who purchased the product may leave a review