Item Specification
Model / SKU
: Elitebook Folio 9470m
Product Description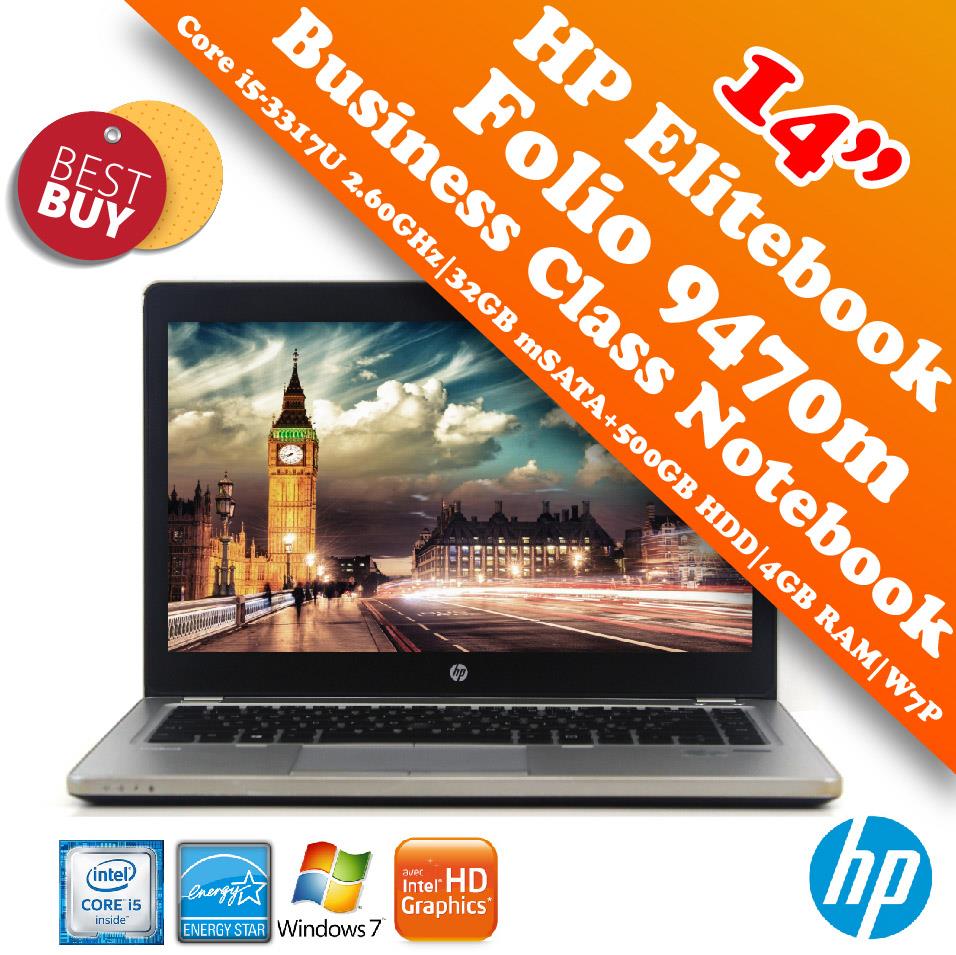 Offer Deal
Market selling RM2299, Now just start bid from RM1!!!
Fast!!! First come first Serve!!!
****3 Months Warranty
Product Description
HP Elitebook Folio 9470m Business Class Notebook Special Offer !!
Intel Core i5-3317U 2.60GHz | 32GB mSATA + 500GB HDD | 4GB RAM |
Intel HD Graphic 4000
|
14" HD Display | Webcam | WiFi | Bluetooth | Finger-Print | Backlit Keyboard | Windows 7 Pro OS
Product Specifications
DESCRIPTION

HP elitebook folio 9470m

Processor

Intel Core i5-3317U 1.70GHz (Turbo Boost up to 2.60GHz)

Operating System

Memory

Display

14" diagonal LED-backlit HD anti-glare

Hard Disk Drive

32GB mSATA + 500GB HDD storage

Graphics

Webcam

Network & Communication

Intel Dual Band Wireless-AC 3160 802.11 a/b/g/n/ac (1x1) with Bluetooth 4.0 combo

Ports

1 USB 3.0 with fast-charging

1 headphone/microphone combo

Battery

96 WHr Lithium-Ion battery

Color

Dimensions

Weight

1.64 kg
Features/Additional Information
HP's EliteBook line is all about business. That often means design that's less about sleek lines and more about packing in the ports and battery life. This is why many of HP's business laptops look like they came from a time capsule buried in the sands about five years ago. That changed last year with the HP Folio 13 Ultrabook, which balanced power and portability with attractive design. The Folio was an experiment at the time, but it must have done well for the company, since HP is now willing to brand an Ultrabook with the EliteBook moniker.
The HP EliteBook Folio 9470m shares some design language with older EliteBooks, but without the bulk and weight. Unlike many consumer Ultrabooks, you don't have to sacrifice port selection or the ability to swap out the battery yourself. That makes it a compelling choice for both enterprise and mainstream users. Is it as good in real life as it is on paper?
GOOD BLEND OF BUSINESS AND ULTRABOOK
T

he Folio 9470m isn't an EliteBook in name only. It shares the same silver-on-black color scheme as the rest of the line, and the streamlined, no-bling deck we expect. However, unlike most EliteBooks, the Folio is Ultrabook slim. Not razor thin or feather light, just very portable for a notebook with a 14-inch display.

You still get a very solid-feeling machine thanks to the magnesium and aluminum case. Though we like the feel of metal under our fingers, the soft-touch coating on the lid and the bottom makes carrying more comfortable, and lessens the chance of it slipping out of your hands. There's a small amount of flex in the lid if you purposefully apply pressure, but not enough to cause a problem when just opening or closing.
The Folio's 0.75-inch thickness accommodates several full-sized ports; no dongles needed. It has an SD card slot, three USB 3.0 ports, VGA, DisplayPort, Ethernet, SmartCard reader, and combo headphone/mic. This is HP's first docking Ultrabook, so users can expand the ports when sitting in the office. While we wish there was at least one more USB port, this is more than you get with most Ultrabooks.
PLENTY OF INPUT OPTIONS
The spill-resistant keyboard is the same as you'll find on most EliteBooks, meaning it share the same flaws and triumphs. The matte coating on its Chiclet keys improves accuracy by keeping fingers from slipping, there's plenty of space between them, and travel is decent (though not as good as you would find on a ThinkPad). The backlight is sufficient to keep keys visible in low light, but weaker than we'd like.
Unfortunately, some keys on the right edge are smaller than they need to be in order to make room for the Home, Page Down/Up, and End keys. Since there's plenty of room on either side, HP could have found a way to make Backspace and Enter full-sized. As it is, we had to download a keymapper to keep us from accidentally hitting Home when we reached for Backspace.
The space below the keyboard is large enough for a generous touchpad and two sets of mouse buttons. The top pair of buttons work with the Pointstick sitting between the G, H and B keys. Though this is an Ultrabook, there's no "clickpad" nonsense: You get distinct left and right mouse buttons. This prevents issues with finger misplacement and accidental multitouch gesture activation.
There's no touchscreen here, so you have to rely on the touchpad to bring up Windows 8 charms. We pulled off these gestures plus basic things like pinch-to-zoom with no issues. The buttons don't click down in a very satisfying way, but they never gave us problems. If you prefer the Pointstick for navigation, you'll find it precise and easy to use.
DISAPPOINTING DISPLAY
The lack of touchscreen on the Folio 9470m is only a drawback if you're dedicated to using Metro-style apps. Not including it keeps the cost and the weight down, the latter being the most important for an Ultrabook at this size. We can forgive not having touch, but we cannot forgive a 1366 x 768 resolution on a 14-inch display, especially at this price. Even for a business notebook, this is unacceptable. The ThinkPad Carbon X1 manages 1600 x 900 pixels in the same size display and starts at $100 less.
On top of that, the display isn't a very good one. A matte screen usually indicates wide viewing angles and good sunlight readability, but here it means neither. You don't have to lean the screen back very far or get too much off center before distortion kicks in. At the highest brightness the Folio does all right on an overcast day, just not on a sunny one. Plus, colors look muted and lack brilliance.
Audio quality isn't exactly tuned for rocking out, but you'll do fine with presentations and Web conferences thanks to plenty of volume from the speakers.
KEEPING IT COOL
The EliteBook Folio remains fairly quiet when not connected to the AC adapter. When hooked up the fan runs constantly, though noise levels aren't that noticable in quiet environments.
When pushed, the Folio didn't get noticeably hot, even after benchmarking and playing HD video at full screen for 15 minutes.
TRUE ULTRA-PORTABILITY
Our review unit's 3.6 pound weight is light for a 14-inch laptop, though isn't as impressive as the ThinkPad Carbon X1 (3 pounds without a touchscreen) with the same size screen. Still, the Folio is still very portable and won't put undue stress on your back or shoulders when you carry it around everywhere.
The battery doesn't jut out as it does on other EliteBook models we've tested. It's Ultrabook compact, yet still user removable. If you need to carry an extra for even greater longevity, it's possible to swap it yourself (unlike almost every other Ultrabook ever). HP also makes a slice battery ($199) that adds 10 hours of battery on top of the juice you get out of the regular one. As equipped, it lasted 6 hours 35 minutes on the Peacekeeper battery rundown test. Under normal usage, you can probably get about 7 and a half hours or more. When asleep, the Folio sipped power, meaning you might be able to get through a whole day of off and on use without the need to lug the AC adapter along.
NO TOUCHSCREEN? NO PROBLEM
Using Windows 8 without a touchscreen isn't that big a deal, especially for business users who are more likely to use programs in Desktop mode and not many of touch-centric apps. If you're used to the touchscreen experience it may take a while to remember that you can't reach up and tap icons. If you come from Windows 7, the transition isn't dramatic.
Our review unit came with very little pre-loaded software beyond the Windows 8 essentials. Cyberlink Media Suite, PDF Complete Enterprise Edition, and Evernote are the most prominent besides HP's business tools. This includes a program for the fingerprint reader on the right edge of the deck that gives you an extra way to login and keep your data safe. Additionally, you can choose to have the HP Premier Image installed, which includes an anti-virus program and EliteBook business software. Further security features include an embedded TPM chip, SmartCard reader, and HP BIOS Vault.
The 720p webcam above the display isn't the best teleconferencing portal. In well-lit areas the captured image looked blown out with too much noise. It goes downhill in low light.
NOT AS POWERFUL AS IT COULD BE
HP equiped our Elitebook Folio 9470m review unit with a 1.8GHz Intel Core i5 3427U CPU, 4GB of RAM, integrated Intel HD 4000 graphics, and an 180GB Intel SSD (the least expensive configuration offered). This is almost identical to the internals on the ThinkPad Carbon X1, but the Folio doesn't always match up in synthetic benchmarks. SiSoft Sandra's Processor Arithmetic benchmark turned in a score of 28 GOPs while 7-Zip reached a combined result of 5,372 MIPS (the X1 got 7,776). PCMark 07 turned in a score of 4,595, below the X1's 4,926.
Overall, the Folio is a solid but not impressive performer. We noted this in our hands-on testing as well. It boots very fast – around 11 seconds – and when doing basic tasks with medium-load programs, everything runs smooth. When we pushed the laptop a bit we got the normal slow down at very intense levels (dozens of browser tabs, batch processing in Photoshop), but nothing that suggests it can't handle some heavy-duty work when called for.
The Folio scored 4,180 and 601 in 3DMark06 and 3DMark11, respectively. This laptop won't make a robust work machine for graphics-heavy applications thanks to the integrated graphics, but can convert a video or render high quality images in good time.
Warranty
3 Months Warranty
Package Contents
1 x HP Elitebook Folio 9470m Business Class Notebook

1 x

Power Adapter

1 x

Power Cable
Payment
Credit Card
Both credit card and debit card with VISA / MasterCard brand logo are accepted.
Online Bank Transfer
Major acceptable bank brands :
Offline Bank Transfer
If you prefer to use offline payment, please use our bank account below :
Bank Name : Maybank
Account Number : 5070-3161-6857
Account Holder : Eureka Computer Technology
Bank Name : CIMB Bank
Account Number : 800-4041-824
Account Holder : Eureka Computer Technology
Bank Name : Public Bank
Account Number : 3180-63-5131
Account Holder : Eureka Computer Technology




















---
Credit Card
Both credit card and debit card with VISA / MasterCard brand logo are accepted.
Online Bank Transfer
Major acceptable bank brands :
Offline Bank Transfer
If you prefer to use offline payment, please use our bank account below :
Bank Name : Maybank
Account Number : 5070-3161-6857
Account Holder : Eureka Computer Technology
Bank Name : CIMB Bank
Account Number : 800-4041-824
Account Holder : Eureka Computer Technology
Bank Name : Public Bank
Account Number : 3180-63-5131
Account Holder : Eureka Computer Technology
Pos Laju, Register Pos or City-Link

1. For High value item that above RM100 normaly is ship through Pos Laju or City-Link.
2. For Low value item that below RM100 normaly is ship through Register Pos.
How much is shipping?
The shipping price is auto-calculated based on your shipping address and weight.
Combine shipping is allow for normal item, for offer item and auction item are not able to combine shipping as this is selling under cost promotion offer.
Do you ship to my area?
We are currently shipping to Malaysia nationwide (West East Peninsular Malaysia).
When will my order arrive?
Under normal circumstances, you get to receive your order within 5 business days from the day you place your order and make payment.
For offline bank transfer, please allow additional 3 business days especially if it's a cheque payment.
Can I track the shipping?
Yes, the tracking number and courier engaged will be included in the shipping confirmation email. You can check the shipping status via the site provided by respective courier.
Poslaju tracking :
http://www.pos.com.my/pos/appl/service/sub_poslaju.asp
Register Pos tracking :
http://www.pos.com.my/pos/appl/service/sub_registered_mail.asp
City-Link tracking :
http://www.citylinkexpress.com/main.php

Note: Sometimes the tracking number is not working yet because your order has just been shipped. Try to check again in 24 hours and the information should be available.

What if I haven't received my order?
Something might have gone wrong if you still haven't received your order within 8 business days after you've placed your order and made payment.
The first thing you can do is check your order status. Contact us at sales.ect168@gmail.com if your order status is not shipped, otherwise check whether the shipping address is correct.

If nothing is wrong there, track your shipping status via the courier's site. Check with the respective courier company to see if they're holding your order and contact us if they're unable to find it.
Lost Damages
Seller shall not held responsible for lost or damage of the item during delivery by courier service. However, buyer has the right to claim from the courier company.
Bidder
Bid (RM)
Date
Status
nandul (375: 0+, 100.00%)
702
17 Jun 2018 11:23:00 PM
Won
19pijah86 (200: 64+, 100.00%)
701
17 Jun 2018 11:23:00 PM
Lost
nandul (375: 0+, 100.00%)
636
17 Jun 2018 11:22:00 PM
Lost
19pijah86 (200: 64+, 100.00%)
635
17 Jun 2018 11:22:00 PM
Lost
nandul (375: 0+, 100.00%)
605
17 Jun 2018 11:20:00 PM
Lost
19pijah86 (200: 64+, 100.00%)
604
17 Jun 2018 11:20:00 PM
Lost
nandul (375: 0+, 100.00%)
603
17 Jun 2018 11:18:00 PM
Lost
19pijah86 (200: 64+, 100.00%)
602
17 Jun 2018 11:18:00 PM
Lost
nandul (375: 0+, 100.00%)
601
17 Jun 2018 11:18:00 PM
Lost
19pijah86 (200: 64+, 100.00%)
600
17 Jun 2018 11:18:00 PM
Lost
nandul (375: 0+, 100.00%)
536
17 Jun 2018 11:17:00 PM
Lost
19pijah86 (200: 64+, 100.00%)
535
17 Jun 2018 11:17:00 PM
Lost
nandul (375: 0+, 100.00%)
501
17 Jun 2018 11:17:00 PM
Lost
19pijah86 (200: 64+, 100.00%)
500
17 Jun 2018 11:17:00 PM
Lost
nandul (375: 0+, 100.00%)
401
17 Jun 2018 11:16:00 PM
Lost
19pijah86 (200: 64+, 100.00%)
400
17 Jun 2018 11:16:00 PM
Lost
nandul (375: 0+, 100.00%)
351
17 Jun 2018 10:40:00 PM
Lost
liamng (422: 26+, 100.00%)
350
17 Jun 2018 10:40:00 PM
Lost
liamng (422: 26+, 100.00%)
301
17 Jun 2018 10:29:00 PM
Lost
steve5141 (26: 5+, 100.00%)
300
17 Jun 2018 10:27:00 PM
Lost
liamng (422: 26+, 100.00%)
300
17 Jun 2018 10:27:00 PM
Lost
steve5141 (26: 5+, 100.00%)
251
17 Jun 2018 09:27:00 PM
Lost
liamng (422: 26+, 100.00%)
250
17 Jun 2018 09:27:00 PM
Lost
steve5141 (26: 5+, 100.00%)
250
17 Jun 2018 09:27:00 PM
Lost
liamng (422: 26+, 100.00%)
201
17 Jun 2018 09:26:00 PM
Lost
steve5141 (26: 5+, 100.00%)
200
17 Jun 2018 09:26:00 PM
Lost
liamng (422: 26+, 100.00%)
161
17 Jun 2018 09:25:00 PM
Lost
steve5141 (26: 5+, 100.00%)
160
17 Jun 2018 09:25:00 PM
Lost
liamng (422: 26+, 100.00%)
151
17 Jun 2018 01:00:00 PM
Lost
ismaziz (290: 3+, 100.00%)
150
17 Jun 2018 01:00:00 PM
Lost
liamng (422: 26+, 100.00%)
150
17 Jun 2018 01:00:00 PM
Lost
ismaziz (290: 3+, 100.00%)
101
16 Jun 2018 07:30:00 PM
Lost
ismaziz Message:
{System Message : Revise Autobid}
ismaziz (290: 3+, 100.00%)
101
16 Jun 2018 07:30:00 PM
Lost
hisyam287 (2975: 84+, 100.00%)
100
16 Jun 2018 07:30:00 PM
Lost
hisyam287 (2975: 84+, 100.00%)
51
16 Jun 2018 04:06:00 PM
Lost
coolwise (3: 0+, 100.00%)
50
16 Jun 2018 04:06:00 PM
Lost
hisyam287 (2975: 84+, 100.00%)
14
16 Jun 2018 04:06:00 PM
Lost
coolwise (3: 0+, 100.00%)
13
16 Jun 2018 04:06:00 PM
Lost
hisyam287 (2975: 84+, 100.00%)
11
16 Jun 2018 04:06:00 PM
Lost
coolwise (3: 0+, 100.00%)
10
16 Jun 2018 04:06:00 PM
Lost
hisyam287 (2975: 84+, 100.00%)
1
14 Jun 2018 02:32:00 PM
Lost