Parts Model : BGXX
Spare Part Price : (Excluding installation)
Compatibility :
(1) Battery Model BG58100: HTC G14, Radar 4G S610D Sensation 4G XE Z710E Z710T Z715E
(2) Battery Model GB86100: HTC G14 Z710E Z710T EVO3D X515M X315D Z715E Sensation XE G18 X315E X310E Sensation XL
(3) Battery Model BL39100: HTC Bass Bunyip Eternity PL39110 Runnymede Titan II X310E G21 Sensation XL X315 X315E
Size and connector are similar with battery for other models, but the voltage and current specification are not the same. Please buy according to the battery model as well. Please take note.
Product Origin : Direct Import / Parallel Import from China Battery Factory (OEM)
Manufacturing Date : -
Solve Problem(s) :
1. Can not on, no power, can not hold charge for long time. If problem persist after replace, please ask for full diagnosis.
Warranty: 1 month manufacturing defects only ( When receive battery, please proceed full charge & full discharge cycle for a few cycles to activate / re-align the charge cell. This is important as the percentage of charge may drop drastically, e.g. from 50% to 10% within 2 hours in idle mode, because of long storage period. Inexperienced user may fear the battery is defective. )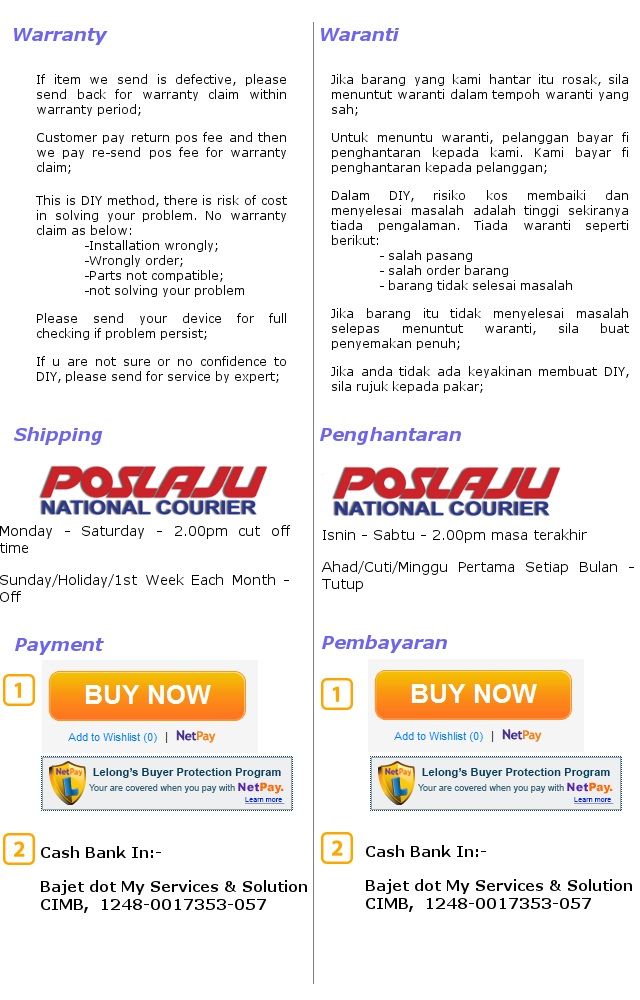 Last Updated @ 5/23/2018 6:26:14 PM